Bands, booze and pants-less fun: The ultimate guide to the Fremont Street Experience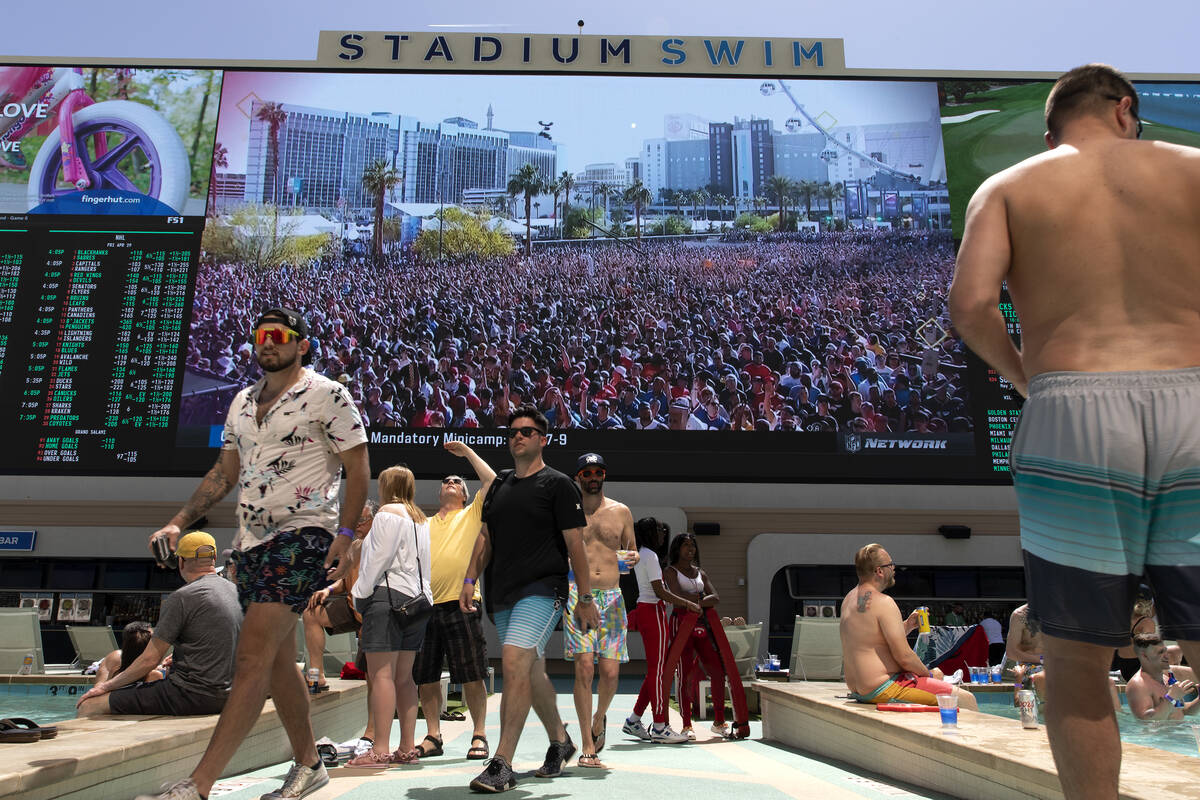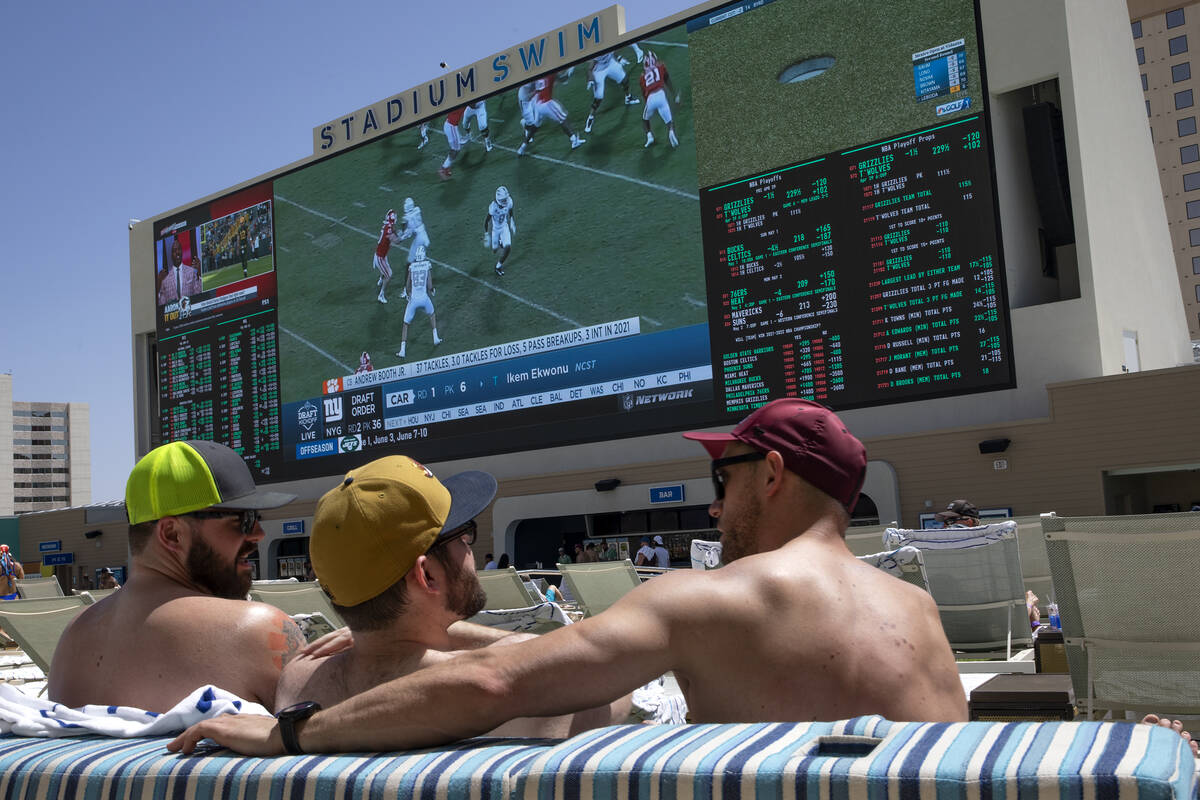 To borrow a line from Clark Griswold, you're all but guaranteed to need plastic surgery to remove the smile from your face afterward.
Such are the good times the Fremont Street Experience can conjure.
But you have to know what you're doing in order to maximize the mirth in this boozy fantasia of light, sound and dudes wielding rubber chickens in their tighty whities — trust us, it's a thing.
That's where we come in.
Here's your ultimate guide to experiencing the Fremont Street Experience like a boss — or a least a solid, mid-level manager.
Begin with the bands
It's like Mother Teresa once famously said, "Peace begins with a smile … and nothing makes me smile quite like a tasty live set from the mighty Smashmouth — free of charge, no less!"
OK, so we may be paraphrasing a little there, but her point remains valid: free concerts — a Fremont Street staple — totally rule.
And in recent years, the Fremont Street Experience has upped the ante on their annual Downtown Rocks concert series, bringing in bigger names, like emo/pop-punk favorites Taking Back Sunday, Dashboard Confessional and the All-American Rejects, '90s alt-rock favorites like the Toadies, Live and the Gin Blossoms and more contemporary bands like Young the Giant, Neon Trees and Walk the Moon.
When national acts aren't playing, there are nightly house bands on the Fremont Street Experience's three stages, featuring everyone from high-energy popsters Zowie Bowie to '80s hair metal revivalists Spandex Nation, who are still livin' on a prayer after all these years.
Best spots to people watch
On a recent Thursday afternoon at the Fremont Street Experience, a man creating brightly-colored drawings of various insects hawked his wares next to a couple of ladies dressed as naughty policewomen while Pennywise the Clown leered at a pair of showgirls with heart-shaped peach plumage and matching pasties.
If people watching was a sport, this would be its Olympics.
This begets the obvious question: Where's the best place to take in this carnival of flesh, stupid human tricks and grown men costumed as Paw Patrol characters?
If you want to do so booze-free, hit the Starbucks patio at the Golden Nugget.
If you prefer a little alcoholic accompaniment, there are numerous outdoor spots to people-watch with drink in hand: the Patio Bar at the Four Queens, the block-long Circa Bar, the open-air Troy Liquor Bar on the second floor of the Golden Nugget.
As for us?
We prefer the Cowgirl Cantina at Binion's, where the seats are topped with real saddles.
Giddy up.
Where to get your 'Purple Rain' on
If singing in front of strangers is your thing, head to Cat's Meow, a 10,000-square-foot-plus entertainment/karaoke club on the second floor of Neonopolis, where the voices of revelers and staffers soar in unison with the cholesterol levels at the Heart Attack Grill below.
Though Cat's Meow possesses a library of 40,000 songs, it's culled that to a list of around 600, divided by genre, with the emphasis on high-energy, crowd-pleasing tunes. In addition to the concert hall sound system and lighting rigs, you're never alone on stage, as there's always a professional singer/MC on hand to work the crowd and help you out if need be.
This comes in handy if you're feeling the effects of that third beerand maybe forget the words to the final verse of "Shook Me All Night Long."
The place to watch your team go down in flames … again
Sure, your team stinks like the porta-johns on the final day of a weeklong music and enchilada festival — we're assuming you're a Pittsburgh Steelers fan in this scenario — but you know what doesn't disappoint like that squad?
Watching them in action on the mammoth, 40-foot tall, high-definition screen at pool-meets-sportsbook Stadium Swim at Circa Las Vegas.
With six pools on three different levels and a capacity of 4,000, Stadium Swim's the place to be on game day, and will totally, totally make up for the fact that you just gambled away junior's college fund on your underwhelming team.
No pants? No problem
Pants are no fun.
The Fremont Street Experience is fun.
How to correct this clear contradiction?
"Bottomless Hump Days" at The Nerd at Neonopolis.
On Wednesdays at the arcade/cosplay bar/bowling alley, $20 gets you bottomless drinks — if you show up without bottoms (but with undies, please).
We know where rubber chicken guy is headed.
Experience vintage Vegas
Did you know that the city's most iconic cowboy, the 4o-foot, neon Vegas Vic sign, once spoke, urging people to get free chest X-rays to check for tuberculosis for a brief time in the '60s?
Well, you do now.
Six decades later, Vegas Vic still towers beneath the Fremont Street Experience, a glowing totem of Vegas' past informing the present.
Visiting Vic is a must for anyone desiring a taste of old-school Vegas on Fremont Street.
Another spot steeped in vintage Vegas: the check-in area at the Golden Gate Hotel & Casino, the city's oldest casino downtown, where there's an exhibit of artifacts from the early days of the property, from a vintage phone to ledger books over 100 years old.
So you want to party with Fido?
The pet-friendly patio at Dick's Last Resort in Neonopolis is the spot on Fremont Street to knock back a few with man's-best-friend in tow.
Of course, you're going to have to withstand the trademark put-downs from Dick's staffers.
But hey, you've finished reading this.
You should be used to having your intelligence insulted by now.
Contact Jason Bracelin at jbracelin@reviewjournal.com or 702-383-0476. Follow @jbracelin76 on Instagram