'Bliss Dance' artist Marco Cochrane reminds viewers to see humanity within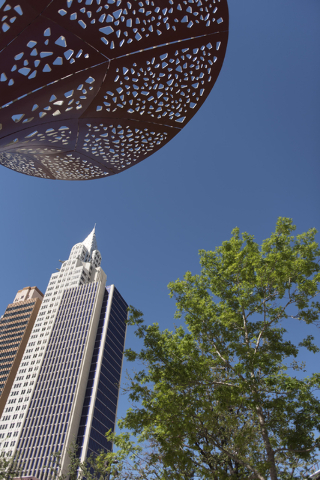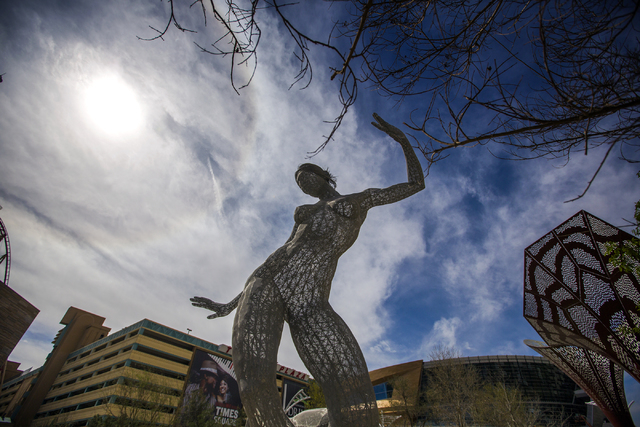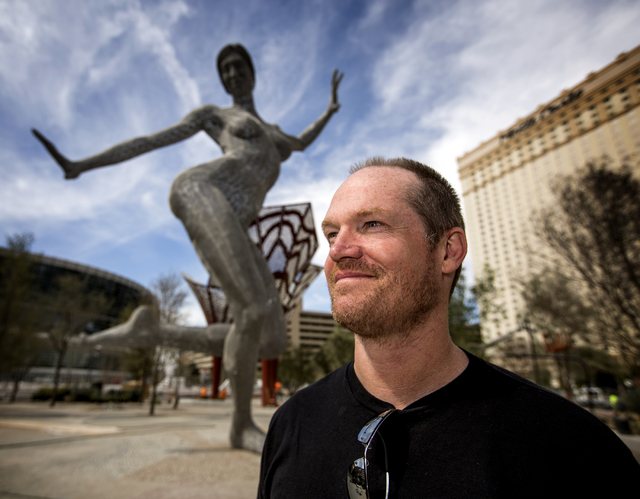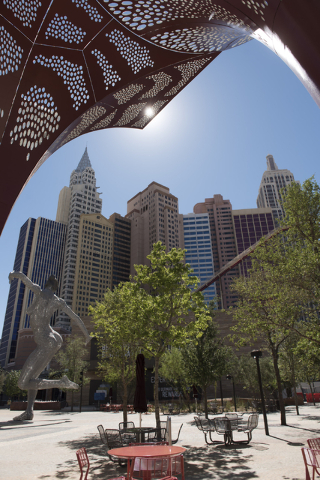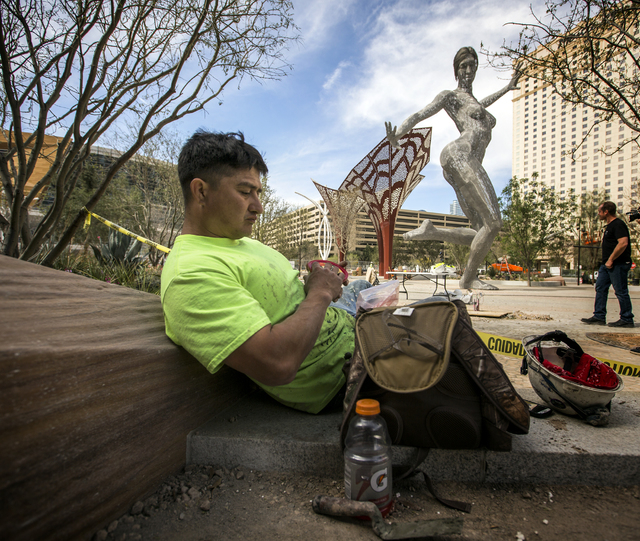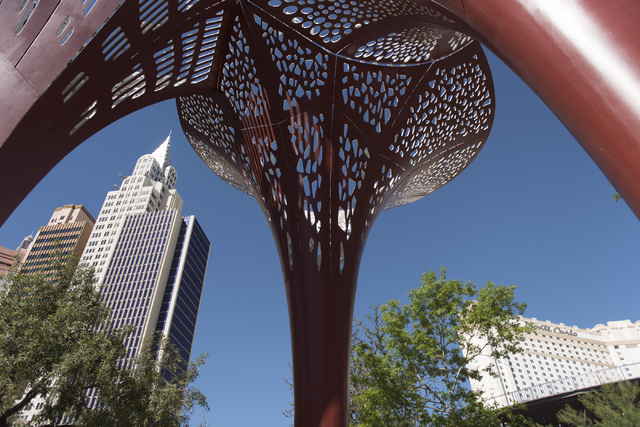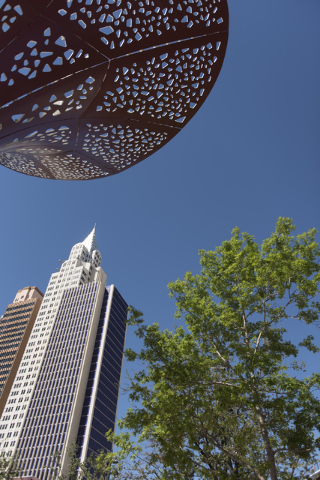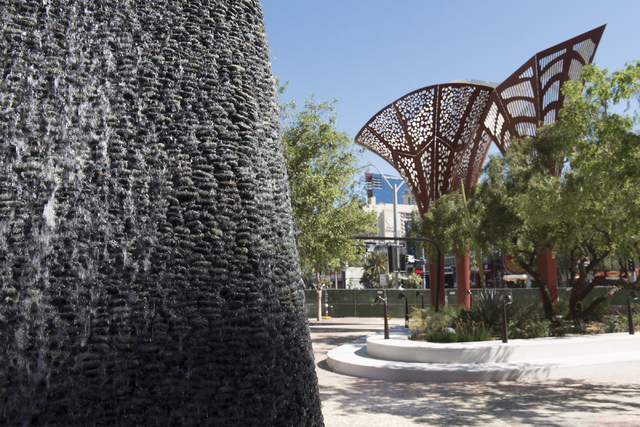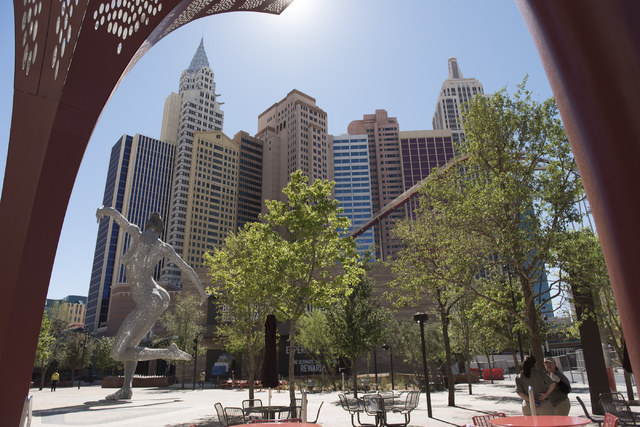 A naked woman dancing in the vicinity of the Strip?
If you think you've been there and seen that, think again.
That's because "Bliss Dance," the new 40-foot sculptural centerpiece at The Park, conveys a very different message than, say, the bronzed derrieres of "Crazy Girls" cast members at the now-shuttered Riviera.
The Park, the outdoor pedestrian gateway to the new T-Mobile Arena, opens today on the Strip.
In creating the tower-of-power "Bliss Dance," artist Marco Cochrane aims to remind viewers to look beyond the nude body and see the humanity within. The Strip may seem an unlikely setting for such a sentiment, he acknowledges.
But, as "Bliss Dance" model Deja Solis told Cochrane when officials from MGM Resorts International offered to buy the sculpture, "We've been preaching to the choir all this time."
As for the notion that "Bliss Dance" could find a home on the Strip — as the centerpiece for MGM Resorts International's outdoor dining and entertainment district — "I never would have thought that this could happen," Cochrane admits, with the lighting of the sculpture set for 8 p.m. today at The Park.
Now that it is happening, however, "I think it's actually perfect," he adds. After all, "people come from all over the world to Vegas."
Not that "Bliss Dance" began its existence as a prospective Vegas icon — or even as an expression of joy.
Cochrane, whose parents were artists, traces the work's roots back to his California childhood. When he was 7, a friend — a 9-year-old girl — was abducted and raped by a stranger.
"My mom told me about it in way too much gory detail," Cochrane recalls. "It really shocked me." It also shocked him when "nobody did anything — and nobody ever talked about it again."
Cochrane felt like he needed to do something about it, "in a little-kid way," he says.
But as he grew up, he wondered "how could it happen in the first place. The basic idea was if he had realized she was a person, he wouldn't have done it."
When Cochrane began sculpting, while in his 20s, he began pondering "the beautification of women and that whole dynamic of attractiveness," which "sets up this objectification and dehumanizing" of women.
He also wondered whether it would be possible to sculpt a nude female figure where the nudity "didn't come across as the main element," one where "the expression of self was stronger than the nudity."
Cochrane was working on a group of 15 pieces — depicting three different women in five separate sculptures — when he met model Solis in 2006.
"She was the only person I didn't know," he says, adding that "asking her to model was terrifying."
Initially, Solis was skeptical, but she eventually started expressing herself, Cochrane recalls. On their fifth collaboration, Solis "came into the studio and said, 'I have this idea.'"
The idea was what Cochrane calls "the 'Bliss Dance' pose" — a dynamic stance featuring arched back and extended arms, with the figure in mid-prance, balanced on one leg with the other bent at the knee.
Cochrane initially sculpted a three-quarter life-size version of "Bliss Dance" in clay.
"I work a lot in three-quarter life-size and life-size," he notes.
But he had seen a 30-foot sculpture at the annual Burning Man Festival in the Black Rock Desert of northwest Nevada and "wanted to create awe. That scale does do that."
So "Bliss Dance" became larger-than-life, topping out at 40 feet when it debuted at Burning Man in 2010 — after a year of construction, all without the aid of computers.
At Burning Man, "There was never a time when there weren't hundreds of people around it," remembers Julia Whitelaw, "Bliss Dance" project manager and Cochrane's wife. "I think it was an inspirational piece for people."
That's "the reason why we go" to Burning Man, Cochrane adds, because "somebody's going to bring something that will blow your mind."
Which was essentially the reaction of MGM Resorts Chairman and CEO Jim Murren when he saw "Bliss Dance" in San Francisco, according to Joyen Vakil, MGM Resorts' senior vice president of design and development.
Vakil remembers the day he and other MGM officials first encountered the sculpture, remarking on its "powerful and moving" impact.
"The more you find out about it, the more the piece means," he adds. "The size of the piece is as loud and as huge as the message it carries."
And the size of "Bliss Dance" is impressive indeed. When standing near "Bliss Dance," its size seems equal to the T-Mobile Arena behind it.
Then again, everyone remembers what a giant looks like, Cochrane points out.
That's because, "if you're a baby lying on the floor, that's how adults look," so experiencing his sculpture "puts you in your child state as well."
And "when you view her from a different side, you get various, different, dynamic postures," Vakil observes, adding that the view "is never static." (A 40-foot radius enables visitors to "appreciate the piece from all sides.")
The sculpture has been spruced up for its Las Vegas debut, Cochrane notes.
There's a new lighting system, new silver paint for the interior and new steel mesh skin — because the old one "had rust all over it," according to the artist.
Yet the spirit of "Bliss Dance" remains unchanged.
"Deja put her real-life force and energy into it," Cochrane comments.
And, as a result, "Bliss Dance" reminds those who experience it that "a reason why it exists is to humanize this form," he says. "To remind people that there's somebody in there."
Read more stories from Carol Cling at reviewjournal.com. Contact her at ccling@reviewjournal.com and follow @CarolSCling on Twitter.
"Bliss Dance" by the numbers
Marco Cochrane's sculpture, which has a steel skeleton connected by steel balls and covered in stainless steel mesh, made its debut at the 2010 Burning Man Festival in northern Nevada's Black Rock Desert.
From 2011-2015, it was exhibited at the Great Lawn at San Francisco's Treasure Island.
On Monday, however, the Las Vegas Strip becomes its new home — as a focal point for The Park, MGM Resorts International's new outdoor dining and entertainment district.
Here are some "Bliss Dance" basics:
Artist: Marco Cochrane
Model: Deja Solis
Lighting program: Ka-Ping Kee
Dimensions: 40 feet high, 29 feet wide, 15 feet deep
Weight: 7,500 pounds
Construction time: 10,000 hours
Specifications:
55,000 individual welded connections
25,000 feet of steel rod and tube
6,500 steel ball connection points
3,000 red, green and blue LED lights
2,000 square feet of stainless steel mesh
3,000 feet of stainless steel cable for the sculpture's hair