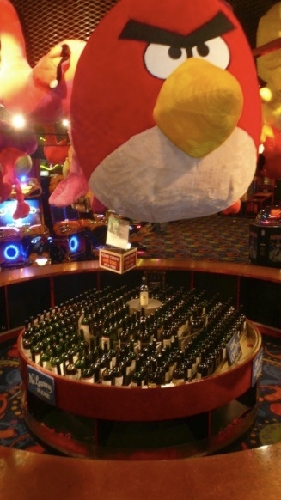 You have to understand how weird it is for me (an adult male with no kids) to go to the Fun Dungeon at Excalibur.
The Fun Dungeon (Fungeon, anyone?) is a permanent carnival of midway games. Spray water into a frog's mouth to win a stuffed animal. Throw darts at balloons to earn a space alien doll.
As much as I like the Fungeon, I always feel as if people are staring at me, as if I were Michael Jackson, like: What's that grown man doing around these kids?
For that reason, I never go alone. My mother and I took my nephew there. He never wanted to leave.
I took a date there once and won a giant stuffed elephant by knocking over three toy blocks with the toss of a little beanbag.
(The secret to knocking over three blocks with a beanbag is by throwing like a boy. Adults throw with feet planted parallel to the platform. But to win, try throwing like a kid on a pitcher's mound: the wind up, the stretch, the strike.)
Call me crazy, but I love carnival games. And maybe you adults can relate to this: It always makes me think of happy memories.
For me, the Fungeon recalls the time my great-aunt Jessie took me to a carnival in rural Arkansas when I was a kid. I won a radio by winning and yelling "bingo." It was a terrible radio, but a win is a win.
(Jessie, a World War II nurse, then drove me to a restaurant where red telephones graced the tables, for us to call waitresses for more ketchup. The world seemed wondrous that day.)
Then there was the time, a few years ago at the Santa Monica Pier carnival, when I won a giant Peter doll (Peter from "Family Guy") for an actress named Kelly Carlson from the TV show "Nip/Tuck." Yeah, she's stinking hot.
I threw a softball at milk jugs after she asked me to win her that Peter doll. I zestfully made a fool of myself, handing the prize to her cloyingly. She looked horrified, but still hot.
And Fungeon always makes me think of the movie "The Jerk," in which Steve Martin works as a goofy carny and sings with Bernadette Peters a love song: "I know, with the dawn, that you will be gone, but tonight, you belong to me." (Then Bernadette Peters pulls out a trumpet, logically, and plays a solo.)
Little things have changed at the Fun Dungeon. The beanbag-toss wins you a big "Angry Birds" bouncy ball. The game of shooting water into a ship's mouth gets you a stuffed skunk, or maybe it's a cat, or a beaver, or some other stuffed animal of undetermined origin.
As always, there's the Whac-a-Mole, air hockey, ring toss, video games, and tickets to redeem for a Nintendo Wii (30,000 tickets) or a Tootsie Roll (five tickets).
So, since it's sort of a family-friendly holiday week — and families often ask me where to take kids — I think you should consider the Fun Dungeon, as long as you're not a Michael Jackson.
Doug Elfman's column appears Tuesdays, Thursdays and Fridays. Email him at delfman@reviewjournal.com. He blogs at reviewjournal.com/elfman.