November 14, 2008 - 10:00 pm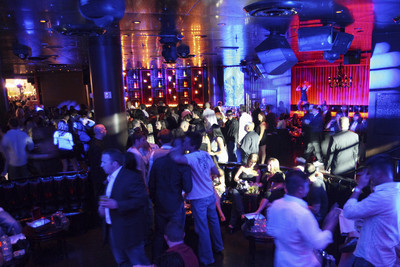 Since a nightclub is a fairly straightforward affair — booze, music and dancing — the Vegas club scene must rely on nuances to set one apart from another.
Jellyfish and fashion design aren't all that subtle, but they certainly help Christian Audigier the Nightclub stand out among a sea of hip lounges and clubs, all vying for the same partyers who think paying $300 for a bottle of liquor is the best way to celebrate a night out on the Strip.
The club is a joint venture between Pure Management Group and Audigier, the fashion designer who makes clothes featuring tattoo artwork and designs with a rock 'n' roll flair. Though it has the requisite scene of hot women, well-dressed guys and music spun by resident DJs CyberKid and Joey Mazzola, the club at Treasure Island probably is among the first to incorporate real wildlife into its decor.
If you're worried about the music's effects on the jellyfish, don't. As invertebrates, jellyfish don't have central nervous systems and don't feel the pulsing bass.
Along with the jellyfish, the color palette of spicy reds and cool blues casts a hue that gives the club an otherworldly feel. The various pieces of art and decor featuring skulls, roses and crystals — Audigier's defining design elements — add to the atmosphere.
The heart of the club is a black pebble stone bar; crushed red velvet lines the walls above booths that serve both seating and dancing purposes.
Many clubgoers are drawn to the white couches on the outdoor patio, which overlooks the pirate's side of Sirens' Cove in front of Treasure Island. Inside, the music is a mix of hip-hop, Top 40 and dance music, while the outside music is a more eclectic mix.
Admission is free for local women before midnight; though cover varies depending on events, local guys are usually $30. Bottle service prices range from $325 to $475 for one bottle per every three people.
Christian Audigier the Nightclub at Treasure Island, 3300 Las Vegas Blvd. South, is open from 10 p.m. to 4 a.m. Thursdays through Sundays. For more information, call 894-7580.
Contact reporter Sonya Padgett at spadgett@reviewjournal.com or 702-380-4564.
Las Vegas club scene