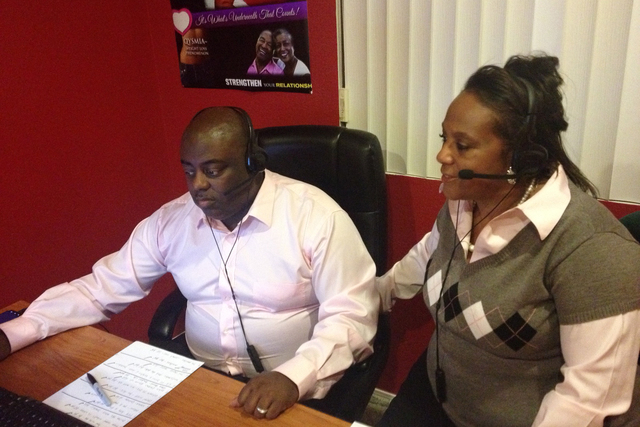 It's been said that couples who work together have a hard time staying together, but in the case of Robert and Pamela Rickenbacker, they are loving every minute of it.
The North Las Vegas pair, known as Mr. and Mrs. R. on the Internet airwaves, have been working in radio for three years.
"We've been inseparable since day one," Pamela said. "To me, being able to do radio with my husband is special. We're both trying to excel to the same level. We always tell people we come as a package."
Robert is the host and producer of "The Mr. R Show," which showcases independent and unsigned hip-hop and R&B artists from around the world from 6 to 8 p.m. every Monday, Tuesday, Wednesday and Friday.
Pamela has a segment called "What's Hot With Mrs. R" on the show, and she has her own talk show called "What's Up With Mrs. R" from 11 a.m. to noon every Saturday when she talks about gossip and celebrity news.
Together, they host "The Classics With Mr. & Mrs. R" from 6 to 8 p.m. every Thursday and from 2 to 6 p.m. every Saturday, with music from the '70s and '80s.
Although typically calm in character, Robert can turn on his hyped-up radio personality in a second.
"This is 'The Mr. R Show,' the only show in America where you don't have to be mainstream to be a star. I'm ready to rock the house, y'all. We're doing it big, baby," Robert said during a segment.
"His personality is so laid-back, and mine is so fired-up," Pamela said. "That's how God intended it to be. We have fire and ice. He puts me out, and I flame him up."
Robert went from being a rapper named Kool Rob-o to dipping his toes in acting until he found his passion for radio in 1999.
Before meeting Robert, Pamela worked for eight years as the floor supervisor for Sprint and recorded welcome calls worldwide for the company.
In 2010, the duo met at a local sports bar and were married within a year.
Robert said it was love at first sight for him.
"We had just gotten married, and every night, he would be downstairs on the radio," Pamela said. "I kept myself occupied by shopping, but if I wasn't on radio with him, I think eventually it would get frustrating."
Pamela enjoys giving her opinion on different topics, while Robert prefers shining a spotlight on underground artists.
They also regularly invite guests on the show to talk about music, current events or whatever else is on their mind.
They recently had Cheryl Cooley of the band Klymaxx on the show.
"We just love the fact that we can broadcast to the whole world," Robert said. " We have people from London, the UK, Russia and Japan listening."
Their goal is have their own TV talk show, but for now, people can listen to their shows on redpandaradio.com, channel 600.
"We're always happy and energetic," Pamela said. "We actually date on the set. We're always constantly talking to each other, and even on the air we say how much we love each other. That's an important factor in a relationship and in our (careers)."
To reach North View reporter Sandy Lopez, email slopez@viewnews.com or call 702-383-4686. Find her on Twitter: @JournalismSandy.