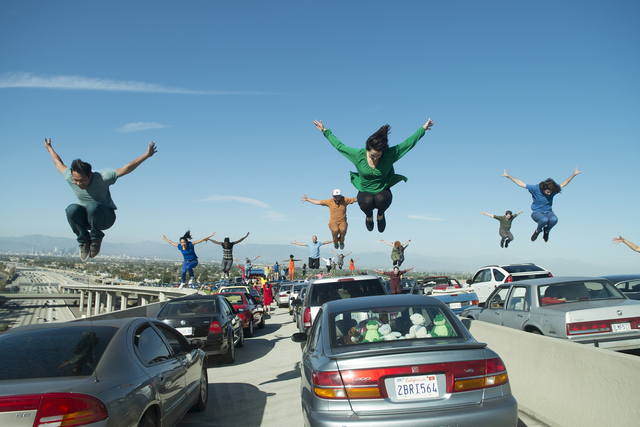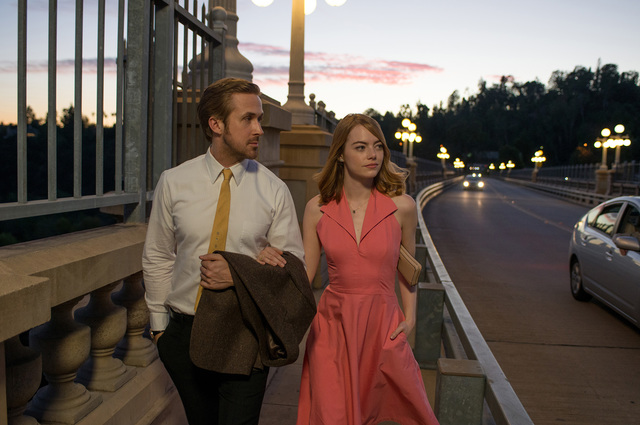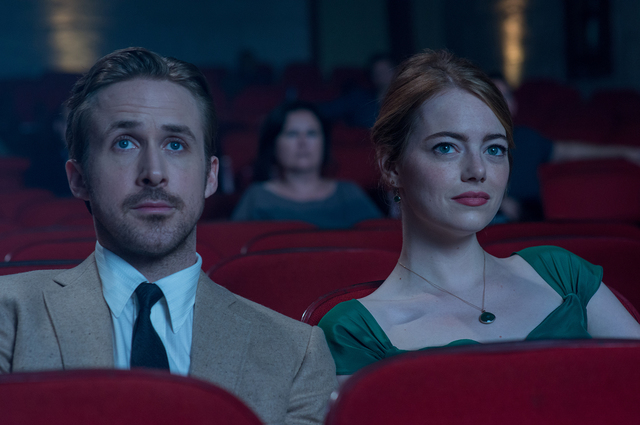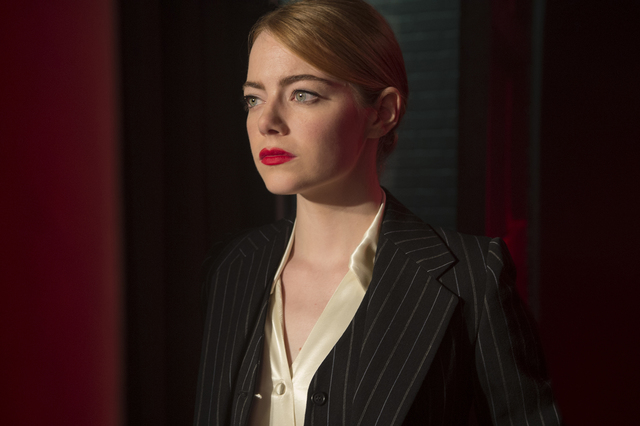 After an avalanche of hype and a leading seven Golden Globe nominations, "La La Land," the lavish song-and-dance ode to Los Angeles, finally arrives in Las Vegas cinemas on Friday.
The musical has everything voters look for during awards season: Gorgeous production design with colors that burst off the screen. Stellar performances from previous nominees Ryan Gosling and Emma Stone. A major plot point involving Boulder City, specifically the Boulder City Library.
Wait, what?
"That's probably a movie first, maybe," writer-director Damien Chazelle ("Whiplash") said with a laugh while discussing the film's Boulder City angle.
Stone's character, an aspiring actress who earns a living as a barista on the Warner Bros. lot, grew up across the street from the Boulder City Library, where she would regularly check out classic movies from its collection. It was that early exposure to old Hollywood that sparked her interest in acting.
"Just to hear anyone say that they are what they are because of what they did as a child at the library, the books they read or the movies they saw, I would definitely say that's a good thing," said Kim Diehm, the library's director.
"We did have a pretty good collection of old movies," added Anne Karr, the head of cataloging, who worked there at the time Stone's character, Mia, would have been growing up. Not that those movies, including "Casablanca" and "To Kill a Mockingbird," were a hot item. "Not a great demand, no," Karr admitted. "But enough of a niche that there would be probably, I don't know, probably four to six people that we would know (those films were) what they were after."
The library's influence on Mia was in the earliest versions of the script, Chazelle said. (That script, as well as his direction, was among the film's Golden Globe nominations Monday.) "Just the idea of living in a somewhat small town in a landlocked state, and you kind of look around and you're not sure what the rest of the world has to offer. And the idea that these small-town libraries that are like a window onto the entire larger world.
"So I just love this idea of someone at a young, impressionable age spending an afternoon in some section. It's almost better than traveling. It is traveling, you know, going through the stacks. Going through the books or the movies, whatever the library has. I just like the idea of her getting lost there and coming out sort of determined to sort of lead what you'd call 'a big life' that takes her around the world."
That "big life" initially takes her to "La La Land's" version of Los Angeles. It's a place where, in the film's opening scene, massive gridlock on a freeway on-ramp leads to a jaw-dropping production number. A nameless driver starts singing, then gets out of her car. Other drivers follow, and soon there are dozens of commuters dancing on the hoods and roofs of their cars. It's a joyous, sprawling number, presented in one long, continuous take, that feels like the best music video Bjork never made.
The scene is such a marvel, so very infectious, it establishes "La La Land" as an event right from its opening beats.
Caught up in that traffic snarl are Mia and jazz pianist Sebastian (Gosling), who honks at Mia to get her to move along. As a result, "La La Land" is surely the only musical in the history of Hollywood in which the romantic leads first lay eyes on each other as one of them flips the other the bird.
Sometime later, while walking home because her car was towed from a party she didn't want to attend, Mia is drawn into a restaurant by the sounds of Seb's playing — just as he's being fired by the owner ("Whiplash" Oscar winner J.K. Simmons) for deviating from the setlist. A few months later, Seb is playing keytar in a lame '80s cover band at another party Mia attends.
"I think it's strange that we keep running into each other," Mia says. "It is strange. Maybe it means something," Seb responds hopefully. "I doubt it," Mia counters.
The "Crazy, Stupid, Love" costars continue to display crazy, stupid chemistry. And the more their characters keep running into each other, the more they support each other's dreams.
He's a hopeless romantic — "Why do you say 'romantic' like it's a dirty word?" Seb asks his sister (Rosemarie DeWitt) — who wants to open a jazz club. When Mia still dreams of Hollywood stardom despite an escalating series of unfortunate auditions, Seb inspires her to write and star in a one-woman show she titles "So Long, Boulder City."
So how did Chazelle land on Boulder City, anyway? Is it an homage, like other elements of the movie, to some barely remembered piece of Hollywood history?
"It was a little more throwing a dart at the map, I think," he revealed. "I mean, there were a lot of choices that sort of eventually led to Nevada. Mia, Emma's character, used to come from Arizona. And Emma herself grew up in Arizona. So she was, like, 'That almost seems even too close to home,' given her character that in many ways was close to home. It was almost too bizarre. … So we wound up with Nevada.
"It was almost a process of elimination. I needed something that fit a lot of different bills, that was small enough, close enough to L.A. but distant enough, the topography could be somewhat kind of captured — or at least suggested — within our means. And I liked the ring of the name."
Production issues kept Chazelle from filming in Boulder City, even though that was his first choice. "I think it's always my preference to shoot in the real place," he said. But early on when the financing for "La La Land" was coming together, Chazelle said he was asked if he could film the movie — which is quite literally about Los Angeles and its effect on people— somewhere cheaper than L.A. So he learned to pick his battles.
Still, the staff of the Boulder City Library couldn't be more excited — even if it isn't the actual library that ended up on screen.
"We had no idea there was a connection to our library," Karr said. Diehm, the library's director, was shocked to hear the news during an interview.
Since then, though, once everyone went online to watch the trailers, "La La Land" has been all the staff has been talking about.
"Everybody's going, 'We have our library shirts. We're all going to get together and wear our library shirts and go to the movie,' " Karr said.
Diehm initially laughed at the suggestion that the movie could turn the library into a tourist attraction, especially if it connects with Oscar voters the way many pundits predict.
But she quickly warmed to the idea, saying the movie could "make it a stopping point for Boulder City, people wanting to come check it out. I think it can't be anything but positive."
Contact Christopher Lawrence at clawrence@reviewjournal.com. On Twitter: @life_onthecouch
RELATED
'La La Land' dominates Critics' Choice Awards