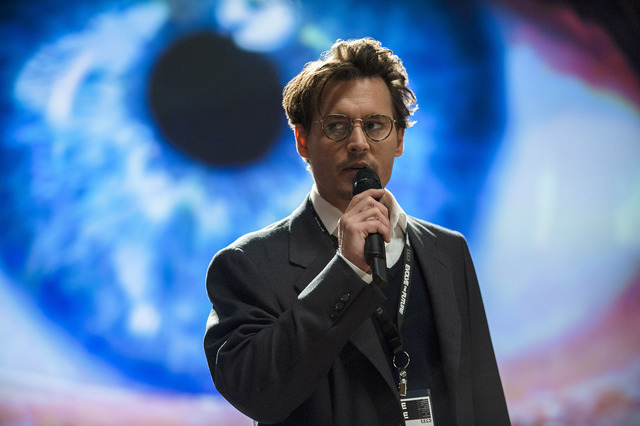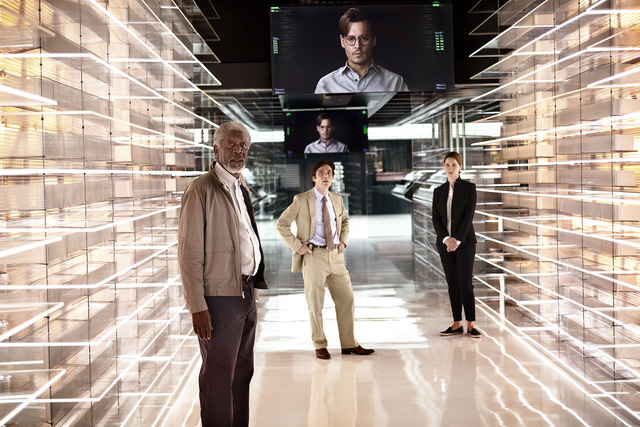 Although it never really moves beyond anything you've seen before, there's a very good reason to plunk down your hard-earned money to see "Transcendence": Johnny Depp sheds all of his quirks and affectations.
The weird hair, the crazy makeup, the odd speech patterns, the dead bird on his head. They're all gone.
Granted, his character spends most of the movie inside the Internet. But, still. Baby steps.
Depp portrays Dr. Will Caster, a rock star in the field of artificial-intelligence research, who's gunned down by a member of the radical anti-technology group known as RIFT. Will survives, only to learn the bullet was coated with polonium and he's slowly dying from radiation poisoning.
So his computer scientist wife, Evelyn (Rebecca Hall), and his best friend, neurobiologist Max (Paul Bettany), hole up in an abandoned school and spend their final weeks with Will by uploading his consciousness into the sentient computer to which he devoted years of his life.
What could possibly go wrong?
Actually, we know exactly what goes wrong. The military patrolling the ruined streets of Berkeley, Calif. Citizens lining up for basic necessities. Rumors of power in Boston and partial phone service in Denver.
These aren't spoilers. They're the opening scenes of the film, set five years after the upload, during which Bettany's Max lays out exactly where the movie is going. It's a pretty powerful misstep as "Transcendence" jettisons most of its suspense from the get-go.
Once Will's body dies and he comes to "life" on the computer, he begins corresponding via text, "Shall we play a game?"-style, before quickly learning to speak. Fifteen minutes later, Will is requesting more processing power and access to the world's financial markets.
With the members of RIFT, led by Bree (Kate Mara, in one of several sorely underdeveloped roles), on their way to destroy the new Will, Evelyn sets him free on the Internet, where there's virtually no stopping him.
Using profits from manipulating stock markets, Evelyn and Will buy up a nearly abandoned desert town and build a revolutionary underground nanotechnology lab where Will heals the sick, cures the blind and does everything short of turning water into wine. Everyone he heals, though, becomes part of a collective mind, has superstrength and nearly instantaneous regeneration, and is a conduit through which Will can speak. In short, the increasingly unstable Will is building an army.
Meanwhile, RIFT have held Max, an ethicist who believes there should be reasonable limits to technology, captive for so long, he begins leading their cause. So it's up to them, Will's mentor (Morgan Freeman), an FBI agent (Cillian Murphy) and some vaguely defined military mission to stop him.
Written by newcomer Jack Paglen, "Transcendence" is a sci-fi mash-up of stories and ideas that have been kicking around for decades. The basic plot feels like "Ghost in the Machine" and dozens of similar movies and episodes of sci-fi series. There are pieces of NBC's "Revolution" and CBS' "Person of Interest." There are echoes of "Rise of the Planet of the Apes." It's the antithesis of the far superior "Her." Heck, the whole scientist-uploaded-to-a-computer trope was used just two weeks ago in "Captain America: The Winter Soldier."
"Transcendence" marks the directorial debut of Wally Pfister, Christopher Nolan's longtime cinematographer, and he surrounds himself with familiar faces: Murphy and Morgan from the "Dark Knight" movies and Hall from "The Prestige."
It's hard to quantify "Transcendence" as a success. It's a good popcorn movie that's never as smart as it needs to be, especially considering Pfister and Nolan, an executive producer of "Transcendence," brought the world the mind-blowing "Inception." But Pfister's is a talent that deserves to be nurtured.
Even though most of Depp's performance is literally detached as he appears via a series of video monitors, he never really projects any sort of comfort as either incarnation of Will. He's a tremendously gifted actor, but after having hidden behind a collection of weirdos for so many years, the introverted Depp seems nervous without any of his tics and crutches.
Like Pfister's career, though, this is a direction that needs to be supported.
Depp is set to portray Whitey Bulger and a couple of other real-world people before disappearing down the rabbit hole again as The Mad Hatter and Captain Jack Sparrow.
If, like many of us, you've been longing to see him play against type, to play characters instead of CHARACTERS, you should help this latest effort earn some of its money back.
Think of "Transcendence" as a sort of Kickstarter campaign that, like RIFT, could help save Depp from himself.
Contact Christopher Lawrence at clawrence@reviewjournal.com or 702-380-4567.
Review
"Transcendence"
119 minutes
PG-13; sci-fi action and violence, some bloody images, brief strong language and sensuality
Grade: B-
At multiple locations