Vegas poker pro David Williams goes all-in on Fox's 'MasterChef'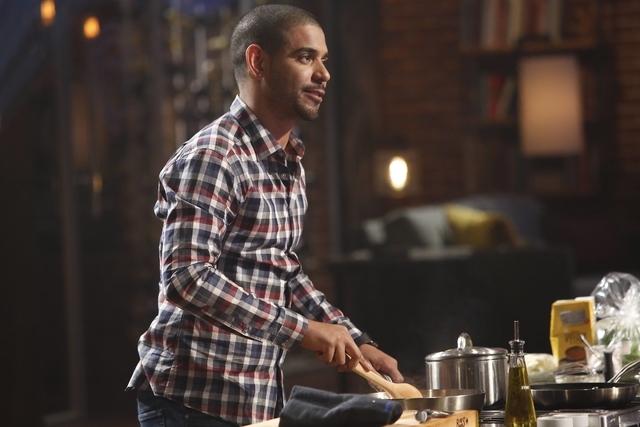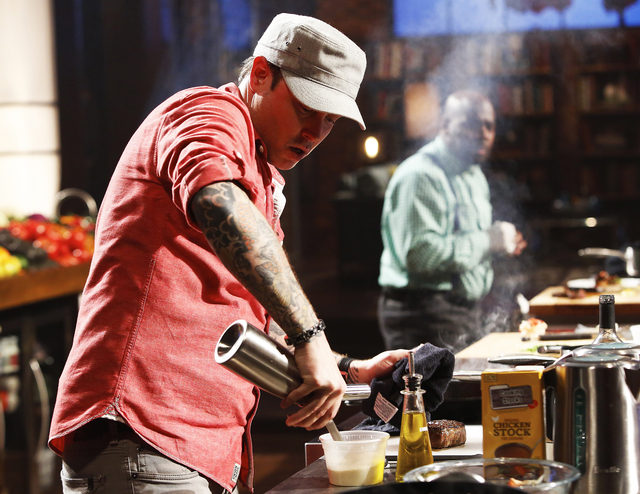 Plenty of reality show contestants say their desire to win has nothing to do with the prize money.
It's the sort of tired platitude that belongs on an inspirational poster, accompanied by a soaring eagle or adorable kitten.
But David Williams' need to prevail on "MasterChef" (8 p.m. June 1, Fox) REALLY has nothing to do with the $250,000 grand prize.
"The money matters to me. Obviously if I win, it would be great," the Las Vegan says. "But you're right, that is zero motivation for me to win."
Williams, the runner-up at the 2004 World Series of Poker's main event and one of the game's more recognizable figures, has won almost $9 million at the tables. "But that doesn't mean I just have $9 million sitting in a vault somewhere," he clarifies. "There's taxes, expenses. I'm doing OK, but I'm not wealthy."
Wealthy or not, that 250 grand is far from the life-changing money it would represent to most of the 39 other home cooks — including five other Las Vegans: bartender D'Andre Balaoing, truck driver James Woods, DJ Shaun O'Neale, karate instructor Will Staten and restaurant manager Shawn Norris — who advanced to "MasterChef's" seventh season premiere.
Williams also is separated from many of his fellow competitors by the fact that he can't claim a lifelong passion for cooking. When he auditioned last August, the 35-year-old didn't even have two years worth of experience. But he quickly made up for lost time.
"I think that came from a love of eating," Williams says of his early days in the kitchen. "And, being in Vegas, I'm exposed to so many amazing restaurants and amazing meals that I actually wanted to know how and why things worked."
He researched a few dishes and found some instructional videos online. His first meal, a pappardelle pasta with a lamb ragout, was a hit with his friends. "I always joke, I went to the YouTube Culinary School. Literally, everything I learned was YouTube videos and reading recipes and blogs from other chefs or home cooks."
Those friends suggested he try out last fall when "MasterChef" casting directors were in the valley. Williams doesn't watch much TV, so he'd never seen the show. "I watched an episode," he says, "and was immediately terrified."
His daughter, Liliana, was 4 at the time and already was a fan of the spinoff, "MasterChef Junior." Even though she's not wild about the food he prefers to cook — "She doesn't like to eat fancy stuff like butter-poached lobster," Williams admits — her excitement and desire to see him compete persuaded him to try out. Liliana even filmed his audition videos.
Once Williams made it past the first round of tryouts, his competitive streak took over. Rather than venturing even deeper into YouTube, though, he began reaching out to chefs at his favorite local restaurants, including Brett Uniss at B&B Ristorante and "Chopped" alums Nicole Brisson at Carnevino and Steve Benjamin at L'Atelier de Joel Robuchon.
"They've competed on television shows and had success," Williams says, "so just going to them really kind of gave me some pointers on things."
The one area Williams didn't need help with was dealing with the pressures of being in the spotlight. He's been competing on an international stage since he was a teenager traveling to Europe as a professional "Magic: The Gathering" player.
"I've been in so many high-stress, high-value situations. I've been playing for millions of dollars under the lights many times," he explains. "I've kind of got nerves of steel. Not to brag, but pressure doesn't get to me."
That's the biggest advantage Williams brings to "MasterChef," and it's one that could help him overcome his relative lack of experience. He's so new to the kitchen, he hasn't even developed a specialty. "I don't have one specific style. I kind of try to do it all. I really like refined, kind of modern takes on really high-end food."
"MasterChef" and the need to impress judges Gordon Ramsay and Christina Tosi have allowed Williams to showcase his artistic side as opposed to the analytical skills that have earned him millions.
He's going all-in on the competition and insists he'd rather have the "MasterChef" title than the accompanying cash.
"Competing has always been something I've had a love for," Williams says.
"I just like winning competitions. I like the personal satisfaction."
Contact Christopher Lawrence at clawrence@reviewjournal.com. On Twitter: @life_onthecouch