Oh La La bistro satisfies desire for more French food in the Las Vegas Valley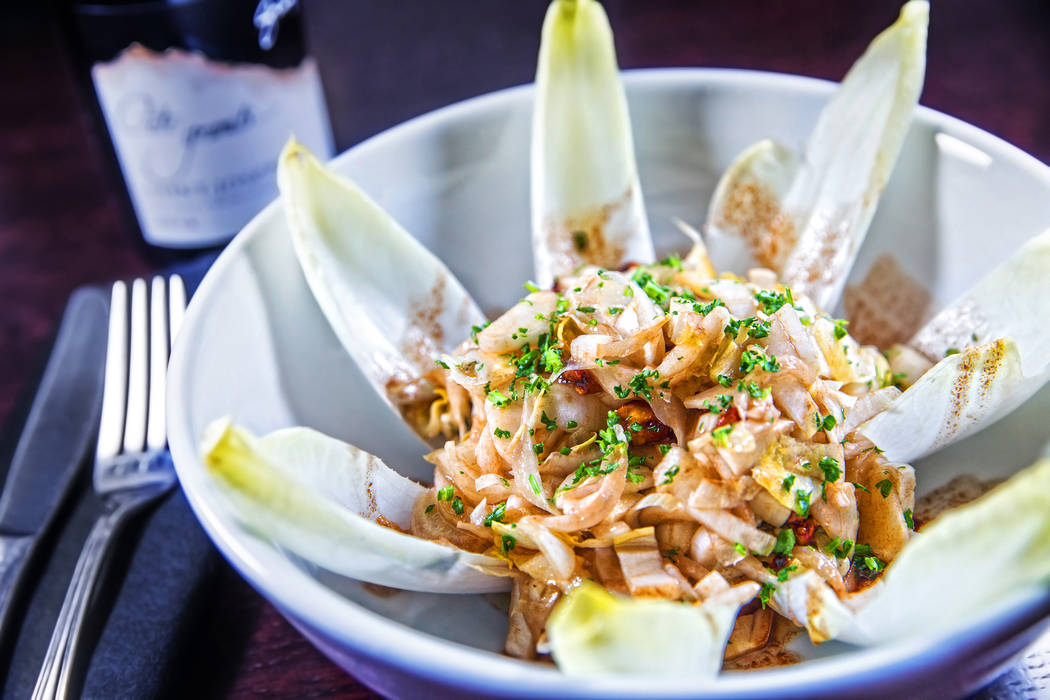 As cliche as a beret and baguette, the charming French boite, short on space and tucked into some out-of-the-way spot, serves food that is transcendent while staying true to tradition. The case in point here is Oh La La French Bistro, which last fall joined the valley's meager quotient of Gallic gastronomy.
One way in which Oh La La departs from the model is in service, which is not only excellent but exceedingly polite. Imagine a waiter who tries valiantly to find a break in the conversation before jumping in, or who, after being thanked for holding the door, says, "That's our job." Oh La La's polite, laid-back Northern California roots are showing (it has an Italian sister restaurant in San Francisco).
The menu fulfills the promise of classique and traditionnel, with such starters such as escargots prepared in the traditional manner, in a dish with wells where the snail nuggets are cosseted in garlic butter.
The tartines ($5.50 each) beckoned, though, for their comfort-food appeal. They're based on slices of sourdough and their simplicity puts a point on the purity of the ingredients. The garlic-toast base of the brie ceded the starring role to the melty slices of the rich, pungent cheese. It was at the least equaled, though, by the smoked salmon tartine. It's easy to go wrong with smoked salmon, but this was perfect, a little thicker than the norm for a meatier texture. The fish was balanced by the exceptionally clean flavor, a hint of sea air with a prodigious bit of smokiness, complemented by creme fraiche beneath it and fresh dill sprinkled atop.
Bavette a l'Echalotte ($17) was a riff on steak frites, and a welcome departure from the norm. Flank steak had been marinated, briefly seared to reach medium-rare and then sliced across the grain to further the cause of tenderness before being napped with a sauce based on red wine. The frites were represented by a great pile of the shoestring persuasion, fried perfectly so they were golden-crisp only on their squared-off edges.
Carbonara pasta ($14), a dish with a pronounced Italian accent, is right at home here but with the sophisticated Oh La La touch of a raw egg yolk, complete with shell, perched atop. That contributed a silken richness to what is inherently a fairly rustic dish, in this iteration fettuccine with a creamy sauce, the pronounced onion flavor of which was a happy marriage with the bacon that's an integral part of the dish.
Although there were other choices, the chocolate mousse ($6) tempted as rich, creamy and classic as a chocolate fantasy, with a hint of orange just to make things interesting.
Like any self-respecting boite Oh La La is a little difficult to find in plain sight, tucked away behind a Starbucks just off the busy intersection of Rampart and Lake Mead boulevards. But a little bit of wandering aside — just like its counterparts in all of those French towns — it's well worth seeking out.
Las Vegas Review-Journal restaurant reviews are done anonymously at Review-Journal expense. Email Heidi Knapp Rinella at hrinella@reviewjournal.com. Find more of her stories at www.reviewjournal.com, and follow @HKRinella on Twitter.
Review
Oh La La French Bistro, 2120 N. Rampart Blvd.; 702-222-3522
The essence: Very good food rooted in strong tradition, with exceptionally gracious service.