Old Vegas lives on at Golden Steer Steakhouse
Updated April 14, 2017 - 3:27 pm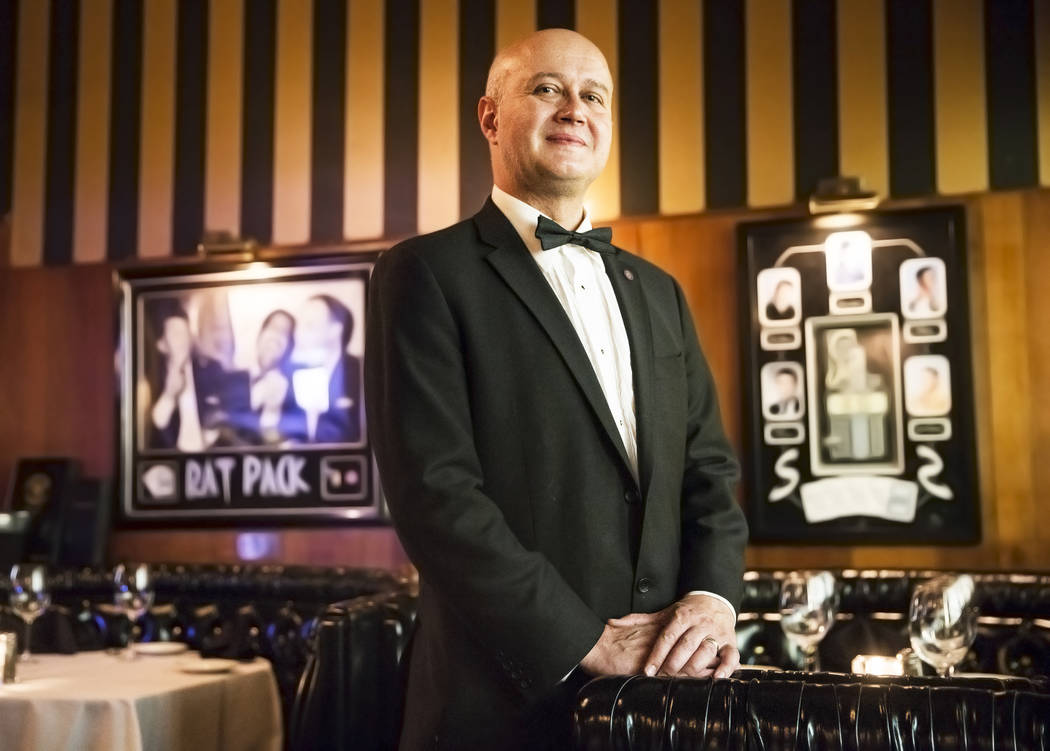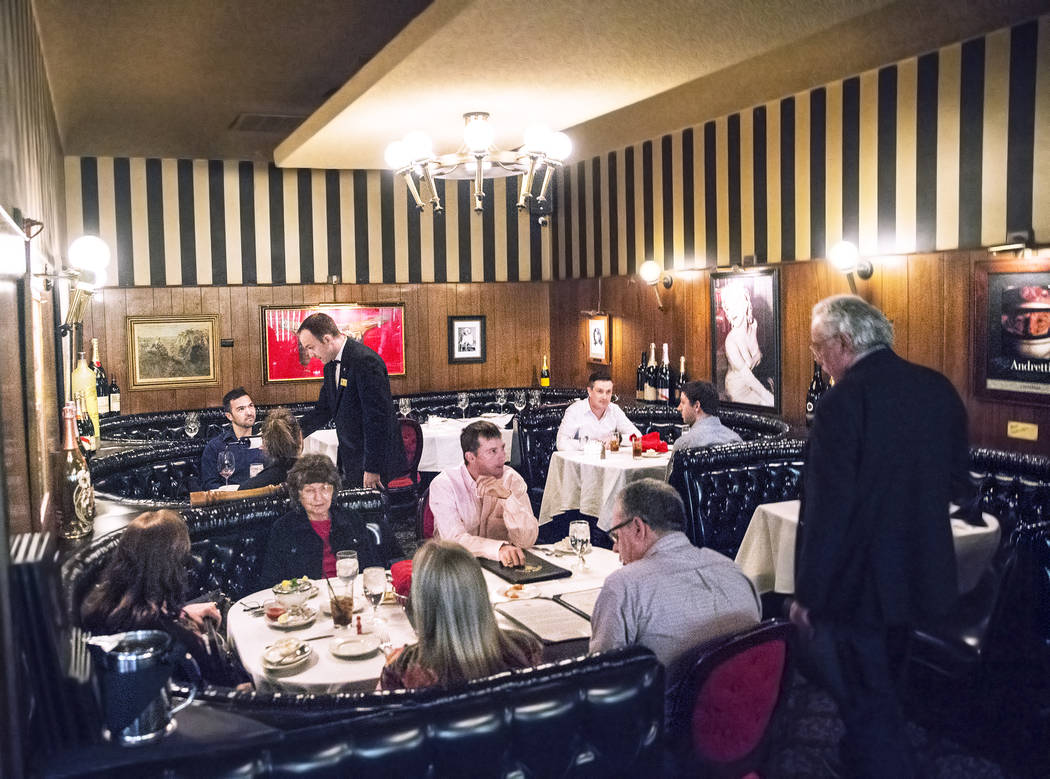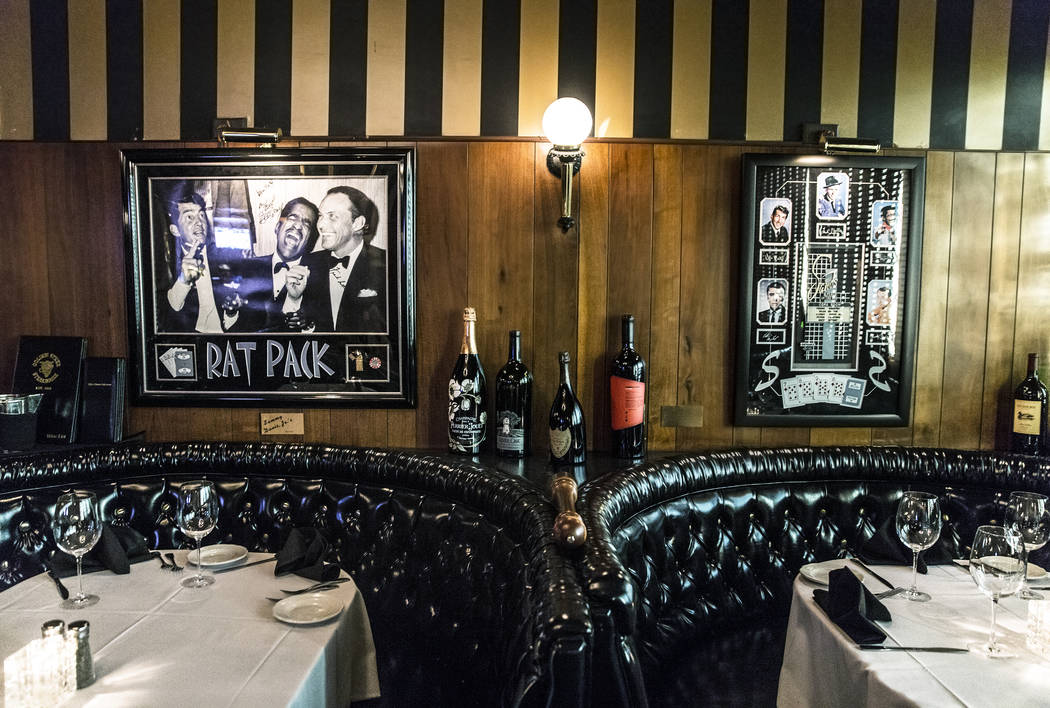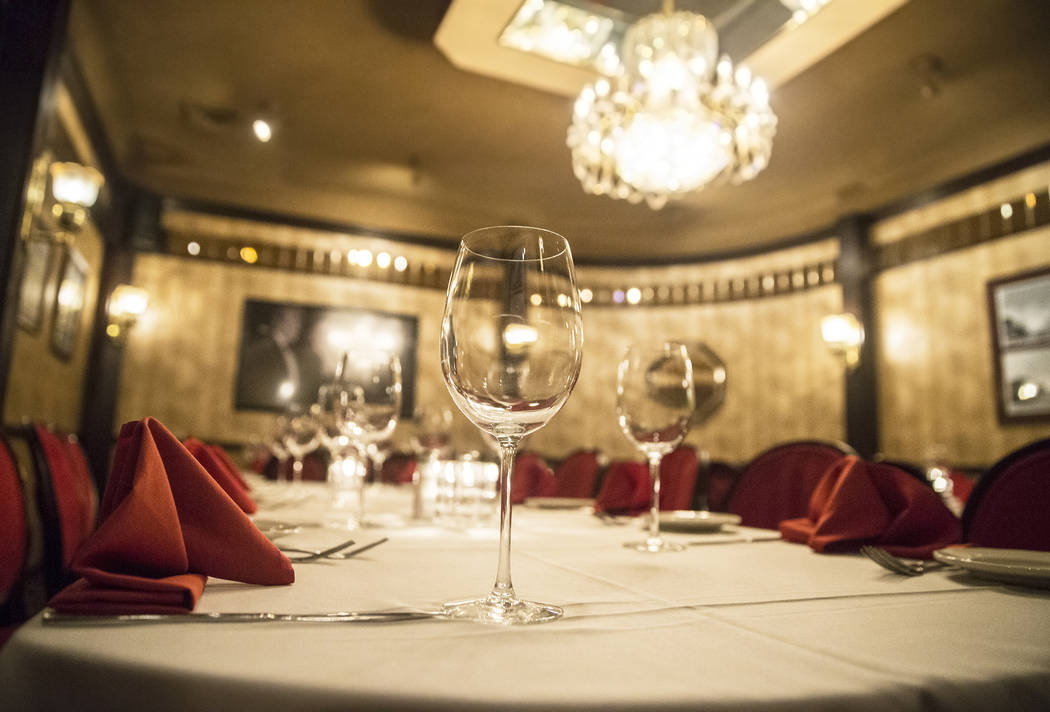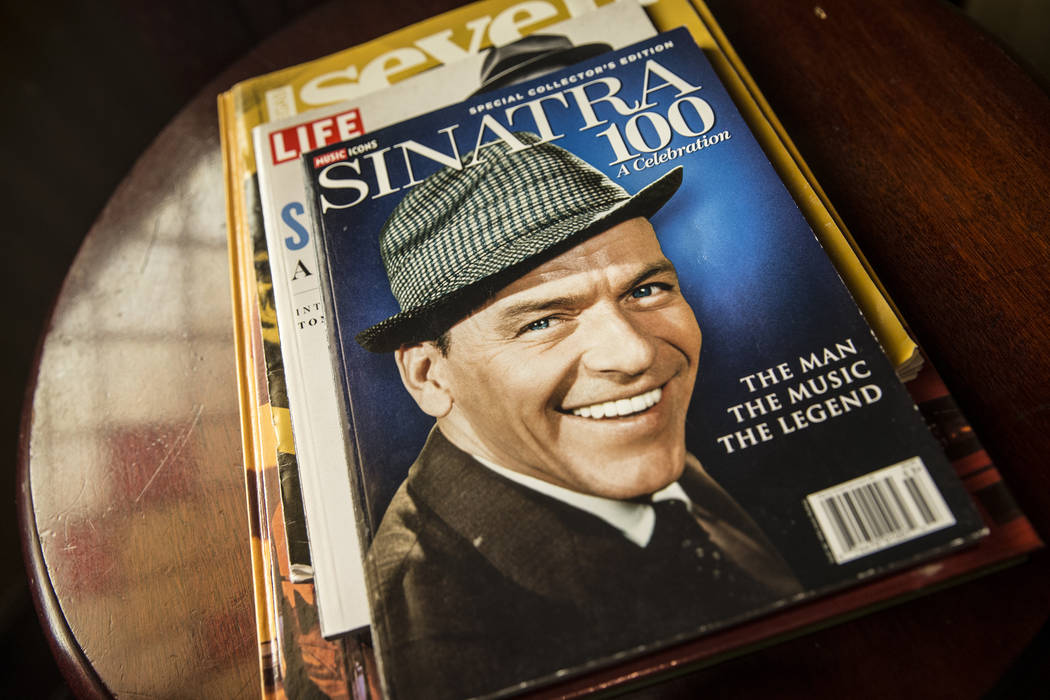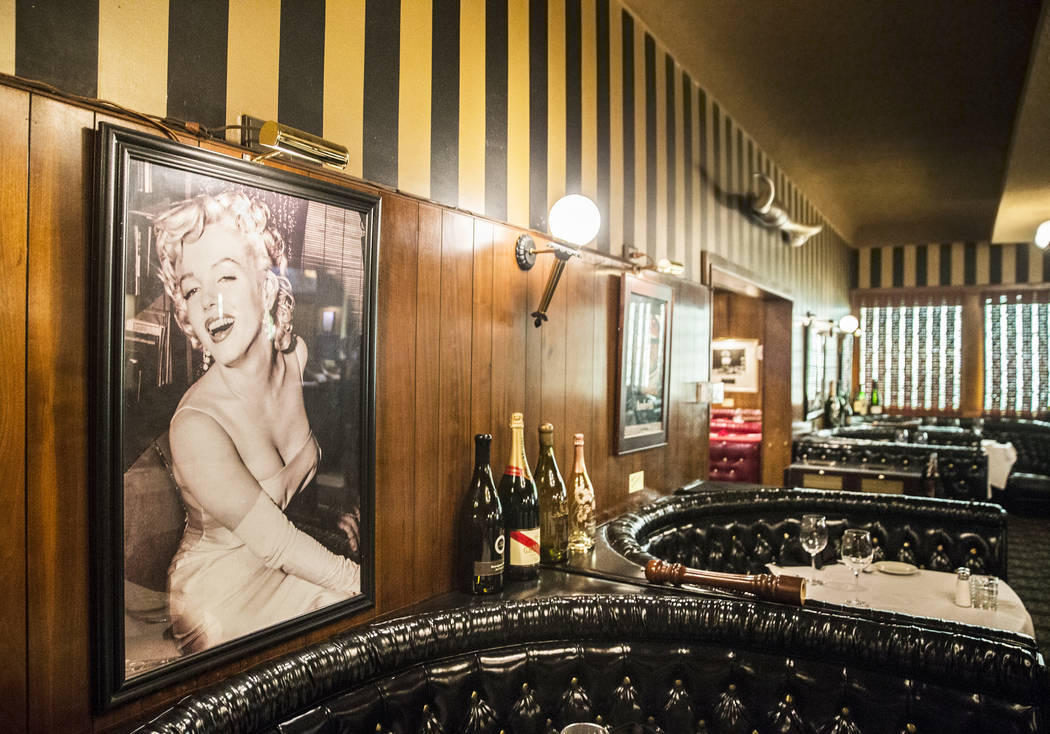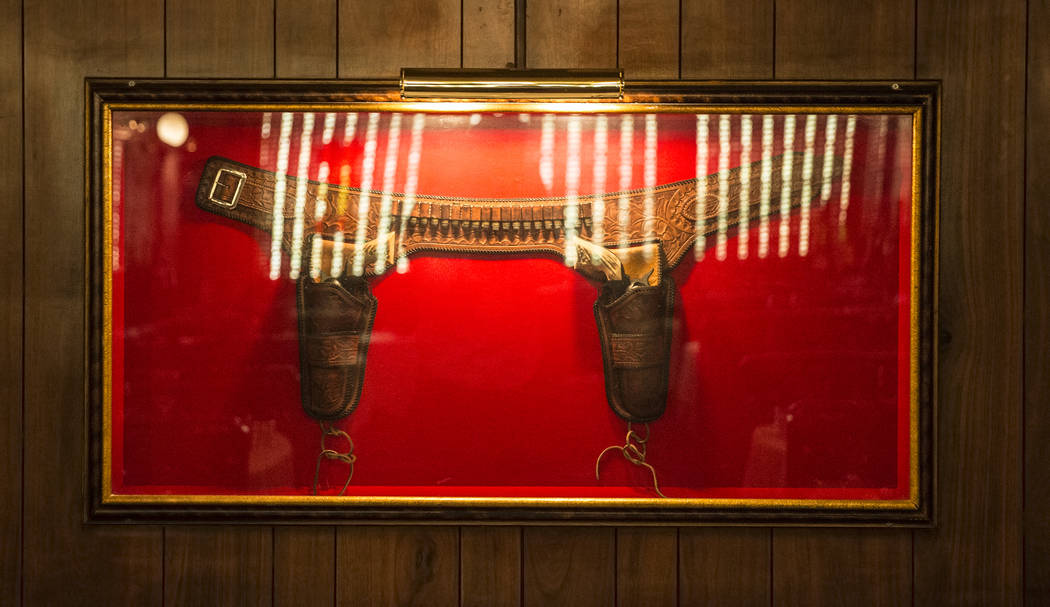 'Have you been in before?" asked the waiter.
"Yes, but it's been a while."
"It hasn't changed."
That would be a short route to oblivion for most restaurants, but the people behind the Golden Steer Steakhouse know what has served it well since 1958 and kept it going until its old Vegas cred made it cool again.
It was an old haunt of Frank and the Rat Pack in the days when they performed on the Strip a few blocks away. The restaurant has taken down the nameplate that used to mark Sinatra's booth because of light-fingered guests but you can sit there if you ask and it's available. It hardly seems necessary, though, in a place where the dining rooms are filled with old-school button-tufted circular booths and portraits of Pack contemporaries, and the Chairman of the Board dominates the soundtrack.
The Rat Pack booth is one of the most popular seating options at the Golden Steer Steakhouse. Benjamin Hager Las Vegas Review-Journal
Order Dino's favorite martini and you can get it with modern-standard blue-cheese olives but in a glass that would hold two of today's cocktails ($15). Wines by the glass may be Strip-level pricey but again, the pours are generous.
Frank's favorite clams casino is nowhere to be seen but the tableside Caesar salad ($12 per person) is not only a throwback but a very good one. The process, complete with narration, produced a salad that was cold and crisp and pungent with Parmesan cheese and Worcestershire sauce, with subtle undercurrents from lemon and anchovy paste.
Legend has it, Frank was fond of the New York strip and that's here in all its 16-ounce glory ($50), thoroughly seared on the exterior, pink within and carrying the depth of flavor that aging provides.
Golden Steer Steakhouse
Alaskan salmon ($32) is on the menu, too, baked, poached or blackened, the latter of which was decent enough but reminded us that everybody's forgotten (and quenched) the fire of blackened fish in its heyday.
Creamed spinach ($9) was by far the weakest link, a surprisingly runny interpretation that did no justice to fine steakhouse tradition.
Although the bananas Foster ($15) did, even more so because the dish, and especially the tableside preparation, are so rare. The waiter suggested splitting bananas for one and it was just enough, the flaming rum-brown-sugar-banana sauce reaching dramatic heights (positively fascinating a nearby table of 30-somethings) before it was carefully poured over vanilla ice cream.
The dining area at the Golden Steer Steakhouse. Benjamin Hager Las Vegas Review-Journal
Service throughout was elegant and polished, the kind that's no longer in favor but still appreciated.
There's a tendency to romanticize Old Las Vegas, which was a period of racism, rampant misogyny and other forms of ignorance, but some aspects were wholly positive, and at the Golden Steer they live on.
Las Vegas Review-Journal restaurant reviews are done anonymously at Review-Journal expense. Contact Heidi Knapp Rinella at Hrinella@reviewjournal.com or 702-383-0474. Follow @HKRinella on Twitter.
Golden Steer Steakhouse, 308 W. Sahara Ave.; 702-384-4470 or a retro DUnes 4-4470.
The essence: Everything that was great about Old Las Vegas.
Classic steakhouse remembers stars
The Golden Steer Steakhouse, which opened in 1958, started out as a small spot with a bar and dining room, according to a history on the restaurant's website. Over the years and through three owners — Michael J. Signorelli since 2001 — it gradually was enlarged as adjoining spaces became available in its small strip center on Sahara Avenue, about a half-block west of the Strip.
A larger bar with a Gold Rush theme was installed in the gaudy '70s, but 20 years later the owners took a step backward, imbuing the restaurant and bar with the feel of the Rat Pack era they've retained ever since (with frequent freshenings).
The restaurant was a favorite with the Pack — Frank Sinatra, Dean Martin, Sammy Davis Jr., Peter Lawford and Joey Bishop — during the '60s. Those were the years when they were a major draw on the Strip.
The Golden Steer commemorated one of its most famous customers with a birthday celebration during December 2015, when Sinatra, were he still living, would have turned 100. All month the restaurant offered a special menu of the singer's favorites: Clams Casino, a 16-ounce New York strip with sauteed tomatoes, garlic and wine; bananas Foster, flambeed tableside; three fingers of Jack Daniel's on ice; and Italian red wine. Those who wanted to celebrate in Sinatra's booth (table 22) on his birthday, Dec. 12, and who were willing to pay $1,000 per party of four were accommodated in three seatings that evening.
Many of the restaurant's famous customers live on today through portraits on its walls. They include Marilyn Monroe, Mario Andretti, John Wayne, Joe DiMaggio, Muhammad Ali and Elvis Presley.
General manager John E. Burke, who's been there 32 years, said he doesn't have any anecdotes about any of them to recount.
"So many people have dined at the restaurant in that time, none of them stands out," he said.
Translation: Whatever happens at the Golden Steer, stays at the Golden Steer.
Contact Heidi Knapp Rinella at Hrinella@reviewjournal.com or 702-383-0474. Follow @HKRinella on Twitter.