Sushi burritos are the food fusion Las Vegas has been waiting for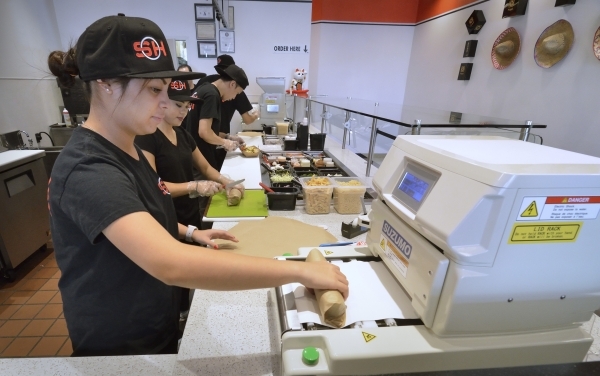 Some pretty interesting fusion formulas have been popping up in Southern Nevada restaurants during the past few years. I've been known to goof on them from time to time, inventing formulas that seemingly would never work. One I think I've mentioned is Ethiopian-fondue, which would be awfully messy — and let's not even consider the potential for burns.
But the truth is, I have great respect for the creative minds that come up such fusions. I've also liked even the more improbable ones; many, if not most, cuisines have elements that are either shared or at least complementary to elements in other cuisines, and often work quite well together if carefully conceived.
Which brings me to Soho SushiBurrito (which, it seems, used to be called Jaburritos and is a sister to Soho Japanese Restaurant in the southwest part of the valley). And, yes, you read that right; the specialty is sushi burritos. They're already a thing in other parts of the country, and if you think about it, the concept is only logical. Don't think beans, salsa and cheese, but traditional sushi fillings, rolled up like a burrito. Sushi and burritos already have rice in common; you're adding seafood, raw or cooked, as well as vegan alternatives, plus vegetables and other Asian flavor accents. So it's sort of sushi on a larger scale, with maybe a lower proportion of rice.
I went with the Long Beach ($10.95), which centered on a favorite, spicy tuna, as well as shrimp tempura and surimi, a fish product most of us think of as fake crab, or krab. Sushi burritos start with a choice of wrapper, which in my case was soy paper, flecked with black sesame seeds; other choices are flour tortillas or seaweed paper. The wrapper was lined with a thin layer of sushi rice, all of it wrapped around the seafood, plus tortilla strips, romaine, cucumber and guacamole, with chipotle mayo giving it a little kick.
And this was, hands down, one of the most interesting things I've tasted in a while. The seafood contributed assertive flavors and varying textures, with the tortilla strips, romaine and cucumber contributing lots of crunch and the guacamole and mayo a creamy element.
It also was, truth be told, a little messy. I'm thinking the tortilla may hold up better — that's the case with classic burritos, at any rate — but the moisture from the guacamole and mayo, though welcome, did tend to soak through the wrapper after a few minutes. I'd picked it up to eat it, but as I got about three-quarters of the way through I was grateful that the restaurant provides plastic flatware as well as plenty of paper napkins.
As well as the variety of chef-designed sushi burritos, Soho SushiBurrito offers do-it-yourself burritos, bowls and salads. You decide on the format — a bowl, for us — then choose a protein. We went with grilled chicken ($6.95), but other choices are grilled steak, raw or cooked seafood and other sushi-friendly choices such as sweet omelet, soft-shell crab or tofu ($5.95 to $7.95). A whole variety of toppings, including vegetables, tortilla strips and pico de gallo, are included; a few more are 50 cents extra. And you get two sauces.
The success of this sort of endeavor is, of course, dependent on personal taste and how successful you are in appealing to your own, but our bowl with grilled chicken, roasted corn, pico de gallo and tomato and queso de gallo sauce was very nice.
A couple of caveats here: First, the center that's home to Soho SushiBurrito — on Sahara Avenue across from Palace Station and just west of Landry's — is undergoing a face-lift, so don't be put off by all the construction equipment. Second, while the restaurant is a pretty decent size as these things go, it tends to get very crowded, even on what should have been a slow weeknight. Third, while management deserves plaudits for the use of recycled/sustainable materials in its furniture, there's nothing to soak up the sound, so it tends to be on the loud side. But it was clean and neat, employees were patient and service was quick.
And they serve some really, really good sushi burritos.
Las Vegas Review-Journal restaurant reviews are done anonymously at Review-Journal expense. Email Heidi Knapp Rinella at hrinella@reviewjournal.com. Find more of her stories at www.reviewjournal.com and follow @HKRinella on Twitter.