'A Mob Story' brushes off delays in downtown Las Vegas
Updated August 17, 2018 - 7:40 pm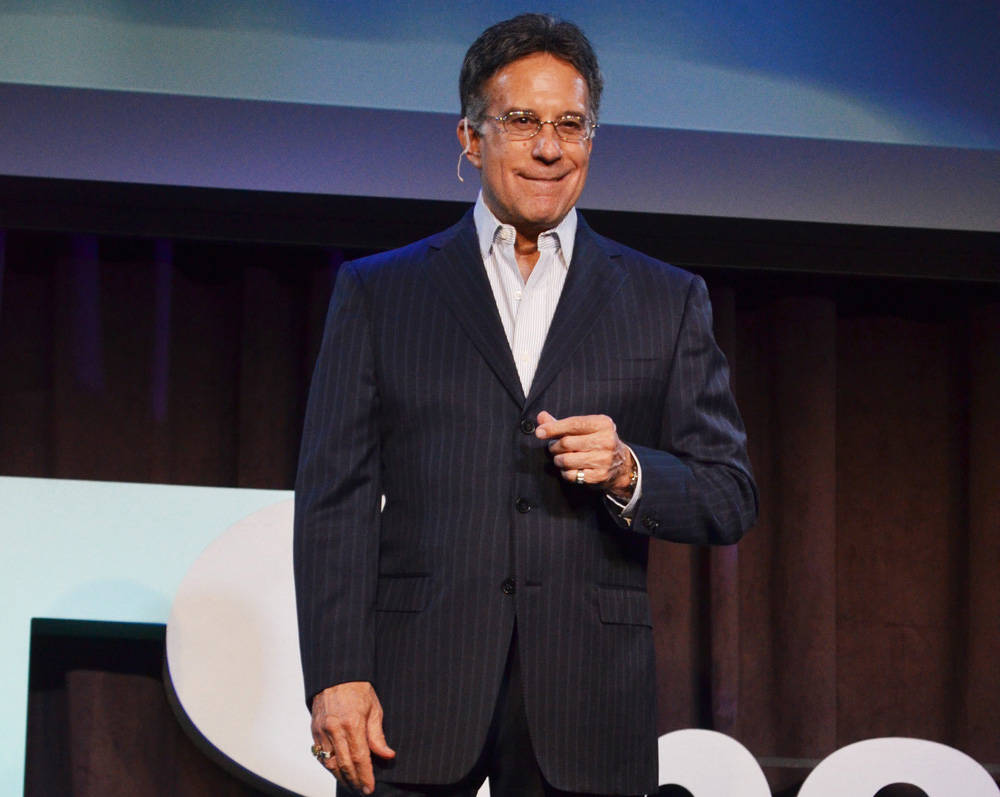 The Kats! Bureau at this writing is Visitors Center at the Plaza. Subway sandwich shop, which is open 24 hours, is in full view. So is Real Results gym, which is not open 24 hours.
Earlier, across the casino, I ran into Jeff Kutash and Michael Franzese, co-producers of "A Mob Story," where the theme remains, "Nothing to see here, folks. Move along." Despite some setbacks, the show is still set to open Sept. 12 at the Plaza Showroom.
The mafia-driven musical has served as a story within a story. The show has been twice delayed since its July 11 opening was announced. This week, the show received word that another co-producer, Marty Romley, was pulling out of the project.
Romley did not specify the issues he had with the production. His departure is a surprise, no question. For 40 years, Romley has been a friend and business partner of Kutash, who produced the hit "Splash" at the Riviera for 22 years until closing in 2006. Kutash also produced the hit show "Enter the Night" at the Stardust.
"A Mob Story" is another of Kutash's attempts to bring an original stage show to Vegas. "A Mob Story" continues to lurch forward, though it has been hit (as it were) with an array of production challenges. The remaining crew says the snags are caused by the show's scale — the showroom is being overhauled, with new platforms, staircases, LED panels and elaborate projections.
As Plaza CEO Jonathan Jossel said in a phone chat Friday, "We've never had a show like this before. It's an elaborate show, the investment is impressive, the quality is incredible. But I'm not worried. I don't see any more delays."
I walked the showroom with Kutash earlier and saw evidence of the show's intensive staging. A new dancing platform has been built, and Franzese is delivering some of his lines from a jail cell. One dance number is set in a re-fabricated Caesars Palace sauna, which Kutash says will feature a number in which mob boys "do kind of a Chippendales number."
Please pass the robes, and see the full monty on Sept. 12.
SJP on the scene at Piero's
I should have played waiter at Piero's Italian Restaurant on Thursday night. Entertainment legend Steve Lawrence and his entourage were on one side of the restaurant. Team Sarah Jessica Parker was on the other. Owner Freddie Glusman was seated in his customary booth just off the entrance.
Lawrence is a familiar figure at Piero's. But until Thursday, Parker had never been there, telling Glusman and wine director Pat Rost, "Thanks for having us!" Parker was in town to meet with staff and customers at her SJP store at Bellagio. Evidently, she is fond of shoes …
The Space ready to roll
The Space has made the proper changes to its main performance venue and is allowed to operate as fully scheduled. Clark County inspectors found two exit signs were not displayed, and a door was swinging in the wrong direction. But a Clark County spokesman said Friday morning that the venue had made all the changes, and the case has been closed.
The inspection stemmed from an unauthorized fire act staged at the July 23 performance of the charity show Mondays Dark. Proprietor Mark Shunock will host the next MD event, to benefit the Down Syndrome Organization of Southern Nevada at 9 p.m. Monday. Should be another packed house at The Space, where the theme is always, "Safety First."
Emmet's 'Cocktail' toast
Vocalist Daniel Emmet is taking time off from "The Cocktail Cabaret" at Caesars Palace for the foreseeable future. He is chasing the rainbow at "America's Got Talent," returning as a wild card to the NBC show on Aug. 28. Emmet was let go after nailing "Caruso," singing in soaring Italian, on the July 17 broadcast.
The reason Emmet was originally given for being sent home was … well, no one can actually say. Maybe he was too tall.
Flanked by co-stars Eric Jordan Young, Niki Scalera, Maren Wade, pianist Joey Singer and producer Keith Thompson, Emmet told the crowd after Wednesday's show, "I can't wait to come back to a show that will run for years to come."
Thompson offered, "You will always have a place here."
Emmet is subbed through the next three weeks, but his schedule will consolidate after he performs Aug. 28. Ron Remke, late of "Baz" at the Palazzo Theater and "Jubilee" at Bally's, is in the show in Emmet's spot.
Cool hang alert
Column fave the Ronnie Foster Trio is at Myron's Cabaret Jazz at The Smith Center at 2 p.m. Sunday. We've invoked Foster in this column recently, for his collaboration with Stevie Wonder on "Songs in the Key of Life" and for his role as keyboardist Dlanor in the Many Moons Band in "Opium" at The Cosmopolitan of Las Vegas.
Foster has also backed George Benson for 15 years, Lionel Richie (who is back at Zappos Theater at Planet Hollywood Resort this weekend and next), Roberta Flack, David Sanborn, Grover Washington Jr., Chet Atkins and The Jacksons (he's on the 1980 "Triumph" album). In his trio, Foster is ably joined by guitarist Jake Langley and drummer Jess Gopen.
Taking in Foster's nearly unbroken jam session is like taking a ride on the Manhattan Express at New York-New York. Except, instead of a roller coaster, you're on a Hammond B-3.
John Katsilometes' column runs daily in the A section. Contact him at jkatsilometes@reviewjournal.com. Follow @johnnykats on Twitter, @JohnnyKats1 on Instagram.