Clint Holmes, Earl Turner scramble to fill in for Barry Manilow
Updated June 16, 2018 - 1:45 pm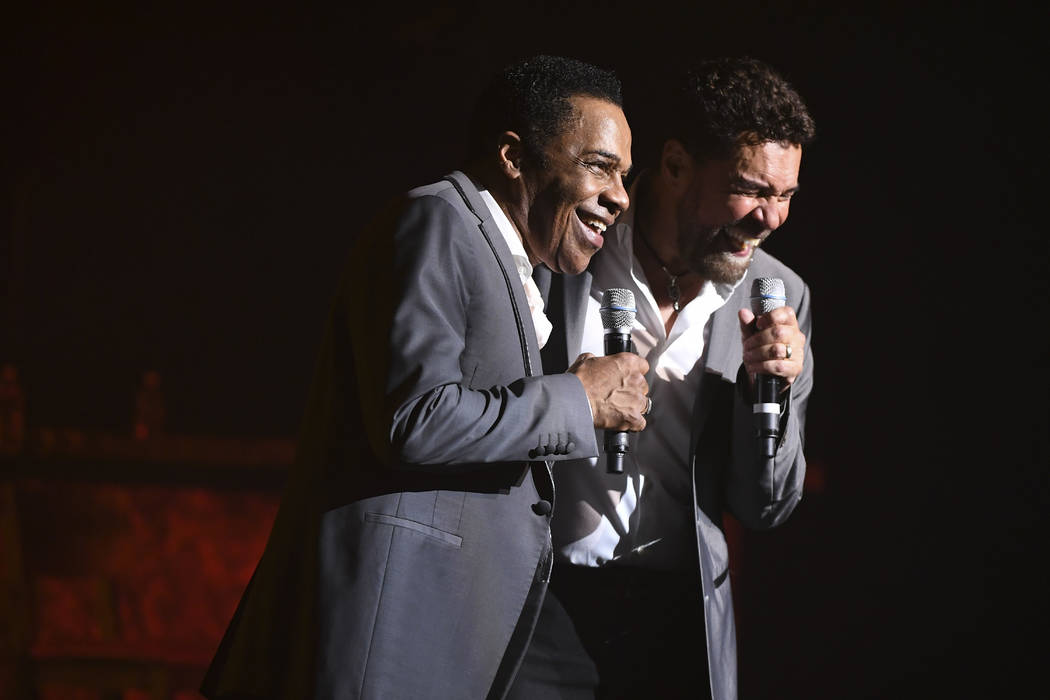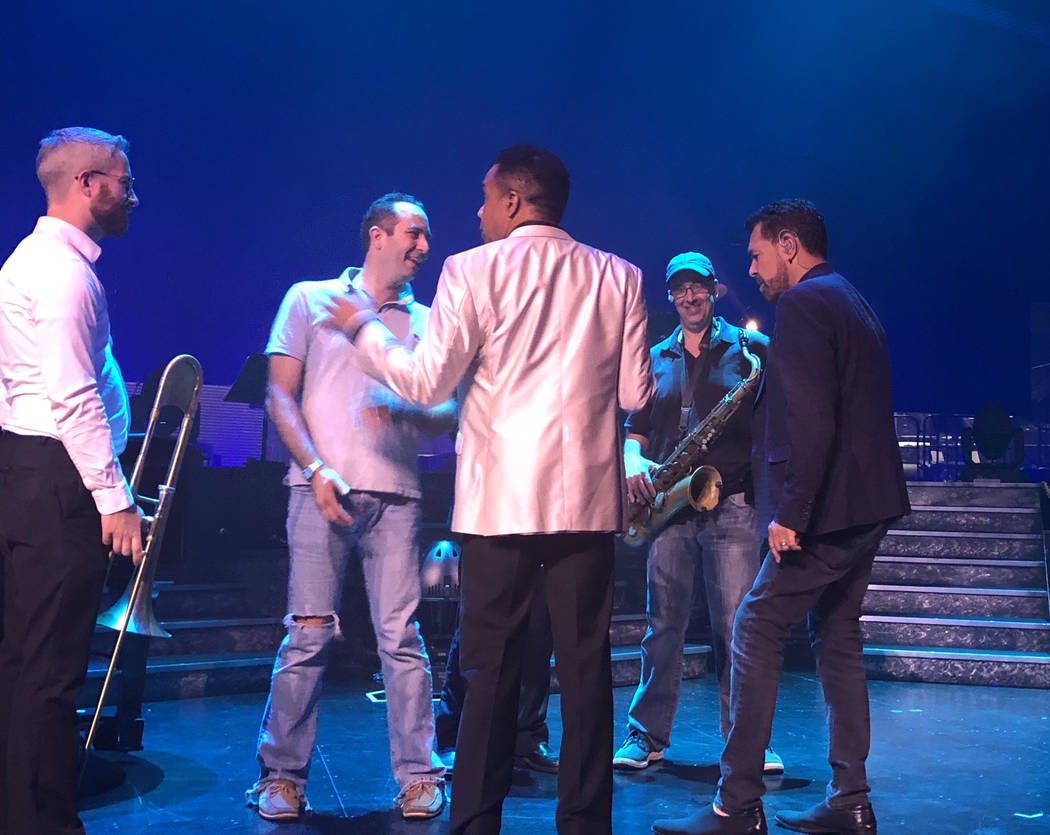 Clint Holmes and Earl Turner had planned to be at Westgate Las Vegas on Thursday night.
But the idea was to walk the red carpet and attend Barry Manilow's premiere at International Theater.
Instead, they were onstage.
The co-headliners of "Soundtrack" at the hotel were summoned from the bullpen Thursday morning with the (ahem) invitation to fill in for Manilow, who had to cancel is opening weekend after being hospitalized with a bronchial infection.
Manilow's shows Thursday, tonight and Saturday have been called off and rescheduled for Oct. 25-27. His show, "Manilow Las Vegas — The Hits Come Home" will instead mark its premiere on its next scheduled dates, Thursday through June 23.
Manilow, who turns 75 Sunday, is expected to make a full recovery and is already said to be eager to get off his back and back onstage. But meantime, Holmes and Turner hastily reassembled their band (or at least as many players who were in town) and are onstage today and Saturday at 8 p.m.
The performance of "Soundtrack" helped Westgate Las Vegas Founder and Chief Executive Officer David Siegel offer a suitable option to the dozens of friends and high rollers — more than 60 in all — he'd invited to Thursday's show. Raiders owner Mark Davis, who frequently stays at the hotel when he's not in the Bay Area, was among that group. Most of the Westgate hierarchy was in the venue.
The pressure was on the "Soundtrack" stars, certainly.
Holmes and Turner were both notified mid-morning Thursday they would be called to action. Holmes confirmed as much in a text saying, "Put me in, Coach!"
Later, Holmes said he thought, "Where is our band at this moment? Without them, it can't be done." He was also concerned about Manilow's health — it wasn't until he was taken to the hospital Wednesday night did it seem the weekend shows would be canceled.
Holmes added, "I was happy the hotel felt strongly enough about our show to put it up in this circumstance."
Turner said the duo caught a break in that they were already to be together at Westgate for the Manilow opening. The show's invaluable music director, keyboardist and vibes artist, Christian Tamburr, was also around and he scrambled to the hotel to provide charts and head up the sound check.
All of that went through Turner's mind as the series of events unfolded.
"I thought about how much faith Westgate was putting into our ability give their guests a great show," Turner said. "We needed for them to leave happy. Finally, I knew that despite the circumstances, Clint and I would deliver a night of great music and they would leave feeling better for having come anyway."
One of Manilow's own musicians, sax Glen Berger, filled in for regular band member Rocco Barbato. Guitarist Jake Langley subbed for Pablo Gadda. Barbato and Gadda are both out of town for the weekend. The remaining players onstage were "Soundtrack" regulars Andrew Boostrom on trombone, Ramiro Nasello on trumpet, Steve Flora on bass and Kevin Cloud on drums.
The musicians came in with the attitude that they would entertain, regardless of the sequence of events."There was never any doubt in my mind," Turner said. The great modification for the unscheduled gig was the video of Manilow performing "Mandy" on "The Midnight Special" in the mid-'70s was played to introduce Holmes and Turner.
"We're sorry Barry can't be here, and we wish him a full and speedy recovery" Holmes said. "But we're here to give you a night of music."
In Las Vegas, that's how it's done.
Meeting for 'Marilyn'
In an effort to assuage concerns of performers and blunt skepticism about the future of "Marilyn – The New Musical," Caesars Entertainment President of Entertainment Jason Gastwirth has informed the cast directly that the show is to return to the stage in September.
Gastwirth confirmed today that he met with the performers after Thursday's show and told them Caesars Entertainment remains behind the production.
"Marilyn!" is shutting down after Sunday's show at Paris Theater, with a return date set for Sept. 4. Gastwirth has also confirmed the show might move to a different theater after this self-described "hiatus" concludes. The show opened June 1, but has been undercut by financial shortfalls, production snags and an uneven retelling of Marilyn Monroe's life story.
Mayor misses party
High-profile Golden Knights fan and our city's mayor did not attend the "Vegas Stick Salute" on Wednesday at 3rd Street Stage on Fremont Street.
"This was an event for the team and for our citizens to celebrate the team," Las Vegas Mayor Carolyn Goodman said Thursday. "If they had specifically asked me to do X, Y and Z, I would have been happy to be there. The coverage looked just amazing."
About 7,500 fans jammed the stage at the Fremont Street Experience to cheer the team a last time before it breaks for the Summer. Among those well-wishers who turned out in 100-plus-degree heat was gubernatorial candidate and Clark County Commission Chairman Steve Sisolak.
Sisolak, too, is an avid VGK fan who was a familiar site at T-Mobile Arena, but he was not at the "Stick Salute" in any official capacity.
Noybel's muse
Vegas vocalist Noybel Gorgoy is releasing an ode to her late father, Noel, appropriately enough, on Father's Day. The single is called "Puros Sueños (Pure Dreams)." The tune is available on all digital platforms.
Gorgoy sang in Holmes' "Between The Lines" show at Palazzo Theater and is a member of the gypsy-jazz band Hot Club Las Vegas. She is originally from Pinar del Rio, Cuba, having moved to town with the production "Havana Night Club" at Stardust in 2004.
Gorgoy's father was was a composer and guitarist for a prominent theater group in the family's hometown. Noel Gorgoy had planned to move to Las Vegas in 2013 when he died tragically after falling down a flight of stairs. She also plans to film a music video with the single. As Gorgoy says, "I think wherever my father is, he will love it."
Cool hang alert
I often say to Franky Perez, "I hate it when you phone it in." I'm being facetious, always, as Perez is commonly soaked in sweat after a gig when I make that crack.
A Las Vegas native, singer/songwriter and an absolute flamethrower onstage, Perez performs with his band The Dirty at Alexxa at Paris Las Vegas from 9:30 p.m. to midnight Saturdays. There's no cover charge, and even the open, Strip-side view is free.
John Katsilometes' column runs daily in the A section. Contact him at jkatsilometes@reviewjournal.com. Follow @johnnykats on Twitter, @JohnnyKats1 on Instagram