Could ice skating dog be the next Golden Knights on-ice show?
Updated September 21, 2018 - 3:01 pm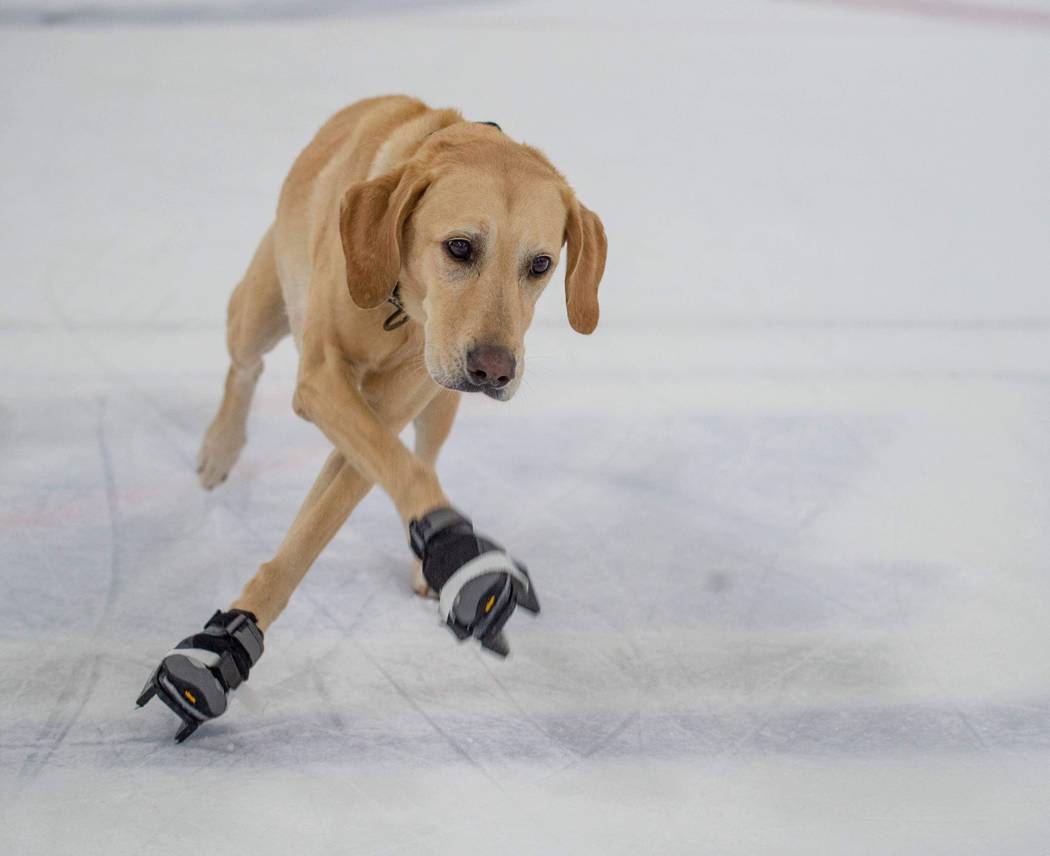 Not long ago, Benny the Skating Dog was a shelter animal on the list to be euthanized.
Now he's a real Wayne Grrrrrretsky (sorry).
But Benny's life has taken a fortuitous turn, a doggie who can perform 50 tricks — especially skating. With a stick, and a puck.
The 6-year-old (an estimate) yellow Labrador retriever is the star of videos and photos arranged by his owner, Cheryl DelSangro. A former professional skater, DelSangro is originally from Cleveland and taught skating for 20 years before moving to Las Vegas with her husband, Flory, to operate Boulevard Bar & Grill on Las Vegas Boulevard South, across from South Point.
DelSangro, a gifted instructor, is also a natural at working with animals. She has three other dogs, and has trained them all, but none like Benny.
DelSangro noticed immediately Benny was uncommonly smart and agile (at 50 pounds, comparatively small for a lab).
But though she loves dogs, DelSangro had never laced a pair of skates on a pooch. That changed when she adopted Benny, who had been housed in a shelter in Salt Lake City before being shipped to Las Vegas — one day before he was to be put to sleep. DelSangro rescued him then.
"I have always had a big interest in dogs, and after we adopted Benny I sort of fell into dog training as a replacement to teaching skating," DelSangro says. "Benny is easy to teach and can learn anything."
DelSangro learned of Benny's skating potential when she helped a photographer friend, Rick Vierkandt, shoot a video at Las Vegas Ice Center after the Vegas Golden Knights made the NHL Playoffs.
Benny loved his time at the center. He scrambled around the ice, picking up pucks, then a stick.
"That's when it clicked for me that I could teach him how to skate on actual ice skates," DelSangro says. "If I could teach our daughter to skate back in Cleveland at the age of 17 months old, I could teach Benny to skate."
DelSangro made a pair of skates with the help of a local shoemaker, and a dog-boot company out of Canada. Benny wears the skates only on his front paws; the back paws provide traction.
"He was very comfortable and immediately started to skate. I corrected his feet positions a few times and he was off on his own," DelSangro says. "We were completely astounded."
The next step, or skate, for Benny the Skating dog would be to perform as part of the Golden Knights' on-ice entertainment lineup. DelSangro says, "I do not want any money from this. I just want everyone to see what I've seen, that this is just so amazing. I've never seen it before."
Even so, the idea gives the team paws — er, pause — because dealing with canines presents a unique set of concerns.
"That dog gets excited and pees on the ice," Golden Knights Vice President of Entertainment Jonny Greco says, "we've got some explaining to do!"
Maybe Benny the Skating Dog will become a member of the Golden Knights. It would only be fitting. Call it a meeting of two underdogs.
John Katsilometes' column runs daily in the A section. Contact him at jkatsilometes@reviewjournal.com. Follow @johnnykats on Twitter, @JohnnyKats1 on Instagram.