It's time to knock 'n' roll for Richard Branson in Las Vegas
Updated March 30, 2018 - 11:53 pm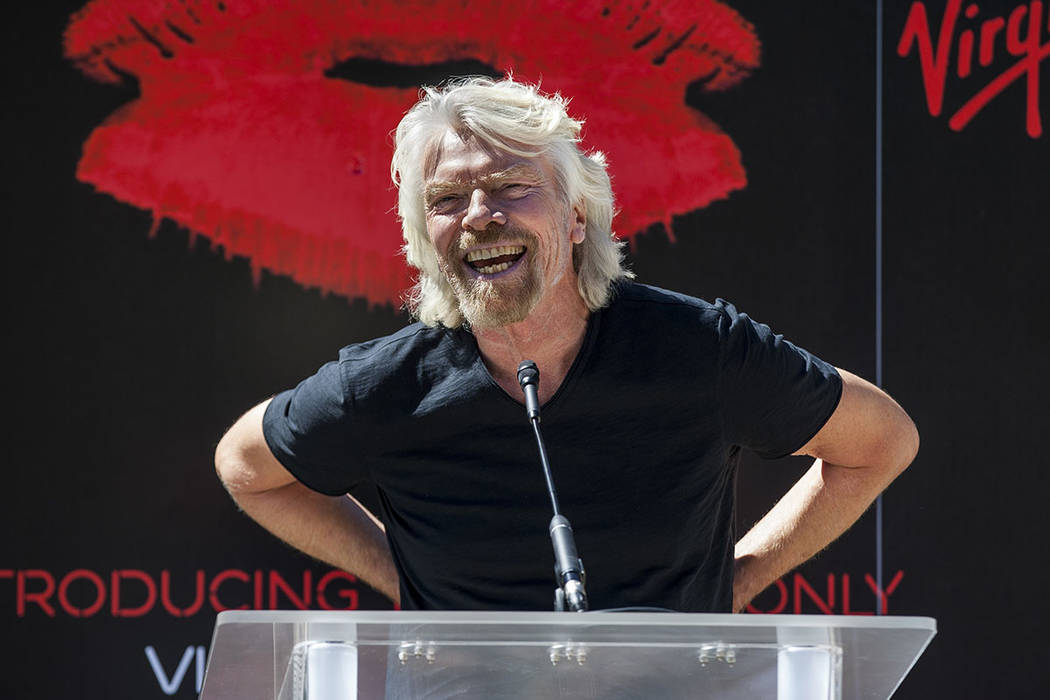 The sale of the Hard Rock came with an elbow knock.
That's how Virgin Group founder Richard Branson greeted his many well-wishers on Friday afternoon, having just announced that his partnership in Virgin Hotels had snapped up the Hard Rock Hotel.
"Sorry, I've gotta knock," he said, bumping forearms. "I've been sick and don't want you to catch anything."
Maybe so, but Sir Richard seemed the picture of health during an event that was part news conference, part outdoor lounge hang at Rehab pool.
The beverages, and the mood, were inescapably bubbly.
Branson is among the investment group also made up of Bosworth Hospitality Partners and investment firm Juniper Capital. Just as Branson arrived, knocking his way through the crowd on the upper-level pool deck, the deal was finalized.
"It closed just moments ago," Branson said with customary flair as he took the podium. "We are in Las Vegas. I've said the only company that can take over for Hard Rock Hotel is Virgin. But I'm biased, of course."
Though he's an investor in his Virgin company and not the outright owner, Branson is the major international personality of the hotel. He seems to ready to assume, eagerly, that role.
"I think any company benefits from having a personality at the top, a face of the public corporation," Branson said. "I'm happy to be here, to be in that tradition in Las Vegas, and I accept that position, certainly."
Branson then smiled and added, "I keep looking 'round and thinking, 'God, why didn't we try this 40 years ago.' Right? But I don't know about that — we might have gotten into a lot of trouble."
With that, the billionaire entrepreneur strode to the pool, stepped onto a plastic platform just under the water's surfaced, and grooved it up, Vegas-style.
Summon the roadies
On the topic of rockin' decisions, a big instrument is about to be crated and carried away.
"The guitar may not survive," Branson said during his address to the media, referring to the famous Fender Stratocaster jutting high above the hotel's main entrance. "But we have a giant 'V,' that is kind of guitar-shaped, that may be used."
Branson, new Hard Rock/Virgin Hotels Chief Executive Officer Richard "Boz" Bosworth and Virgin Hotels Chief Executive Officer Raul Leal all said there are plans to remove the guitar in favor of a fancy Virgin Hotels sign.
Thus, the Fender, like the Gibson guitar at Hard Rock Cafe, will be taken down from the corner of Harmon Avenue and Paradise Road. The Gibson is headed for the Neon Museum's Neon Boneyard. "I don't know yet what we'll do with our guitar," Branson said.
But he'll keep the memorabilia
Branson ticked off several superstar artists from his Virgin Records label, including Mick Jagger, David Bowie and Janet Jackson, whose memorabilia is displayed behind glass at the hotel.
"Virgin is a rock brand," he said. "We have no plans to release the memorabilia. I have loved seeing all of it, actually."
Seven new restaurants
Bosworth said among the Virgin Hotels' upcoming announcements are culinary partnerships across the hotel.
"It will be extensive," he said. "We'll have approximately seven new restaurants."
Cafe building bye-bye
Bosworth said the former Hard Rock Cafe building would "most likely" be razed, but the company hasn't decided what will replace it on the Harmon/Paradise corner. The adventurous sound stage for "The Voice — Neon Dreams," which opens in September, is being built near that parcel. "We'll be rerouting traffic as it comes in, both pedestrian and vehicle traffic, at that site. We've brainstormed other ideas about what to do with that corner, including partnering with a number of third-party brands that would be highly complementary to the brand, but we still have a lot of final decisions to be made."
More pool emphasis
What is more certain is Rehab pool is to be expanded. There are 3 acres of territory adjacent to the party deck that the new operators want to turn into even more of a focal point by the end of 2019.
New club in the offing
The new partners plan to build a new nightclub to replace Vanity, near The Joint space. That will require adventurous design and a lot of resources, as convention space borders the music hall on one side, and the new Voice Theater is connected on the other side.
However …
"When you are spending hundreds of millions of dollars in renovation, there is a lot you can do, even with existing space," Bosworth said. "You'll see significant changes. Don't expect to come walking in and just see that it will be the same Hard Rock, with new carpeting. It will be transformed. We always use that term, and I don't know a different way to explain it."
The old Vanity nightclub is likely to be transformed to a spa/wellness center (Branson's company is an avid proponent of wellness concepts), with "Magic Mike Live" remaining in the old Body English nightclub space.
Branson said he had no plans to rebrand or redesign The Joint, which fits the Virgin vibe.
"I like the name, 'The Joint,' " he said. "It's kind of fun, isn't it?"
It has worked so far.
The next big arrival
Branson recalled the publicity stunt — emphasis on "stunt" — from 2007, when he rappelled down the side of The Palms to promote the inaugural Virgin America flight from San Francisco to Las Vegas. He wound up bloodied on his backside, his jeans torn, after colliding with the side of the tower because of high winds.
"I thought, 'This is not sensible,' " he said, smiling while recalling one of his more famous arrivals.
But Branson surveyed his surroundings and reasoned, "Virgin Atlantic flies here, there are some flat roofs up there, we'll have a massive sign, it's the first thing people flying in will see … anyway, we'll come up with some ideas."
John Katsilometes' column runs daily in the A section. Contact him at jkatsilometes@reviewjournal.com. Follow @johnnykats on Twitter.