Jay Leno, Bryce Harper joining 'Vegas Strong' lineup
November 23, 2017 - 5:26 pm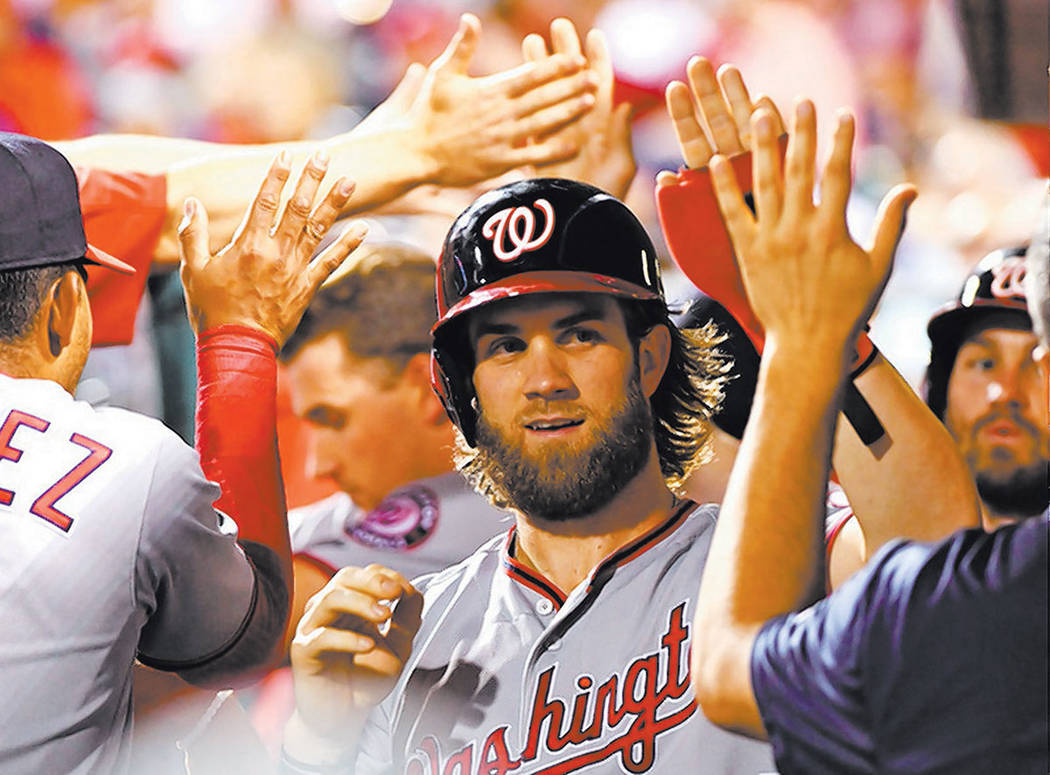 With a famed comic and a baseball superstar, "The Vegas Strong Benefit Concert" just got stronger.
Former "Tonight Show" host Jay Leno and Washington Nationals all-star outfielder Bryce Harper have been added to the lineup for the Dec. 1 fundraiser at T-Mobile Arena. That battery joins previously announced headliners The Killers, Imagine Dragons, David Copperfield, Boyz II Men, artists from Cirque du Soleil productions (specifically "Mystere" and Blue Man Group) and Penn & Teller.
Organizers consider that lineup final, though late adds could happen. Event proceeds will go to the Las Vegas Victims Fund through the National Compassion Fund. Donations of $10 also will be accepted by texting VEGAS to 20222. Donations are also accepted anytime on the Axs.com website.
Tickets are on sale at AXS.com or through AXS Call Center at 888-929-7849; they cost $75 to $125. In-person purchases are available at any MGM Resorts International box office location or concierge desk.
Expect Leno, a recurring performer in the "Aces of Comedy" series The Mirage (he's back Dec. 30), to perform a few minutes of his stand-up act. Leno has been performing on the Strip since the late-1970s. He's friends with Carrot Top, among other Vegas comics (Topper still uses a video of Leno chiding him in his stage show at Luxor). In 2012, Leno actually booked Carrot Top and ex-Vice President Dick Cheney on the same show.
"I don't think those two would ever meet together in nature," Leno said at the time. "I don't think of Dick Cheney as a Vegas guy. I don't think he's ever seen Carrot Top's show at the Luxor."
Harper, a Las Vegas native who was a highly coveted recruit out of Las Vegas High School and College of Southern Nevada, is described as a special guest. He'll likely introduce one of the acts.
Celine out
Citing lower-back spasms, Celine Dion canceled Wednesday's performance at the Colosseum at Caesars Palace. She was due back onstage Friday. Ticket holders were directed to seek refunds at point of purchase. Tied to the announcement from AEG Live was this reminder: "Please note that Céline, The Colosseum, AXS, Caesars Palace, and AEG Presents are not responsible for hotel, travel or other expenses related to the cancellation of this performance."
Upcoming Cab Jazz haps
Frankie Moreno returns to Myron's Cabaret Jazz at 8 p.m. Tuesday, his ticket sales reinforced by this uber-upbeat fan club. The Composers Showcase of Las Vegas is 10:30 Wednesday, and David Perrico's Pop Strings Orchestra "Songbook of the Soul Vol. 2" show is 8 p.m. Thursday.
Perrico is enlisting a formidable lineup of guest vocalists, Fletch Wolcott, Lily Arce, Noybell Gorgoy, Skye Dee Miles and Serena Henry. Another column fave, Elisa Fiorillo (a collaborator with, and friend of, Prince over 25 years) is back with the Bruce Harper Big Band at 7 p.m. Dec. 4.
Save Sweets' date
About to be announced: Melody Sweets, who has shed her Green Fairy costume she wore for six years in"Absinthe," is back at Cab Jazz on Dec. 19 for "The Sweets' Spot: Holiday Spectacular."
The show is a buoyant mix of burlesque performances, holiday frivolity and Sweets' birthday celebration. Her musical lineup includes members of Santa Fe & The Fat City Horns, with Dave Richardson ("Rock of Ages" at The Venetian and "Vegas! The Show" at Miracle Mile Shops at Planet Hollywood Resort among his many gigs) as music director. Santa Fe's frontman, Jerry Lopez, is otherwise occupied, prepping for Santa Fe's Dec. 4 debut at Copa Room at Bootlegger Bistro.
Says Sweets, "I love the holidays! It's the only time of year when you can get someone to forget about their past … with a present!"
Siegel's daughter remembered
Milicent Rosen, daughter of Benjamin "Bugsy" Siegel, died Nov. 17 at age 86 in Las Vegas. Rosen had donated memorabilia (especially old photos) from her collection to Siegel's 1941 restaurant at El Cortez. She was also one of the original consultants for The Mob Experience at the Tropicana when it opened in March 2011.
"I only know my side, which was him as my father," she said in a 2009 interview with Clark County Television. "I have no clue as to the other side of his life. He never brought that side of his life to the family.
"His legacy was envisioning this town," she added. "There were others who had casinos, but he had the vision."
Contact John Katsilometes at jkatsilometes@reviewjournal.com. Follow @johnnykats on Twitter, @JohnnyKats1 on Instagram.