Jerry Lewis's widow, SanDee touched by 'outpouring of love'
August 22, 2017 - 3:53 pm
Updated August 22, 2017 - 9:36 pm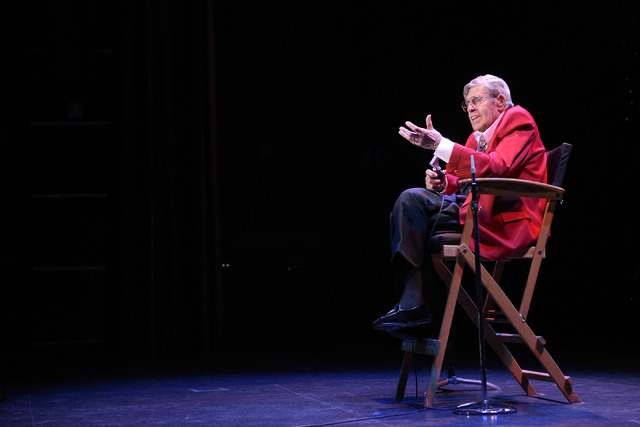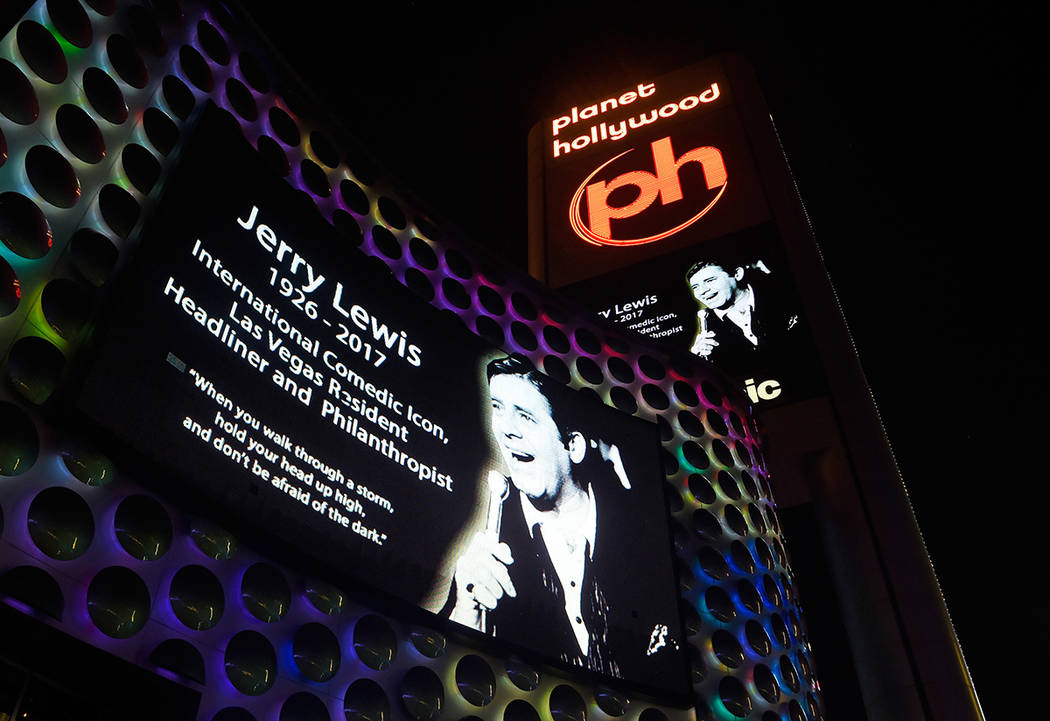 SanDee "Sam" Lewis is still reeling from the loss of her husband of 34 years, international entertainment legend Jerry Lewis. But she said the outpouring of support she has received since his passing has brought comfort and buoyed her spirits.
"My heart is broken," Lewis said Tuesday morning as family members made arrangements for the memorial service. "Not only have I lost, but the entire world has lost, one of the funniest and most caring men I have ever known. … The love and emotion from the entertainment community, and beyond, is so touching."
The comedian died Sunday morning in his home in Las Vegas. He was 91.
The family plans to fulfill his wishes to have his body cremated, and is arranging a private memorial to be held on Labor Day.
Shecky and Jerry
One of the very few remaining entertainers of Lewis's era, Shecky Greene, famously ran afoul of Lewis in 2010 while performing at South Point Showroom. Told Lewis was in the audience, Greene introduced him from the stage, then made an off-the cuff remark referring to the last time the two had seen each other in person — nearly 20 years earlier while performing on the MDA Labor Day Telethon. In the bit, Greene, Lewis and Norm Crosby reeled off one-liners in a tribute to Henny Youngman.
"We were all doing these Jewish accents, and when I did mine, Jerry turned and made a face at me, like he didn't like it," said Greene, who turned 91 on April 8.
" 'Jerry, I did your Telethon, and if you gave Dean the same look you gave me, he would have left you sooner!' " The audience cringed.
To apologize, Greene brought Lewis candy, ice cream, nuts, a four-foot-tall card and a $50,000 check for the MDA to Lewis' home the next day, repairing the rift.
Greene acknowledged Lewis' technical film skills, including the invention of the system filmmakers use to view a video version of a take immediately after filming .
"For a guy who didn't finish high school, there was an innate brilliance about him," Greene said. "He was a genius in photography and filmography, especially. I am sorry Jerry Lewis is gone."
Memories from Myron
Smith Center for the Performing Arts President Myron Martin recalled Lewis' many visits to the venue for touring shows, as well as his memorable 2014 headliner at Reynolds Hall.
"The day he performed at The Smith Center, the whole building lit up," Martin said. "People knew that they were in the presence of showbiz royalty."
Of butter and gravity
Piero's Italian Restaurant owner Freddie Glusman has been delivering meals to the Lewis home since the entertainer's passing. Glusman also supplied food to the musicians and crew during the MDA Telethon when it was held at the Sahara in the early 1980s.
The two met in 1980, and Lewis was a regular at Piero's who always left his mark — on the restaurant's ceiling. Lewis would take the pats of butter served with French bread and flip them skyward.
"Eventually, they would fall, wherever they were," Glusman said. "Even after he left, butter would drop from the ceiling. I'd say, 'That's from Jerry Lewis, being his ever-loving self.'"
Marino's introduction
Frank Marino, a Las Vegas headliner for more than three decades, said Lewis' performance at the Las Vegas Hilton was the first show he saw on the Strip.
"He was the first person to ever introduce me from the audience," said Marino, star of "Divas Las Vegas" at the Linq Hotel. "In those days, there were only 10 shows in Las Vegas, and it was a thrill to be called a 'Strip headliner.' I got to know Jerry over 31 years and did the Telethon at least 20 times."
Marino once teased Lewis saying, "Wouldn't you like to go out on the road with me, like you did with Dean?" Lewis joked back, "Well, at least you'll always be sober!"
John Katsilometes' column runs daily in the A section. Contact him at jkatsilometes@reviewjournal.com. Follow @johnnykats on Twitter, @JohnnyKats1 on Instagram.
RELATED
Fans who grew up in Las Vegas share memories of Jerry Lewis
Jerry Lewis was magic on and off the stage
Las Vegas Strip marquees to honor Jerry Lewis tonight
Jerry Lewis died of end-stage heart disease, coroner says
Las Vegas Strip tribute remembers Jerry Lewis