Many hurrahs at Vegas Strong Benefit Concert
December 1, 2017 - 9:50 pm
Updated December 1, 2017 - 11:16 pm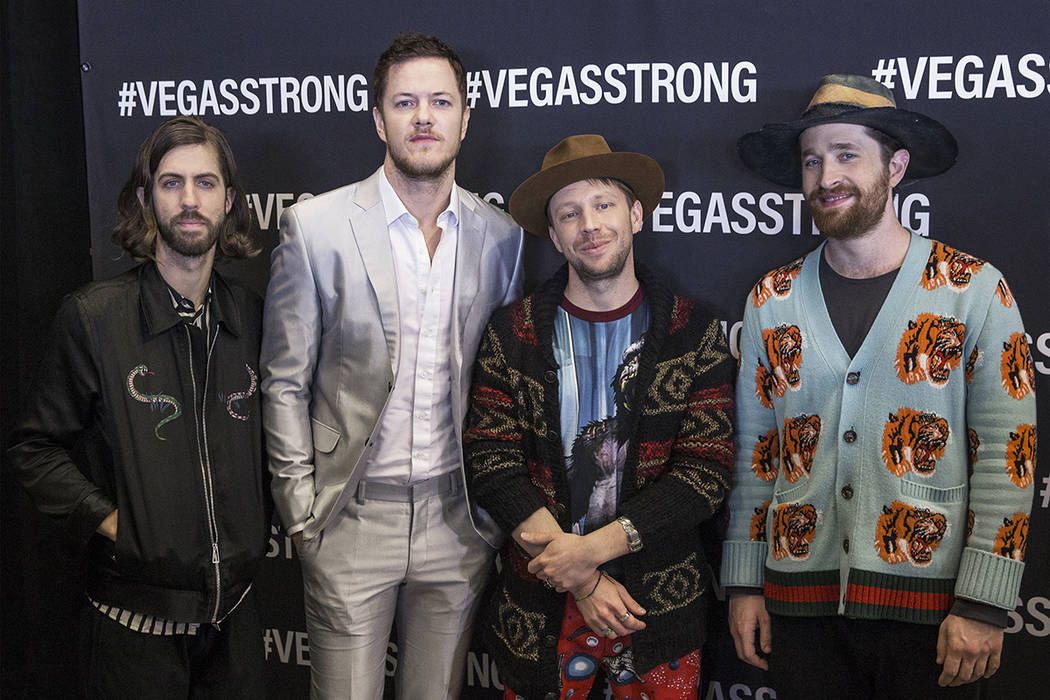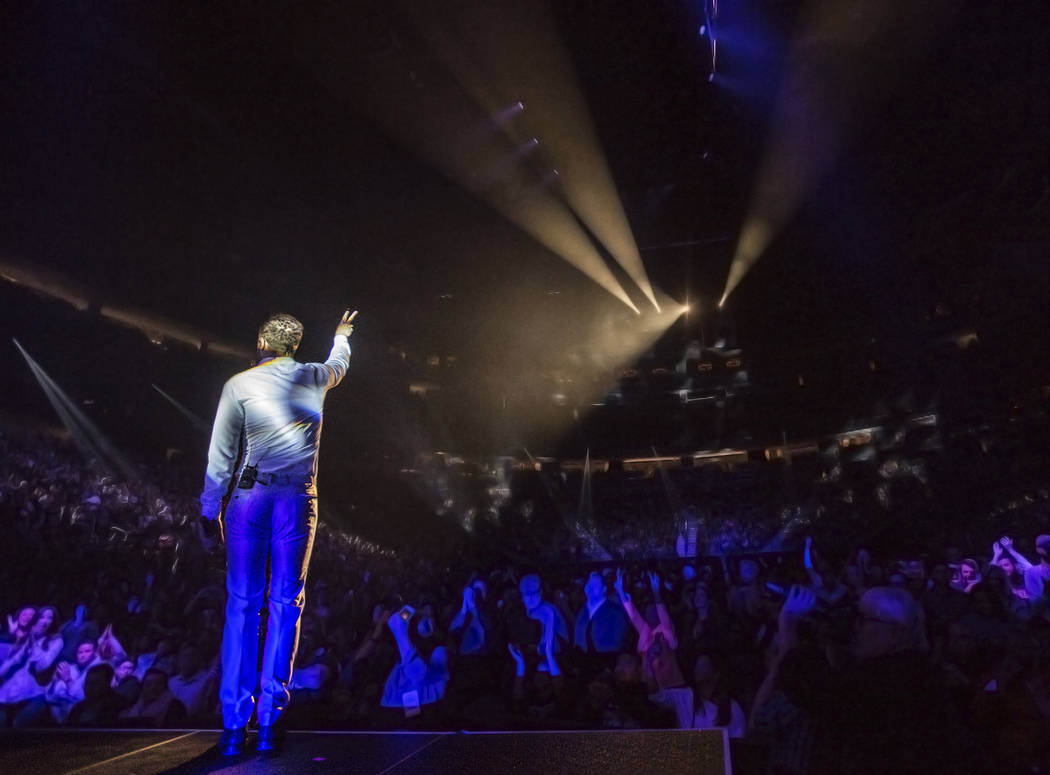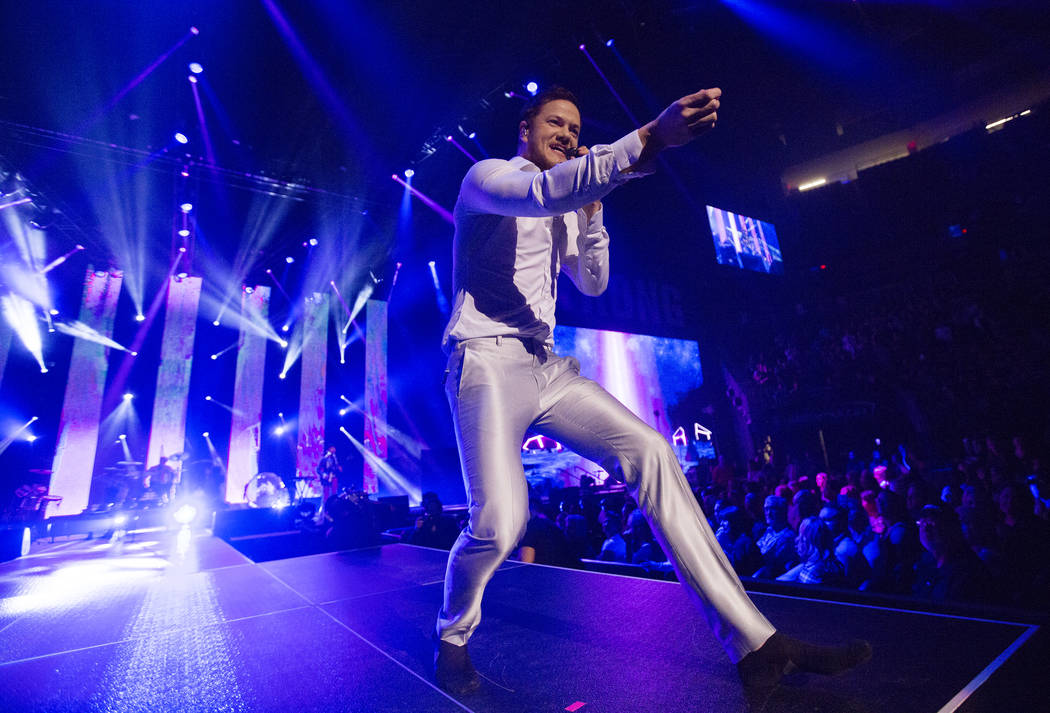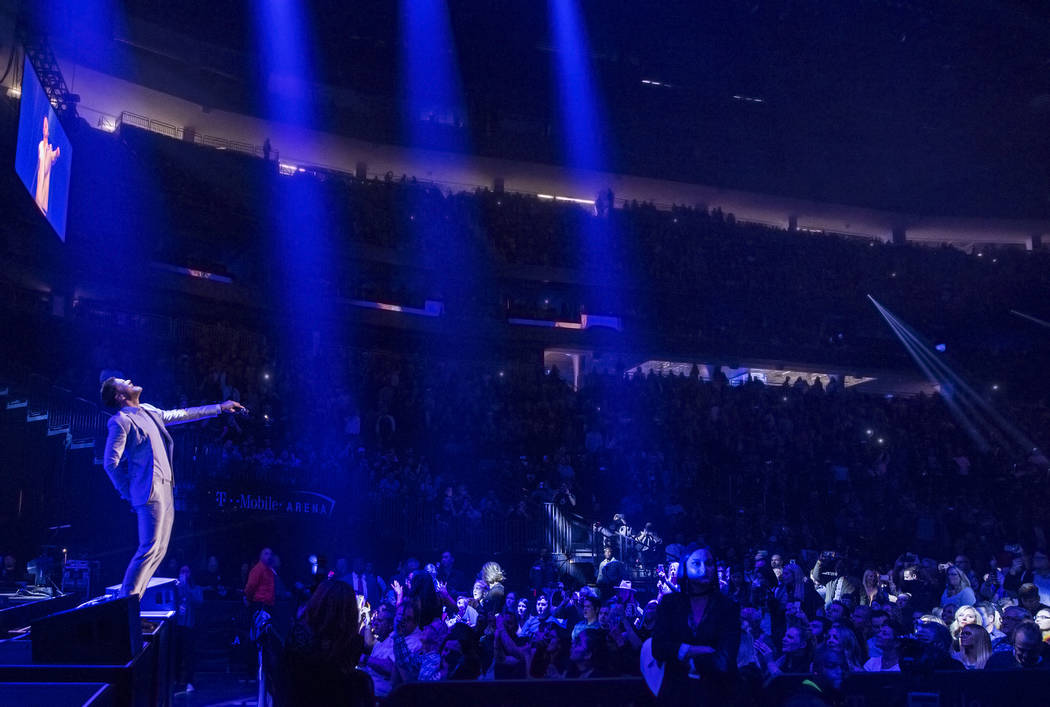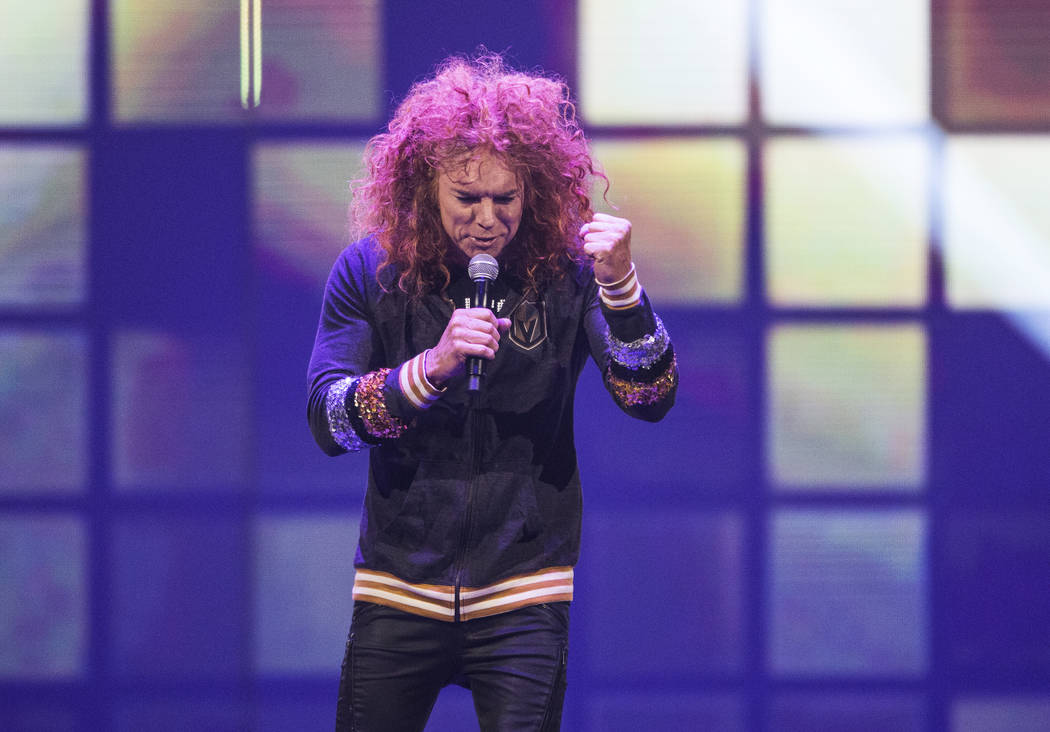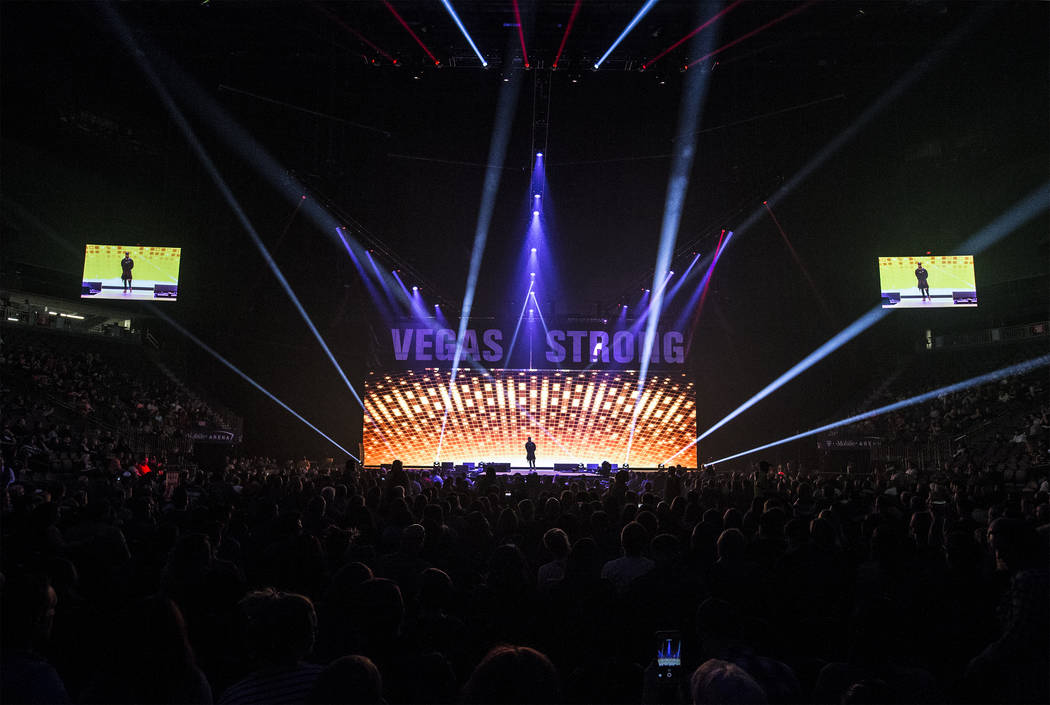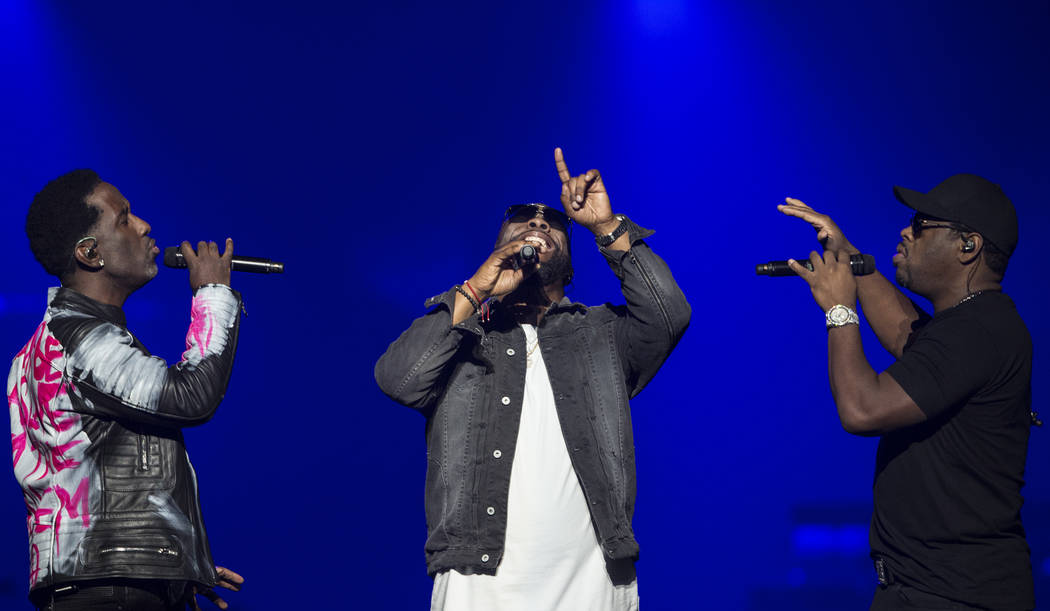 Imagine Dragons has long been known for fiery live performances. This dates even to the days when the band lugged a giant bass drum to the stage at Hard Rock Live on the Strip nine years ago.
The band has no plans to curtail their live stage presentation, or frequency of performances, after the 1 October shootings. On the red carpet prior to Friday's "Vegas Strong Benefit Concert," band members were defiant when asked if they would be reluctant to play an outdoor festival on the Strip in light of the 1 October shooting.
"We will play any festival here in Las Vegas, on the Strip or anywhere," frontman Dan Reynolds said. "We take this very seriously. After the event happened, we doubled up our security. We had to make sure that our fans are safe. We play big venues with metal detectors and we bring out the dogs, but that said, hell yeah we're going to play festivals in Vegas, outdoors, and around the world.
"The music will continue, and nothing will change that."
Bryce is right
Washington Nationals slugger and Las Vegas native Bryce Harper learned of the severity of the shooting while at home in Washington and swiftly began texting.
"About 2 a.m., my wife, Kayla, shook me and said, 'Something is happening in Las Vegas,'" Harper said. "I started texting, immediately, my friends and relatives to see if everybody was OK. My brother (Bryan) was at the Golden Knights game, I made sure he was safe."
Harper also called another Vegas baseball star, Kris Bryant, of the Chicago Cubs.
"I asked Kris, 'What can we do?' " Harper said. "We were about to open in the playoffs against the Cubs, we got together and did a video together, put it up on the scoreboard and immediately got a lot of support from Nationals fans, Cubs fans, fans everywhere."
That was Oct. 6, and the video helped publicize the Las Vegas Victims' Fund, which so far has raised more than $11 million for victims.
"When you go through something like that from afar, you want to do everything you can," Harper said. "That's what we were able to do, reach across the country."
Putting it in perspective
Wayne Newton was the only performer on Friday who had the distinction of also participating in the 2001 USO concert at Mandalay Bay Events Center after 9/11. Each event was a uniquely memorable, and moving, experience, he said.
"This one is up there, way up there, because of the incredible lineup," Newton said. "But what we had in 2001 was every star on the Strip coming together in one show, which hasn't been done before or since."
Leno's Mirage
Jay Leno said he has no plans to leave The Mirage, his home Vegas venue since the "Aces of Comedy" series was launched in 2010.
"I'm a creature of habit," he said. "I've been married for 37 years. I still have the same car I bought in 1972. Same house for 35 years. So, I find a place I'm comfortable, I stay. I'm not financially motivated — everybody in show business is overpaid anyway."
Leno jabbed atMatt Lauer after being asked about the "Today" show host's fall from grace:
"Matt Lauer should know, when Al Roker says no, he means it!"
Copperfield's magic
David Copperfield's relationship with Imagine Dragons prompted his participation in the event.
"We had sat next to each other at awards shows," Copperfield said with a chuckle. "We kind of knew each other from that and I love the guys, love what they do, and of course I said yes."
Soon after the 1 October tragedy, Copperfield received a text from the band's manager, Mac Reynolds, to start planning.
"I texted him at 1 a.m., and he said, 'Just call me,' " Reynolds said. "I'm like, 'Call you now? It's 1 o'clock in the morning!' But he was immediately interested in doing this."
The party's not over
The Killers' lineup from its "Hot Fuss" era of 2004 — Brandon Flowers, Dave Keuning, Mark Stoermer and Ronnie Vannucci — reunited at the show. Stoermer and Keuning have stepped away from live performance with the band, though they still participate in studio recordings. The band did not consider Friday's performance as a send-off, and did not stray from the statement released in August: "Despite conjecture, The Killers are the same four weirdos we've always been."
Touring musicians Ted Sablay and Jake Blanton have taken over for Stoermer and Keuning on the road — and both were onstage on Friday night. Blanton has been playing bass since Stoermer left to pursue solo projects in 2104. Blanton played the guitar parts on both of Flowers' solo albums, 2010's "Flamingo" and 2015's "The Desired Effect."
'Viva' history
The show's headliners sang "Viva Las Vegas" to close the night, and one — Newton — has actually recorded a version in 1995, which was produced by Cleveland rocker Michael Stanley. Newton also sang the song during the introductions of the lineups at the 2007 NBA All-Star Game at the Thomas & Mack Center. The Killers have played the song in their live show for years, but have never recorded it.
Boyz II Vegas
Comparative newcomers to Vegas, the band Boyz II Men, has solidified its position in the community since opening at the Mirage in March 2013, with their performance in "Vegas Strong."
"When you look at the lineup, it's really all Vegas," Nate Morris said. "We really feel part of it. We're here now, and our goal was to be able to blend in with the community. We could not let this opportunity pass. We had to be here."
Pawn aplenty
Rick Harrison and Austin "Chumlee" Russell of "Pawn Stars" appeared together on the red carpet. Next month, Harrison, owner of Gold & Silver Pawn, marks his 37th year in town.
"We've had a lot of charity in this city, and as far as scope this is a very big deal," Harrison said. "It's special, because it reminds people that we are a community, and I'll tell you, this one affected everyone. I think we all felt it personally. We knew somebody, or knew somebody who knew somebody, that had something happen to them.
"It really did affect us all, so we all come together to recover from it."
John Katsilometes' column runs daily in the A section. Contact him at jkatsilometes@reviewjournal.com. Follow @johnnykats on Twitter, @JohnnyKats1 on Instagram.
Related
Las Vegas shows its strength in shooting benefit concert