Taylor Swift draws 60K to Allegiant Stadium debut — PHOTOS
Updated March 25, 2023 - 3:36 pm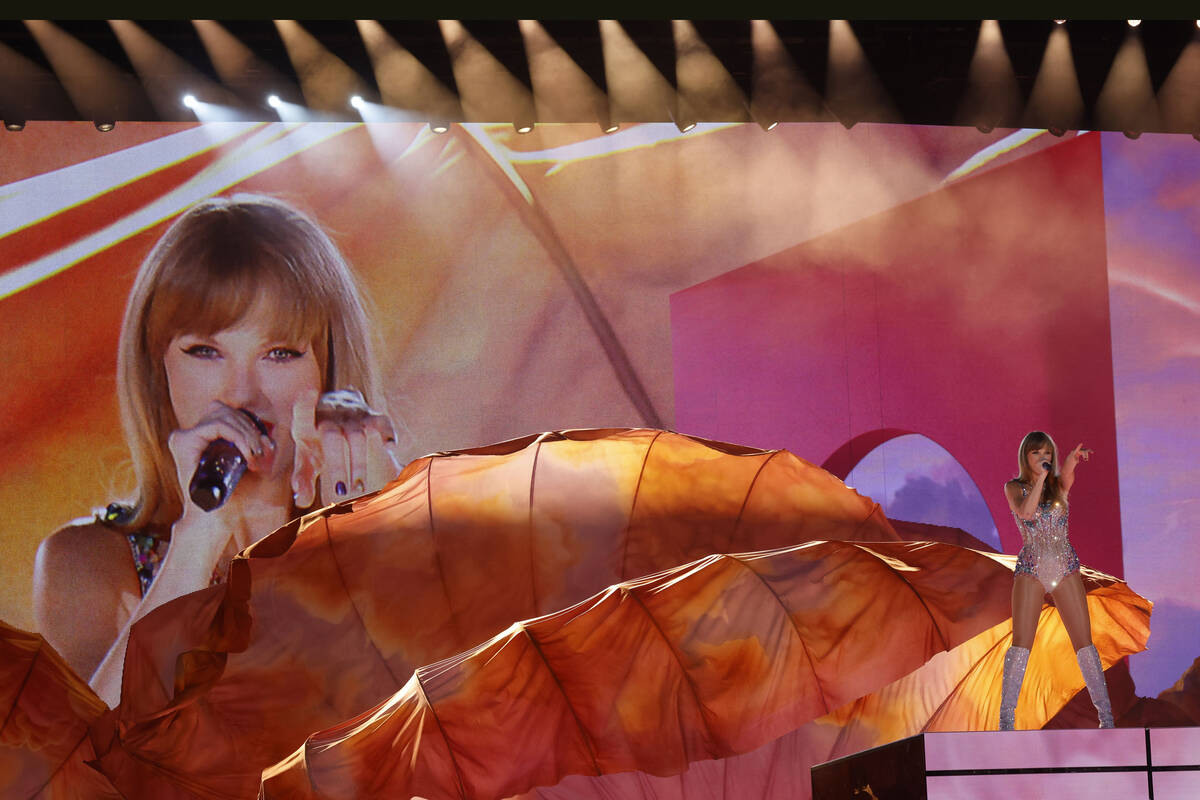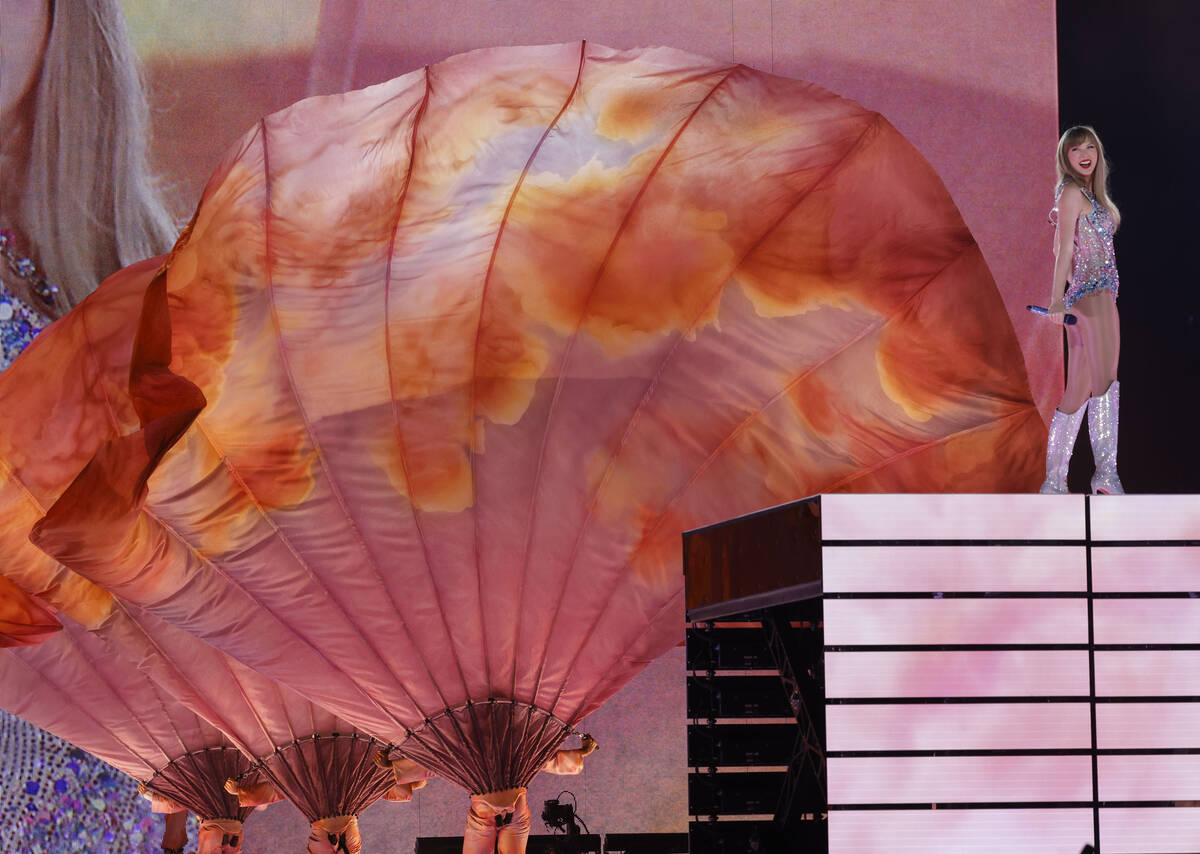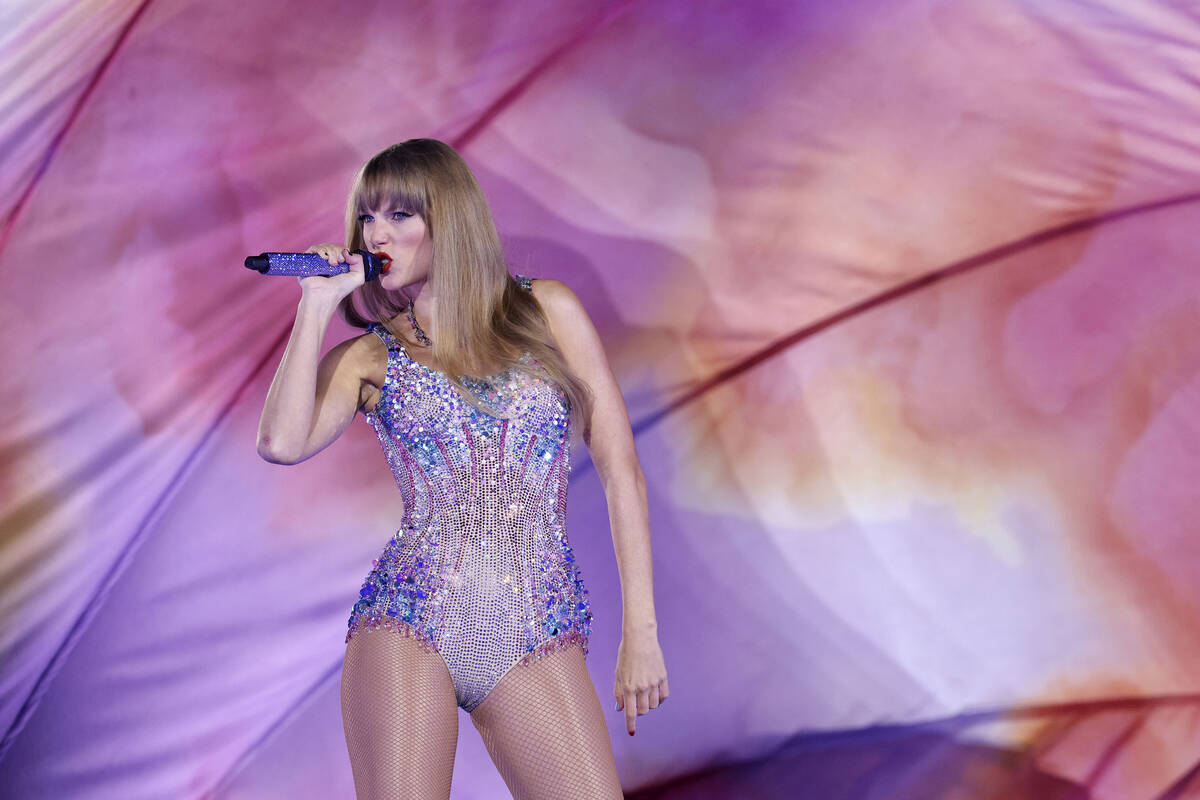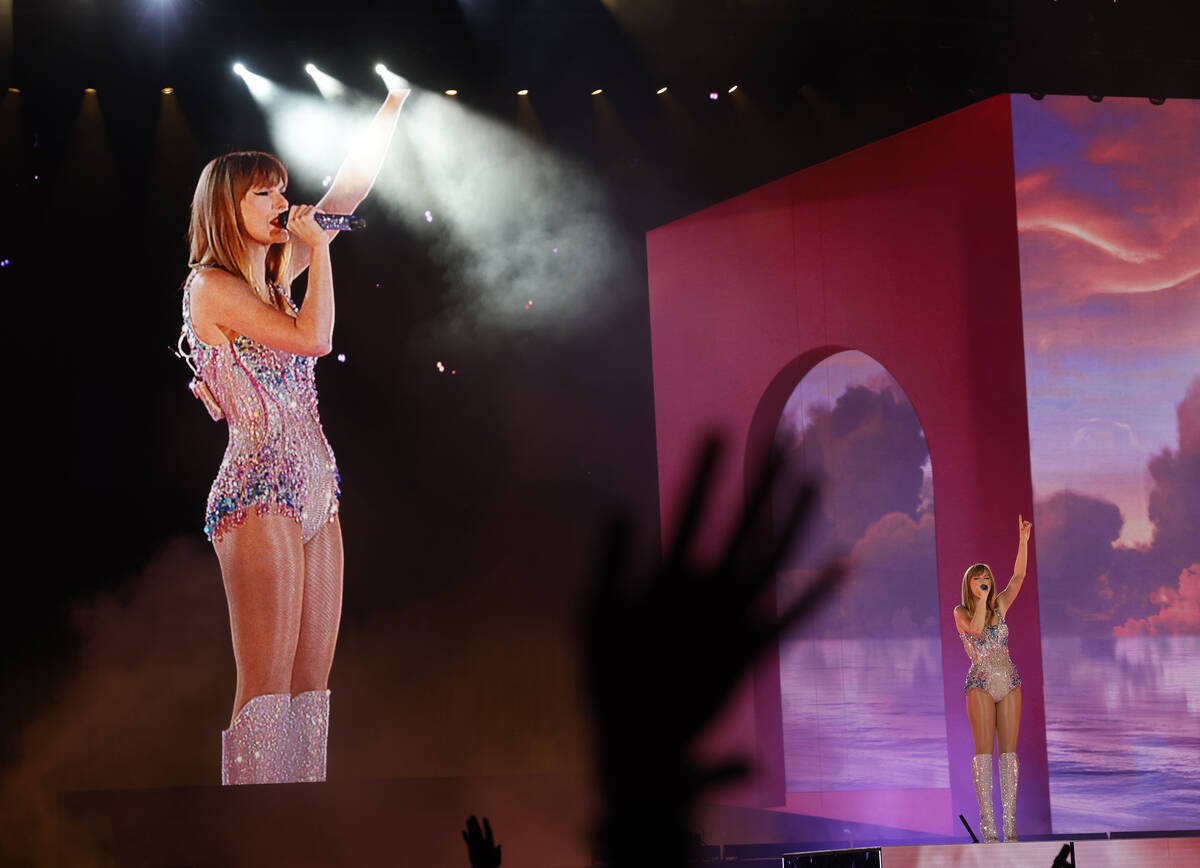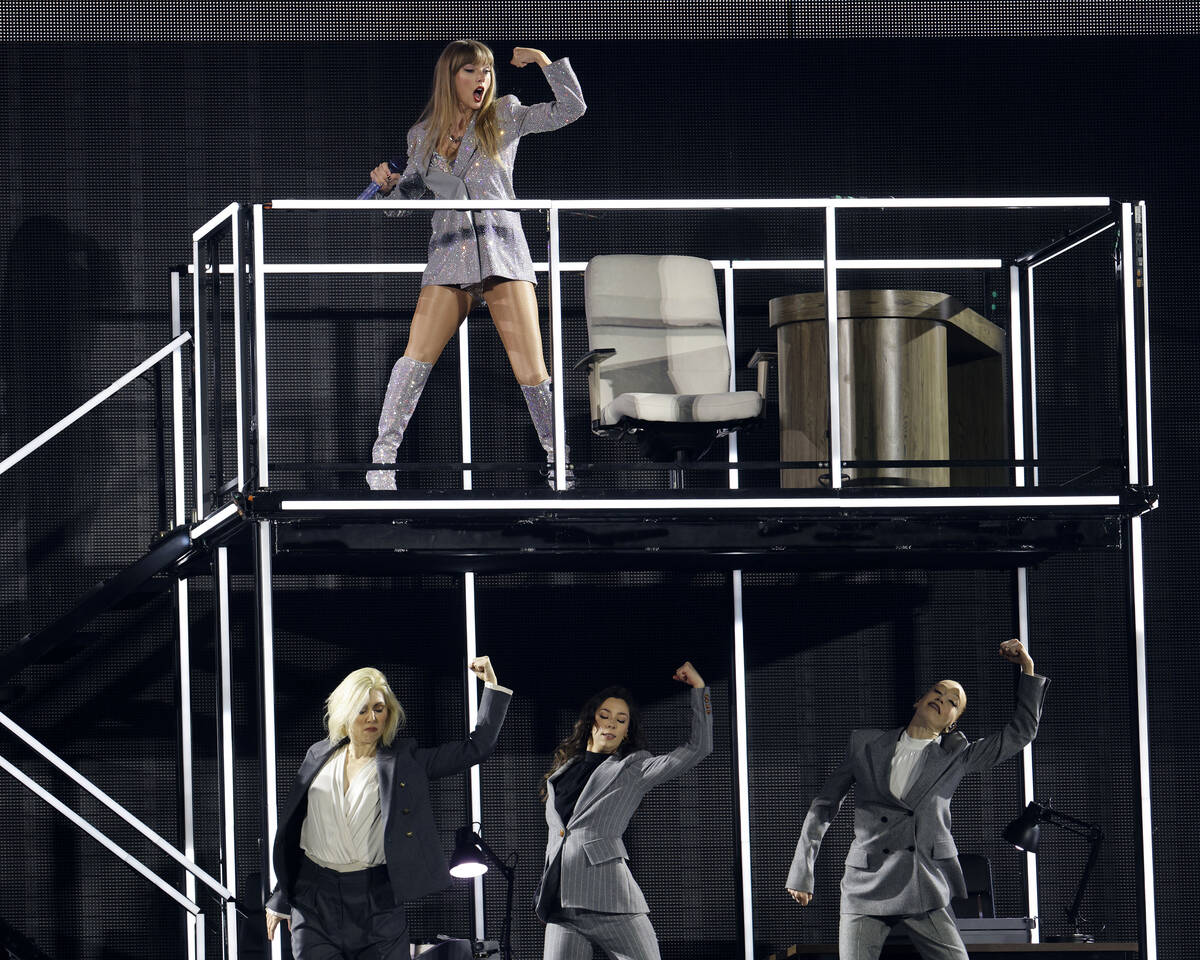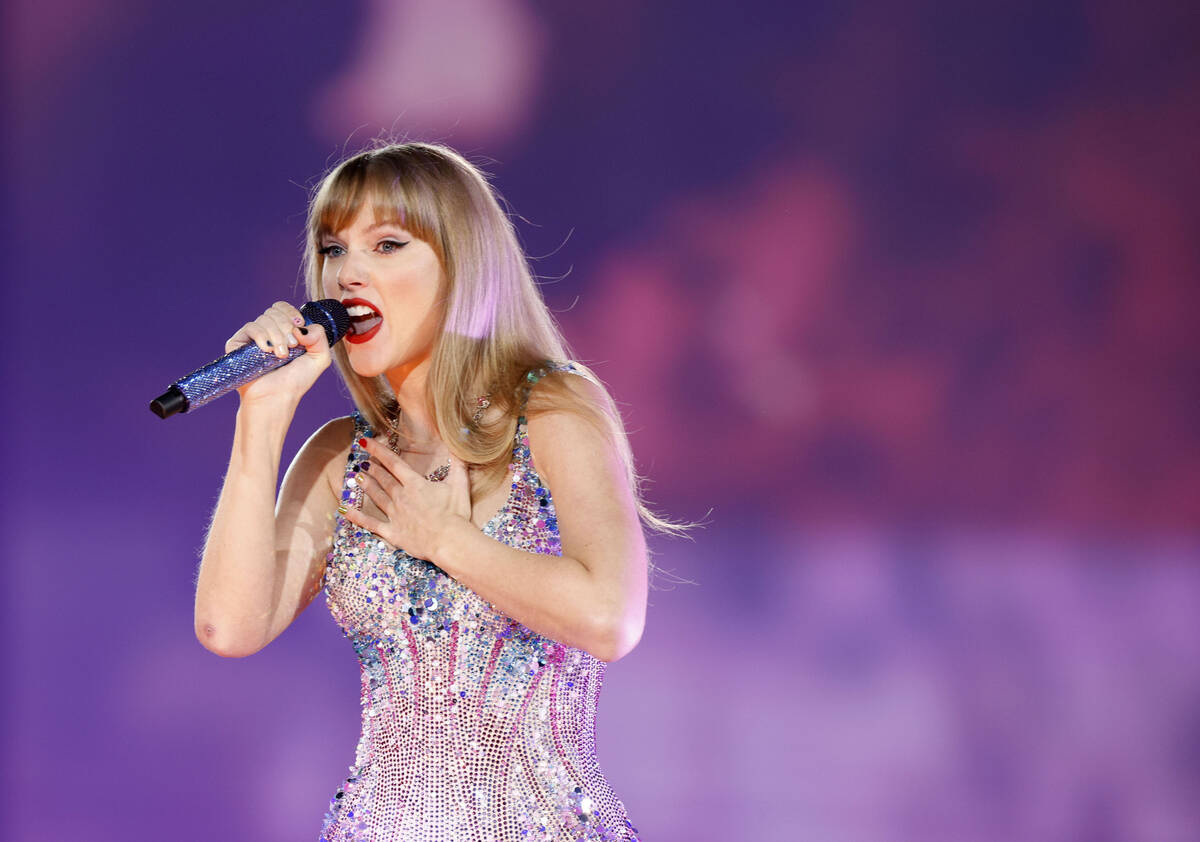 Taylor Swift had just played a song on a piano that looked like it was rescued from a rain forest. The instrument was covered in furry, fake moss, its lid wide open, as Swift soared through "Champagne Problems" from her 2020 album "Evermore."
This was the companion to "Forklore," written during Swift's burst of COVID creativity, among the 17-year, 10-album Swift catalog played in her "Eras" tour concept. The tour drew 60,000 to Allegiant Stadium on Friday night for the first of two weekend shows.
An aching ballad, "Champagne Problems" tells the tale of a girlfriend suffering from mental health issues who rejects her lover's marriage proposal. Swift and her current romantic partner, actor Joe Alwyn, wrote the song together.
The crowd sang along to the sad tune, including its jarring bridge, "She would have made such a lovely bride/What a shame she's (expletive) in the head."
At the close, when Swift stopped playing the rustic instrument, she was overcome by a deafening din created by tens of thousands of healthy lungs. This was a veritable rocket launch of emotion, and went on for what felt an eternity as Swift looked out to the crowd with a perplexed look. She tapped the mic, as if to make sure it was still working, then, "Excuse me, what? I am so in love with this crowd. What do I do? What do I do?"
The first, but not last, woman to headline @AllegiantStadm … @taylorswift13 #taylorswift @reviewjournal #RJNow pic.twitter.com/ihjGvngLJk

— John Katsilometes (@johnnykats) March 25, 2023
Perform for more than three hours in an NFL stadium was the answer. This is Taylor Swift's time, and she used it to impressive effect for thousands who made the pilgrimage to Vegas. Rarely will you see an artist hold such sway over a crowd of this scale. Mesmerized one moment, manic the next. The three-hour duration (with no break) was mindful of a Bruce Springsteen, Phish or Grateful Dead performance, going back generations.
Before the show, droves of fans waited upward of three hours in line to purchase Swift merchandise. As doors opened two hours before the show, single tickets listed on secondary-market broker sites were still topping out at $2,000 (obstructed-view seats behind the stage were offered at $400). That is considered a deal, too, as tickets rose to more than $20,000 in the weeks before the Vegas shows.
Swift's demand crushed Ticketmaster's website, creating such an uproar that Congress reviewed the company's dominance of the ticket-selling market, and also its partnership with promoter Live Nation (the Allegiant Stadium shows were presented by AEG).
Andrea Hansen, an accountant from Salt Lake City, brought her three teenage daughters to the show, purchasing tickets through a Raiders season-ticket holder who had been given an early access code. The tickets, at face value, exceeded $4,000 when fees were included.
Hansen actually took on the unofficial, but needed, role of merch-line organizer. This was to fend off fans trying to "jump" the line ahead of those who had been waiting for hours — including Hansen's daughters, aged 19, 17 and 13.
"I paid a ton of money," Hansen said. "We decided on Vegas because it is easy to get here from Salt Lake. I consider myself a Swiftie, and my daughters are Swifties. We did a lot to be here, and there is such a sense of entitlement with people who think they can just cut in this line." The wait was to purchase such items as an official Swift-"Eras" adult zipper hoodie for $75, or a kid's T-shirt for $45.
The crowd that flooded Allegiant Stadium was peppered with fans in wild purple and lavender outfits (Swift's favorite colors, evident by the favorite "Lavender Haze"). Casual fans or newcomers to the Swift culture might have been over all of this by the midpoint. But not the "Swifties," who relished every moment. And the emotional power generated by this 33-year-old superstar was undeniable.
"How many traveled over great distances to be here?" she asked near the top, as most in the stadium roared back. "How many Las Vegas locals here?" to another burst of sound.
She went on, "You're being so supportive. You're making me feel so powerful," she said as she flexed her right arm and kissed her bicep. "You're making me feel like I'm the first woman to ever headline Allegiant Stadium … But I won't be the last!
"What I'm trying to say, is you're making me feel like I'm The Man." That led to a performance of that song, again to wild response.
Swift was aware of the effort of fans to see her first tour in five years, and first show in Vegas since 2015. She hopscotched around her 10 albums, not quite in chronological order but closing with her latest, "Midnights."
Fire it up, or down … @taylorswift #TaylorSwift @reviewjournal #RJNow pic.twitter.com/c2JBqxRHOj

— John Katsilometes (@johnnykats) March 25, 2023
Every song performed in lavish, thoughtfully conceived production number. She staged a dinner scene. She jumped into the stage as if diving into the deep end. She donned costumes of fringe and glitter, or a combination.
Swift showed her musical versatility on piano and acoustic guitar. She was masterfully in step with her band and backing dancers. Swift has a complete skill set, good at all facets of live entertainment, and certainly a songwriter who reaches her audience.
Early on, Swift sampled "Lover, with "The Man," and "Cruel Summer" had an almost ecstatic chill to it. She then unleashed cuts from "Fearless," her second album,"You Belong With Me" and "Love Story." From her solid "Red" album, Swift glided through "22," the unbending "We Are Never Ever Getting Back Together" and "I Knew You Were Trouble."
Swift donned a snake-designed, one-legged bodysuit for "Reputation," singing and sashaying to "Don't Blame Me" and "Look What You Made Me Do." Her "Midnights" closing showed her comically oversized on the big screen in "Anti-Hero." "Lavender Haze" was performed amid giant, cumulus clouds.
Swift held Vegas-specific moments to the end. She played "Our Song" from her eponymous debut album after opening act beabadoobee mentioned in an interview she liked the song. She also performed her "Midnights" collaboration with Lana Del Rey, "Snow On The Beach," for the first time while plugging Del Rey's new album, "Did You Know That There's a Tunnel Under Ocean Blvd," released Friday.
Swift's support of Del Rey is a powerful endorsement to the inspiring pop artists artist's career. It was another example of how Swift flexed her muscle, literally, musically and commercially in Las Vegas. Her name continually surfaces as a superstar who could light up the Strip with an extended, recurring engagement.
#TaylorSwift @AllegiantStadm https://t.co/7JhEkX0iJ6

— John Katsilometes (@johnnykats) March 25, 2023
Adele, who has won critical and commercial acclaim, mentioned Swift during her show at the Colosseum on Friday. "If anyone is going to see Taylor tomorrow, I'm (expletive) jealous because I love her." She also said, "If anyone is going to see Usher, you know I'm jealous because I love him, too."
Would Swift join the residency roster, someday, in Las Vegas? She could make it swing. She could run a multiple-weekend run at the place she played Friday night. Yes, the first Allegiant Stadium residency. The football team would have something to say about it. But Taylor Swift is that popular. Those who experienced the Swift phenomenon Friday night believe it.
John Katsilometes' column runs daily in the A section. His "PodKats!" podcast can be found at reviewjournal.com/podcasts. Contact him at jkatsilometes@reviewjournal.com. Follow @johnnykats on Twitter, @JohnnyKats1 on Instagram.
Taylor Swift opening night at Allegiant Stadium
Set list from Friday, March 24, 2023
**
Miss Americana & The Heartbreak Prince
Cruel Summer
The Man
You Need to Calm Down
Lover
The Archer
Fearless
You Belong With Me
Love Story
'Tis the Damn Season
Willow
Marjorie
Champagne Problems
Tolerate It
…Ready for It?
Delicate
Don't Blame Me
Look What You Made Me Do
Enchanted
22
We Are Never Ever Getting Back Together
I Knew You Were Trouble
All Too Well (10-Minute Version)
Invisible String
Betty
The Last Great American Dynasty
August
Illicit Affairs
My Tears Ricochet
Cardigan
Style
Blank Space
Shake It Off
Wildest Dreams
Bad Blood
Our Song (acoustic)
Snow on the Beach (acoustic)
Lavender Haze
Anti-Hero
Midnight Rain
Vigilante Shit
Bejeweled
Mastermind
Karma