Wayne Newton to play the Strip through 2022
Updated May 28, 2022 - 10:49 am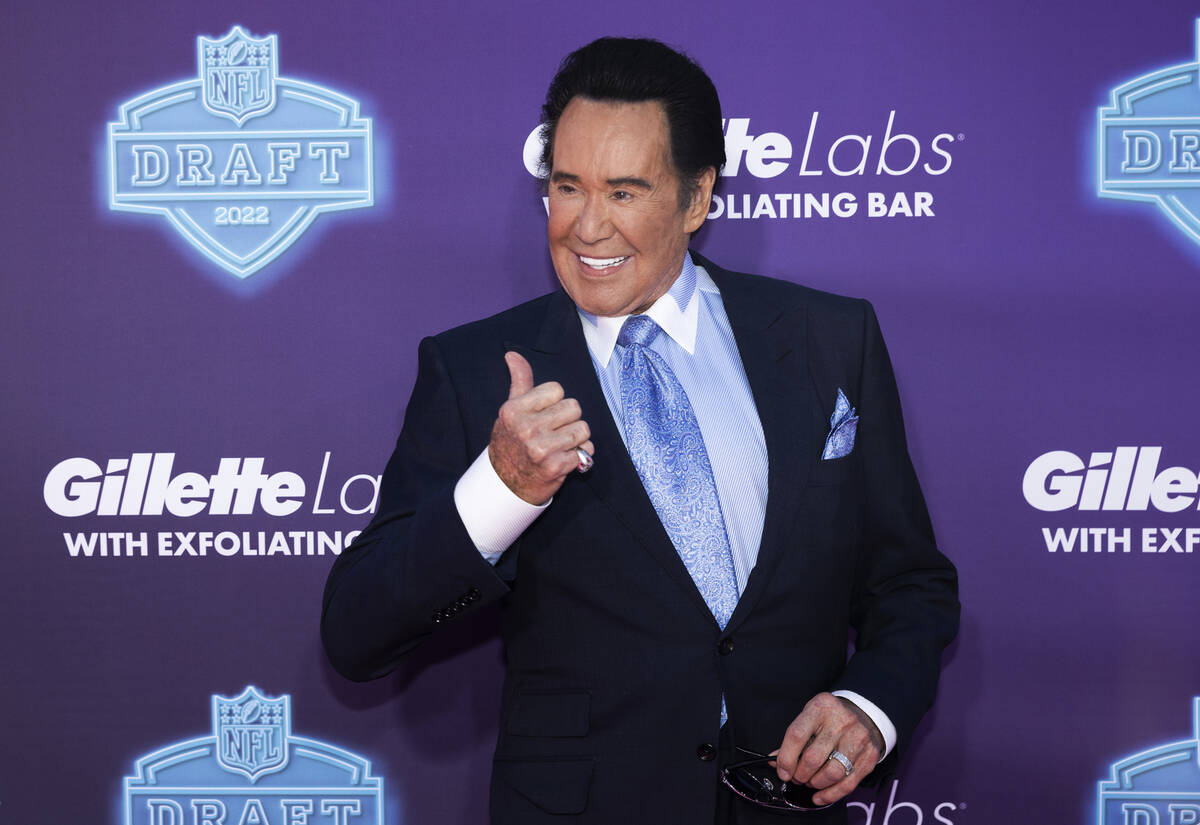 Wayne Newton seems serious about this Strip residency concept.
Mr. Las Vegas' "Up Close and Personal" production at the Flamingo's Wayne Newton Theater inside Bugsy's Cabaret is being extended through December.
At age 80, Newton is piloting a busy schedule. He's signed to perform multiple shows per week, multiple weeks per year, over several months.
"This feels like when Kirk Kerkorian first extended me at the Flamingo," Newton said Wednesday of his added dates. "It's history repeating itself."
That commitment through the end of 2022 hearkens to Newton's original run at the Flamingo, in the 1960s. Kerkorian owned the hotel in 1967, bringing Newton back to where he performed his first showroom gig in November 1963. Newton's current music-and-storytelling showcase is running 7 p.m. Mondays, Wednesdays and Saturdays through Dec. 18. (Tickets for all dates start at $69, not including fees, onsale now at Ticketmaster.com.) Newton had previously been booked through the end of June.
Newton says he will add a couple of classics to his storytelling format. He has previously performed "Danke Shoen," "C.C. Rider," "C.C. Rider"; his best-selling song, "Daddy Don't You Walk So Fast;" and "My Way" in the 90-minute show. He reunited with drummer and music director Marc Atkinson, keyboardist Mariano Longo and bassist Danny DeMorales.
Newton has headlined in Caesars Entertainment venues over the past six years. He was at Windows Showroom (now The Magic Attic) from 2016-2018, and later at Cleopatra's Barge from 2019 through the COVID shutdown. He returned to the stage in January, swapping dates at the Bugsy's venue with the "X Burlesque" topless revue.
"In all seriousness, I am thrilled to be staying with my Caesars Entertainment," Newton said. The entertainment icon was recently featured on an episode of the HBO Max series "Hacks," chatting with series star Judith Smart at a UFC event. The show is set in Las Vegas, with Vance starring as legendary stand-up comic Deborah Deborah Vance.
"The cast and crew were absolutely first-class to work with," Newton said. "What can I say about Jean Smart that hasn't been said before? In my opinion, she is one of the best actors of all time. I'm privileged to have been able to work with her."
Having been off the stage for nearly two years, Newton said before his January relaunch, "Starting at the age I did, as a kid, and working so consistently, I was never asked to take two years off. I'm not alone among the entertainers who had to take a lot of time off. For me, it's been a learning experience."
Playing for actual chainsmokers …
Teasing to an upcoming piece about XS Nightclub/Encore Beach Club headliners The Chainsmokers, Drew Taggert and Alex Pall recalled some "bad gigs" early in their development. "For every show that we've gotten to play at XS, we played, like a dueling piano bar in St. Louis on a Wednesday night," Pall said. "For every big venue that we have played, we played 100 not-so-nice-ones, and we remember that."
Booked in Australia
Penn Jillette is taking orders (advance orders, anyway) for his new book, "Random," a crime caper that is sure to "bend your mind like a spoon," according to publisher Akashic Books. The story centers on a 21-year-old Las Vegas local Bobby Ingersoll, saddled with a gambling debt from his father and owed to the iniquitous Fraser Ruphart, who operates a crime operation from the Trump International (Jillette appeared twice on "Celebrity Apprentice" when Donald Trump hosted).
We won't bore you with the finer plot elements, if only because we've not read "Random." But Debbie Harry of Blondie has, and she says, ""Bravo, Bobby Ingersoll. Encore, Penn Jillette!"
The book is due Oct. 11. In the interim, Penn & Teller are touring Australia through the first week of July. Michael Carbonaro is headlining at the Rio the duo's absence through July 10. Carbonaro's run marks the first time any act other than Penn & Teller have performed an extended residency in their theater.
The need, the need for Twizzlers …
We're not big movie-goers. There is usually, like, a Lady Gaga show on the same night of the latest "Fast & Furious" release. But we took in "Top Gun Maverick" at Brenden Theaters at the Palms on Wednesday. A pre-release, VIP screening kind of thing. Wow, kids. That movie is big. Big stars. Big dogfights. Big romance. Big script, too, in the sense that it is broadly written. You can leave for several minutes on a Twizzler run and not lose your place, story-wise. We ran into theater operator Johnny Brenden, who is several weeks from finishing the theater remodel. But it was a fine, fine time at his cineplex.
Cool Hang Alert(s)
The Fremont Street Experience has it down(town) with its Downtown Rocks Series. The popular string of festivals is back, full force, with X Ambassadors on Saturday and Starship Featuring Mickey Thomas on Sunday. The shows are 9 p.m. at 3rd Street Stage.
We are long fans of Downtown Rocks, since we caught Joan Jett and Cheap Trick many moons ago. Highlights this year include 10,000 Maniacs, Dishwalla, The Calling on June 25; Molly Hatchet, Nitty Gritty Dirt Band and Mackenzie Porter on July 4; Sebastian Bach (whom we are seeing on the Vegas scene like every other night) on July 23; Rick Springfield, Men at Work and John Waite on Sept. 3; The Pretty Reckless on Sept. 10; Slaughter, Vixen and Sweet on Oct. 22; and Stone Temple Pilots closing the series Nov. 19. Not the full list, which you can find at vegasexperience.com, but a suitable start. All these shows, and the requisite people watching, are free.
John Katsilometes' column runs daily in the A section. His "PodKats!" podcast can be found at reviewjournal.com/podcasts. Contact him at jkatsilometes@reviewjournal.com. Follow @johnnykats on Twitter, @JohnnyKats1 on Instagram.