Entrepreneurs look to set up Desert Shores 'restaurant row'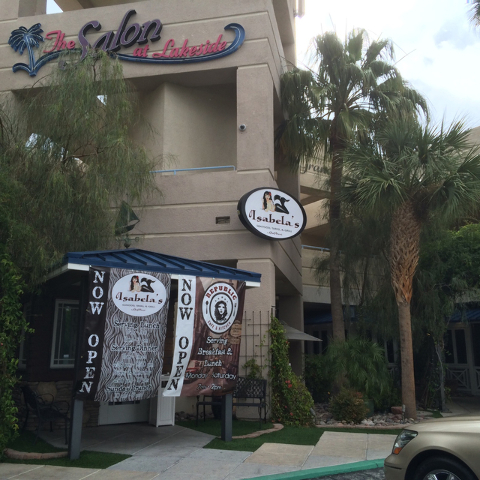 The quiet shopping center along Lake Jacqueline in Desert Shores has three new eateries: Isabela's Seafood, Tapas & Grill; Republic Kitchen & Bar; and the upcoming Soho Pizza. All three share the same address: 2620 Regatta Drive, Suite 118. Together, they take up about 20,000 square feet, with more than 5,000 of it as dining area.
All three are owned by the same entrepreneurs: Beni Velazquez, Jon Lutsi, Eric Watts and Michael Buono.
"We're focusing on doing restaurant row, which is what this complex was originally set up to do 15, 20 years ago when it first started," Velazquez said. "It has it on the sign where you turn in, but it's only been one or two restaurants here. So my partners and I decided to really take that concept and develop Isabella's, do Republic and get the pizzeria running, so that'll be a (true) restaurant row."
Isabela's and Republic opened May 4. Isabela's is known for Latin cuisine with seafood and tapas. It sits on the water and has a glass-enclosed patio that is climate-controlled.
Republic is a casual coffeehouse concept that serves sandwiches, salads and pastries and features Peet's coffee. Republic occupies the front portion of the eatery complex, what used to be a bar/waiting area. It includes patio dining.
Soho Pizza traces its roots to New York City, where Buono has a 50-year following in a similar business there. The handcrafted pizzas make for casual dining, whether lunch or dinner. A big part of Soho Pizza's business will be delivery.
Lutsi comes from the financial side of things. He was a director for Standard & Poor's and involved in private equity investing for restaurants.
"This is our first investment with the company outside of New York, which is called Lakeside Trifecta," he said. "… The hardest part (of opening a new restaurant) is making sure that your concept is a good match for the neighborhood and the location, making sure it's a good match with the demographics."
He said the location was compartmentalized and that, basically, all three eateries share a common entrance.
"What we're doing with the front part of the restaurant is really a combination of Republic cafe and kitchen, which is, we're licensees of Peet's coffee, and it's a grab-and-go concept," Lutsi said. "And Soho Pizza bar, which is very consistent with the investment we've made in New York, is more of a QSR (quick-service restaurant). … Luckily, that kitchen was designed to support multiple business formats, so I think if we were doing three full-service restaurants with three totally different menus, that would be impossible."
Velazquez estimated that 5,000 to 6,000 people live in the area, but the eateries will be helped by his reputation.
"I have a large following in Henderson and Summerlin — a lot from downtown," Velazquez said. "I mean, I've been in the industry long enough to have a big following."
A big part of seeing the restaurants become successful is driving business to them. Velazquez said the owners would bring in bands and other live entertainment for Sunday brunch.
"I'm partnering up with a Puerto Rican association, Cuban and Brazilian associations, meeting up with those people and concierges to do functions here with them," Velazquez said. "It takes some time to pull it together, what with getting these three restaurants up and running."
One of the easiest things to implement is happy hour. At Isabela's, it runs from 4:30 to 7:30 p.m. Tuesdays through Saturdays.
"It kind of never ends; having a happy hour on a Friday and Saturday, most places don't do that," Velazquez said. "We decided to do that because of this area. People don't come here just to come here. There has to be a reason. There's hardly any traffic, we're hidden; everything we do has to be big."
He said fliers, media attention and awards will generate interest and bring in patrons.
"I think if you just came in and opened a restaurant, it wouldn't survive," he said. "You have to have a name, a clientele, people who have been following you. Then you have a chance."
For more information, visit isabelasvegas.com or call 702-925-8333.
To reach Summerlin Area View reporter Jan Hogan, email jhogan@viewnews.com or call 702-387-2949.