5 best places to go in Las Vegas for a chocolate dish
Updated September 21, 2018 - 9:12 pm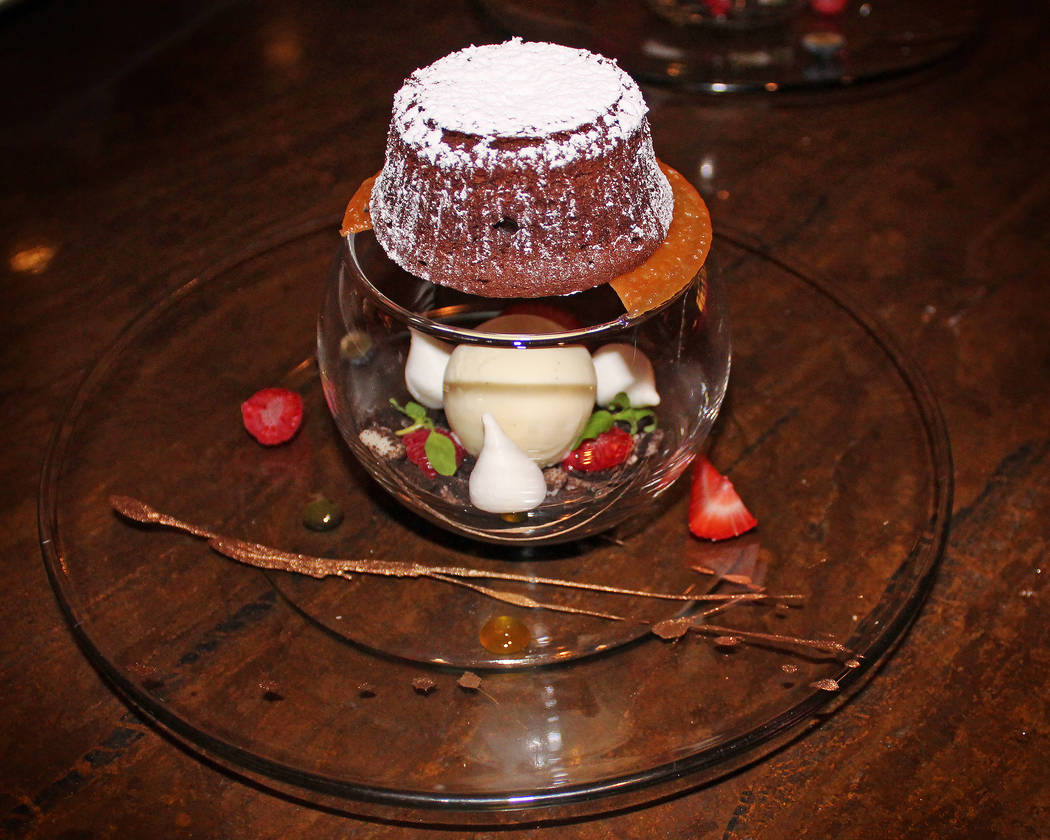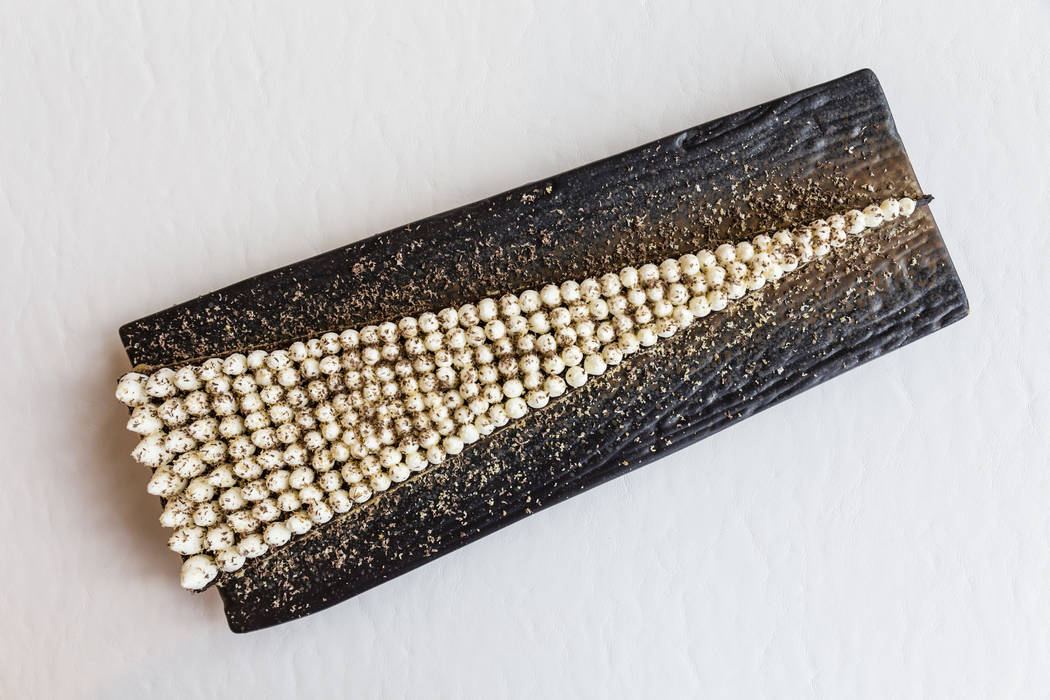 Spago
The Fallen Feather, a dessert option on Spago's tasting menu, is a hazelnut brownie with mascarpone cream, praline, chocolate mousse and dark and white chocolate feathers — with a cloud of vanilla smoke that evokes the mists of the Fountains at Bellagio, which the restaurant overlooks.
Bellagio, 702-693-8181, bellagio.com
The Fallen Feather (Lauren di Matteo/MGM Resorts International)
SW Steakhouse
The Rocky Road at SW Steakhouse may have a simple name, but there's about all that's simple about this carefully constructed dessert. It starts with chocolate almond crumble, toasted marshmallow and sweet cream ice cream concealed within a chocolate dome. Hot chocolate sauce is poured over the dome, revealing the ingredients below.
Wynn Las Vegas, 702-770-3325, wynnlasvegas.com
Rocky Road (Jeff Green/Wynn Las Vegas)
Scotch 80 Prime
The artfully constructed chocolate peanut butter cream pie has a base of pretzel and graham crumbs topped with a layer of peanut butter ganache and a layer of chocolate custard, finished with vanilla bean whipped cream, shaved peanut butter cookie, chocolate shavings and a light dusting of salt.
Palms, 702-942-7777, palms.com
Scotch 80 Prime Chocolate peanut butter cream pie
16 — A Handcrafted Experience
In 16's Upside-Down Chocolate Lava Cake a la Mode, the cake is perched on a wafer; when the cake is brought to the table and poked with a skewer, the chocolate melts the wafer and flows into the bowl, onto the ice cream. The newish lounge and restaurant on the 16th floor of the resort is open Fridays through Tuesdays.
M Resort, 702-797-1215, themresort.com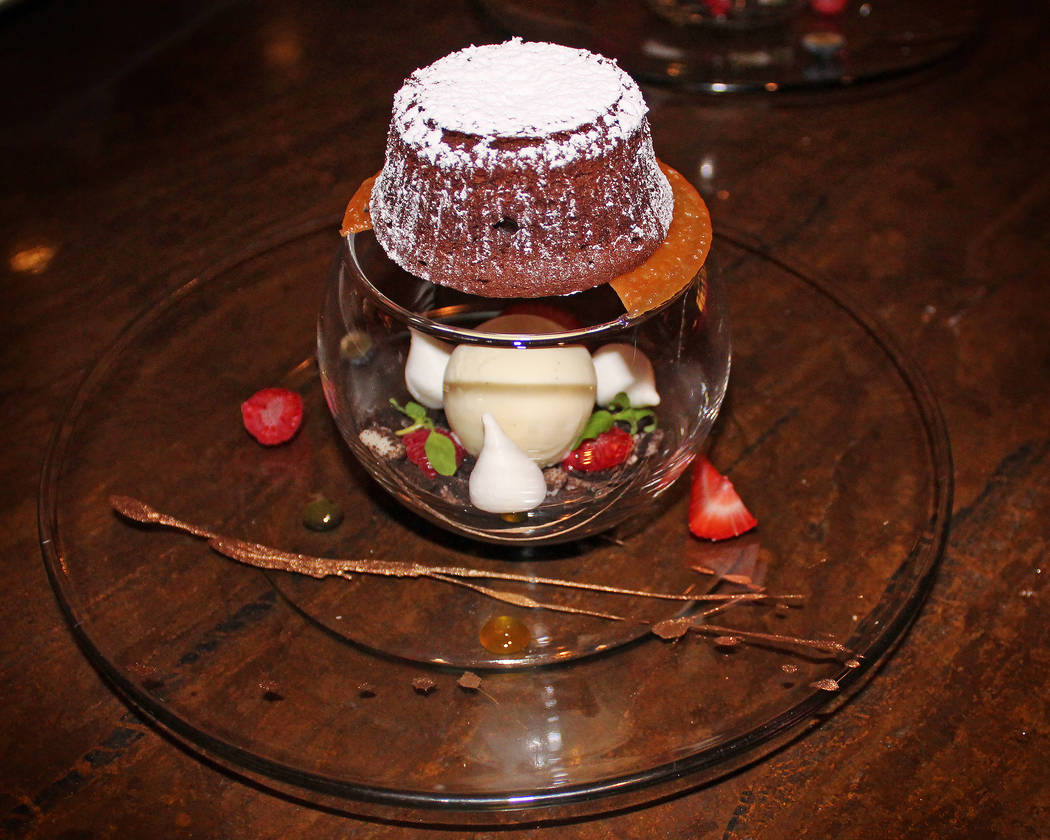 Upside-Down Chocolate Lava Cake a La Mode (M Resort)
Ferraro's Italian Restaurant & Wine Bar
Ferraro's chocolate pappardelle is made in-house with semolina, Italian flour, egg and cocoa powder and served both northern and southern Italian-style. The northern version (shown) is tossed with black truffle, Parmigiano-Reggiano broth, walnuts and Gorgonzola, the southern style with fava beans, guanciale, extra-virgin olive oil, peperoncino Calabrese and caciocavallo cheese.
4480 Paradise Road, 702-364-5300, ferraroslasvegas.com
Chocolate Pappardelle (Ferraro's Italian Restaurant & Wine Bar)