5 best restaurants for bacon lovers in Las Vegas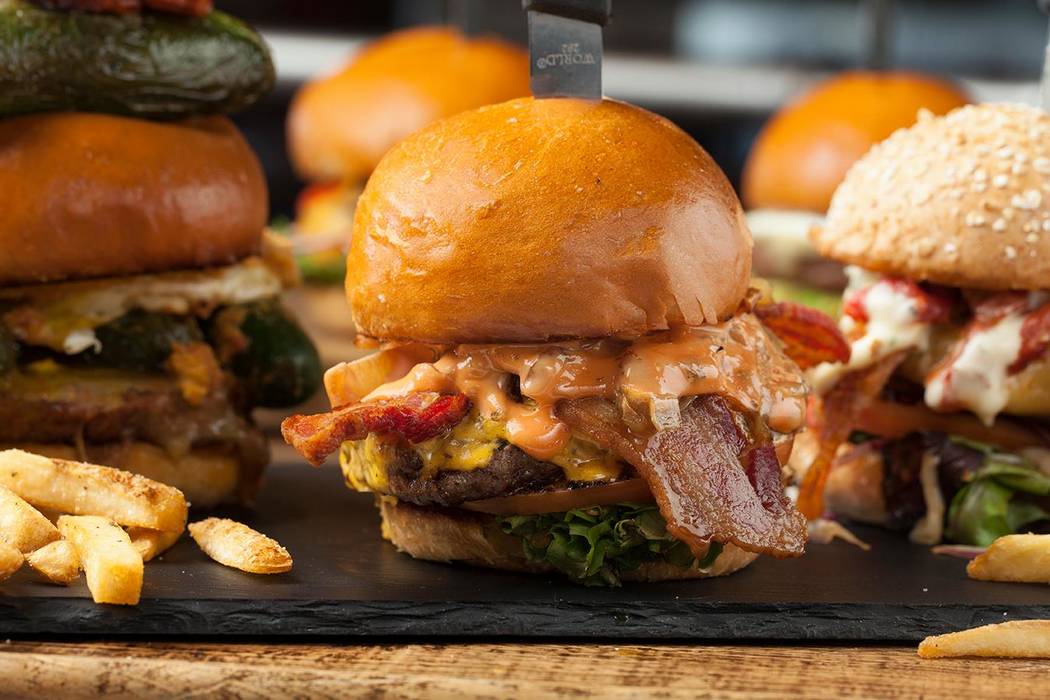 Bacon Bar
When a place uses bacon in its name, you know the smoked meat is far more than an afterthought. Bacon stars in many of Bacon Bar's sandwiches and cocktails, but also in the Man Candy with its spicy-sweet glaze, the Infamous Bacon Wrapped Onion Rings, bacon lasagna, bacon beer-battered fish and lots of other dishes.
3520 N. Rancho Drive, 702-645-8844
Truffles N Bacon Cafe
Bacon jam? Yup, Truffles N Bacon Cafe uses it in its Sinful Tots, which have both of its namesake treats (as well as cheese, pepperoncini and chipotle-ranch drizzle); bacon jam and roasted garlic toast; avocado and bacon jam toast and more. You can also get bacon jam (or regular bacon) as a side, or take home a jar of the jam.
8872 S. Eastern Ave., 702-503-1102, trufflesnbacon.com
Slater's 50/50
The "50/50" refers to the mix of beef and bacon in some of Slater's burgers. Start your meal with a bacon flight: bacon salt and vinegar chicharron, salted caramel bacon kettle corn, sweet and sour agave pork wings, crispy pork belly with jalapeno-bacon jam and Slater's giardiniere. Then move on to a beefy, bacony burger, spaghetti with bacon meatballs or a peanut butter and banana shake. With bacon.
467 E. Silverado Ranch Blvd., 702-766-5050, slaters5050.com
Hash House a Go Go
If you like bacon and beer, try Hash House's O'Hare of the Dog, which is a 24-ounce Budweiser and five slices of bacon, one of the restaurant's "Indiana Favorites." The bacon is as big as everything else here, and you can get it in a waffle, as part of a BBBLT, in burgers or salads and as Bacon Bacon Bacon, an appetizer with brown sugar, house seasoning and pepper.
Plaza, hashhouseagogo.com; with additional locations
Double Down Saloon
The dive bar's owner, P Moss, invented the bacon martini in 1986 and introduced it at the bar in 1993 along with the bacon bloody Mary. Both start with a bottle of vodka infused with three strips of cooked bacon for 24 hours. For the martini, it's poured into a shaker with ice and drained into a glass. For the bloody mary, it's added to the house mix.
4640 Paradise Road, 702-791-5775, doubledownsaloon.com