5 places you should go eat at in Las Vegas this week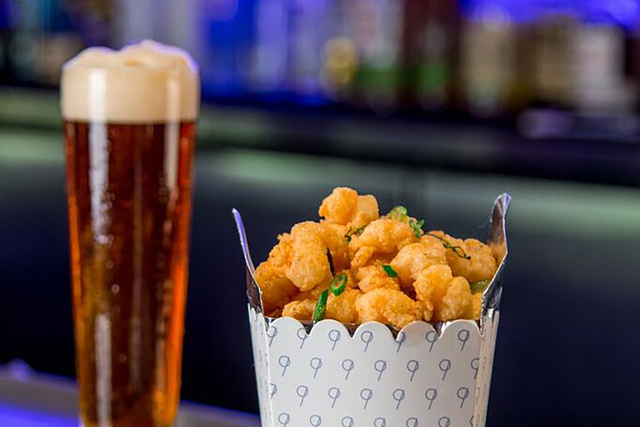 For friends
Get your friends' party started early with happy hour at N9NE Steakhouse at the Palms. From 5:30 to 7:30 p.m. weekdays in the restaurant's bar and lounge, you can try rock shrimp with sriracha sauce and lemon aioli, $9; lobster potstickers with bok choy and pepper yuzu sauce, $9; Buffalo chicken wontons stuffed with hot sauce and blue cheese, $9, and lots more. And you can indulge in craft beer, whiskey flight and specialty-drink specials.
Something new
Brunch is now on the weekend table at Herringbone at Aria, complete with live music. The a la carte menu, available from 10 a.m. to 4 p.m. Saturdays and Sundays, includes such dishes as the Crab Cake Benny, bacon-and-egg ravioli, orange-ricotta chocolate chip pancakes and shrimp and grits, and drink specials include Everlasting Bellinis in four flavors for $25.
Family fun
If you're taking the kids to Disney's "Beauty and the Beast" at The Smith Center — or even if your party will be confined to grown-ups — consider the special menu being offered at Triple George Grill, 201 N. Third St., from Friday through April 17. It doesn't appear there will be any gray stuff, delicious or not, but you can try Mrs. Potts Traditional Meatballs, Belle's Risotto, Gaston's T-Bone, Rose's Red Velvet Cake and more. Call 702-384-2761.
Solo trip
Want to hone those cooking skills? This year's edition of Bellagio's An Executive Chef's Culinary Classroom series kicks off April 15 with Spring Is in the Air, which will cover the preparation of tuna poke and the art of roasting a whole chicken. It'll begin at 7 p.m., and the $135-per-person fee includes a step-by-step demonstration, chefs rotating through the 20-person class to provide guidance and, finally, the sharing of the creations. Call the Bellagio concierge at 877-406-7117.
Date night
Foley Family Wines will be paired with the cuisine of Marche Bacchus for a dinner at 6:30 p.m. Thursday at the restaurant at 2620 Regatta Drive. It'll start with a warm lobster salad and move on to oven-roasted quail and an herb-butter bone-in filet mignon and conclude with a chocolate ganache opera cake. It's $125 plus tax and tip; call 702-804-8008.