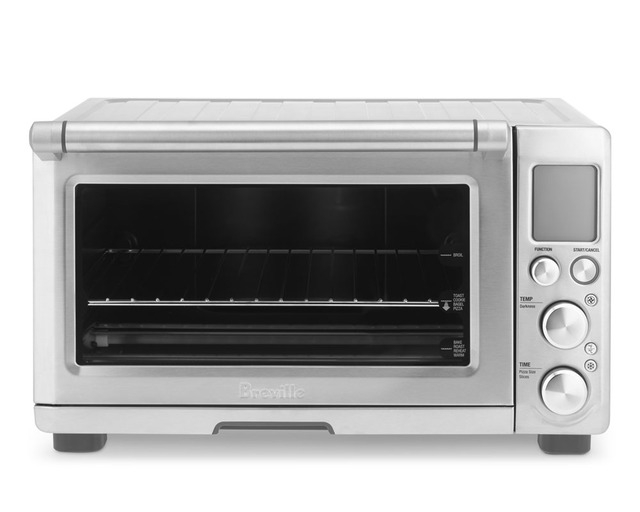 Thanksgiving is one of the times when home cooks are likely to fantasize about having two ovens.
Or three. Or, well …
The problem is that the turkey takes up so much space in the oven and has to be in there for so long. And while most roasted-turkey recipes specify slow roasting at a low temperature, foods such as baked goods and some side dishes require a much hotter oven. What results is a nerve-racking Thanksgiving Day balancing act.
So what's the solution? Try thinking outside the box that is your oven. Small appliances, many of which you already own, can be pressed into service to put an end to oven congestion.
One that's getting a lot of buzz is something you probably don't own: the Wolfgang Puck Pressure Oven, which was recommended by representatives of both Sur La Table and Williams-Sonoma. The oven sells for $249.95 at Sur La Table, $299.95 with a rotisserie function at Williams-Sonoma. And Alex Le, district manager for the former, said they've been selling exceptionally well.
"It's blowing out the doors," Le said. "When we demo it, customers see how fast you can cook a chicken or turkey, and they fall in love with it."
The oven has a pressure knob on top and works on basically the same principle as a pressure cooker, he said.
And this is one thing on which both companies seem to agree.
"By putting turkey under a small amount of pressure, it reduces cooking time dramatically while leaving you with incredibly juicy turkey," Amanda Haas, Williams-Sonoma director of culinary, said in an email. "We cooked a 14-pound turkey in 55 minutes."
They said it also functions like a regular oven.
"The beautiful thing about it is you can do all your traditional baking," Le said.
"Use it for side dishes, pies, stuffing and to keep your mashed potatoes warm," Haas added.
The Breville Smart Convection Oven, normally listed at $380 at Williams-Sonoma but on sale late last week for $249.95, is another countertop oven option, Haas said.
"It … accommodates most standard baking dishes, so I can bake off any of my favorite side dishes in it, like roasted veggies and sweet potatoes, and even pie and cheesecake," she said. "It emits very little heat, which is nice when your oven and cooktop are usually turned on most of Thanksgiving Day."
And if you want to fry your turkey but don't want to do it outdoors, Williams-Sonoma has devices for that: the Waring Digital Rotisserie Turkey Fryer, normally $500 but $219.99 late last week at www.williams-sonoma.com, or the Waring Rotisserie Turkey Fryer and Steamer, normally $475, $249.95 late last week.
"Frying a turkey in a big vat outside can be a little scary," Haas said, "and if the weather is bad it's not the best Thanksgiving Day assignment. Our countertop turkey fryer allows you to cook a 14-pound bird in 45 to 60 minutes. And once Thanksgiving is over, you can use it like a typical fryer for all types of foods."
Le is excited about the Sansaire Sous-Vide Immersion Circulator, which brings a process normally used only in restaurants into the home kitchen. If you're not familiar with sous vide, it's the method of cooking food, inside sealed plastic bags, submerged in water for long periods at carefully controlled temperatures. Much of the reason the process hasn't caught on among home cooks is that the devices that have been available have been bulky and expensive. The $199.95 Sansaire, Le said, which became reality through a Kickstarter campaign, is a compact cylinder that can be used along with any vessel to hold the water.
"You can do everything from turkey parts to your sides, like vegetables," Le said. "The great thing about this is you can do it while your turkey is roasting, or you can do it five days in advance. Then you can take it out and sear the meat or saute the vegetables."
Le's other suggestion is a budget-buster for most of us, but he pointed out that it's popular with pros, and for good reason. The Vitamix ranges from $399.95 to $699.95 at Sur La Table, depending on the model.
"You can do a lot of different things," he said, especially with the top-priced model 750. "I make soups with it. You can make salad dressing, hummus, dips and spreads, all in one machine. It has such a high RPM that it cooks the soup for you. You can make a nice hollandaise sauce for your vegetables."
The other two small appliances Haas suggested for Thanksgiving oven relief are more familiar to most home cooks: Pressure cookers are back, and slow cookers never really went away.
"Pressure cookers are safer and easier to use than ever," Haas said, adding that they can reduce the cooking time of most foods by 65 percent.
"I use mine to make stock for my gravy in 30 minutes," she said. "I also take leftovers from the turkey and make a turkey, white bean and vegetable soup in it the day after Thanksgiving. I can have soup with slow-cooked beans in 45 minutes."
As for slow cookers, the more exact controls of recent models have greatly expanded the range of things that can be cooked in them, from breads to side dishes and desserts.
"The slow cooker can be used to make soup or cook other vegetables or legumes that benefit from slow cooking (think butternut squash soup or braised greens with bacon)," Haas said. "Our director of marketing, Jean Armstrong, brushes her slow cooker with a little butter, then puts her mashed potatoes in it on low heat. They stay delicious and fluffy for hours. If you want to make your gravy ahead, too, you can cook it on the stovetop, then transfer it to a slow cooker to keep it warm for hours."
Contact reporter Heidi Knapp Rinella at hrinella@reviewjournal.com or 702-383-0474.