A day in the life of Aureole's high-flying wine angels
Updated July 8, 2017 - 12:35 pm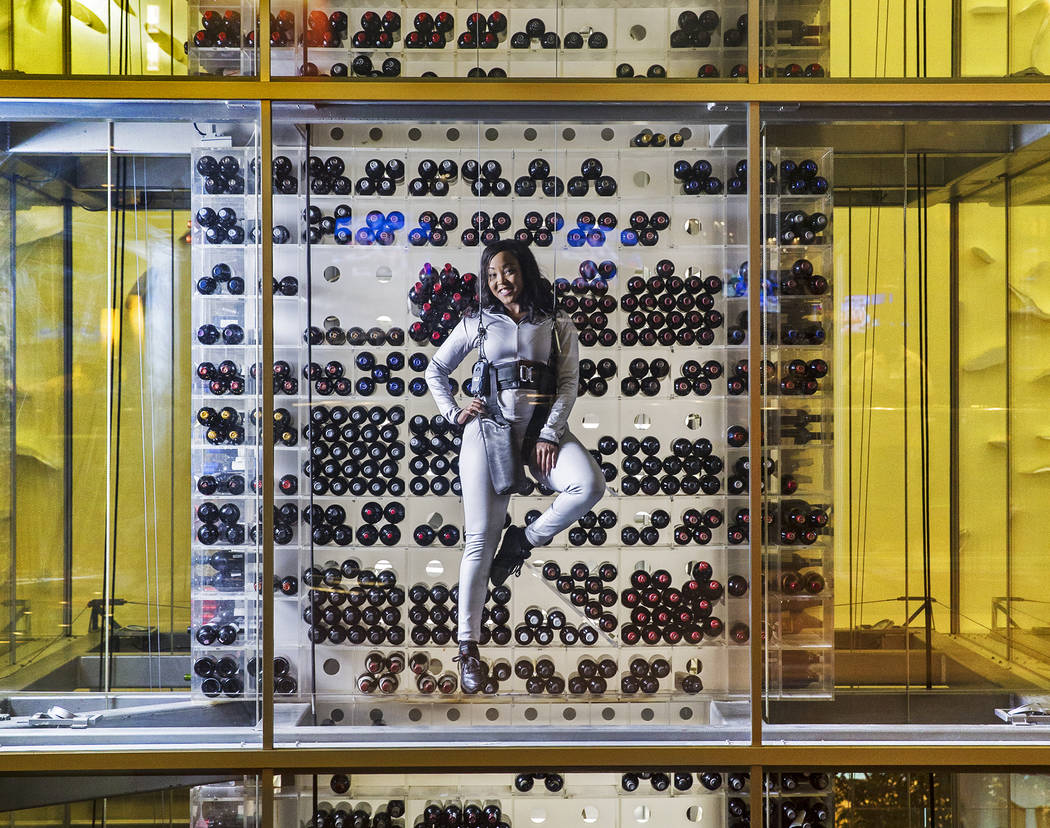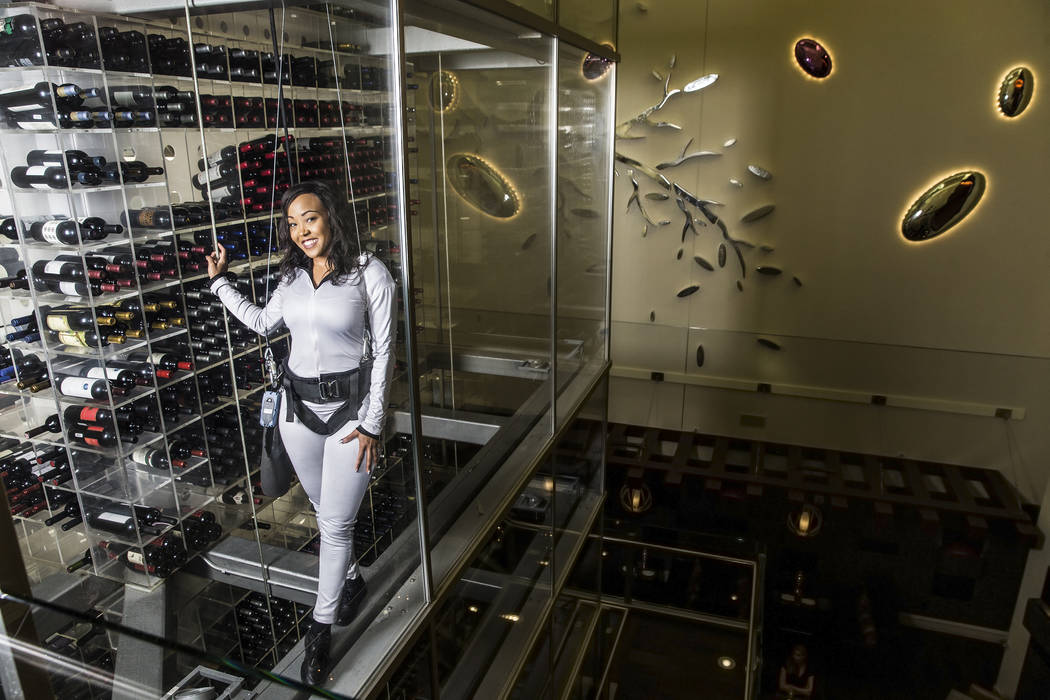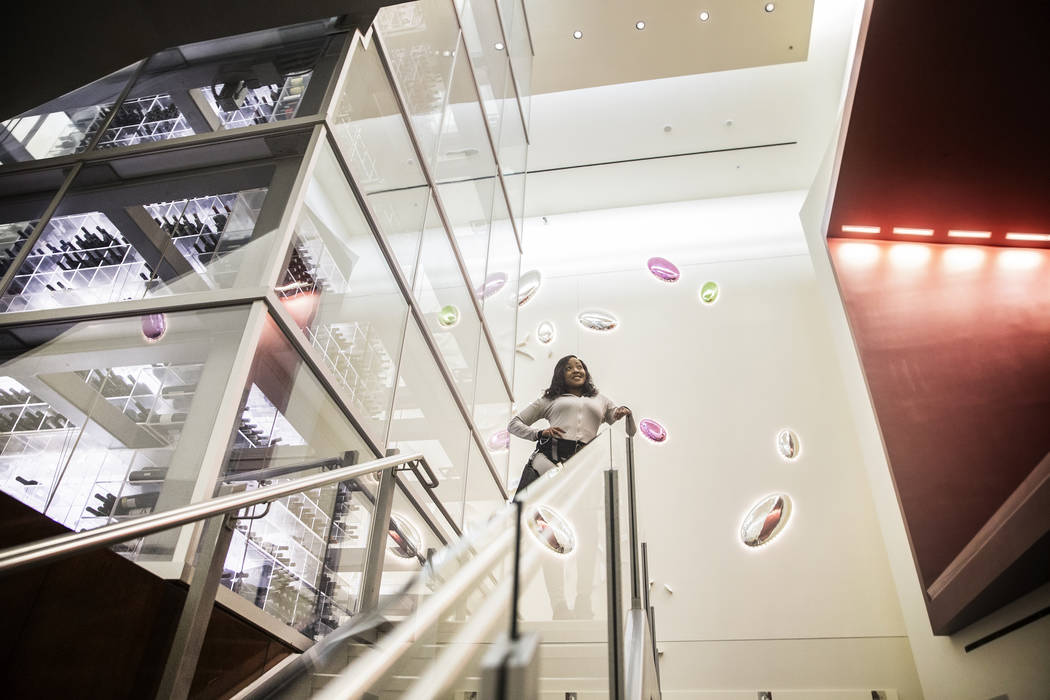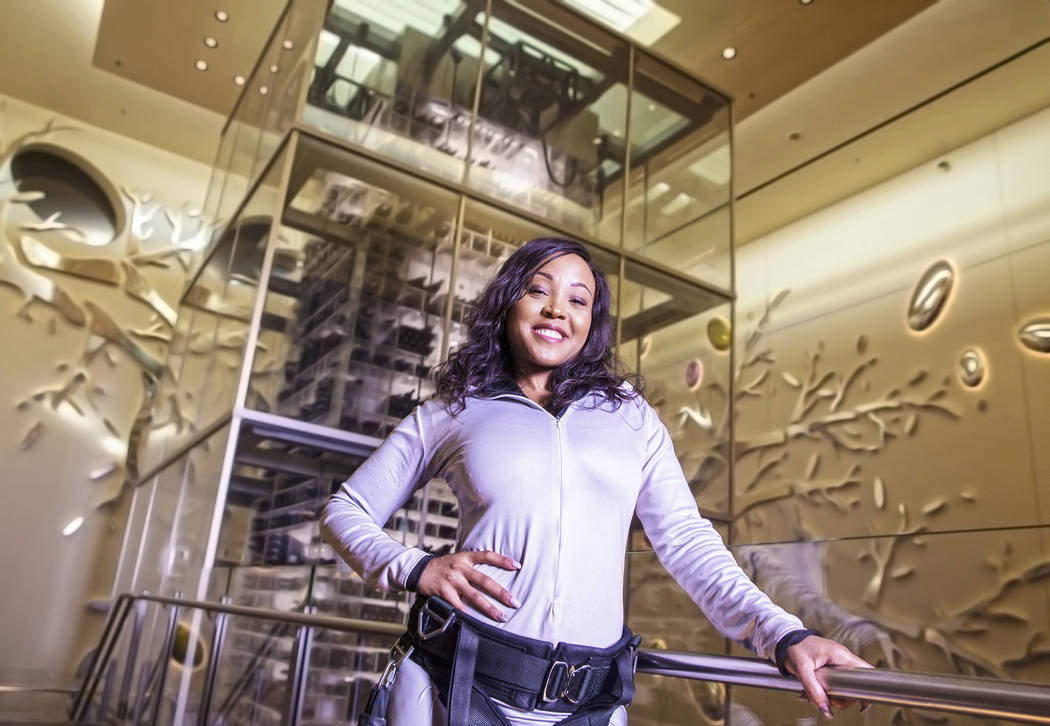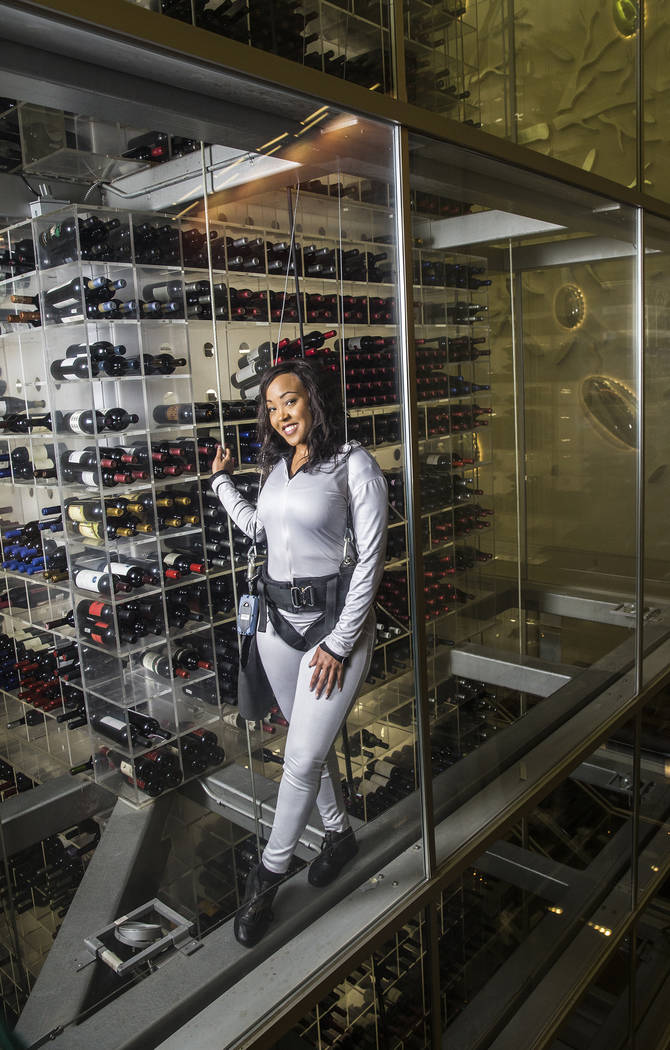 It takes a lot to make stocking shelves look cool. Eboni Lomax, however, pulls it off.
Perhaps it's her silver jumpsuit, or the six bottles of fine red wine holstered on each hip. Or maybe it's the way she gracefully points the toes of one foot while bending the other knee, as a mechanized set of pulleys and cables hoists her to a storage bin four stories above the ground. More likely, it's all of the above, and then some.
What there's no denying, however, is that the Mandalay Bay employee manages to transform replenishing beverage stock into a spectator sport.
Lomax is an Aureole "wine angel," one of the more unusual tourist attractions in a city with no shortage of such things. And stocking the shelves of the signature wine tower at Charlie Palmer's fine dining restaurant is just the beginning of a typical evening spent amazing and entertaining diners and passers-by.
Over the course of her night, she'll ascend and descend the tower no fewer than four times an hour, either retrieving beverages for a specific table or simply bouncing off beams and putting on a show. She'll also roam the dining room during her downtime, offering wine recommendations to guests and posing for pictures.
Angel and ambassador
"A lot of people come here for the wine angel," Lomax says of her job, which is listed on her business card as Wine Angel/Ambassador. "So every time I'm walking around by the tables, people go 'Oh, the wine angel!' So I talk to the guests."
While not a classically trained sommelier, she likes wine and says guests are often just as receptive to her opinions on what they might enjoy with their meals than those of the restaurant's formal wine pros.
"I just give them my personal (opinions on) what I like," she says of her recommendations. "And if they're new to wine, I explain to them how I got into wine, and what I started off liking. And a lot of times they'll take my advice."
The two angels at Aureole also get to facilitate romance from time to time — marriage proposals in particular.
"One of my favorites is when the groom came in with a bottle of wine, and we had a label especially made that said 'Will you marry me?' " Lomax explains. "So I gave them a tour of the tower. And then, as I'm going up the tower, I grabbed the bottle. I came back down, and I'm holding the bottle. She's looking at the bottle. And then we looked down, he's on his knees, and she's crying. And I'm like 'Oh my God, that is so sweet!'"
A coveted job
Aureole has employed wine angels since it opened more than 18 years ago. Competition is fierce for the position.
"It's not that high of a turnaround," Lomax explains. "So when we do have people interview for it, like the last girl who left … we did an open call, and over 100 girls came."
Lomax has been doing it for 10 years. Her only physical training was participating in acrobatics and dance in high school. More relevantly, after earning an associate's degree, the Las Vegas native had worked as a hostess at Strip fine dining establishments Valentino and Postrio. It was at the latter that she first heard about the angels and decided she wanted the job.
It took the aspiring angel six months at Aureole's hostess stand before a position opened, but eventually she got the gig. Yet, despite the fact she'd never had a fear of heights, she admits to being nervous at the start.
"My first day here, I strapped up and I was like 'Oh my God, I don't think I want to do this!' " she recalls. "So I had a change of heart for a second. And then I kept going up and down until I felt comfortable, and it was better — I felt more comfortable."
Over the past decade, she says she's only dropped a few bottles, one time drawing applause from the dining room. And then there was the time she got stuck in the air after the batteries in her hand-held remote control died.
"We didn't wear radios," the angel explains. "So I'm hanging, because I had to go get a bottle. And I'm yelling 'help!' hoping that somebody would come in there. And one of the bartenders was like 'Are you OK?' I was like, 'I'm stuck. Go get one of the somms, I'm stuck.' (And) guests were looking at me like, what are you doing?"
Despite such misadventures, and the chilly, humid working environment, Lomax still loves her job. But she knows nobody can remain an angel forever, which is why she's pursuing a four-year degree.
"Once I get my degree I will hopefully stay with MGM (Resorts International) and become an accountant or something," she says.
Contact Al Mancini at amancini@reviewjournal.com or 702-387-5250. Follow @AlManciniVegas on Twitter.