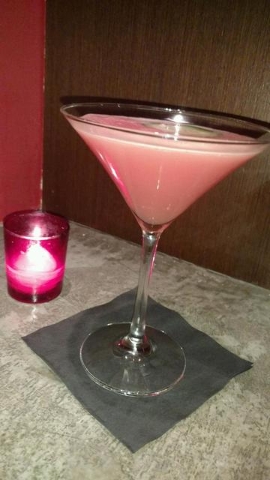 At many bars across the Las Vegas Valley with seasonal menus, summer cocktails prove to be a hit — anywhere from the quiet neighborhood lounge to the dayclubs on the Las Vegas Strip.
"The key to creating great summer cocktails is the ability to utilize seasonally available ingredients," said Christina Dylag of Velveteen Rabbit.
Here are a few summery cocktails starting to make an appearance in local bars.
SMOKE & SPICE, NOTHING NICE
Oak & Ivy, 707 Fremont St. (Container Park in downtown Las Vegas)
Using brown sugar to remind you of a classic American barbecue, Oak & Ivy uses its Woodford Reserve Bourbon, bitters and simple syrup with a hint of (actual) smoke in this Old Fashioned-style cocktail.
"The theme for Oak & Ivy's summer seasonal specialty cocktail menu will be a summer day at the park. The flavors of smoke and barbecue and American whiskey just make sense together," said the bar's lead creative bartender, Chris Gutierrez. "We're definitely not reinventing the wheel with this Old Fashioned, just getting it ready for a summer day in the park."
Cocktails at Oak & Ivy range from $10-$16.
EASY EYES
Velveteen Rabbit, 1218 S. Main St. (Arts District)
At this craft cocktail bar nestled between retro shops, cool off with a cocktail created by Christina Dylag made with gin, serrano honey, canteloupe, grapefruit, lemon, El Guapo Bitters and a garnish of fresh mint.
"Cantaloupe, when ripe and juicy, is the perfect addition to any summer punch or cocktail. It pairs nicely with most spirits, and in this cocktail, Easy Eyes, it seduces the palate alongside a subtle serrano spice and mellowing Guapo (lavender-cucumber) Bitters," Dylag wrote in an email.
Cocktails at Velveteen Rabbit range from $10-$13.
GRAPE SMUGGLER
The Cosmopolitan of Las Vegas 3708 Las Vegas Blvd. South (Boulevard Pool)
Boulevard Pool at The Cosmopolitan will be debuting multiple summer-inspired cocktails this season, ranging from infused ice cream sundaes to liquid nitrogen sorbets, according to chef mixologist Mariena Mercer, but if that's not your speed, try their twist on sangria. The Grape Smuggler is made with pinot grigio, soho lychee liqueur, ginger syrup, lemon, strawberries, grapes and blueberry boozy caviar topped with cucumber soda.
Cocktails at the Boulevard Pool are about $15.
WATERMELON COOLER
Downtown Cocktail Room, 111 Las Vegas Blvd. South
The Watermelon Cooler, one of the downtown bar's most popular drinks through the summer (and requested all year long), will be making a return this season and is made with real, fresh watermelon, vodka and cucumber slices.
"Whether it is an easy-drinking cocktail or something spirit-driven, we end up using light flavors that will blend together and create unique profiles that won't weigh the palate down," bartender Kevin Gorham said.
"In some cases we have something that is a little heavy for summer we try to tie it to an event, holiday or potential memories that we have had during the summer months. What's better than to be transported back to a memory when tasting different cocktails?"
Cocktails at Downtown Cocktail Room range from $10-$13.
Contact Kristen DeSilva at kdesilva@reviewjournal.com. Find her on Twitter: @kristendesilva