A La Carte: Dining events and news for Sept. 3-9, 2015
September 2, 2015 - 7:58 pm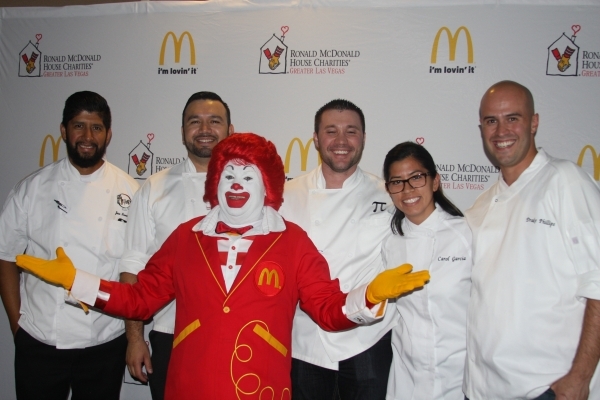 McDonald's hosts Appetite for the Arches to benefit Ronald McDonald House
The McDonald's at 6990 S. Rainbow Blvd. hosted an Appetite for the Arches event Aug. 18 to raise funds for the Ronald McDonald House of Greater Las Vegas. Four celebrity chefs, including Food Network star Vic "Vegas" Moea, prepared a three-course meal using only McDonald's ingredients. About 60 people attended the event, with tickets sold to raise funds for the local Ronald McDonald House, 2323 Potosi St.
For more information about Ronald McDonald House, visit rmhc.org.
Crave to raise funds for Candlelighters at Downtown Summerlin
Crave American Kitchen & Sushi Bar, 10970 Rosemary Park Drive at Downtown Summerlin, plans to raise funds for the Candlelighters Childhood Cancer Foundation of Nevada from 6:30 to 8:30 p.m. Sept. 3. The event is set to showcase artwork created by children affected by cancer and offer passed hors d'oeuvres and refreshments. Art priced $50 to $150 will be available for purchase and will be on display at the restaurant through September.
All proceeds will benefit Candlelighters. Visit craveamerica.com or candlelightersnv.org.
'Wines du Jour' show planned at Bonefish Grill
The 14th anniversary "Wines du Jour" syndicated radio show is set to be broadcast live from 7 to 8 p.m. Sept. 3 at Bonefish Grill, 8701 W. Charleston Blvd. The show features a weekly winery and three of its wines. Each guest attending is to receive a goodie bag. Email kincaidtammy@msn.com.
Go Orange Day set for Sept. 3 at the Linq
The Linq Promenade, 3545 Las Vegas Blvd. South, plans to raise funds for Three Square food bank Sept. 3 during Go Orange Day. Visit any of the promenade's five participating restaurants, and a portion of proceeds from special menu items will be donated to Three Square. For more information, visit tinyurl.com/pu9s26d and click on "Hunger Action Month 2015."
New Vista Community Wine Walk planned
The 2015 Wine Walk season is set to return to Town Square Las Vegas, 6605 Las Vegas Blvd. South, from 7 to 10 p.m. Sept. 5 and Oct. 10 with a variety of wines for sampling throughout Town Square Park. The walk is organized by New Vista Community, a local charity committed to providing equal opportunities and support to intellectually challenged people of all ages so that they may experience life to the fullest. Attendees must be 21 or older, and the cost is $25 per person in advance. Visit winewalklv.com.
Bourbon & Bites Pairing scheduled at Foundation Room
The Foundation Room at the House of Blues at Mandalay Bay, 3950 Las Vegas Blvd. South, is set to host a Bourbon & Bites Pairing for Bourbon Heritage Month from 6 to 8 p.m. Sept. 3. The cost is $55. For reservations, call 702-632-7631 or email fdrlvreservations@livenation.com
Continuing education Stir-Fry Made Easy class offered
Participants can learn how fast and easy stir-frying is in this class, slated for 6 to 8:30 p.m. Sept. 8 at Ferugson Enterprises, 4175 S. Grand Canyon Drive. Discuss essential equipment, get tips, sample stir-fry combinations, and collect recipes. The cost is $49 for one session.
Register at continuingeducation.unlv.edu or call 702-895-3394 between 8 a.m. and 9 p.m. Monday through Thursday or 8 a.m. to 5 p.m. Friday and Saturday.
Guest chef series to honor Kerry Simon at Made LV Sept. 9
A special dinner honoring chef Kerry Simon is planned for 6:30 p.m. Sept. 9 at Made L.V. at Tivoli Village, 450 S. Rampart Blvd., Suite 120. Dinner His Way will feautre some of Simon's culinary favorites prepared by past Simon chefs. The evening will be hosted by Robin Leach and Made L.V. co-ower Elizabeth Blau. A portion of proceeds from the event will support the Kerry Simon Fight MSA movement and Keep Memory Alive.
The cost is $59. For reservations, call 702-722-2000 or visit made-lv.com/calendar.
CraftHaus Brewery to celebrate first anniversary Sept. 12
CraftHaus Brewery, 7350 Eastgate Road, No. 110, in Henderson, is set to celebrate its first year of craft beer with a Glitter Bomb Party planned for 6 p.m. Sept. 12. New beers are set to be released, past beers revived, firkins tapped and a glitter beer launched to celebrate. Entertainment by four local bands is planned, along with food offerings and an unveiling of new artwork for the taproom.
Tickets are required and include a commemorative glass and six 4-ounce drink tickets. Tickets are $20 pre-sale at http://bpt.me/2128185 and $25 at the door.
Visit crafthausbrewery.com or call 702-415-9184.
Umami Burger plans football promotions at SLS Las Vegas
Umami Burger, Beer Garden & Sports Book at SLS Las Vegas, 2535 Las Vegas Blvd. South, plans to host fantasy football draft parties through Sept. 9, with half off food and drinks for leagues with 10 or more players. A regular football season kickoff party is planned for 4:30 p.m. Sept. 10 with free beer, snacks and giveaways, and the first 100 guests receiving a free $5 parlay bet from William Hills Sports Book.
During the season, game-day specials are set to be offered Thursday through Monday for college and professional games, including $8 Bud Light pitchers and $2 glasses, bottomless Rolling Rock draught beer for $35, select shots for $5 and a free $5 parlay bet from William Hill Sports Book with any burger purchase during Monday and Thursday night football games.
Visit slsvegas.com/umamiburger.
Open house set for Sept. 10 at The Coffee Bean & Tea Leaf
The Coffee Bean & Tea Leaf plans to introduce its fall beverage lineup during an open house scheduled from 2 to 6 p.m. Sept. 10. For $2, customers can try any size except 32-ounce beverages of the store's new Salted Butterscotch Latte and Ice Blended drink as well as other fall beverages at these locations: 3645 S. Town Center Drive; 6115 S. Rainbow Blvd.; 10834 W. Charleston Blvd.; 7291 W. Lake Mead Drive; 9091 W. Sahara Ave.; The District, 2220 Village Walk Drive in Henderson; Fashion Show mall, 3200 Las Vegas Blvd. South; and Meadows Mall, 4300 Meadows Lane.
Visit coffeebeanlv.com.
Food and wine event set for Sept. 12 and 13
The Food & Wine Festival is scheduled for Sept. 12 and 13 at Red Rock Resort, 11011 W. Charleston Blvd.
The grand tasting is set from 8 to 11 p.m. Sept 12 poolside. Tickets are $100 to $150. An after-party is slated from midnight to 2 a.m. at Hearthstone. Tickets are $85.
The events are for guests 21 or older. For tickets, visit vegasfoodandwine.com.
Opportunity Village to host 23rd annual Charity BBQ at Bitter Root Ranch
Opportunity Village, 6300 W. Oakey Blvd., plans to host its 23rd annual Charity BBQ at 5:30 p.m. Sept. 19 at the Bitter Boot Ranch, 6828 Rio Vista St. Local establishments such as Trailhound Smokers BBQ, Rubio's Fresh Mexican Grill, El Segundo Sol, Fogo de Chao and Rita's Italian Ice are set to have tasting stations during the cocktail reception, which will also feature a signature cocktail presented by Las Vegas Distillery. Station Casinos is set to provide the barbeque buffet as the main course.
The evening also will feature entertainment such as a mechanical bull, a petting zoo for the children, and horseshoe, roping, and cutting horse demonstrations, along with a live performance from the Country Superstars. Proceeds will benefit the programs and services offered by Opportunity Village.
For tickets, table reservations or to make a donation, call Charlene Blackstone at 702-880-4068 or email blackstonec@opportunityvillage.org by Sept. 4.
Pieology opens second valley location in Hughes Center
Pieology Pizzeria, which has a location in Downtown Summerlin, has opened its second Las Vegas Valley build-your-own pizza restaurant in Hughes Center, 365 Hughes Center Drive, Suite 130. Hours of operation are from 10:30 a.m. to 10 p.m. Sunday through Thursday and until 11 p.m. Friday and Saturday. Call 702-888-1295 or visit pieology.com.
Neon Museum to host Cosmic Cocktails Sept. 18
The Neon Museum, 770 Las Vegas Blvd. North, plans to host the Cosmic Cocktails event from 6 to 9 p.m. Sept. 18 for guests 21 or older in the Neon Boneyard. The event is planned in partnership with the Las Vegas Astronomical Society and will offer guests the opportunity to stargaze using a variety of telescope equipment and to enjoy food and libations from some of downtown's best restaurants. A disc jockey playing live music also is planned.
Tickets are $75, and advance registration is required. Visit neonmuseum.org/happenings.
Barbecue event at Craig Ranch Regional Park to support childhood cancer charities
Pigs for the Kids, a barbecue cook-off competition with brews and music, is planned from 11 a.m. to 9 p.m. Sept. 19 at Craig Ranch Regional Park, 628 W. Craig Road. Music is also planned, and the event supports childhood cancer charities Candlelighters Childhood Cancer Foundation of Nevada, Cure 4 The Kids Foundation and the Nevada Childhood Cancer Foundation.
Teams will compete to take home the inaugural Pigs for the Kids Barbecue Cook-Off trophy, and prizes will be offered in four categories: ribs, pork shoulder, sauce, and beans. All styles of barbecue are to be represented, and attendees can purchase a V.I.Pig Pass, allowing them to sample all the regional variations.
The registration fee for team competition is $175 for a 10-foot-by-10-foot booth; $350 for a 20-foot-by-20-foot booth; and $600 for a 40-foot-by-40-foot booth. General admission tickets are $10; children 12 or younger are admitted free. V.I.Pig Passes are $150 and include access to the V.I.Pig Tent, exclusive parking, an open bar, special chef dishes and 20 "piggy bucks" ($40 value). Sponsorships are also available at a variety of levels. Visit pigsforthekids.org.
Fifth annual Flavors of the Heart to benefit American Heart/Stroke associations Sept. 19
The American Heart Association/American Stroke Association and chefs Adam Pusateri, Alex Barnett and Jeremy Jordan are partnering to present the fifth annual Flavors of the Heart event from 7 to 10 p.m. Sept. 19 at Worldview on 16, Building B, in the World Market Center, 475 S. Grand Central Parkway. The multicultural culinary experience will showcase some of Las Vegas' top chefs and restaurants creating and serving special dishes that are healthy for the heart and brain. Cookbooks featuring the recipes prepared at the festival will be available for purchase.
Tickets are $75. Visit flavorsoftheheart.com or call 702-789-4383.
Outdoor festival set to feature Brazilian cuisine
The second annual Brazilian Outdoor Festival is planned from 4 to 10 p.m. Sept. 20 at Via Brasil Steakhouse, 1225 S. Fort Apache Road.
The event is a celebration of Brazilian Independence Day and a showcase of the culture and cuisine of Brazil with live bands, Samba dancers, Capoeira performances and more. General admission tickets are $10 through Sept. 13 and will be $12 after that. Tickets can be purchased from Via Brasil Steakhouse before Sept. 20. Call 702-804-1400 or visit viabrasilsteakhouse.com.
Inaugural barbecue competition planned by culinary federation
The American Culinary Federation, Chefs Las Vegas Chapter, in association with the Nevada Barbeque Association, is set to present the inaugural BBQ competition What Happens in Vegas…Is Smokin' on Sept. 25-27 at the Sports Center of Las Vegas, 121 E. Sunset Road. An open invitational rib cook-off and rib tasting for Bragging Rights – Best Ribs in Vegas is planned Sept. 25. The Smokin' event, which is a Kansas City BBQ Society-sanctioned event, is set for Sept. 26 and is set to include up to 110 teams competing for more than $20,000 in prize money.
Entry is free to the public from noon to 4 p.m. and is to include vendors, kids' activities, and a VIP section with a barbecue buffet. Tickets for rib tastings will be available for the public to purchase at the rib cook-off Sept. 27.
A portion of the proceeds will benefit Chefs for Kids charity, a nonprofit dedicated to alleviating malnutrition and hunger in children through education and awareness. Interested competitors can contact Steve Overlay, BBQ team coordinator, at 702-376-9532 or steveno702@embarqmail.com.
Mercadito to host cooking demo Sept. 28
Mercadito at Red Rock Resort, 11011 W. Charleston Blvd., plans to offer a Cooking Demo Mondays session Sept. 28. The theme is Fall Cooking Demo and Fall Menu Unveiling. Chefs will demonstrate their skills as guests drink and dine.
Demonstrations are $45 per person, which includes a five-course meal with cocktails, question-and-answer session and recipes. Each event is set to begin at 6 p.m., with space limited to 30 to 40 people.
To make a reservation, call 702-979-3609.
Seasonal Burger Tour menu planned through fall
Mr. Lucky's Cafe and The Ainsworth at the Hard Rock Hotel, 4455 Paradise Road, have launched a new Seasonal Burger Tour menu featuring four takes on the traditional burger, available through the fall. They include the Shaka Doobie, a half-pound burger topped with Swiss cheese, fried bologna, mustard and pickles, served between two grilled cheese sandwiches; and the Cali Burger, a half-pound burger with arugula, lemon mayo, goat cheese, roasted tomatoes, red wine and onion marmalade, and avocado served on a brioche bun.
Visit hardrockhotel.com or call 702-693-5500.
Cupcakery opens third location
The Cupcakery recently opened its third Las Vegas location at 1150 E. Flamingo Road, near UNLV. The 1,200-square-foot bakery features cafe seating, free Wi-Fi for customers and an expanded retail section. Visit thecupcakery.com.
Water Street District set to be home to new brew pub
The groundbreaking for the Lovelady Brewing Co. was set for Aug. 19. The new 6,000-square-foot pub in Henderson's Water Street District represents a $2.2 million investment, with $90,000 in financial assistance provided by the city's Redevelopment Agency.
Create A Change Now's inaugural Edible Education Dinner planned
Create A Change Now, a local nonprofit teaching at-risk students to plant, grow and cook fresh, healthy meals in order to prevent childhood obesity, is set to host its inaugural Edible Education Dinner at Panevino Grille, 246 Via Antonio Ave., Oct. 10. The dinner theme is "Feeding the Brain," featuring a four-course meal with beneficial fats that help nourish and aid in brain functioning. A representative with the Cleveland Clinic Lou Ruvo Center for Brain Health Las Vegas is set to speak about how nutrition plays a crucial component to optimal brain health.
Ticket prices and additional details will be available closer to the date of event.
For more information on Create A Change Now, visit createachangenow.org or call 702-300-7399. For more information on the clinic, visit my.clevelandclinic.org.
Downtown brew festival set for Oct. 24
Motley Brews' Downtown Brew Festival is set to return with craft beer, celebrity chefs and live music from 5 to 9 p.m. Oct. 24 at the Clark County Government Center Amphitheater, 500 S. Grand Central Parkway. Beer lovers will have the opportunity to sample more than 200 local, regional and international brews from more than 60 breweries lining the grassy surroundings of the amphitheater.
Tickets start at $30. Live bands and performers are planned in addition to gastropub fare. Visit downtownbrewfestival.com.
Station Casinos planning football season drink specials
Station Casinos is set to feature $2 Bud and Bud Lights for the season while NFL games are being played (Thursday, Sunday and Monday) at the Sports Book at all Station Casinos and Fiestas. In addition, a variety of additional drink specials are planned ranging from $3 to $5 depending on the liquor/cocktail. Guests can also enjoy $1 dogs at all Station and Fiestas, excluding Red Rock Resort and Green Valley Ranch Resort.
Also, to kick off football season on Sept. 10, Green Valley Ranch is set to host a Hot Dog Eating Contest at 4:30 p.m. at Turf Grill. RSVPs are required, as spots are limited to 20. Entrants will have five minutes to eat as many hot dogs (with buns) as possible. The winner receives a Turf Grill dining credit for two people for each Thursday, Sunday and Monday NFL game during the 2015-16 regular season.
Rosallie Le French Cafe opens in southwest
Las Vegas has a new, international off-Strip dining option, Rosallie Le French Cafe, at 6090 S. Rainbow Blvd. Created by local Jonathan Pluvinet, a native of Southern France, Rosallie offers guests a casual French coffee house experience, serving a variety of coffee and tea, as well as French breads, pastries, sandwiches and salads.
The cafe is open daily from 7 a.m. to 6 p.m. Visit rosallie.com.
Habit Burger Grill partners with No Kid Hungry for donation campaign
The Habit Burger Grill, 365 Hughes Center Drive, has launched a partnership with Share our Strenght's No Kid Hungry campaign to encourage guests to donate at the register. Guests who donate $2 will receive a certificate for a free Charburger with cheese good on a future visit through Oct. 31.
Visit habitburger.com or nokidhungry.org.
Tommy Bahama raising funds to fight childhood hunger
For the third year, Tommy Bahama is partnering with No Kid Hungry to raise donations through the Dine Out for No Kid Hungry effort during September. Guests visiting any Tommy Bahama Restaurant can donate $5 in exchange for a $20 promotional award card, redeemable at any Tommy Bahama Restaurant, full-priced retail location or at tommybahama.com during October. For restaurant guests who donate $1, Tommy Bahama will provide an orange wristband with the official Tommy Bahama motto "Make Life One Long Weekend."
Visit tommybahama.com or nokidhungry.org.'
Grimaldi's Pizzeria joining fight against childhood hunger
Through Hunger Awareness Month in September, Grimaldi's Pizzeria plans to offer guests who dine at any Nevada Grimaldi's location and donate $5 to No Kid Hungry $5 back to use on their next visit. All proceeds will benefit No Kid Hungry.
Visit grimaldispizzeria.com or nokidhungry.org.
Tropical Smoothie adds Super Grain Bowls, fall smoothies to menu for limited time
Tropical Smoothie Cafe has introduced new Super Grain Bowls and Fall Favorite Smoothies to its menu for a limited time, along with a new Chia Banana Boost Smoothie.
Super Grain Bowls are offered as a Mediterranean Bowl or Roasted Red Pepper & Pesto Bowl and feature a house-made blend of quinoa, farrow and brown rice.
On the smoothie menu, the UnBEETable Berry is back, along with the new Spiced Pear smoothie.
Visit tropicalsmoothie.com.
El Cortez offering prime rib special 24/7
El Cortez, 600 Fremont St., is offering a $10.95 prime rib special available 24 hours a day, seven days a week, at Siegel's 1941. Visit elcortezhotelcasino.com or call 702-385-5200.
Hexx kitchen + bar set to donate percentage of dessert proceeds to No Kid Hungry
Hexx kitchen + bar at Paris Las Vegas, 3655 Las Vegas Blvd. South, is set to participate in Dine Out for No Kid Hungry, a monthlong national restaurant event in cities across the United States. Through Sept. 30, for every dessert purchased that is made with Hexx chocolate, the restaurant will donate 15 percent of the proceeds to No Kid Hungry. Visit hexxlasvegas.com or nokidhungry.org.
PDQ, Vegas PBS to host Family Fundraising Nights
PDQ and Vegas PBS are partnering to host monthly fundraising nights to help veterans and bolster services for the deaf and blind.
PDQ's two Las Vegas Valley locations — 3737 W. Craig Road and 3010 W. Sahara Ave. — each plan to host one fundraising night per month, with one benefiting the Vegas PBS Workforce Training and Economic Development program for veterans, which helps them connect to educational services, military-friendly employment opportunities and other programs, and the other benefiting the Vegas PBS Described and Captioned Media Center, which provides resources for the blind and visually impaired and the deaf and hard of hearing and their families.
During these nights, PDQ plans to donate a percentage of sales generated by the charity's supporters back to the organization. The Family Fundraising Nights to benefit veterans are planned from 4 to 9 p.m. the first Friday of the month through December at the North Las Vegas location. Family nights to benefit the Described and Captioned Media Center are planned from 4 to 9 p.m. the last Friday of every month through December at the Sahara Avenue location. Visit eatpdq.com.
Fantasy football draft day specials offered at Pot Liquor CAS
Pot Liquor CAS at Town Square Las Vegas, 6587 Las Vegas Blvd. South, Suite B196, has launched its Draft Day Hub. Fantasy football leagues that dine in can have access to fantasy football draft boards and televisions, free on-site expertise and exclusive food and drink packages. Pot Liquor also offers carryout and delivery specials.
For package information, visit potliquorcas.com.
PT's, Sierra Gold and Sean Patrick's locations plan Fantasy Football specials
Las Vegas Valley locations of PT's, Sierra Gold and Sean Patrick's taverns are available to host Fantasy Football draft parties, featuring free Wi-Fi and a free draft kit, $15 beer buckets and half off all drinks and pizzas from 5 to 7 p.m. and midnight to 2 a.m., as well as select $5 appetizers.
To book a party, call Stephanie at 702-495-4343. Visit pteglv.com.
Sands Cares offers ONEHOPE Wine selection to benefit Three Square
As part of the company's Sands Cares corporate citizenship initiative, The Venetian and the Palazzo are introducing ONEHOPE Wine as a house wine selection in The Venetian, the Palazzo and the Sands Expo Convention Center, pledging a donation to Three Square food bank for every bottle sold. Guests have a choice of two award-winning varietals to support Three Square.
Visit sands.com/our-commitment.html.