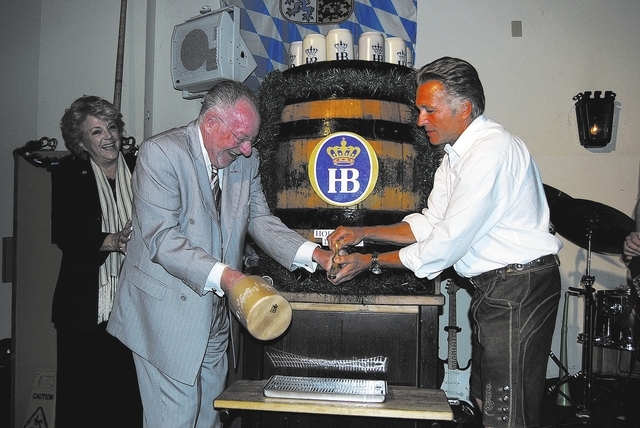 GREAT VEGAS GRIDIRON GRILL-OFF BBQ SET FOR SEPT. 6-7
The new Downtown Las Vegas Events Center, 200 S. Third St., is set to host the Great Vegas Gridiron Grill-Off BBQ and Tailgate Festival from noon to 6 p.m. Sept. 6 and 7. Guests are invited to sample barbecue and meet the grilling teams and "The Godfather of BBQ," Johnny Trigg. The Grill-Off is part of an outdoor lifestyle series of events at the center, across from the D Las Vegas.
Entry is $20 per person per day and includes stage entertainment, grilling demonstrations, games and all-you-can-eat barbecue in tasting portions. For tickets, visit tinyurl.com/kfrnfdp.
SAN GENNARO FEAST SET FOR SEPT. 9-14
The 35th Annual San Gennaro Feast is scheduled Sept. 9-14 at the Grand Canyon Shopping Center, 4245 Grand Canyon Drive at West Flamingo Road. The food and music festival is set to feature more than 70 restaurant food booths, 80 amusements rides, midway games, arts and crafts and live music. Entertainment coordinator and host Tony Sacca will introduce entertainers and bands and also headline his own show. Fireworks are planned for 9 p.m. Sept. 14.
Planned food booths include traditional Italian fare such as pasta, fried calamari, calzones, baked clams, pizza, stuffed artichokes, Italian fried dough and Italian sausage and peppers. A cannoli and meatball eating contest is planned for 4 p.m. Sept. 14.
Hours are scheduled to be from 5 to 11 p.m. Sept. 9-11, 5 p.m. to midnight Sept. 12, noon to midnight Sept. 13 and noon to 11 p.m. Sept. 14. Tickets are $9 for adults and children and $8 for seniors and military members with ID. Children 54 inches or less are admitted free. All military members with ID and their families will be admitted free Sept. 11.
Parking is free. For more information, visit sangennarofeast.com.
LES KINCAID TO CONTINUE CLASSES IN SEPTEMBER
Les Kincaid, host of the radio wine show "Wines Du Jour," plans to host the class Flavors of Northern & Southern Italy from 6 to 8:30 p.m. Sept. 9 and 16 at Ferguson Enterprises, 4175 S. Grand Canyon Drive. The cost is $129 for both sessions.
To register, visit continuingeducation.unlv.edu or call 702-895-3394 from 8 a.m. to 9 p.m. Monday through Thursday or 8 a.m. to 5 p.m. Friday and Saturday.
HOFBRAUHAUS TO START OKTOBERFEST CELEBRATION SEPT. 13
Hofbrauhaus Las Vegas, 4510 Paradise Road, plans to host a kickoff Oktoberfest celebration at 7 p.m. Sept. 13, featuring magicians Siegfried & Roy striking the first mallet. The festivities are set to run daily until Oct. 31 and feature celebrity keg tappers Fridays and Saturdays, along with live entertainment, traditional fare and Oktoberfestbier imported from Germany.
Guest are invited to take part in Oktoberfest Stein-Holding competitions Fridays and Saturdays, Sept. 19-Oct. 31.
For more information, call 702-853-2337 or visit hofbrauhauslasvegas.com.
PROJECT DINNER TABLE SET FOR SEPT. 13, OCT. 11
Project Dinner Table is scheduled for Sept. 13 at the University of Nevada Cooperative Extension Orchard, 4600 Horse Drive. The meal will feature cuisine by Bellagio chefs, and proceeds will benefit the Candlelighters Childhood Cancer Foundation of Nevada and Miracle Flights for Kids. A social hour is planned to begin at 5:45 p.m. with hors d'oeuvres and cocktails, followed by dinner at 6:45 p.m.
The 2014 event finale is planned for Oct. 11 at the Barrick Museum at UNLV, 4505 S. Maryland Parkway, to raise funds for the Safe Nest domestic crisis shelter and the Blind Center of Nevada. The meal will feature cusine by Caesars Palace chefs. A social hour is planned for 5:15 p.m., followed by dinner at 6:15 p.m.
Tickets are $175 for members and $190 for nonmembers at projectdinnertable.com.
MARGARITA FESTIVAL PLANNED SEPT. 15 AT THE COSMOPOLITAN
In celebration of Mexican Independence Day, The Cosmopolitan of Las Vegas, 3708 Las Vegas Blvd. South, plans to host a series of cultural events, including The Original Margarita Festival at the Boulevard Pool from 7 to 11 p.m. Sept. 15.
Unlimited margarita tastings and mariachi bands are planned, along with Mexican-inspired culinary items for purchase. A mixology contest also is planned. A portion the proceeds will benefit the Las Vegas chapter of the United States Bartenders Guild.
Tickets are $40 at cosmopolitanlasvegas.com or by calling 800-745-3000.
THE CULINARY ACADEMY PLANS TASTE OF HOSPITALITY SEPT. 18 AT THE MIRAGE
The Culinary Academy of Las Vegas plans to host its first Taste of Hospitality: 20 Years of Changing Lives Sept. 18 at The Mirage pool, 3400 Las Vegas Blvd. South.
Tastings from premiere restaurants and craft beer, wine and cocktails are planned, along with celebrity disc jockeys, an auction and raffle.
General admission tickets are $75 for entry from 7 to 9 p.m. A VIP reception is planned from 6 to 7 p.m. with passed hors d'oeuvres, specialty drinks and early access to restaurant stations, with tickets priced at $125.
The Culinary Academy of Las Vegas, 710 W. Lake Mead Blvd., is a nonprofit culinary and hospitality training institute. For tickets, visit theculinaryacademy.org.
FLAVORS OF THE HEART PLANNED FOR SEPT. 20
Flavors of the Heart is planned from 7 to 10 p.m. Sept. 20 at the World Market Center, World View on 16, Building B, 475 S. Grand Central Parkway. The multicultural food festival is the culminating event of the 2014 Heart and Stroke Conference.
Individual tickets are $75. For more information or to purchase tickets, visit flavorsoftheheart.com.
BITE AT THE MUSEUM SET FOR SEPT. 20 AT SPRINGS PRESERVE
Bite at the Museum is set for 6:30 to 9 p.m. Sept 20 at the Nevada State Museum at the Springs Preserve, 333 S. Valley View Blvd. The event is a fundraiser for the Community Counseling Center of Southern Nevada and will be hosted by comedian and 96.3 KKLZ, Las Vegas morning show host Carla Rae. Live entertainment, a silent auction, an after-hours stroll through museum exhibits and small bites by various restaurants are planned.
Tickets are $77.49 at tinyurl.com/m6hncec. For more information, visit biteatthemuseum.com.
DOWNTOWN BREW FESTIVAL TO RETURN SEPT. 20
The third annual Downtown Brew Festival is scheduled from 6 to 10 p.m. Sept. 20 at the Clark County Government Center Amphitheater, 500 S. Grand Central Parkway. Motley Brews plans to offer more than 150 craft beers, gourmet culinary elements and musical entertainment.
A VIP experience is planned with celebrity chefs. Early entry will be available at 5 p.m. for VIP ticket holders. General admission starts at $35 and early entry at $45. Brewers Lounge VIP tickets start at $75.
A portion of tickets sales will be donated to the Nevada Craft Brewers Association, a nonprofit advocacy group. For more information or tickets, visit downtownbrewfestival.com.
CANNERY EVENT TO BENEFIT THREE SQUARE SEPT. 20
Together We Can is scheduled for 6 p.m. Sept. 20 at the Cannery, 2121 E. Craig Road, to benefit Three Square food bank during Hunger Action Month. The event, presented by Smith's, will feature a variety of gourmet action tasting stations, an auction, keynote speaker Punam Mathur of the Three Square Board of Directors and live musical performances by Las Vegas Academy students.
Proceeds will benefit Three Square. Event tickets and packages are available starting at $150 at cannerycasino.com/togetherwecan, ticketmaster.com and all Smith's locations.
BELLAGIO ANNOUNCES CULINARY CLASSROOM SCHEDULE FOR 2014
The Executive Chef's Culinary Classroom at the Bellagio, 3600 Las Vegas Blvd. South, has announced its schedule for 2014. The educational series includes interactive cooking classes led by executive chef Edmund Wong and his team. Each two-hour class is held in Tuscany Kitchen, a state-of-the-art demonstration kitchen. Each class has a seasonal theme and features a menu created with fresh ingredients.
The schedule is: Farm to Table, Sept. 24; Cooking with Chocolate, Oct. 1 and Harvesting Thanksgiving, Nov. 19.
Classes are $125. To sign up, call 866-406-7117.
T-BONES CHOPHOUSE PLANS NICKEL & NICKEL WINE DINNER SEPT. 25
T-Bones Chophouse & Lounge at Red Rock Resort, 11011 W. Charleston Blvd., plans to host a wine dinner at 5:30 p.m. Sept. 25 featuring Napa Valley's Nickel & Nickel winery.
Appetizers are planned on the poolside patio to be followed by dinner in the private dining room. Guests will enjoy five courses and five wines.
The cost is $95. For reservations, call Michelle Lee at 702-797-7517.
RI RA PLANS GUINNESS EVENT SEPT. 25
In honor of Arthur Guinness' birthday, Ri Ra Las Vegas at The Shoppes at Mandalay Bay, 3930 Las Vegas Blvd. South, plans to host an Arthur's Day event featuring a toast to the creator of the Guinness brand at 5:30 p.m. Sept. 25.
The first 100 guests will receive a free pint of Guinness. The toast is planned for 5:59 p.m. Guinness drafts, black lagers and foreign extra stouts will be $5 each from 5 to 11 p.m.
Ri Ra also plans to raise money for HELP of Southern Nevada all week in honor of Arthur's Day. Guests can order off of the special HELP menu Sept. 22-28 during lunch or dinner and Ri Ra will donate 20 percent of all proceeds to the nonprofit.
For more information, call 702-632-7771 or visit rira.com/las-vegas.
FESTIVINO PLANNED SEPT. 26 AT THE VENETIAN/PALAZZO
The Venetian/Palazzo, 3355 Las Vegas Blvd. South, plans to host Festivino, a festival celebrating old-world and new-world wines paired with food, from 7 to 10 p.m. Sept. 26. Guests can learn about wines from master sommeliers and enjoy culinary specialties by the Waterfall Atrium of the Palazzo. Master sommeliers and master chefs of France participating include David Werly, Frederic Castan, Jean-Louis Dumonet, Jerome Ferrer, Claude Le-Tohic, Steve Benjamin, Bernard Liberatore, Nico Romo, Claude Godard and Olivier Dubreuil, executive chef of The Venetian and the Palazzo.
Tickets are $85 and $75 for Grazie loyalty card holders and can be purchased at venetian.com or at any box office at The Venetian/Palazzo. Guests must be 21 or older to attend.
GIRL SCOUTS TO HOST DESSERT BEFORE DINNER FUNDRAISER SEPT. 27
The Girl Scouts of Southern Nevada's annual fundraiser, Dessert Before Dinner, is planned for 6 p.m. Sept. 27 in the Palace Ballroom at Caesars Palace, 3570 Las Vegas Blvd. South.
The event is a dessert competition for Las Vegas chefs. A cocktail reception, silent auction and a program featuring a keynote speech by Jan Jones Blackhurst, former Las Vegas mayor and executive vice president of government and communications at Caesars Entertainment, is planned, along with a performance by celebrity impressionist and Mirage headliner Terry Fator.
The highlight of the evening is the dessert competition before dinner, in which local chefs create unique desserts using this year's chosen Girl Scout cookie. Gala guests will determine the winner by voting for their favorite.
The Girl Scouts also plan to honor seven outstanding women of Nevada who have positively impacted their communities: Dr. Heather Allen, Thalia Dondero, Alexandra Epstein, Phyllis A. James, Joyce Sherman Nelson, Sandy Colon Peltyn and Camille Ruvo.
All of the proceeds will go towards supporting Girl Scouts programs, including financial assistance for summer camps and the Science Technology Engineering and Math program.
Individual tickets are $300. For tickets, visit dessertbeforedinner.org or call 702-932-1910.
DESERT HOPS BEER EXPERIENCE COMING TO THE COSMOPOLITAN
Desert Hops: An International Beer Experience is scheduled to return to the Boulevard Pool at The Cosmopolitan of Las Vegas, 3708 Las Vegas Blvd. South, at 8 p.m. Sept. 27. Brews from around the world will be available for sampling along with multicultural food offerings prepared by The Cosmopolitan's restaurant partners.
Early bird general admission tickets are $30 and are on sale now. Early bird VIP tickets start at $50 and include entry at 7 p.m. For tickets, visit cosmopolitanlasvegas.com or call 800-745-3000. Prices are $45 for general admission and $65 for VIP.
PANEVINO TO HOST BOOK LAUNCH SEPT. 28
Panevino Ristorante, 246 Via Antonia Ave., plans to host the Las Vegas launch of "The Forks Over Knives Plan" from 4 to 6 p.m. Sept. 28. The event is scheduled to feature the book's authors, Drs. Alona Pulde and Matthew Lederman, as well as Forks Over Knives founder Brian Wendel and chefs Darshana Thacker and Del Sroufe, who have written recipes for the book. A buffet will feature several of the book's plant-based recipe creations. Signed book copies also will be for sale.
The cost is $20, which benefits Create a Change Now, a nonprofit that educates children about healthy food choices and creates gardens in low-income schools.
For tickets, visit lasveganeatzeventfok.bpt.me.
NATHAN ADELSON HOSPICE PLANS WINE AND TASTING EVENT OCT. 9
Nathan Adelson Hospice plans to host its 15th Annual Wine & Food Tasting Extravaganza from 5:30 to 8 p.m. Oct. 9 in the showroom at Gaudin Motor Co., 7200 W. Sahara Ave.
Guests can sample wines and cuisine while enjoying music and silent and live auctions. The event will benefit the nonprofit hospice's Pediatric and Families in Need programs.
Guests must be 21 or older. Tickets are $75 per person. For tickets, call Stephanie Forbes at 702-938-3910 or visit nahwine.auction-bid.org.
BOYD GAMING PROPERTIES PLAN FOOTBALL SPECIALS
Brendan's Pub at The Orleans, 4500 W. Tropicana Ave., and the Showroom at the Gold Coast, 4000 W. Flamingo Road, plan to host Monday Night Madness at 4 p.m. beginning Sept. 8. The free viewing parties are set to feature $10 buckets of beer, $2 Budweiser and Bud Light and $1.50 Vienna Beef hot dogs.
The Suncoast, 9090 Alta Drive, plans to host free Monday viewing parties in the Showroom beginning Sept. 8 with $2 Miller Genuine Drafts or Miller Lights and food specials. Doors are set to open an hour before kickoff. Thursday viewing parties are planned in the race and sports book lounge beginning Sept. 4.
Sam's Town, 5111 Boulder Highway, plans to host Monday viewing parties beginning Sept. 8. Admission is free and the first draft beer is free for B Connected members.
Main Street Station, 200 N. Main St., plans Monday viewing parties beginning Sept. 8 at Triple 7 Restaurant and Brewery. Food and drink specials are planned, including $4 specialty cocktails, $2 Jim Beam Kentucky Fire shots, $7 glasses of J. Lohr wines and $8 beer buckets.
For more information, visit boydgaming.com.
TREASURE ISLAND PLANS FOOTBALL SPECIALS
Gilley's Saloon, Dance Hall and Bar-B-Que, Seafood Shack and Breeze Bar in Treasure Island, 3300 Las Vegas Blvd. South, is offering specials through football season, including $15 beer buckets, $8 beer and a shot, $5 cocktail and a shot and $3 draft beer.
Specials at Gilley's are available during all televised college and professional football games. Specials at the Seafood Shack and Breeze Bar are available at all times.
For more information, visit treasureisland.com.
GRIMALDI'S PIZZERIA TO SERVE QUATTRO FORMAGGIO PIZZA DURING SEPTEMBER
Grimaldi's Pizzeria plans to offer Quattro Formaggio pizza through September. The pizza is a crispy thin crust topped with melted Romano, Gorgonzola, Parmesan and Asiago cheeses. The cost is $9 to $18, depending on size.
Tuesday Tastings are planned through September and feature half off all glasses, carafes and bottles of wine ordered from open to close.
For more information or to find locations, visit grimaldispizzeria.com.
MERCADITO ANNOUNCES WEEKEND BRUNCH AT RED ROCK RESORT
Mercadito at Red Rock Resort, 11011 W. Charleston Blvd., plans to offer weekend brunch service beginning Sept. 13 from 11:30 a.m. to 3 p.m. Saturday and Sunday.
The brunch menu is set to include a variety of huevos (eggs), Pan Mexicano (Mexican French toast) and carnitas hash. Items are available for individual purchase or can be chosen from two popular "cures." The Hangover Cure offers a choice of three items for the table and one cocktail per guest for $18 per person. The Perfect Cure is $30 per person and includes three menu items for the table and two-hour open cocktails including specialty brunch cocktails, house wine and beer.
Brunch cocktails include the Mercadito Bloody Mary, Guava Cava, Mango Mimosita and Blanca's Punch.
For more information or reservations, call 702-979-3609 or visit mercaditorestaurants.com.
DELLA'S KITCHEN TO FEATURE DESERT-SUSTAINABLE MENU AT DELANO
Della's Kitchen is scheduled to open in the Delano Las Vegas, 3940 Las Vegas Blvd. South, in September. It will feature a menu centered around local and regional ingredients, including Delano's own greenhouse, which will supply herbs for the desert-sustainable breakfast and lunch menu.
Items are set to include fresh pressed juices, breakfast options, salads, paninis, sandwiches and burgers and entrees featuring grass-fed and sustainable beef and hormone- and antibiotic-free chicken.
For more information, visit delanolasvegas.com.
DELANO LAS VEGAS TO UNVEIL COCKTAIL PROGRAM
Delano Las Vegas, 3940 Las Vegas Blvd. South, has unveiled a cocktail program at its lobby lounge, Franklin, featuring rare, premium liquors and a cocktail-centric drink menu. Unique spirits include Glen Moray scotch, a Woodford Reserve Double Oaked bourbon and Delano's hand-selected Black Barrel Mt. Gay rum.
An intricate barrel aging program will infuse draught cocktails with layers of complex flavors, utilizing custom oak barrels stored in house. More than two dozen craft beers by the bottle and a selection of wines by the glass also are offered.
For more information, visit delanolasvegas.com.