A Manhattan mainstay spins off to the Strip
Updated March 3, 2023 - 12:38 pm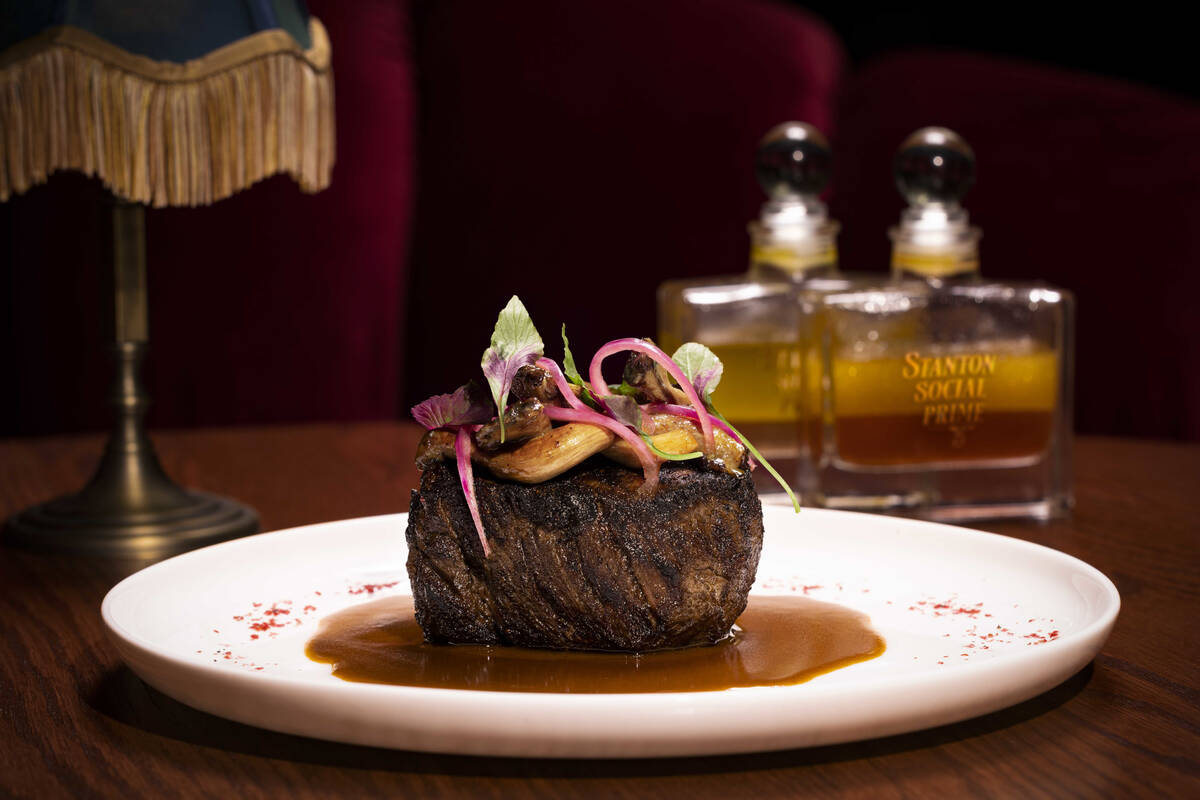 The much-anticipated spinoff of Stanton Social, a restaurant mainstay on the Lower East Side of Manhattan for more than a dozen years, is opening March 21 in Caesars Palace as Stanton Social Prime.
Celebrated chef Chris Santos, owner of the old Stanton Social, is helming his take on the modern steakhouse; the restaurant is a partnership between Caesars Entertainment and Tao Group Hospitality.
Signature dishes from the New York days, such as French onion soup dumplings and goat cheese-truffle pierogi, are making their way to the Strip. Among the new menu items are a smoked butter board with Thumbelina carrot crudités and "al pastor" yellowtail crudo with grilled pineapple.
The beef program at Stanton Social Prime features steaks seasoned with house dry rub, rested in a bath of beurre de Baratte churned French butter and finished with pink Himalayan salt. Vintage perfume bottles offer steak sauces for drizzling, such as Eau de Poivre and Chanterelle No. 5.
The Pretty in Pink, a 10-ounce filet with pink peppercorn sauce and pink oyster mushrooms, is accompanied by Dirty Tots with caviar and lobster crème fraîche.
Classic showmanship
Craft cocktails help round out the menu. The Black Regiment, made with Bulleit rye, Carpano Antica vermouth, Amaro Montenegro liqueur and cinnamon, is served in a decanter. A Strawberry Rhode convenes zero-proof Kin Euphorics High Rhode, strawberry purée, elderflower and lemon juice.
The 200-seat restaurant designed by the Rockwell Group celebrates classic Las Vegas showmanship with a richly colored and patterned velvet curtain defining the entrance to the dining room. Inside, there is a 10-seat bar, and two private dining rooms paneled to resemble a dressing room screen.
Stanton Social Prime, adjacent to Omnia Nightclub, will be open from 5 to 10:30 p.m. Sunday, Monday and Wednesday, and from 5 to 11:30 p.m. Tuesday and Thursday-Saturday. Visit caesars.com/caesars-palace/restaurants/stanton-social-prime for more information.
Contact Johnathan L. Wright at jwright@reviewjournal.com. Follow @ItsJLW on Twitter.