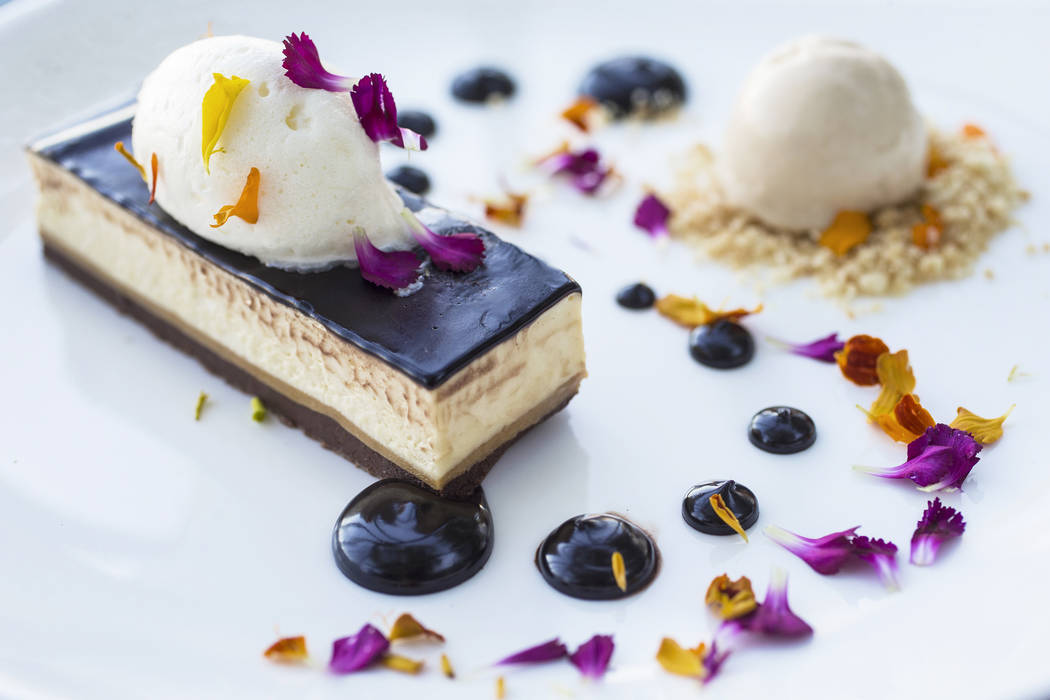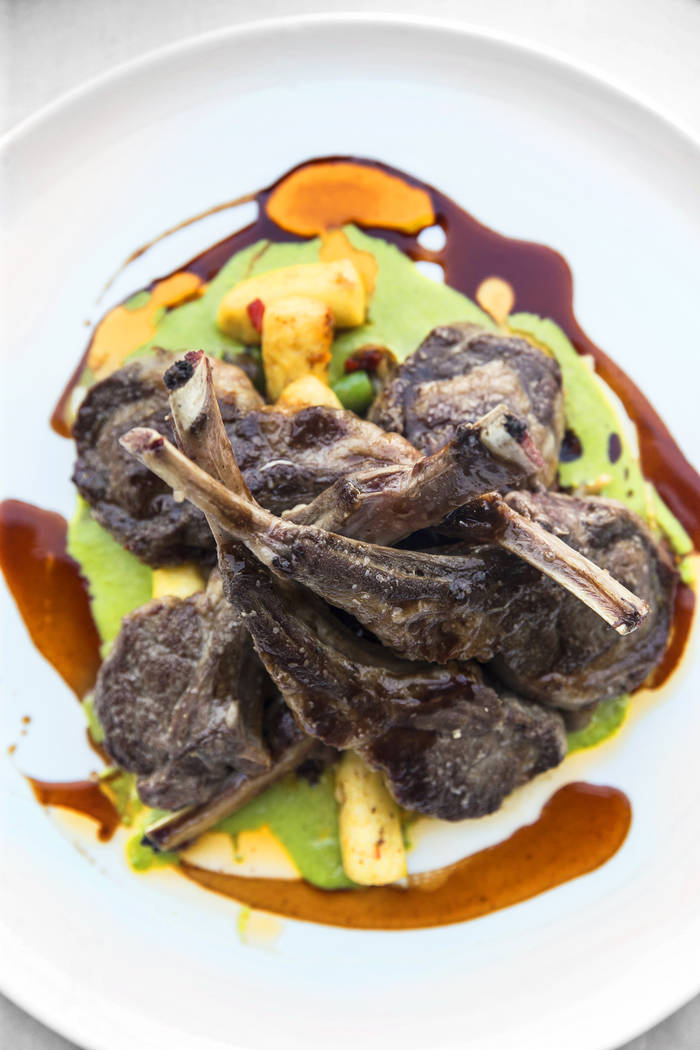 A flute of nicely chilled prosecco, innovative and well-prepared food, gentle breezes and a sweeping view of a lake graced by silently cruising electric boats and gently honking Canada geese. It's a rare experience in Las Vegas, but it's all there at Americana in Desert Shores.
Americana opened Nov. 1 in the Lakeside (and lakeside) center on the community's manmade and sometimes improbably blue Lake Jacqueline. It's in the same strip of shops as Marche Bacchus, which has been open for more than 15 years, but Americana's location has been more problematic for restaurant longevity.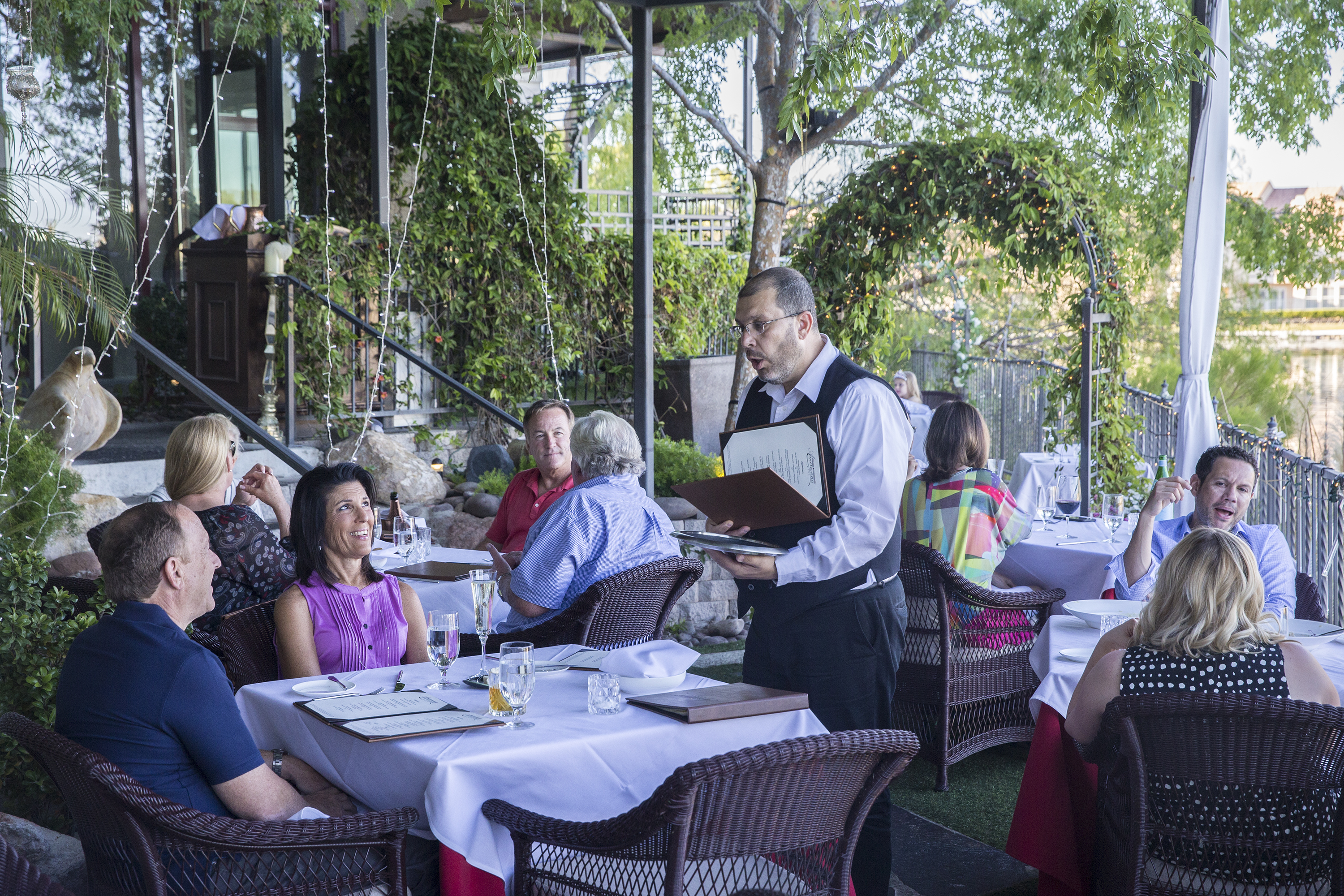 One would think this location would be hard to beat; indeed, chef-owner Stephen Blandino has said it was a major consideration. The alfresco area on the edge of the lake is on multilevel terraces set off by decorative arches and lots of trees and shrubbery, but the view's also special from the expansive, glass-fronted dining room, where some panels open to the breeze. The dining room has a sophisticated look, from the faux-Victorian settees in the entry to the muted colors, fresh flowers, crystal chandeliers and tables set with crisp linens and sparkling glassware.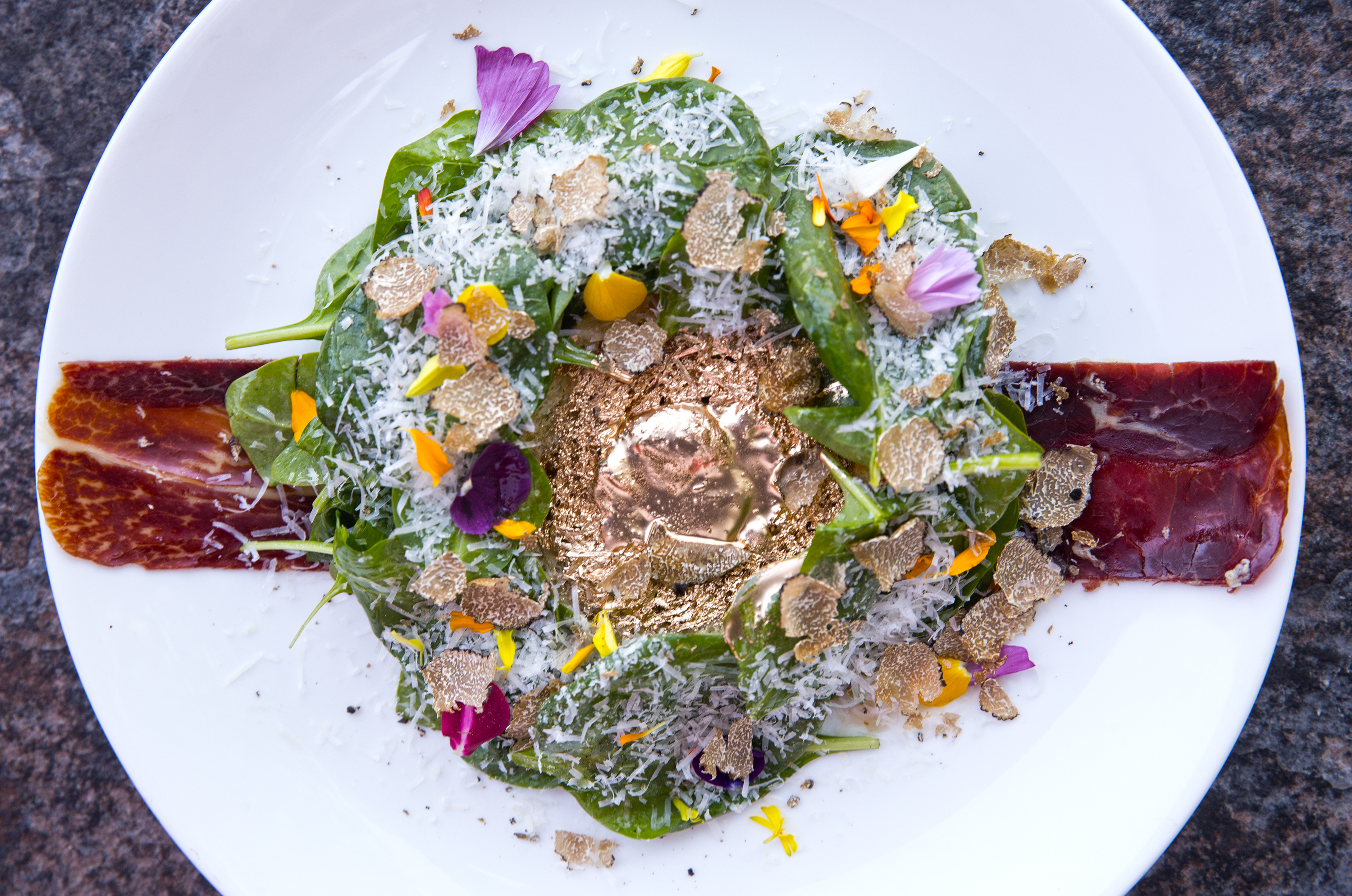 Golden truffled egg salad with petit spinach, jamon iberico and hazelnut vinaigrette at Americana. Benjamin Hager Las Vegas Review-Journal
The menu reflects an air of sophistication as well, not surprising when you know Blandino is a Culinary Institute of America grad who spent years working with Charlie Palmer. The first evidence of his attention to detail was the bread basket with its crusty, oversized and exceptional artisanal rolls (just right for splitting) in sourdough, multigrain and black olive, accompanied by slightly softened butter.
Chef's special dessert with fresh baked macaroons and sherbert at Americana. Benjamin Hager Las Vegas Review-Journal
Creamy artichoke soup ($10) got an earthy, salty boost from a generous splash of Parmesan cream and textural and flavor contrasts from crisp bits of pancetta.
Smoked lamb chops ($48) were a tour de force. They arrived under a glass dome, obscured by a cloud of white smoke that drifted out when the server lifted the lid. It had the feel of a conceit but actually was effective since the method not only was visually appealing but also gave a hint of smoky flavor without drying the diminutive chops. Their delicate nature was matched by the Parisian gnocchi, far more ethereal than their Italian counterpart thanks to the pate a choux used to make them, and contrasted by flavor punches from chimichurri and tender peppers.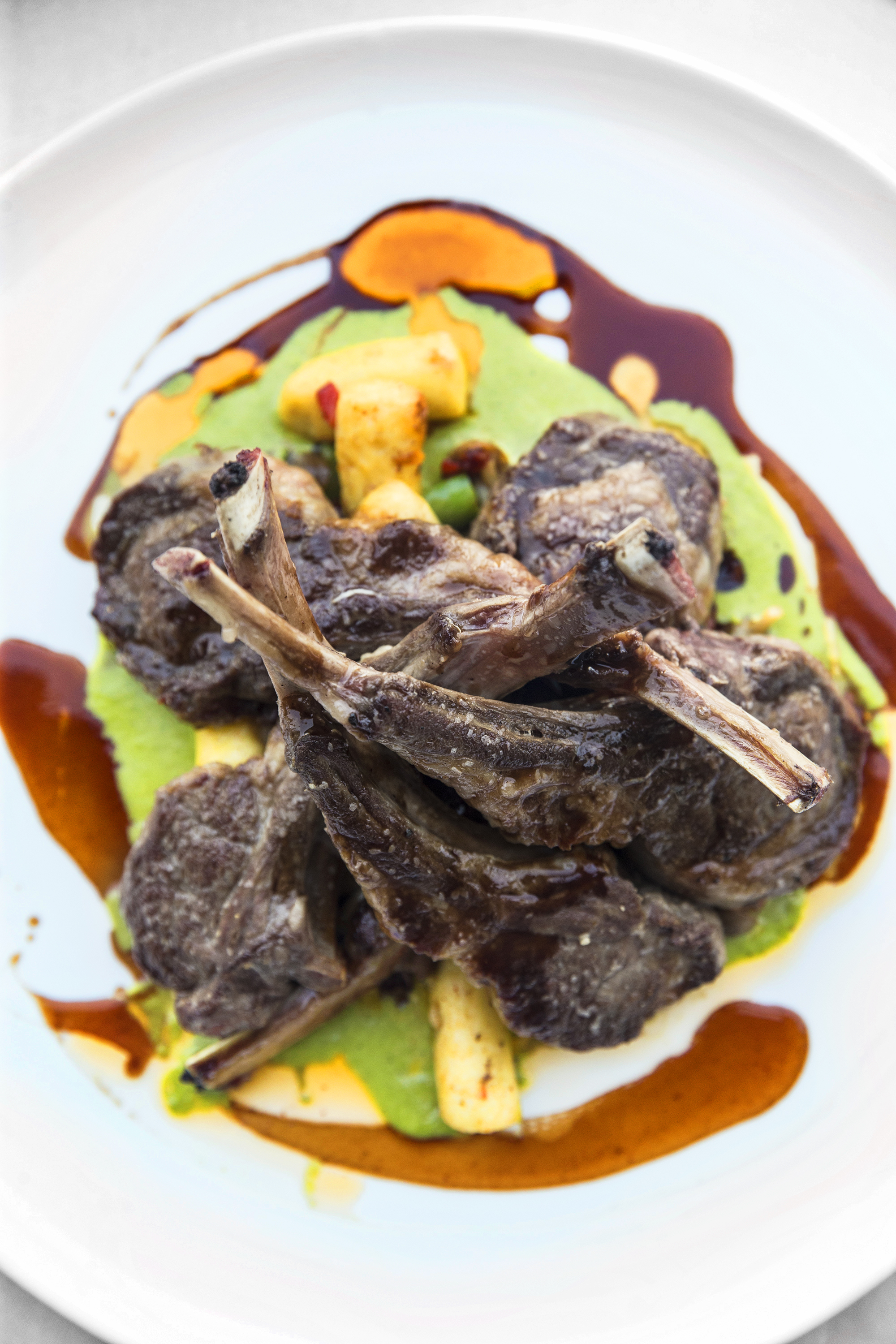 Smoked lamb chops with holland peppers, parisian gnocchi and chimichurri at Americana. Benjamin Hager Las Vegas Review-Journal
Pan-roasted Pacific halibut ($36) was accompanied by fiddlehead ferns for a nod to spring and fava beans and a mildly spiced red curry for earthy notes. The lightly crisped fish was characteristically firm and without distracting adornment, but the seasoning on its surface was on the salty side.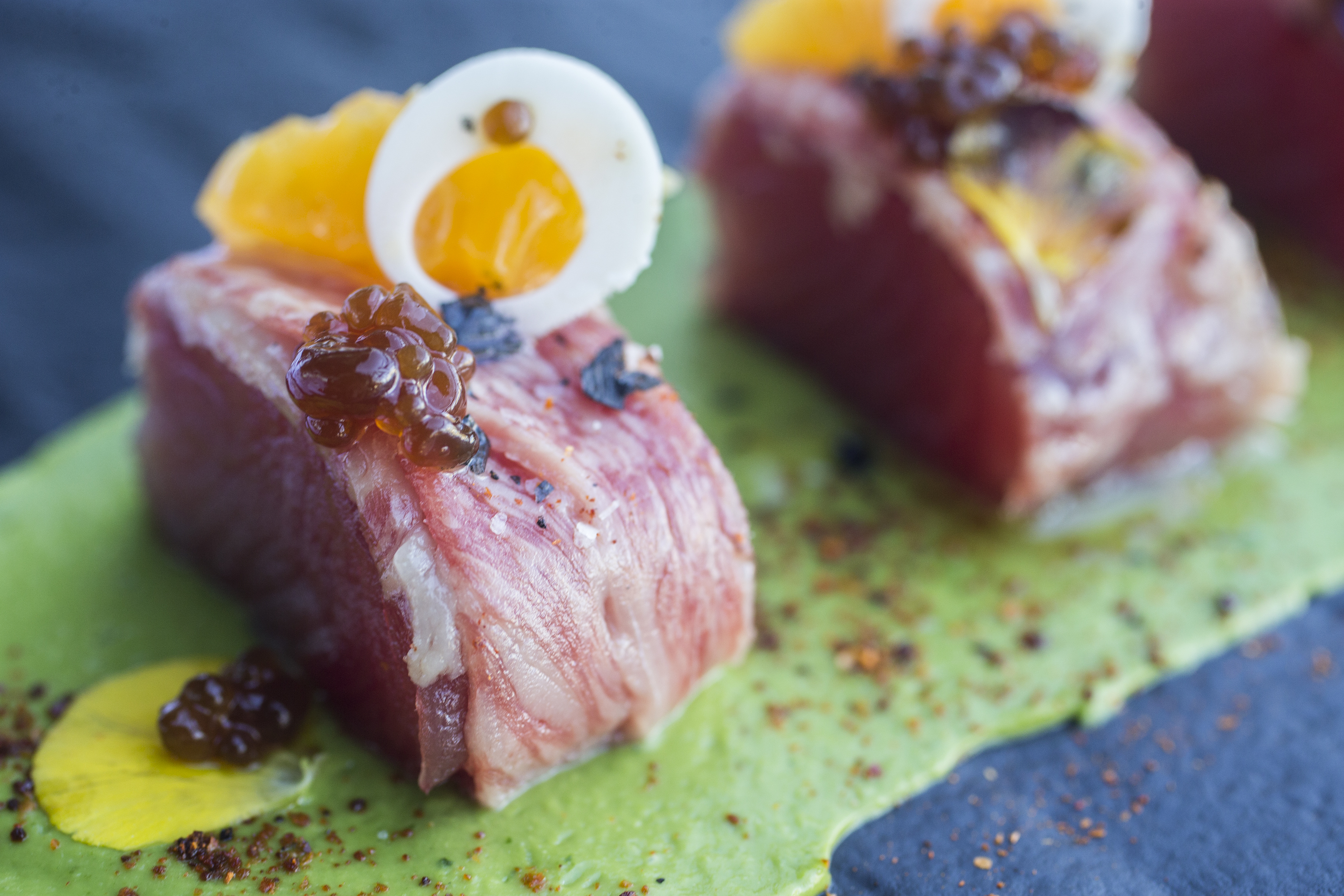 Japanese wagyu wrapped in big eye tuna with pixie tangerine, avocado mousse and ponzu caviar at Americana. Benjamin Hager Las Vegas Review-Journal
Service throughout was a little scattered, with the well-informed and pleasant runner providing the most consistent service and our waiter at times extremely attentive and at times nowhere to be found.
In a lot of circumstances that would be annoying, but gentle breezes and tranquil views of the lake can contribute greatly to an air of serenity.
If you go
Americana, 2620 Regatta Drive; 702-331-5565
The essence: Exceptionial, tranquil lake views matched by creative, well-executed cuisine.
Las Vegas Review-Journal restaurant reviews are done anonymously at Review-Journal expense. Contact Heidi Knapp Rinella at Hrinella@reviewjournal.com or 702-383-0474. Follow @HKRinella on Twitter.