Art Bus is a cafe and art gallery on wheels — PHOTOS
September 16, 2017 - 2:07 pm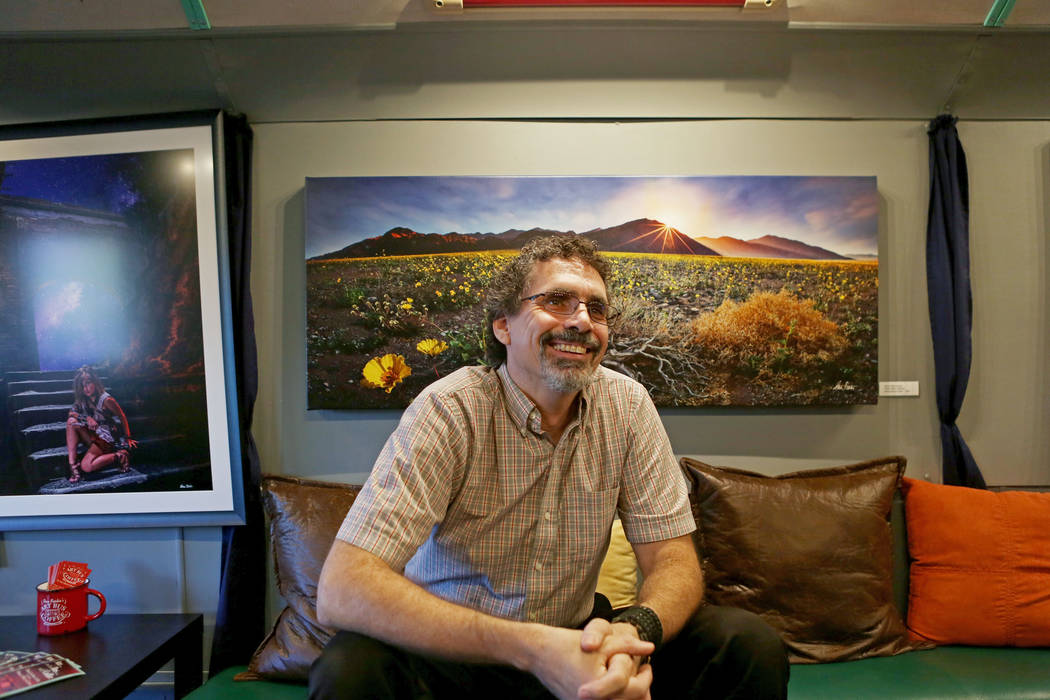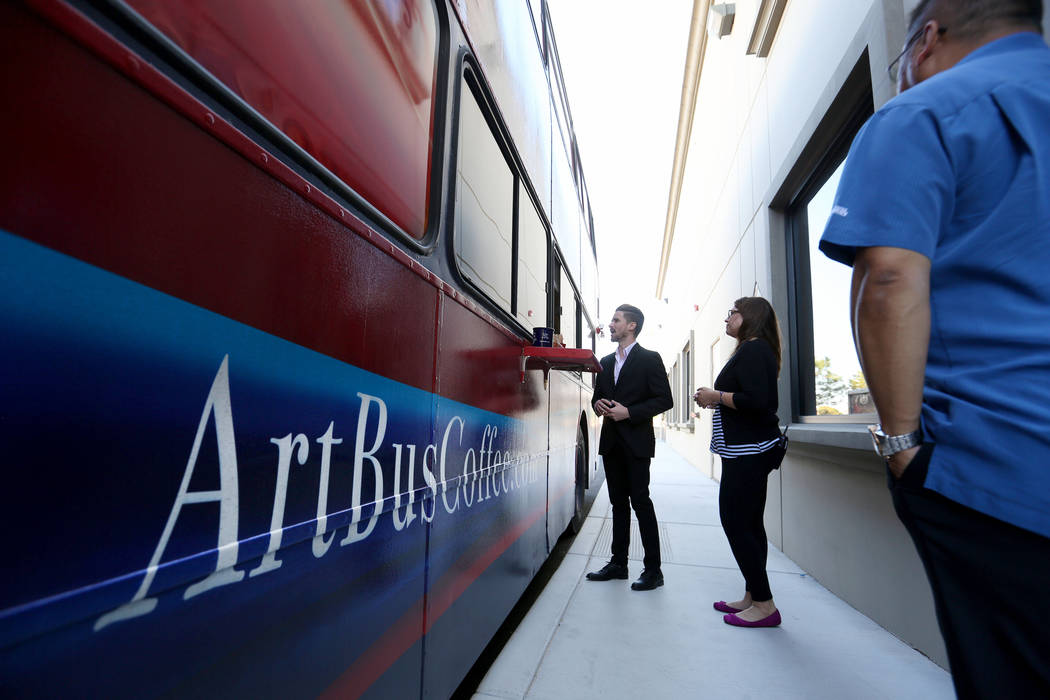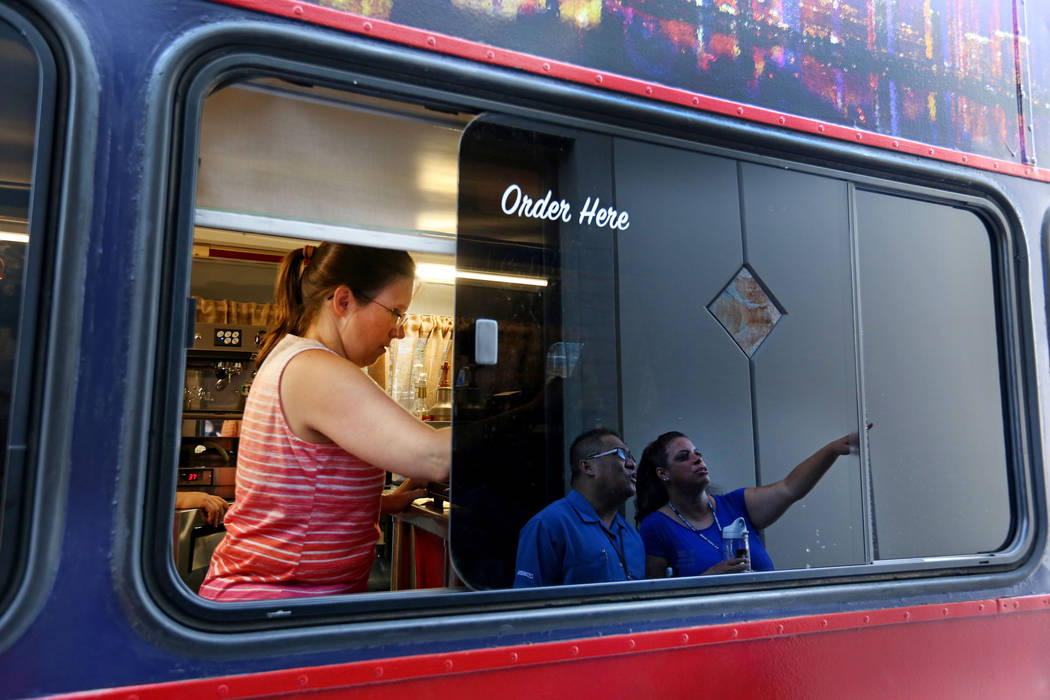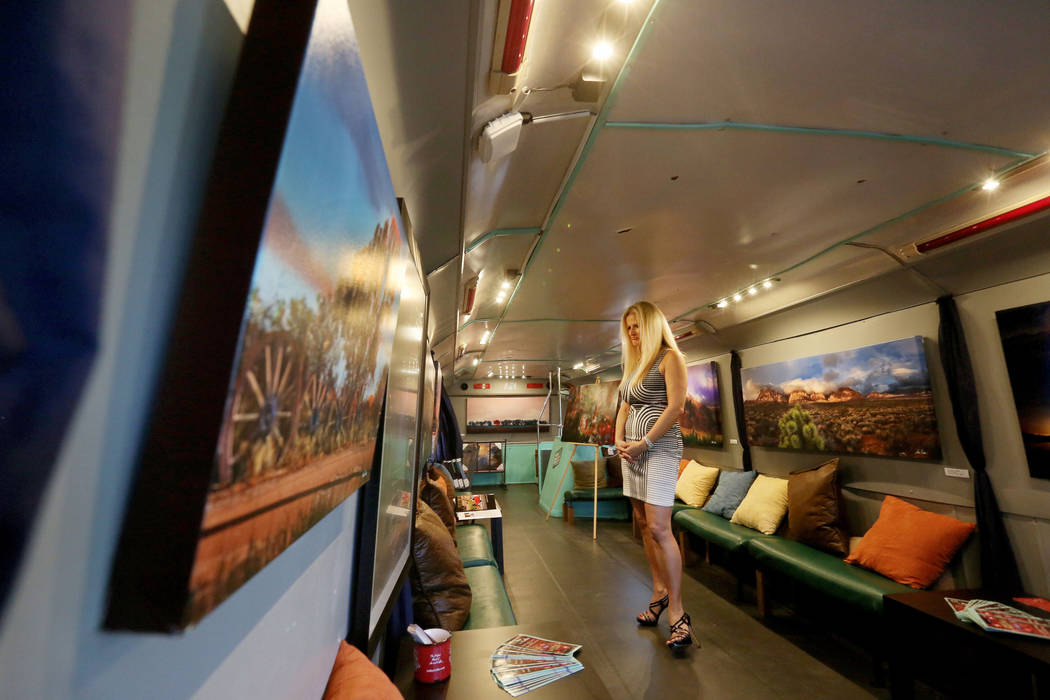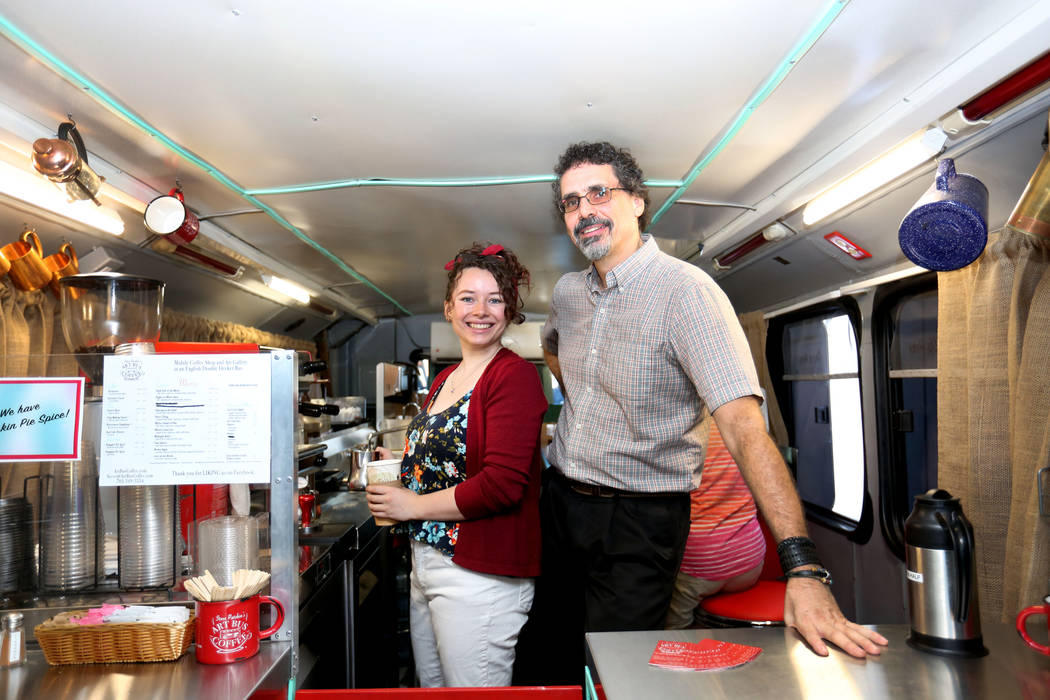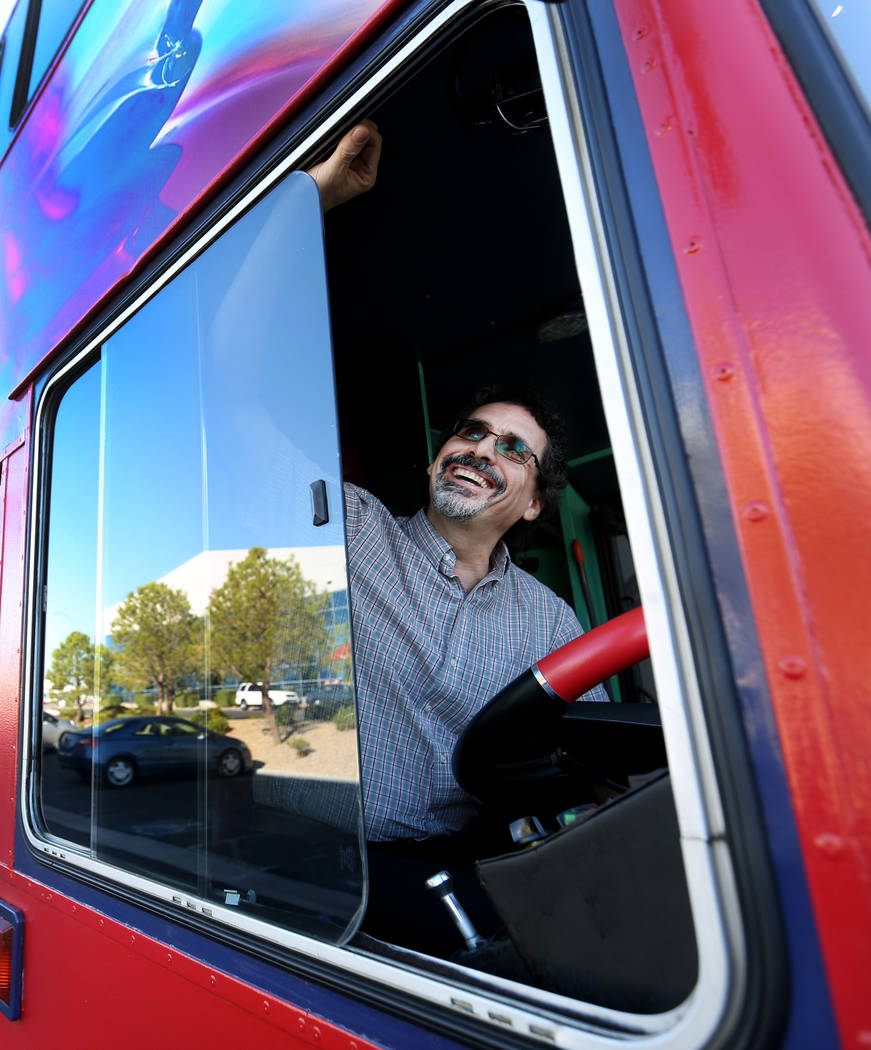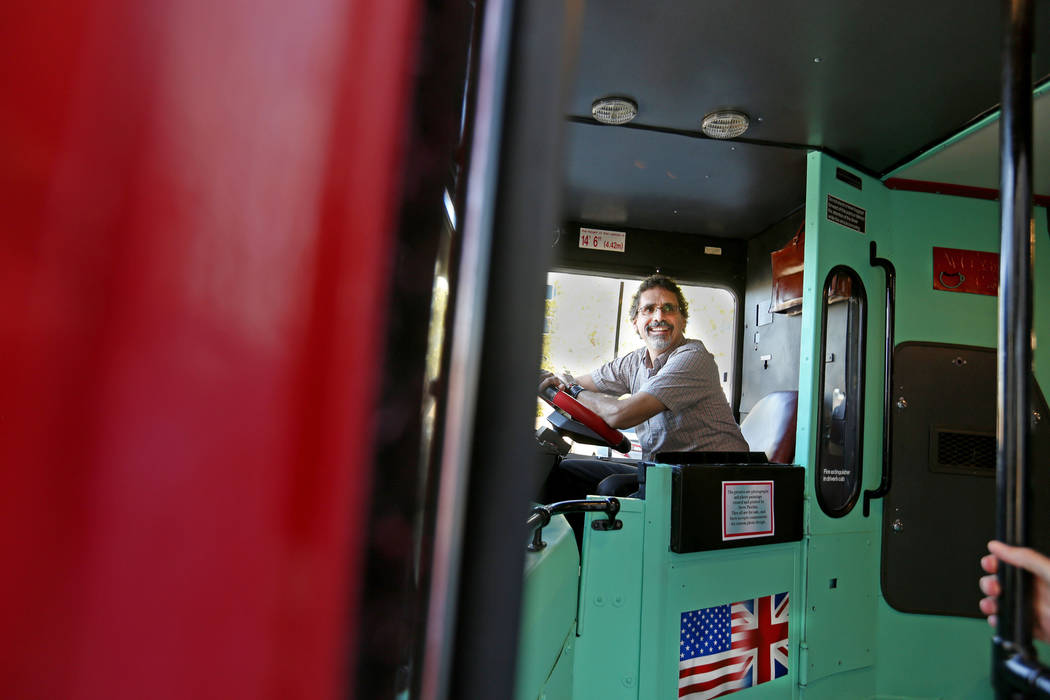 Can an art gallery replace a fan belt? Make a U-turn? Serve serious caffeine? (Answers? 1: Yes. 2: Probably, but it'll inspire rude hand gestures. 3: Try the "Dancing in the Dark," a concoction of mocha latte macchiato, steamed milk and espresso.)
Address such questions to the barista/gallerist of a wheel-y unique contraption called Art Bus Coffee.
"A lot of people don't want to go to art galleries, but I thought, what if I bring it to people?" says lifelong Las Vegan Steve Patchin, 52, best described as part artistic photographer, part Ralph Kramden, as he tools around town in a bright red, double-decker, straight-outta-London bus that takes culture on the road. "And I knew the coffee would bring it all together."
Lower deck? Order gourmet jolts of joe with classic rock-tune designations such as "Dark Side of the Moon," "Nights in White Satin" and "Love on the Rocks." Upper deck (once you've navigated the short, steep, twisty stairs)? Relax in the lounge/gallery where Patchin's lush, surrealistic (and for-sale) depictions of local desert-scapes and city sites — what he calls "photo paintings" manipulated by digital software — line the walls of this onetime London commuter transport, with dozens more loaded into browser bins. Seats are transformed into cushion-softened, pillowed-lined benches for schmoozing, coffee-guzzling and art-gazing.
"It's beautiful, I love it in there," says Susan Sutton, an employee with local company Mailmax Mailing Solutions, which hired Patchin's commuter-cultural invention to roll by their offices as a diversion for employees and company clients, who sipped and strolled through on a recent morning. "Wouldn't it be great to live in there and travel around?"
Artist and owner of Art Bus Coffee Steve Patchin grinds coffee beans in his mobile double decker bus. Elizabeth Brumley Las Vegas Review-Journal
Hiring it out for private corporate events and public appearances (so far at First Friday and Bite of Las Vegas), Patchin, a commercial photographer/videographer who is increasingly nurturing his artistic side, hatched this marriage of mobility and creativity last October, and jumped online searching for buses for sale. "I found this in Texas," he says of the mod-flavored, 1985 Leyland Olympian, which he hopes to eventually open to other artists' exhibitions. After a grueling drive back to Vegas — the behemoth spewed geysers of oil on and around itself, and climbed hills with all the dexterity of Sisyphus and his pet rock — Patchin struggled to refit his acquisition (parts must be ordered from England) and clear Clark County Health District regulations as a beverage/small bites-dispensing operation.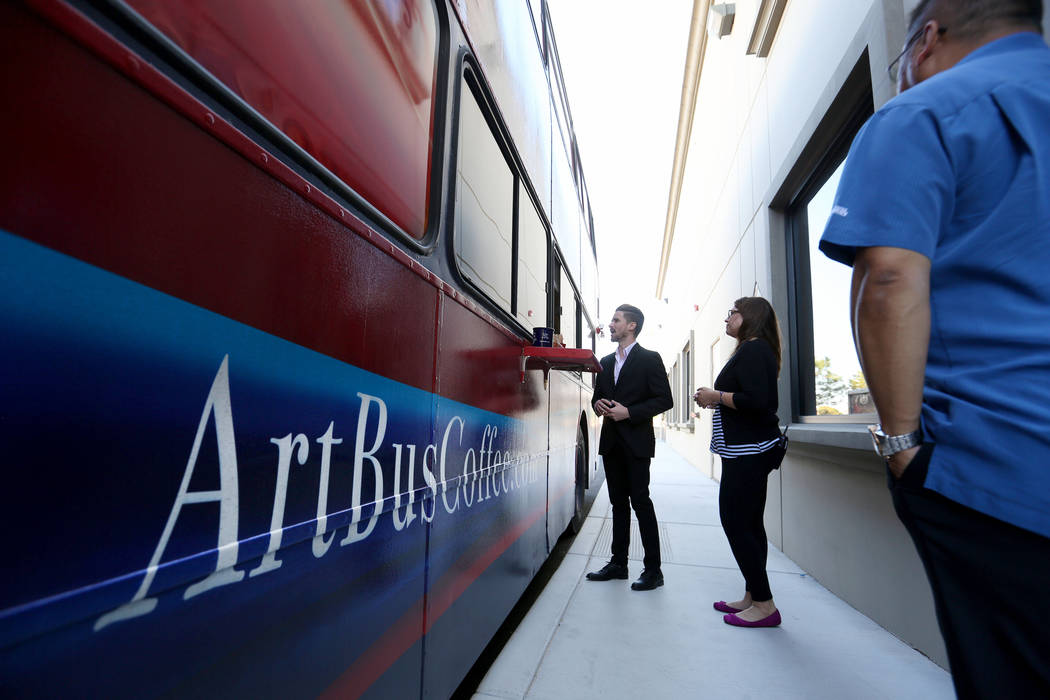 Mailmax Mailing Solutions employees Al Bunganich, left, and Susan Sutton order their speciality coffee from Art Bus Coffee. Elizabeth Brumley Las Vegas Review-Journal
As of June, he was in business. "When people walk up, they always look delighted by it, and it's hard not to be," says Patchin's assistant/barista, Leah Koepp. "This is awesome, what a concept," says Mailmax operations director Mary Soto, after stepping off the bus. "It's bringing art to people, it's a community service. And his (artistic) eye is amazing."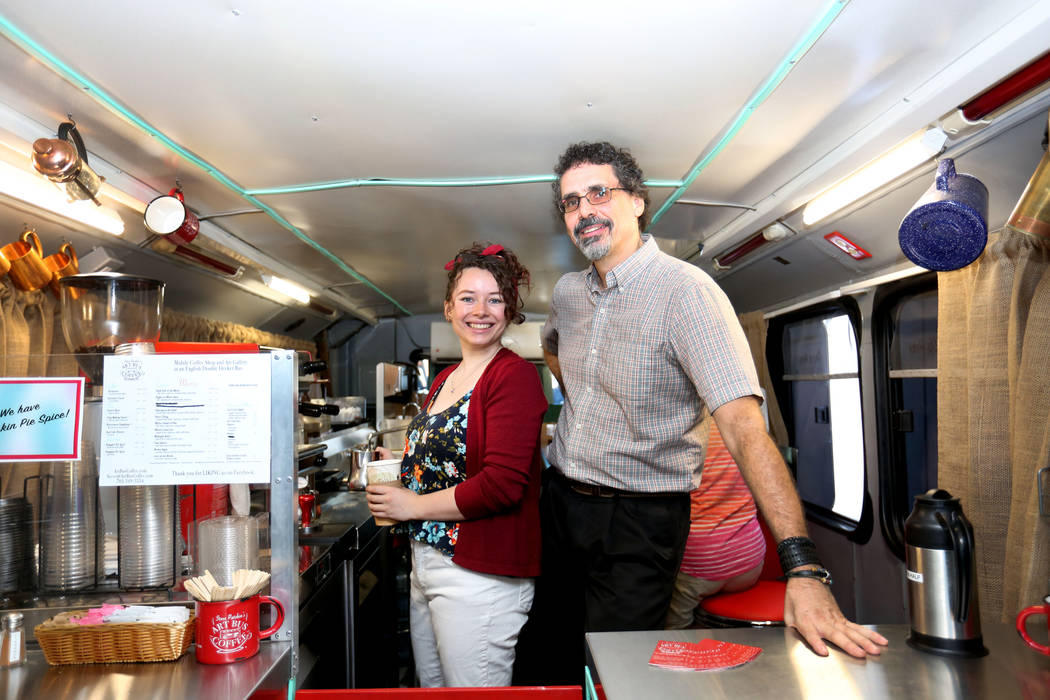 Barista Athena Patchin left, next to her dad, the artist and owner of Art Bus Coffee Steve Patchin. Elizabeth Brumley Las Vegas Review-Journal
Next on the Art Bus public agenda are October appearances at First Friday South and the Viva Las VeGrass (bluegrass) Festival, where Patchin's artistic road warrior will park, perhaps for spirited, coffee-fueled debates over Patchin's genre-defying photographic style. "I've heard people arguing about his technique, whether they were paintings or not," says his daughter, Athena Patchin. "And that's what we want."
Artist and owner of Art Bus Coffee Steve Patchin in the gallery of his mobile double decker bus. Elizabeth Brumley Las Vegas Review-Journal
Beware, though, that you're not swept away by artistic passion, convinced of abstract-expressionist brilliance in the tire tread patterns as this art gallery shifts into drive and disappears into traffic.
Contact Steve Bornfeld at sbornfeld@reviewjournal.com. Follow @sborn1 on Twitter.