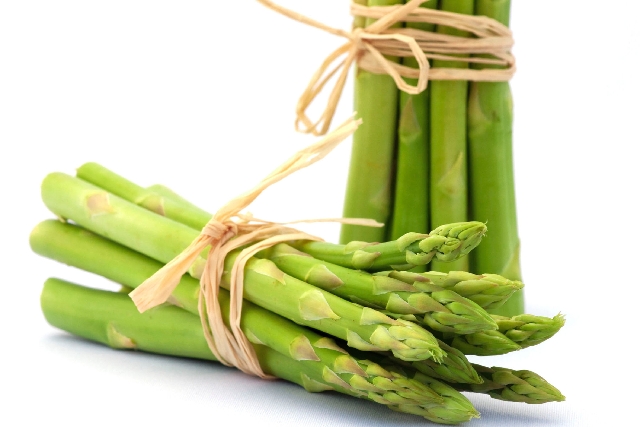 Asparagus is, it seems, a source of much debate.
Green or white? Thick or thin? Snap or cut? Peel or not?
For Christopher Noble, executive chef of Ruth's Chris Steak House at Harrah's, there's also traditional and nontraditional. In the restaurant, he prepares asparagus the classic way, with hollandaise sauce. At home, though, it's a different story.
Noble especially likes a chilled asparagus salad during the summer, and he freely shares his method: He buys fresh asparagus at a local farmers' market and marinates it for a couple of hours in a champagne vinaigrette.
"Then I fire up the barbecue and get some nice grill marks on it, cook it until it's al dente," Noble said.
But he's far from done. He puts the asparagus on a sheet pan and chills it in the refrigerator, then cuts oranges, lemons and grapefruits into supremes — "the little wedges" — reserving the juice. A lot of orange juice and a little of each of the lemon and grapefruit juices make a champagne vinaigrette when whisked with zest from all three plus champagne vinegar, garlic, shallots, fresh parsley and extra-virgin olive oil.
Noble fans the bunch of chilled asparagus on plates, and on the cut ends puts the mixed citrus wedges, drizzled with the vinaigrette.
"It's real simple, anybody can do it," he said. "Sometimes, less is more. You have a beautiful product; you don't have to do all kinds of funky and fancy things with it."
That is much of the appeal of asparagus, and its arrival in spring is a harbinger of all kinds of great seasonal foods to come.
"I love asparagus," said Roy Ellamar, executive chef of Sensi at Bellagio. "It's my favorite time to cook — all the beautiful things, the shoots and all of that."
Megan Romano, chef/owner of Chocolate & Spice Bakery, said asparagus is one of her three favorite seasonal foods, along with heirloom tomatoes and figs.
"I love asparagus," Romano said. "It's one of your go-to vegetables that seems to work in so many different things. We keep it around as long as it's in season."
When figs are in season, she said, they're a natural companion to asparagus. She'll top a fig with some pesto and serve it with asparagus, with balsamic vinegar and grated Parmesan on the top.
"That's just a yummy appetizer," Romano said. Or she'll wrap the asparagus with prosciutto and serve it with burrata topped with a bit of pesto and fleur de sel.
Or she'll make a sort of modified, deconstructed Caesar, wrapping asparagus with prosciutto, crisping it quickly in the oven and topping it with cheese.
Ellamar said right now he's getting organic asparagus from a farmers' market in California and serving it tempura-style, with a lemon aioli.
"It's just a very simple presentation, and it brings back memories of poached asparagus with lemon sabayon — with an Asian twist," he said.
He also likes poaching it and serving it cold, with caviar and hollandaise sauce or sauce gribiche, which is mayonnaise-based with hard-cooked eggs and cornichons.
"I just love all of those classical preparations," Ellamar said. But then again, "you can't help throwing some on the grill and having grilled asparagus with some brochettes."
But back to the essential questions: Green or the far less common white (which actually is regular asparagus that has been grown underground)?
"I like the white asparagus, I used it a lot when I was working in French restaurants," Ellamar said. "Here, I don't use it as much. White asparagus need to be peeled; they have a thicker skin. They tend to be more woody, the bigger they get."
Which brings us to the peeling question.
Noble said he does indeed peel, "starting about halfway down the shaft, so it tapers. So you get the sweetness right away, and it always helps with the presentation."
Romano said she sometimes peels, taking off the bottom portion if it's fibrous.
Ellamar said he peels jumbo asparagus. "The large asparagus, I don't see any point."
Which brings us to: thick or thin?
Ellamar said he generally prefers large and jumbo, the latter "like the really big fat pencils when we were in school, like a boba straw."
"There's more flavor in every bite," he said. "And they tend to have a sweeter flavor."
Romano is more a fan of large.
"Sometimes you see it overly thick, and it seems to lack some flavor," she said.
"I prefer the thick," Noble said. "It's more of a texture thing. Once you get up into the meat of it, it can be so sweet and flavorful. If I want a smaller product, I can always cut it lengthwise. When you're using the real thin asparagus, you run the risk of it being woody all the way through."
Snap or cut?
"I cut it, just to get it nice and uniform," Romano said. "Usually it's very visible where you should be cutting it, about an inch from the bottom."
Ellamar said he holds the stalk about halfway down.
"You just snap it," he said. "And wherever it snaps, you don't get the woody end."
Ellamar said he likes to support California asparagus — as opposed to that imported from other countries — but noted that it also grows in Nevada, not only at Gilcrease Orchard in the northern part of the valley (where it's available right now for $2 a bunch) but also in the wild.
"Logandale, Overton, Moapa — the railroad used to go through there," he said. "There was so much asparagus and wild asparagus that grew there, it was marketed as Nevada asparagus back East. Then they diverted the river and it all dried up. You can still find a lot of wild asparagus out there, but not as much as before."
Whether it comes from a railroad track, the supermarket or a farmers' market, there seems to be one common thread when it comes to asparagus.
"There are," Romano said, "endless ways to use it."
Here are recipes adapted from the California Asparagus Commission.
CRISPY ASPARAGUS STRAWS
36 fresh asparagus spears
4 sheets of phyllo dough, thawed
¼ cup butter, melted
4 ounces Parmesan cheese, grated
Salt and pepper, to taste
Preheat oven to 425 degrees. Trim ends of asparagus and blanch in boiling salted water until lightly tender to the bite, about 3 minutes.
Place one sheet of phyllo on a cutting board. (Set aside the remaining sheets, covered with a damp towel.) Brush the phyllo sheet with melted butter. Cut the sheet into nine rectangles, cutting into thirds in both directions. Place an asparagus spear at the bottom of the short side of a rectangle with the tip sticking out from the dough by 2 inches. Sprinkle on 1 teaspoon of cheese. Roll up spear and seal with butter. Finish with remaining spears.
Place on cookie sheet lined with parchment paper. Sprinkle with remaining cheese, salt and pepper. Cover the exposed asparagus tips with foil. Bake until golden brown and crispy, 10 to 12 minutes. Serve warm.
Makes 36.
ASPARAGUS BRUSCHETTA
1 pound asparagus, ends trimmed and cut into 2-inch pieces
8 ounces Gruyere cheese, grated
6 ounces country ham or 4 ounces Prosciutto, finely chopped or ground in food processor
3 garlic cloves, peeled and cut in half
1 10-ounce baguette, cut into ½-inch slices, grilled or toasted
Extra-virgin olive oil
Kosher salt
Freshly ground black pepper
Preheat broiler.
Bring a large saute pan of salted water to a boil over high heat. Add the asparagus and cook until tender crisp, about 2 minutes. Transfer the asparagus to a colander, refresh under cold running water to stop the cooking and drain well. Set aside.
In a small bowl, combine the cheese and ham; toss to mix. Set aside.
Holding a half-clove in your fingers, rub the garlic against one side of the toasted bread to flavor the entire surface; repeat with each slice. Drizzle or brush with a bit of the olive oil. Arrange the blanched asparagus on the toasts, then divide the cheese and ham topping evenly over the asparagus. Season with salt and pepper.
Place bruschetta on a baking sheet and broil just until the cheese melts and begins to brown, about 1-2 minutes. Keep a careful watch so as not to burn. Serve immediately.
Serves 12 (3 pieces per serving).
ASPARAGUS FRITTATA
WITH RED BELL PEPPERS
1 pound asparagus, trimmed and blanched
Salt, as needed
1 red bell pepper, julienned
2 tablespoons olive oil
½ cup onion, chopped
2 tablespoons Italian parsley, chopped
¼ teaspoon salt
¼ teaspoon freshly ground pepper
8 eggs, beaten
4 ounces feta cheese, crumbled (about 1 cup)
1½ tablespoons butter, softened
Lemon wedges and sprigs of Italian parsley for garnish
Preheat oven to 350 degrees.
Reserve six asparagus spears. Cut remaining asparagus at an angle into 1-inch pieces; reserve.
Saute pepper in 2 tablespoons olive oil until soft but not browned, about 7 minutes. Stir in onion and reserved asparagus pieces; saute for 1 minute. With a slotted spoon remove vegetables to drain on paper toweling; reserve.
Whisk chopped parsley, salt and pepper into beaten eggs. Stir in cheese and reserved sauteed vegetables. Coat the inside of a heavy (non-stick) 12-inch frying pan (with a cover) with softened butter. Pour egg mixture into pan. Bake, covered, until eggs are just firm, about 35 minutes.
Remove cover and bake until top is lightly browned, about 10 minutes. Loosen the frittata, then cover pan with a large, warmed serving platter. Flip frying pan over onto platter. Cut frittata into 6 wedges; garnish each with 1 reserved asparagus spear. Divide wedges among 6 serving plates, then put a lemon wedge and a sprig of parsley on each plate.
Serves 6.
SALMON WITH ORZO
AND ASPARAGUS SALAD
4 tablespoons coriander seed
1 teaspoon black peppercorns
2 teaspoons kosher salt
3 tablespoons freshly squeezed lemon juice
1 tablespoon freshly grated lemon zest
1 teaspoon kosher salt
½ teaspoon freshly ground black pepper
½ cup extra-virgin olive oil
2 pounds asparagus, trimmed and cut into 2-inch pieces
1 pound orzo
6 salmon fillets, about 6 ounces each
2 tablespoons olive oil
¼ cup minced parsley leaves
In a medium saute pan, over medium heat, toast the coriander seeds, stirring constantly, just until fragrant and beginning to brown. Immediately transfer the seeds to a spice grinder or mortar and pestle. Add the peppercorns and grind until fine. Stir in the salt. Set aside.
For dressing, in a large bowl, combine the lemon juice, lemon zest, salt and pepper. Whisk to combine. Whisk in the extra-virgin olive oil; set aside.
Bring a large saucepan of salted water to a boil over high heat. Add the asparagus and cook until tender-crisp, about 2 minutes. Transfer the asparagus to a colander, refresh under cold running water to stop the cooking and drain well. Set aside a few of the pretty tips for garnish.
Cook the pasta according to the package directions. Drain well. Allow to cool for 5 minutes, then pour the dressing over it and stir to combine.
Heavily dust both sides of the salmon fillets with the spice mixture.
In a large saute pan, heat the olive oil over medium-high heat. Add the salmon and cook until golden brown. Turn and cook until golden brown and the flesh is opaque.
To serve, stir the asparagus and parsley into the orzo salad. Divide the orzo salad evenly among six serving plates. Top each with a salmon fillet. Garnish with the reserved asparagus tips and serve immediately.
Serves 6.
ASPARAGUS AND CITRUS SALAD
2 tablespoons finely chopped shallots
1 tablespoon Balsamic vinegar
1 tablespoon sherry vinegar or dry sherry
4 oranges, preferably blood oranges
1 to 2 tablespoons extra virgin olive oil
¼ teaspoon salt
Freshly ground pepper, to taste
1½ pounds fresh asparagus, trimmed
2 tablespoons coarsely chopped, toasted walnuts
In a small bowl combine shallots with the vinegar and sherry; let stand at least 20 minutes.
Meanwhile, zest one of the oranges, avoiding the white pith. Finely chop zest and add to the shallots. Squeeze 1/3 cup juice from zested orange and add to the bowl. Slowly whisk in the olive oil and season with salt and pepper; set aside.
Cut asparagus spears in half or in fourths and cook in boiling salted water for 4 to 5 minutes until crisp-tender; drain well and remove from pan to cool. Toss the vinaigrette with the cooled asparagus. Cut the ends of the remaining oranges and peel them by cutting down the fruit vertically, following the contours of the fruit.
Slice the peeled orange horizontally into ½-inch-thick slices. Arrange the orange slices and asparagus spears on salad plates and season to taste with additional salt and pepper.
Top each serving with toasted walnuts.
Serves 4.
ROLLED STEAK STUFFED WITH ASPARAGUS
2 tablespoons horseradish
2 tablespoons minced garlic
3- to 4-pound flank steak, butterflied and opened
1 pound fresh asparagus
Preheat oven to 350 degrees.
Spread horseradish and garlic on the steak, then top with spears arranged in a single row. Roll tightly and tie.
Roast for one hour. Remove from oven and let stand 10 minutes before slicing.
Serves 8.
Contact reporter Heidi Knapp Rinella at hrinella@review journal.com or 702-383-0474.