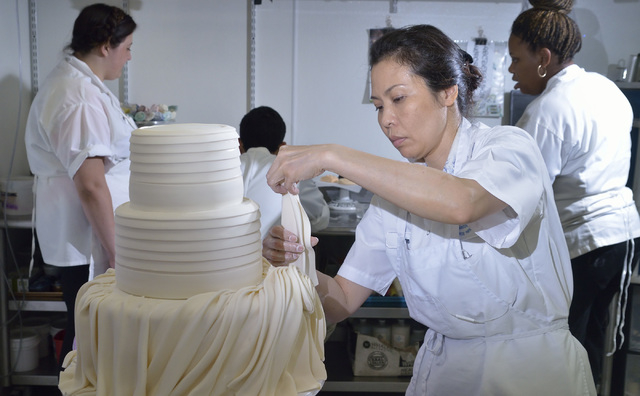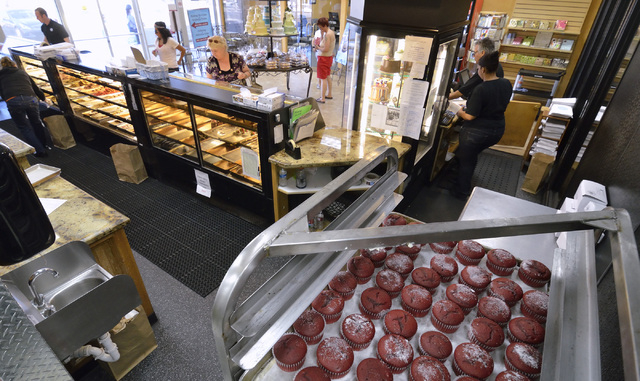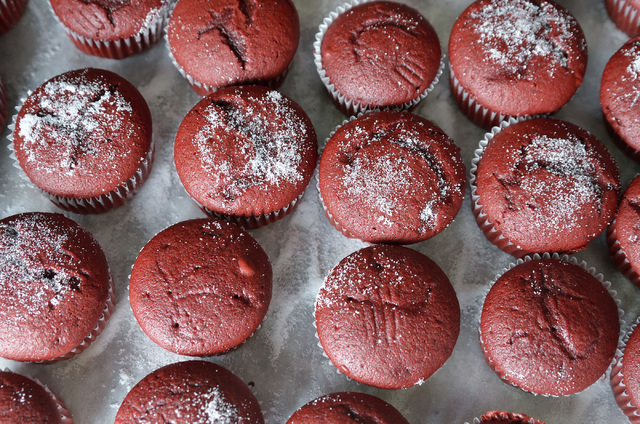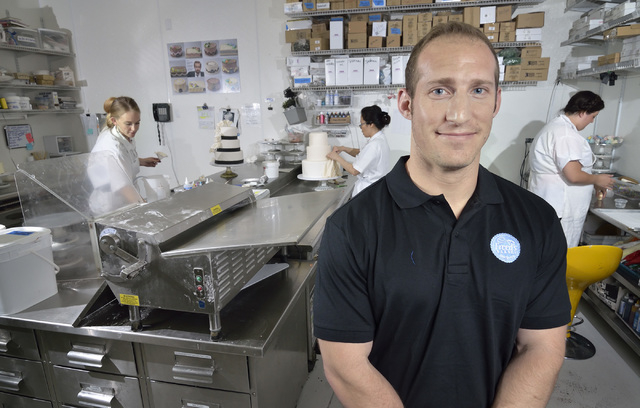 Baked goods sit in display cases as customers wait to be called to pick up their order.
Packaged sweets cover a table at the shop's center.
Although baking is done for the day, the bakery kitchen is alive with activity. Employees are transforming cakes into edible works of art with their decorations.
Freed's Bakery thrives on variety.
"We're not specifically just a cupcake shop, we're not specifically just a cake shop, so we really have a really, really wide audience. We have breakfast items like Danishes and coffeecakes, we have cupcakes, we have cake slices, we have cookies. We have something for all ages," said Max Jacobson-Fried, general manager and grandson of Freed's Bakery's founders. "We cover all the celebrations."
Freed's Bakery has been in Las Vegas for more than 50 years and spans three generations. Since its founding in 1959 by Milton and Esther Fried, the business has expanded to incorporate wedding cakes along with its pastries. (The difference in spelling between the family name and the bakery is a result of not wanting the business to be associated with fried food.)
Jacobson-Fried said his aunt and current owner, Joni Fried, pushed them toward that change.
Besides traditional wedding cakes, there are wedding cakes for customers on a budget, along with same-day wedding cakes.
Freed's Bakery has frequently won the Las Vegas Review-Journal's Best of Las Vegas readers' poll.
What's the success story behind that? Jacobson-Fried said it's the service, high quality and the employees who understand the business's vision. He noted that the business is run just like a family.
The bakery's community involvement, which includes donations to foundations, helps set it apart from rivals.
Jacobson-Fried said the bakery's customers drive the trends. Once a customer comes in with an idea, the bakery will find a way to create it if possible.
"Our success is built on our employees," Jacobson-Fried said. "It's not the Fried family that's been moving this thing forward, we've just been fortunate to be a part of it."
Lori Giuliano, lead supervisor of cake decorations and cake decorator, began working at Freed's Bakery while in high school. Eventually, Joni offered her an apprenticeship.
"It's like a big family here, being treated like you're one of the family.
"It just seems really funny because I'm going third generation Fried. I've worked for the parents, then I worked for the daughter and now I work for Max," she said. "It's an awesome feeling, it's great especially being recognized, everybody knowing that you work there and saying how good we are."
Contact Andrea Corral at acorral@reviewjournal.com or 702-383-0285. Find her on Twitter: @andrea_corral2.