April 20, 2010 - 11:00 pm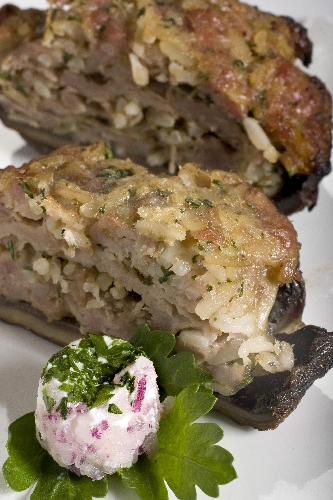 The high price of tomatoes and peppers has Mark Paradis teaching his culinary students a new lesson — substitutions.
"I haven't even contemplated buying one," Paradis, purchasing coordinator for Southern New Hampshire University's culinary school, said of vine-ripened tomatoes. His supplier's price for the produce recently doubled to $50 for a 25-pound case.
He also is trying to wean his chefs off fresh bell peppers, switching to canned and roasted ones instead.
"You're not going to see a fresh pepper as a garnish," he says. "If you're doing a salsa, you're going to have to do a roasted one, which means you're not going to have that crunch."
A cold snap wiped out much of Florida's tomato crop at the beginning of the year, causing wholesale prices nationwide to spike. Meanwhile, prices on peppers have more than doubled, sometimes to as much as $3 per pepper, according to federal data.
For people like Paradis, it has meant reducing his tomato order from four cases a week to one, and switching varieties. These days, he's buying plum tomatoes, an oval-shaped variety with a hardier skin and longer shelf life.
But how about at home, where fresh pasta sauce suddenly feels like an extravagance?
Supermarket tomatoes can now cost as much as $2.99 a pound, a 26 percent increase over last year. Red peppers can run as much as $3.49 per pound.
To satisfy your craving for salsa or for crunch and color in your salads, chefs and cooking pros offer one word: substitution.
Last summer, when tomato blight hit the East Coast, sustainability advocate and cookbook author Terry Walters made her salsa from tomatillos, a tomatolike husked fruit related to the gooseberry and frequently used in Mexican cuisine.
"Tomatillos are a great substitute," she says. "They're firm on the outside, they're a little crispy. They're great with the same flavors — olive oil, cilantro, fresh basil."
As for soups and classic pasta sauces, head to the center aisles of the grocer. Canned tomatoes can sometimes be better than fresh, especially before the hot summer brings tomatoes into their full glory.
"I would rather use good canned tomatoes out of season than a crummy hothouse one," says cookbook author Mollie Katzen. "And what makes a pasta saucy doesn't need to be tomato. It can be olive oil and garlic."
Fresh tomatoes also can be stretched, Katzen says, by using just one or two to coat a chunky mixture of cauliflower, onions, zucchini and other vegetables.
For salads, Katzen says, move away from the tomato-pepper-onion model and focus on fruit-nut-cheese salads, such as baby spinach with strawberries, walnuts and crumbled feta cheese.
But more than anything, these and other professionals say, the current shortage of tomatoes and peppers offers an opportunity to eat seasonally and locally, and to expand your vegetable repertoire.
"Spring is here!" says Andrew Swallow, co-founder of Mixt Greens salad boutiques, and author of the upcoming "Mixt Salads" cookbook. "Some of the best things in the world to put in salad are sugar snap peas, English peas, fennel, green garlic, spring onions. You have so many wonderful things in season that are being grown right now, you really shouldn't have to eat tomatoes. It's the same thing with peppers."
The local farmers market is the place to start. "Sometimes the search for the food is as nourishing as the food itself," Walters says.
And one thing to remember: tomatoes and peppers actually are summer fruits. There's only a shortage if you think you should be eating them all year, which goes against the notion of local, sustainable eating to which most chefs subscribe.
"You shouldn't be eating tomatoes anyway," Swallow says. "They're not in season."
With tomatoes in short supply and prices high, a simple bowl of fresh salsa can start to feel a bit like a luxury item. So maybe it's time to ditch the tomatoes and try another of summer's stars as the main ingredient.
This recipe for grilled corn and red onion salsa uses inexpensive frozen corn kernels, grilling them on a cedar plank to add plenty of flavor. When available, corn on the cob is even better. Simply rub each ear with oil and grill over medium until lightly browned. Slice off the kernels using a serrated knife, then proceed with the recipe.
Cedar planks for grilling are widely available at most grocers, usually near the meat or seafood departments. You also can use cedar shingles from the hardware store, but be certain they have not been treated or stained with anything.
All planks should be soaked in water for about 30 minutes before grilling.
CEDAR-GRILLED CORN
AND RED ONION SALSA
10-ounce bag frozen corn kernels
1 jalapeno pepper, finely chopped (with or without seeds, according to taste)
3 cloves garlic, minced
2 tablespoons plus 1 teaspoon olive oil, divided
1 large red onion, halved
1 teaspoon cumin
1 teaspoon chili powder
2 tablespoons red wine vinegar
1 scallion, thinly sliced
¼ cup chopped fresh cilantro
Salt and ground black pepper, to taste
About 30 minutes before grilling, soak a cedar plank in water. You may need to weigh it down to keep it submerged.
When ready to grill, heat all areas of the grill to medium.
In a medium bowl, combine the corn, jalapeno, garlic and 2 tablespoons of the olive oil. Toss well to coat.
Carefully spoon the mixture in an even layer on the cedar plank. Place the plank on one side of the grill, and reduce the heat on that side of the grill to low. Cover the grill and cook for 10 minutes.
Rub the remaining 1 teaspoon of oil over the slices of red onion. Place the onion on the other side of the grill (the side still set to medium). Cover and cook for 5 minutes.
Remove the corn and onion from the grill and set aside to cool slightly.
Meanwhile, in a medium bowl, mix together the cumin, chili powder and red wine vinegar. Add the scallion and cilantro, then mix. When the corn and onion have cooled, chop the onion, then add both to the bowl.
Mix well, then season with salt and pepper. Serve warm or refrigerate until cool.
Makes 3 cups.
Start to finish: 1 hour (15 minutes active)
If the price of peppers has you thinking twice about serving them stuffed, here's an alternative that uses mushrooms, instead.
The filling — made with meat, rice and goat cheese — will remind you of a stuffed pepper, but is instead served on overturned portabella mushrooms. We chose to grill ours over low heat, but they also could be prepared in the oven at 325 degrees.
GRILLED SAUSAGE-STUFFED
PORTABELLA MUSHROOMS
8.5-ounce package ready-serve brown rice (or blend of brown and wild rice)
4-ounce log goat cheese, crumbled
¼ cup chopped fresh parsley
1 pound sweet or spicy Italian sausage meat
½ teaspoon salt
¼ teaspoon ground black pepper
1 tablespoon olive oil
8 large portabella mushroom caps, stems removed
Heat a grill to high.
In a medium bowl, combine the rice, goat cheese, parsley, sausage meat, salt and pepper. Mix well.
One at a time, use a bit of the olive oil to rub the tops of the mushrooms. Overturn each mushroom cap (gills facing up) and loosely pack about an eighth of the sausage mixture in it.
Arrange the mushrooms on the grill, cover and cook for about 10 minutes. Reduce heat to medium, then continue cooking until the mushrooms are tender and show deep grill marks, and the sausage filling is cooked through, about another 8 to 10 minutes.
Makes 8 servings.
Start to finish: 30 minutes
Per serving: 285 calories; 96 calories from fat; 11 grams fat (4 grams saturated; 0 grams trans fats); 24 milligrams cholesterol; 30 grams carbohydrate; 17 grams protein; 3 grams fiber; 534 milligrams sodium.