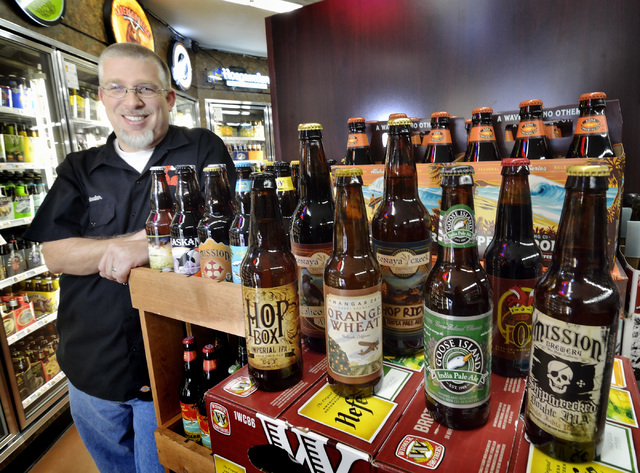 The craft beer movement is picking up in Las Vegas and among those leading the charge is beer lover Mark Lawson.
The Boston native who grew up in Alaska went to his first beer festival when he was 21 and has been hooked ever since, tending bar for 10 years before working the past 13 years at Nevada Beverage.
He has a cool beer job: Lawson manages the wholesale distributor's craft beer team. It's the only such dedicated wholesale team of craft beer specialists in the Las Vegas Valley.
The 44-year-old is the pied piper behind the growing number of craft beers showing up on shelves at local supermarkets and on taps behind the bars of restaurants and taverns.
"I started on the distributing side of the business in 2001 and I worked for the company who at that time carried Sam Adams, which was the only craft beer readily available and we couldn't give it away. Every account would tell me, 'We don't carry that s—.' I really convinced myself then that these people just didn't know what they were missing and I have spent the past 13 years trying to show them how great craft beer can be," Lawson said.
Lawson said he doesn't go into a long-winded spiel to coax stores and bars to sell craft beers. He simply points out that their competitors are selling the craft beer items and the higher price points will deliver more revenue to their businesses.
"Some accounts may be ready to carry craft beer and just don't know it yet," he said.
This month, downtown Las Vegas will be the epicenter for the local craft beer movement when the Great Vegas Festival of Beer is staged on East Fremont Street on April 26. The Review-Journal caught up with Lawson to discuss the local craft beer industry.
Question: Why are you so passionate about distributing craft beers in the Las Vegas Valley?
Answer: I grew up in Alaska and I took two things away from it that I apply everyday. First, Seattle had a big influence on beer styles available there. I had been going to beer festivals since I was 21 and when I moved here to Las Vegas in 1996 there were no craft beers really to speak of. I couldn't understand why … The second reason is that in Alaska they live by the motto "Buy Alaskan." It's a powerful message when you say, "I am going to support the people in my community," and that's why I am really passionate about supporting local breweries like Joseph James, Tenaya Creek.
Question: If you were a craft beer, what type would you be and why?
Answer: Definitely a stout. I am very passionate person and from the outside people think that I am not that approachable or that I may be too intense. Just imagine seeing an imperial stout poured into a glass when you drink domestics. But for the people that actually get to know me and appreciate the passion that I have for the things I do, they love me.
Question: How do you convince a store or bar to sell a craft beer?
Answer: We I don't really "convince" an account to sell craft beer … I just simply point out what the market is doing, locally and nationally, what their competitors are doing and the profit they can make on selling a higher priced item. I then let them know that we have a dedicated craft team here at Nevada Beverage and we are looking for partners in our goal to educate the consumer on craft beers. It becomes a win-win situation for both of us.
Question: When and where were you when you drank your first craft beer?
Answer: February 1991 in Anchorage, Alaska, at the Alaskan Fur-Rondy Festival, which is the kick-off party for the Iditarod Race.
Question: What's your favorite and why?
Answer: Great Divide Oak Aged Yeti. It's an amazing imperial stout with lots of roasty, chocolate notes that picks up the vanilla character from the oak barrels. Since its not available in Las Vegas I can only get it when I go to the Great American Beer Festival in Denver — which could be another reason.
Contact reporter Alan Snel at asnel@reviewjournal.com or 702-387-5273. Follow @BicycleManSnel on Twitter.