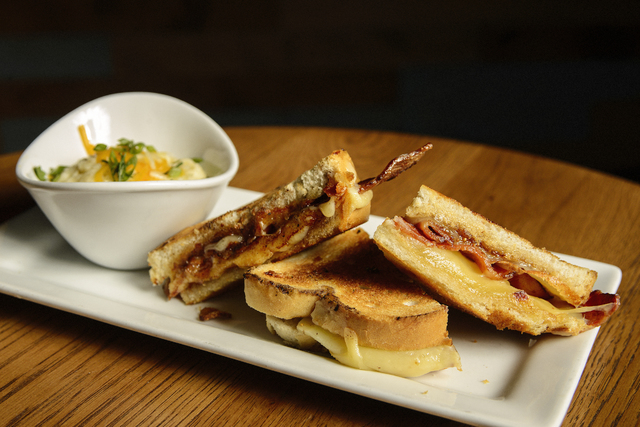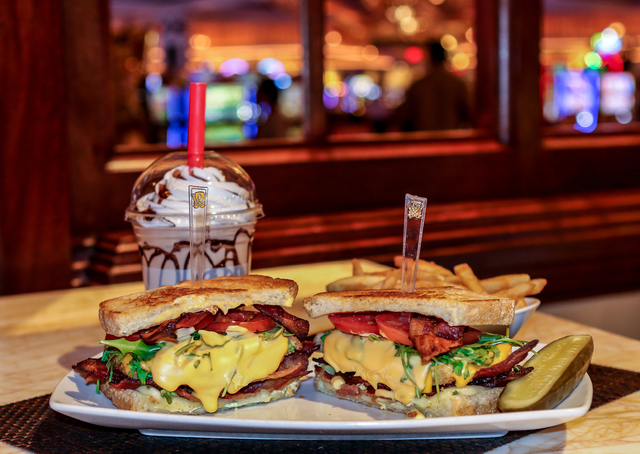 Figs, ham, preserved lemons, bacon, truffles, brisket, lobster, macaroni and cheese: Local chefs are putting all kinds of things into grilled-cheese sandwiches these days. And cheeses, lots of cheeses, with no American or Velveeta in sight.
These are grilled-cheese sandwiches for grown-ups, created through imagination.
"I would say push the envelope," said Freedom Beat chef Scott Commings. "A grilled cheese is basically an open canvas."
Added Mark Lavasseur, culinary director for Lev Restaurant Group: "One of the biggest things is it's a classic sandwich that's primed for upgrades."
Doug Vega, executive chef of Double Helix at Town Square, faced the challenge because his boss loves grilled cheese. But Double Helix is a wine and whiskey bar and Vega wasn't big on a sandwich geared to kids.
"We wanted to give it a little twist," he said, "something to catch the eye of adults."
His Grown-Up Grilled Cheese is inspired by the classic Croque Madame: Bechamel is spread on the bread, Black Forest ham and Gruyere layered inside and Swiss cheese and creme fraiche piled on top, and the whole thing's put on a sizzle platter and baked.
"It's kind of like baking a pizza," Vega said.
Levasseur also made the pizza analogy: "You know what it's like when you get a piece of pizza and you get that crispy cheesiness toward the edge? Same concept."
You can get that, he said, by sprinkling some cheese on the outside as well. In the blank-canvas concept, he might pair leftover chili verde with cheddar, inside and out.
Another of Levasseur's favorites is the lobster grilled cheese at Lev's Lobster ME in the Grand Canal Shoppes and Miracle Mile Shops. Which raised another important point: balance.
"You have to keep in mind, a grilled cheese is a grilled cheese," he said. "It's not a grilled lobster sandwich."
Lobster ME's is made with an "upgraded Mornay sauce," bechamel with Gruyere and brie, he explained.
"It's a rich, gooey grilled cheese, which is enhanced with some lobster meat," he said. "Couple that with the beautiful buttery crust that develops as you're cooking these sandwiches — that yielding lobster meat, that creamy sauce and the crispy, crunchy outer bread."
Just a grilled cheese? Please, there's lobster in here. Lobster Melts, now on our menu! pic.twitter.com/dVdwyq01H1

— Lobster ME (@Lobster_ME) September 15, 2015
At Lavo at Palazzo, they use leftover bits of truffles — white or black, whatever's in season — in the butter spread on the bread.
"The bread soaks up all that truffle butter," said Marc Marrone, corporate chef. "You can never have too much butter."
In fact, he said one mistake people make is putting the butter in the pan instead of on the bread.
"The first side gets that golden crust and then you flip it and it doesn't," he said. "Cover the whole bread top to bottom, left to right."
He's creative with cheese choices, currently using Crucolo, which has the flavor of Parmesan and the texture and creaminess of mozzarella. Heirloom tomatoes make a contribution, as does applewood-smoked bacon, which is "a little sweeter; it doesn't overpower the whole thing."
Balance also is important in the Grilled Fig Jam & 3 Cheese Sandwich at Tom's Urban at New York-New York. Tom Ryan, co-founder of Tom's Urban and co-founder and chief brand officer of Smashburger, said they chose fontina, brie and havarti for their flavor and their melting qualities.
"We have a lot of it on there, so we needed to cut it a bit," he said. Inspired by classic cheeseboard combinations, they settled on fig jam. You also can opt for a variation, the Figgy Piggy, which adds applewood smoked bacon.
Fruit also figures in the grilled cheese at Morels French Steakhouse and Bistro at the Palazzo, where they pair fontina with preserved Meyer lemon. Lou Hirsch, general manager, said that one came about after somebody tried it at home and talked about it at work, which led to experimentation.
"In the end, we all thought that making the lemon as thin as possible, so you can get some sweetness off of it, and the salty brininess of the fontina really matched up," he said.
There is debate about whether butter or mayonnaise is best used on the outside, most of the above sandwiches are prepared with butter. But that's not the case at Echo & Rig at Tivoli Village.
"We use an aioli, a mayonnaise," said chef Sam Marvin. "And then we cook it slowly and we get a nice golden aspect on the outside."
They press the warm grilled cheese into Parmesan, on both sides, and finish it in the oven. They use Gruyere inside "for the tang, and white cheddar for the richness and creaminess," Marvin said. And they also use shredded smoked brisket.
"I think it's the temperature that's most important for us," he noted. "If it gets too hot, it'll get crispy too fast. For us, it's slow and low."
If you think brisket is an unusual ingredient for a grilled cheese, know that at Freedom Beat at the Downtown Grand, Commings uses macaroni and cheese. They make a sort of patty with the mac and cheese and layer it on with sourdough along with provolone and cheddar.
"The idea goes back to being a child," Commings said, and combining two childhood favorites. "Imagination, creativity, putting some fun things together."
But are all of these gussied-up versions … authentic?
"We love the innovation that's going around," Ryan said. "Consumer feedback is it's really interesting. We still get credit for it being a grilled-cheese sandwich, but it's a distinguished, elegant version of it."
Contact Heidi Knapp Rinella at Hrinella@reviewjournal.com. Find more of her stories at www.reviewjournal.com, and follow @HKRinella on Twitter.