Chick-fil-A fans are ready, waiting for restaurants to open in Las Vegas
January 25, 2017 - 6:41 pm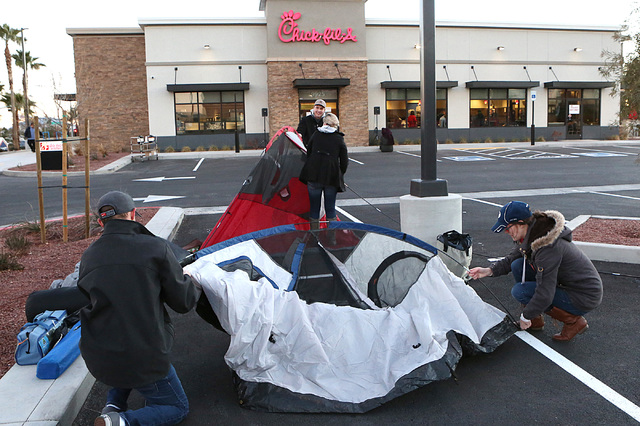 Seated on Wednesday beside the tent he erected in the Chick-fil-A parking lot in Henderson, Donald Mendoza bit into a chicken and biscuit breakfast sandwich and became one of the first people to try a meal from the food chain in Nevada.
Mendoza, 52, had been at three previous Chick-fil-A openings in California. The younger campers in the Chick-fil-A parking lots played games; the company even brought in a DJ.
"It feels like a nightclub," he said.
Mendoza, joined by his girlfriend, was No. 24 in line for the first patrons to the restaurant at 9925 S. Eastern Ave., near the intersection with Ione Road.
If he didn't leave the perimeter of the Chick-fil-A parking lot, he would join 99 other patrons and receive 52 free meals from the chain.
The Henderson stores open early Thursday.
Not only does he like Chick-fil-A, but he lost his job recently as a delivery driver who would bring milk to doughnut shops.
"Business is business," he said. "I'm enjoying the time off."
About 50 people were lined up outside the new Chick-fil-A.
The Eastern location and another Henderson one at 460 N. Stephanie St., near the intersection with Warm Springs Road., will employ about 100 people each, according to the company. Chick-fil-A is still accepting applications.
Joey Eirls, 39, pitched his tent next to Mendoza's. Joined by his dog, Sierra, Eirls said he missed a group of about 20 Chick-fil-A fans who would go to every store opening possible for the free food.
He had lost count of how many openings he attended in California and Utah, but Eirls estimated that this was number 40. He even got to know DJ Mike, the same man booked for new openings in California.
Eirls, a retired law enforcement officer, has attended openings for Krispy Kreme and Carl's Jr. Chick-fil-A offered the best value for its first 100 giveaway, he said. Whenever brands hold these grand openings, it helps to show customers they matter and generate free publicity, he said.
"This has got to be a win-win for everyone," he said.
One Halloween, he had about 20 meals left from another Chick-fil-A opening and decided to order them all at once, then drive around and give them away to people who looked like they needed a hot meal. The car smelled great, he said.
Contact Wade Tyler Millward at (702) 383-4602 or wmillward@reviewjournal.com. Follow @wademillward on Twitter.
RELATED
5 reasons we're excited for Chick-fil-A's debut in Southern Nevada on Thursday
Chick-fil-A announces opening dates for 2 Las Vegas Valley locations