Chubby Cattle serves Chinese hotpot with the help of a conveyor belt
September 7, 2016 - 5:53 am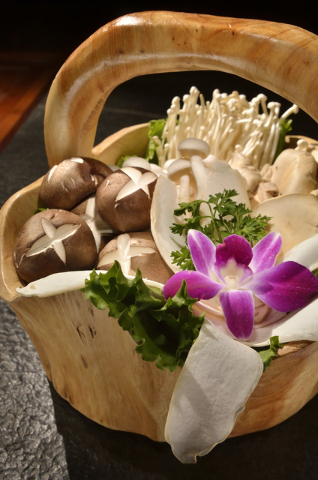 Las Vegas finally has a conveyor-belt restaurant — and no, that's not just another term for those revolving-door spots.
These restaurants, usually specializing in sushi, use conveyor belts to move food to customers at their tables. That's roughly the concept at Chubby Cattle at 3400 S. Jones Blvd., which opened Aug. 1. The difference is that Chubby Cattle is a Chinese hotpot spot, a franchise that's part of a group of seven mostly in the eastern part of the country (and sister to the 600-unit Little Lamb Mongolian Hotpot group in China and other parts of the world). But co-owner Hai Bin Yang said it's the only Chubby Cattle to have a conveyor belt. In fact, he said it's the only hotpot restaurant in the world that has a refrigerated conveyor belt — an innovation he said was born of the Las Vegas heat.
"Vegetables will keep fresh for hours," he said.
Here's how it works: The conveyor belt, enclosed in clear acrylic with doors on both sides for easy access, snakes in a rough U-shape through most of the restaurant. Joyce Watts, Chubby Cattle manager, said it keeps food at less than 39 degrees and takes about an hour, start to finish, to complete the circuit.
Along one side of the belt is counter seating; along the other three sides are tables of varying sizes, all of them fitted with magnetic-conduction elements, recessed for safety. At the counter and some of the tables they're individual elements, while some of the tables have a shared element in the center for family-style hotpot.
The customer chooses from among five soup bases, which are brought to the table in pots that fit into the recesses. Watts said The Beautiful Tomato Pot, which is a little sweet and a little sour, is most popular with Westerners; as many as three broths can be served in the sectioned pots.
And then the fun begins.
Throughout dinner, plates of food go by on the ever-moving conveyor belt. Among them are sashimi, which naturally is eaten raw. But there also are plates of other raw seafood, vegetables, tofu and meatballs, which can be plucked from the belt, their contents to be cooked in the broth to the customer's preference. Plates, priced at 99 cents to $4.99, are color-coded so they can be stacked up, the amount to be totaled at the end.
Meats ($3.99 and up) are brought by servers because the paper-thin slices are artfully arranged on plates that wouldn't fit on the belt. Live seafood is swimming in a tank near the bar, in case you'd like to choose your own. Tables at the front of the restaurant don't have access to the belt, so food for those customers is brought by servers.
There's also a make-your-own sauce bar with 16 ingredients such as sesame oil and green onions, or customers can choose a pre-made sauce to be brought by their server.
A private room for VIPs is furnished with a tea table and a dining table with eight induction cookers, plus a steamer in the center. Rice and seasonings are heated in the bottom of the steamer, with seafood, meat and vegetables cooked above, their drippings added to the mixture below. That, Watts said, turns into a delicious porridge.
"Every element is natural," she noted.
There's a bar, although it's only serving fresh juices until the liquor license arrives in about a month.
Yang said so far the response from the public has been enthusiastic, with reservations a tough ticket for the tables with access to the conveyor belt.
The whole idea behind Las Vegas' Chubby Cattle is to broaden the appeal of hotpot.
"It's traditional among Mongolian people," Yang said. "We want to find a better way to introduce it to Americans."
Contact Heidi Knapp Rinella at Hrinella@reviewjournal.com. Find more of her stories at www.reviewjournal.com, and follow @HKRinella on Twitter.