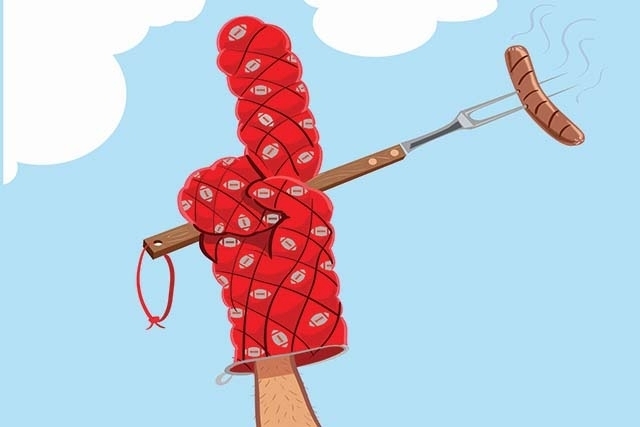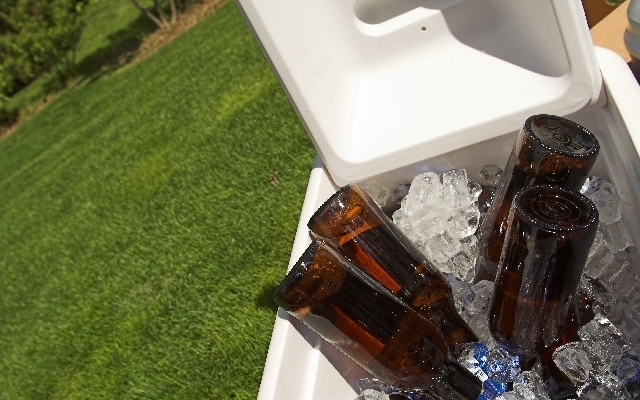 If your idea of tailgating is a case of beer and a bag of chips, you have so, so much to learn, my friend.
Truly dedicated tailgaters — and if you're a UNLV football tailgater, dedication is a big factor, at least during the past few years — have developed the practice beyond an art, into a science.
For instance, David Rapoport, a Las Vegas native, 2009-2010 UNLV student-body president and longtime tailgater, said he always tried to take the weather into account, and how the heat might affect the food, for example not serving a mayonnaise-based potato salad at an August tailgate.
"Early on, we did a lot of kebabs and skewers," said Rapoport, who moved to Washington, D.C., three months ago (and who added, "Tailgating was what I looked forward to each weekend, and it just won't be the same without it").
Hot dogs and hamburgers are pretty much a required part of a tailgate buffet, which in the case of Rapoport's group usually involved 20 to 30 people.
"We tried to gourmet it up a little bit and tried to use different sausages and specialty things, just to make it exciting," he said.
He also suggests foods that don't necessitate a lot of time in front of the grill, no matter the weather.
"That would just be a drag," he said. "You want to be able to mingle."
For tailgates in cooler weather, he has a favorite chili recipe, and suggests making cornbread as muffins instead of in a big pan, to make it easier to eat.
"We also liked to do breakfast once or twice" during the season, he said. "That just helps start the morning right.
"I think you have to have diversity. No matter what group, you're not going to be able to please everyone with just one dish. We tried to focus on having multiple things for people to try or bring. And that helped people to feel more comfortable."
Jeff Panchavinin, who has been tailgating since he was a UNLV freshman in 2003, says to remember portability.
"Something you can eat and walk around with," he said. "That's really important, to make sure you have something you can hold in one hand and have a cold drink in the other."
"We spend a lot of time in the days prior prepping, whether it's putting something into a slow cooker or a smoker," he said. "We spend a lot of time working on slow-cooking pulled pork, to make pulled-pork sandwiches.
"And make sure you have enough fruit, whether it's alcohol fruit or not" — "alcohol fruit," in this case, being something like a plugged watermelon with vodka.
Panchavinin said his recipes are a secret and he's not sharing, but others are willing to divulge their culinary masterpieces. They would include John Huntington, who said he's been tailgating "for years" and has developed an especially popular recipe that his friends have dubbed "Crack Mac," for its addictive and indulgent qualities.
"I like cooking for the tailgates, just because people enjoy the food," he said. "You watch a lot of cooking shows and take things up here and there and put your own twist to stuff," which is what he did with his macaroni and cheese, which seems to have earned as much notoriety as fame.
"I don't even eat the stuff — hardly ever," Huntington said. "I know I make about 50 pans of the stuff a year, during football season," whether it's for UNLV tailgates, Rancho or Bishop Gorman high-school events or socializing with neighbors. "It kind of caught on. I don't see what the big deal is, but they all do."
Then again …
"My wife won't let me eat it because there's so many darn calories in it," he said.
Chuck Davison also has been tailgating for years — in his case since the first opportunity, in 1969.
Davison was president of the UNLV Football Foundation in 2001-2002 and 2002-2003 — "when John Robinson was here, when John Robinson beat UNR," he said. "That's why it's big for me."
These days he shows up in his motor home and invites 60 to 75 guests.
"I tailgate because I bring everybody there to try to motivate people to follow UNLV football," he said. "Some nights I do Cajun food, other nights I do lobster, other nights I've done Mexican."
Most popular, he said, seem to be his chicken wings, pulled pork and baby-back spare ribs, prepared with his very own "Havin' an Affair" barbecue sauce, which he said is available at Whole Foods Market.
But tailgaters assure that supporting the school is just as important as the food and drink.
"It's a great way to get together with my friends," Panchavinin said. "A time for us to kind of regroup from the week. A time for us to see old friends who come into town. It's a time to support the school we went to, and now our alma mater.
"I think what makes a tailgate really successful is just the people you're with. That's the most important thing. Good company, good music, good food, good drinks. I think that's what really makes us have a good time."
Following is Huntington's macaroni-and-cheese recipe (but be careful; it's addictive, not to mention potentially hazardous to your arteries). Additional recipes featured in this article are from other sources that Rapoport likes.
CRACK MAC
½ stick butter
2½ cups grated Parmesan cheese (divided use)
3 cups heavy whipping cream
16 ounces Velveeta, cubed
Salt and pepper, to taste
1 pound macaroni
Olive oil
8 ounces cream cheese, cubed
4 cups (1 pound) shredded mild cheddar cheese
Melt butter in a large frying pan and add 1½ cups Parmesan.
Slowly add whipping cream and Velveeta, stirring occasionally. Add salt and pepper, to taste.
Meanwhile, cook macaroni with salt, to taste, and a little olive oil; drain.
In deep 13-by-9-inch foil pan, layer cheese sauce (¼ inch deep). Add layer of pasta, then cream cheese, then 2 cups shredded cheddar.
Add layer of macaroni, then about half of remaining sauce; top with 2 cups shredded cheddar, 1 cup grated Parmesan and balance of cheese sauce.
Bake, covered, at 350 degrees for 1 hour to 1 hour and 15 minutes; uncover and let brown for 15 to 25 minutes longer.
­— Recipe from John Huntington
SALAD ON A STICK
2 carrots, thinly sliced diagonally
1 cucumber, thinly sliced diagonally
½ head iceberg lettuce, cut into 2½-inch chunks
1 cup grape or cherry tomatoes
Blue cheese dressing, for serving
Thread the carrots, cucumber, lettuce and tomatoes onto four long wooden skewers, alternating the vegetables. Refrigerate; serve with the dressing.
Serves 4.
— Recipe from Food Network Magazine
LOADED BAKED POTATO DIP
1 (2.1-ounce) package fully cooked bacon slices
1 (16-ounce) container sour cream
2 cups (8 ounces) freshly shredded sharp cheddar cheese
1/3 cup sliced fresh chives
2 teaspoons hot sauce
Garnishes: cooked, crumbled bacon; sliced fresh chives; freshly cracked pepper
Waffle fries
Microwave bacon according to package directions until crisp; drain on paper towels. Cool 10 minutes; crumble. Stir together bacon and next four ingredients. Cover and chill one to 24 hours before serving.
Garnish, if desired. Serve with crispy, warm waffle fries. Store leftovers in refrigerator for as long as seven days.
Makes about 4 cups.
— Recipe from Southern Living magazine
DIRTY SAUSAGE GRAVY
1 tablespoon butter
1 pound bulk pork sausage (recommended: Jimmy Dean)
2 cups heavy cream
1 teaspoon hot sauce (recommended: Tabasco)
1 tablespoon Worcestershire sauce
1/3 cup maple syrup
Salt and freshly cracked black pepper
In a large, heavy-bottomed pot, melt the butter and brown the sausage for about 5 minutes. Add the cream and bring to a simmer. Once at a simmer, add the hot sauce, Worcestershire sauce and maple syrup. Simmer the gravy for 15 minutes and season with salt and pepper, to taste.
Assemble by placing a biscuit on a plate and covering it with about ½ cup sausage gravy.
Makes enough for 15 biscuits.
— Recipe from the Food Network
Contact reporter Heidi Knapp Rinella at hrinella@review journal.com or 702-383-0474.