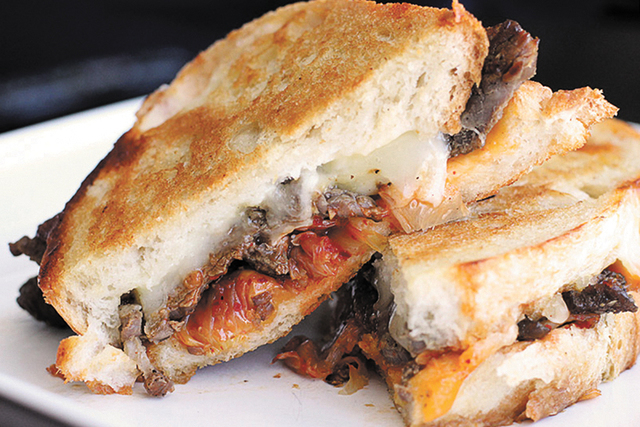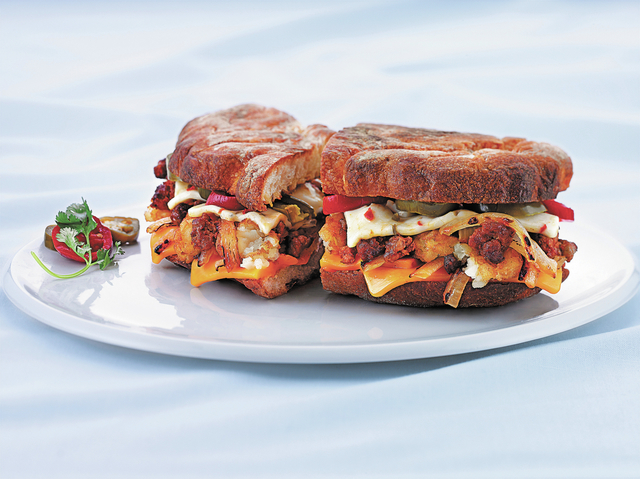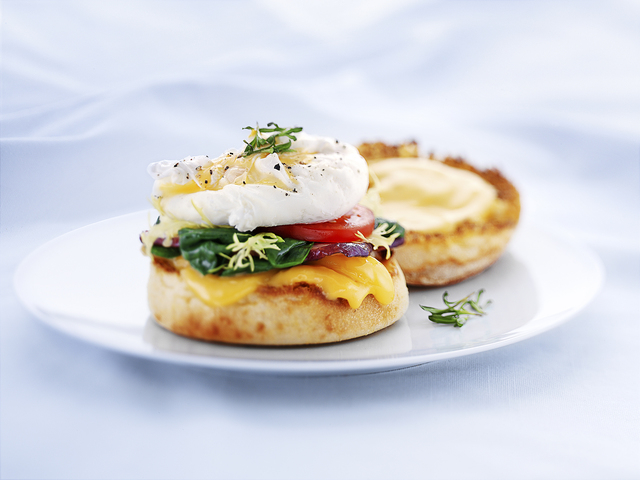 Especially as the weather (finally!) starts to cool off, there are few things as comforting as a crispy-outside, gooey-inside grilled cheese sandwich and the memories of childhood it evokes.
"I can remember that coming right from the pan to my plate," said Susan Wolfla, executive chef of Mandalay Bay. "Cutting it in half, warm cheese oozing out. You know you're going to burn your tongue, but you don't want to wait."
"To me, it's one of those things that most Americans have really fond memories of," Honey Salt chef Brett Uniss said.
The grilled cheese has become iconic, as these clips from TV chef Alton Brown (www.youtube.com/watch?v=RllWJUvrxEY) and the movie "Chef," out on DVD Tuesday (www.youtube.com/watch?v=gbdUGdxX7ww) attest.
The main lesson we can take from both of them: Don't take shortcuts with your grilled cheese, like the relative of a friend, whose kids were initially less than impressed with this American classic because she was giving them processed cheese on toast, fresh from the microwave.
"Start with the bread," said Justin Cooper, executive chef of Serendipity 3 at Caesars Palace. "Nice, crusty bread, grilled with real butter, which gives it a nice flavor and crunch."
"Whole butter on either side of the bread," Wolfla said. "It soaks in. You have that salty, buttery goodness on the outside."
"I think one of the things you remember is the crunchy outside and the gooey, stringy cheese in the center," Uniss said.
Of utmost importance, Uniss said, is the quality of the cheese.
"To me, it has to be stringy and have a stretch to it and nice and soft," he said. "If you overthink it and try to use a cheese that's too aged, too hard, you end up with greasy, broken cheese."
They also recommend using more than one type of cheese. At Honey Salt, Uniss makes a truffle grilled cheese with smoked Beehive cheddar from Utah.
"We also like to use young provolone," he said. "It gives it that extra stretchiness."
At Serendipity 3, Cooper's grilled cheese is made with four types: cheddar, jack, American and brie.
"When you slice into it, you want that nice stringiness," he said. "The cheddar and the jack provide that, and the American and brie on ours provide a nice creaminess as well.
"I always throw bacon on when I make one for myself."
Which brings us to another variable: whatever else you add in addition to the bread and cheese.
"Personally, I love pickles," Wolfla said. "Pickles and tomatoes and cheddar cheese.
"The classic used to be ham and grilled cheese," she said, "but now it's everything, prosciutto — a Cubano, which to me is kind of a modified grilled cheese sandwich. We do everything under the sun."
As the accompanying photos (which qualify as food porn) and recipes attest. Dave Bavlnka is vice president of advertising for the Wisconsin Milk Marketing Board, whose Grilled Cheese Academy is the source of the photos and recipes. His first tip for a successful grilled cheese? Wisconsin cheese.
"We make the best cheese, of course," Bavlnka said.
But whether you use Wisconsin cheese or some produced by those happy cows in California, by all means don't limit yourself.
"Use cheeses that are to your liking," he said, "that work with each other, and use more than one. Sometimes you might have to experiment. In general, a softer cheese will melt a little better, like a fontina. Cheddar's always worked very well. It really depends how much effort and time you want to put into it."
And don't serve that sandwich all by itself.
"The classic accompaniment," Wolfla said, "is tomato soup, the acid of the tomato soup and the fatty cheese sandwich.
"It's perfect."
THE ATHENA
1 cucumber, peeled and seeded
2 cloves garlic, minced (divided use)
2 cups Greek yogurt, preferably whole-milk
1 tablespoon honey
Pinch of cayenne pepper
Salt and pepper
2 cups kalamata olives, drained
1 tablespoon capers, rinsed
1 to 2 tablespoons flat-leaf parsley leaves, rinsed and well dried
1 anchovy fillet
10 tablespoons extra-virgin olive oil (divided use)
1 to 2 large eggplants
4 pieces flatbread
1 cup (6 to 8 ounces) feta cheese, crumbled
1 to 2 heirloom or beefsteak tomatoes, sliced
1 red onion, thinly sliced
To make tzatziki sauce, grate cucumber on large holes of box grater; place in bowl. Add 1 clove minced garlic, Greek yogurt, honey, cayenne and a pinch of salt. Mix well and refrigerate until serving time.
To make olive tapenade, place olives, capers, parsley, remaining clove minced garlic and anchovy fillet in food processor bowl with 4 tablespoons olive oil; process until smooth. Refrigerate until needed.
Slice eggplant(s) ¼ to ½ inch thick. Drizzle with olive oil and season with salt and pepper. Heat outdoor grill or stovetop griddle and grill eggplant slices for about 2 minutes per side. Set aside. Keep grill or griddle hot.
Cut flatbread pieces in half and place about 1 tablespoon of olive tapenade on each of 4 halves. Top with 1 ounce feta, some tomato slices, onion slices, eggplant slices, another ounce of feta and flatbread half. Drizzle sandwich tops with a little olive oil and place, oil-side down, on hot grill. Grill about 3 minutes, then drizzle with a little more olive oil and flip. Grill until flatbread browns and cheese is heated through. Serve with tzatziki sauce on the side.
Serves 4.
— Recipe adapted from the Wisconsin Milk Marketing Board
THE BENEDICT
3 tablespoons white wine vinegar
Salt and pepper
4 eggs
8 slices Canadian bacon
4 tablespoons butter (divided use)
4 English muffins, split
4 tablespoons sharp cheddar spread, at room temperature
4 slices Gouda cheese
4 ounces fresh spinach leaves
1 tomato, sliced
Heat 3 to 4 quarts water to just below boiling point. Add vinegar and pinch of salt. Gently stir the water. Lower heat so water is simmering. Crack eggs into the water one at a time and poach gently for 4 to 5 minutes. Remove with slotted spoon and season with salt and pepper.
Meanwhile, heat griddle or skillet over medium heat; fry Canadian bacon until lightly browned. Remove from griddle; set bacon aside. Add 1 tablespoon butter to skillet. Spread each bottom half of English muffins with 1 tablespoon cheddar cheese spread. Place in heated skillet. Top each bottom in pan with 1 slice Gouda, about 1 ounce spinach, 2 slices Canadian bacon and 1 slice tomato. Cook over medium heat until cheese is melted. Remove to a plate and top each with a poached egg. Serve open-faced with remaining muffin halves, toasted and buttered, on the side.
Serves 4.
— Recipe adapted from the Wisconsin Milk Marketing Board
THE BIANCA
1 14-ounce can sweetened condensed milk (or use prepared bottled dulce de leche)
8 ounces mascarpone cheese, at room temperature
1 teaspoon pure vanilla extract
6 tablespoons butter, at room temperature
8 slices unfrosted cinnamon-raisin bread
4 tablespoons raspberry preserves
Whipped cream for garnish (optional)
Fresh raspberries for garnish (optional)
To make dulce de leche, place can of condensed milk in deep pot and cover with water; bring to a boil. Lower heat and simmer 90 minutes. Turn burner off and let can sit in the water until cool. Dry can and open. It will be caramel-colored (and hard to resist eating).
Mix mascarpone with vanilla and stir to incorporate air and lighten cheese.
Heat skillet or saute pan over medium heat. Butter bread slices on one side; place in pan, butter-side down and grill until golden brown and crisp. Remove and spread unbuttered sides of 4 slices with 1 tablespoon raspberry preserves, 2 tablespoons mascarpone and 1 tablespoon dulce de leche, in that order. Top with another toasted piece of bread, browned-side up, and more dulce de leche. Garnish with whipped cream and fresh raspberries, if desired.
Serves 4.
— Recipe adapted from the Wisconsin Milk Marketing Board
THE KOREAN STYLE
1 small onion, chopped
4 cloves garlic, roughly chopped
1 tablespoon roughly chopped fresh ginger, skin removed
1/3 cup soy sauce
3 tablespoons granulated sugar
1 tablespoon dark sesame oil
Generous pinch of cracked black pepper
Pinch of red pepper flakes
1 pound flank steak, cut thinly, against the grain
1 tablespoon canola oil
3 tablespoons unsalted butter, room temperature
2 slices Italian bread, about 1½ inches thick
3 slices havarti cheese
3 tablespoons kimchi
3 slices cheddar cheese
Start by marinating the beef. Place onion, garlic and ginger in food processor; process into a paste. In small mixing bowl, combine soy sauce, sugar, sesame oil, black pepper and chili flakes. Whisk to mix in all of the sugar. Add garlic paste mixture and stir. Add flank steak and mix thoroughly to marinate all the beef. Cover, and place in the refrigerator for 1 to 4 hours.
Pour canola oil in a skillet and bring to medium-high heat. Add the strips of marinated steak and cook a few minutes on each side. Set cooked steak aside. When ready to make the grilled cheese, butter 1 side of each slice of bread. Heat a skillet over medium-low heat. Place a slice of bread, buttered-side-down, in the skillet. Add 3 slices of havarti, starting a bit from the edge and overlapping to the other edge. Add the steak. Top the beef with the kimchi, layering from edge to edge. Top the kimchi with the cheddar slices, covering from edge to edge. Top with the remaining slice of bread, buttered-side-up. Cook the grilled cheese sandwich slowly to warm everything through; be sure to melt the cheese, warm the steak and kimchi and toast the bread. Cook for a few minutes, or until golden brown, and flip. Cook the other side for a few minutes, until golden brown.
Makes 1 very large sandwich.
— Recipe adapted from the Wisconsin Milk Marketing Board
THE LIL KAHUNA
1 tablespoon extra-virgin olive oil
4 fresh or canned sliced pineapple rings
1 yellow or Spanish onion, sliced about 1/8 inch thick
1 large red bell pepper, sliced about 1/8 inch thick
6 tablespoons butter, at room temperature (divided use)
4 King's Hawaiian Sweet sandwich or hamburger buns, split
8 slices pepper jack cheese
8 ounces smoked ham, sliced
Heat a saute pan over high heat. Add olive oil and pineapple slices; cook each side for about 1 minute to caramelize. Remove pineapple and return pan to heat. Add onion and pepper and saute 5 minutes. Season with salt and pepper. Set aside.
Heat large saute pan or skillet over medium heat. Add 1 tablespoon butter and 4 slices of bread. Top each with 1 slice pepper jack, 2 ounces ham, 1 pineapple ring, ¼ of the peppers and onions and another slice of pepper jack, in that order. Place tops on sandwiches. Spread tops with about ½ tablespoon butter and grill until sandwiches are golden brown on both sides and the cheese is melted, turning once during grilling and adding additional butter to pan, if necessary.
Serves 4.
— Recipe adapted from the Wisconsin Milk Marketing Board
THE RANCHERO
½ cup ground Mexican chorizo
½ yellow onion, thinly sliced
4 slices best-quality white bread
3 slices pepper jack cheese
Handful of frozen cooked potato puffs (about 12)
6 slices American cheese
Sliced pickled jalapeno chilies (optional)
4 tablespoons (½ stick) butter
Sour cream for serving
Combine chorizo and onion in medium skillet and cook over medium-high heat until chorizo is cooked through and onions are soft, stirring often, about 10 minutes. Transfer mixture to paper-towel-lined plate to drain.
For each sandwich, layer bottom slice of bread, in this order, with 3 slices pepper jack, half of the chorizo-onion mixture, half of the potato puffs, 3 American cheese slices and pickled jalapenos, if using. Finish with remaining American cheese slices and top with remaining bread slices.
Butter sandwich tops and bottoms with 1 tablespoon of butter per bread slice. Place sandwiches in preheated nonstick skillet and grill, covered, over low heat, flipping as needed, until cheese is melted and bread is brown and crispy. Serve with side of sour cream.
Serves 2.
— Recipe adapted from the Wisconsin Milk Marketing Board
Contact reporter Heidi Knapp Rinella at hrinella@reviewjournal.com or 702-383-0474.