December 10, 2008 - 10:00 pm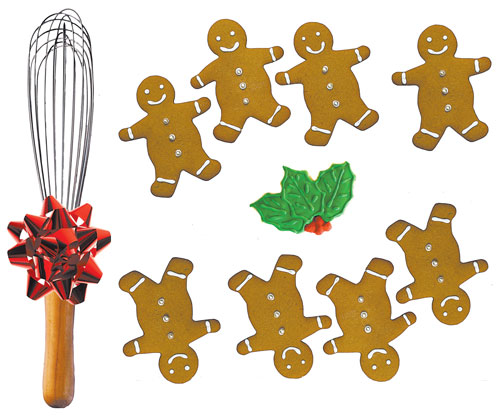 All across the valley (and, pretty much, across the country), businesses are feeling the strain of the weak economy as worried consumers delay or eliminate nonessential purchases. So you might think that a candy-and-cake shop would be feeling the pinch. And you'd be wrong.
Jan McWhirter, owner of Tempting Treasures by Jan in Henderson, said that after a slow November, December took off like gangbusters, and if current trends continue, this will be her biggest year of the 25 she has been in business.
The reason?
"I think there's going to be more people doing their own stuff this year," McWhirter said in her shop, which carries supplies for making and packaging candy and cakes and all sorts of other things. She noted that some customers mentioned they are buying cake boxes for packing homemade cookies.
Sue Lednicky, a nutrition educator with University of Nevada Cooperative Extension, said gifts from the kitchen are not only economical, they send a message of caring.
"Cookies and things of that nature are lovely, and people appreciate those," Lednicky said. "Certainly putting them in a nice wrapping is a nice way to do it."
Most gifts from the kitchen are food, but Lednicky noted that potpourri blends that are simmered on the stove are another popular item.
"There are a lot of different books, for making different things," she said, including "some kinds of Christmas decorations you can make with things from your kitchen."
Bar cookies, which tend to be dense and somewhat sturdy, typically pack and ship well, as do quick breads and nut mixtures.
Sherry Alexander, coordinator of the city of Las Vegas' Cimmaron Rose Community Center, has filled canning jars with the dry ingredients for various types of mixes, tamped into decorative layers and finished with a note as to what wet ingredients are needed, plus baking instructions.
"Put in your favorite cookie mix so it looks layered, and then you attach the recipe with a ribbon," Alexander said. "You can also do it with a cake mix or hot chocolate mix — hot chocolate, chocolate chips and marshmallows. You can make it look real decorative. It's a lot of fun."
The jars are simple enough for kids to do, but another idea for the small fry, she said, is to put pretzels on a cookie sheet, with any flavor of unwrapped Hershey's kiss on top of each. Bake the pretzels until the chocolate melts and covers them, then cool before removing and packaging for gifts.
Or, Alexander said, melt some chocolate and give the kids red plastic spoons for dipping. Then roll the dipped spoons in crushed peppermint candy, wrap them and add ribbon. Recipients can use the spoons to stir their coffee or hot chocolate.
Lucinda Krumkopf, a part-time instructor at Becker Community School, said another good gift for kids to make is a rainbow veggie basket or fruit salad. The rainbow theme, she said, is a reminder to kids — and adults — that it's important to eat foods of different colors to get the nutrients inherent to each.
To make the basket or salad, Krumkopf said to start with an attractive reusable container and line it with an attractive towel. For the fruit baskets, she suggests using soft and crunchy seasonal fruits in red, orange, yellow, green and blue or purple and adding a bear-shaped bottle of honey, some lemons and some cinnamon, and then wrapping the basket attractively, maybe with cellophane and a bright ribbon. Attach a note telling the recipient to clean and peel the fruits and cut them in bite-sized pieces, then toss with honey and freshly squeezed lemon with cinnamon to taste.
For a vegetable theme, start the same way, but fill the container with a jar of your favorite pasta sauce, plus a zucchini, spinach, purple onion, garlic and carrots, she said. The instructions are to cook the vegetables until tender, then puree and add to the pasta sauce.
Krumkopf noted that these are good last-minute gifts, because you wouldn't want the fruits and vegetables to sit, packed up and unrefrigerated, for long.
Which brings us back to a caveat from Lednicky: Remember food safety.
"For a while there, people were doing herbs in oil a lot," she said. "That's very nice, but they do need to keep refrigerated if you're going to actually use them. They're lovely and all that, but they can be dangerous because oil is a real good place for botulism to grow and develop because it's an anaerobic environment. That's a huge concern. You sure don't want to make your friends and family sick giving them a lovely gift."
Another hint from Lednicky: Make a dry run. She had a recipe for hot chocolate, made some and gave it to a neighbor.
"They were so sweet," she said, "but when I tasted it later on, it was so bitter, it was terrible. My suggestion would be to make sure they try it before they give it to anybody."
ROCKY ROAD BROWNIES
1 cup sugar
1 cup flour
1 tablespoon instant coffee granules
1 tablespoon baking powder
1/2 teaspoon salt
1/2 cup chopped walnuts
11/2 cups miniature marshmallows (divided use)
4 ounces semisweet chocolate pieces
1 quart glass preserving jar with lid and band
Combine sugar, flour, instant coffee granules, baking powder and salt in a large mixing bowl, stirring to blend evenly.
Place mixture in the jar. Pack firmly, using a tamper. Layer walnuts, marshmallows and chocolate pieces in the jar in the order given. Center lid on jar Apply band.
Include the following instructions with jar: To prepare, you will need 1/2 cup unsalted butter (divided use), 3 large eggs and 1 tablespoon vanilla. Preheat oven to 350 degrees. Remove mix from jar, keeping layers separate. Melt semisweet chocolate pieces, 1 cup marshmallows and 1/4 cup butter in a saucepan over low heat. Beat 1/4 cup butter, eggs and vanilla for 5 minutes, using the highest speed of an electric mixer. Add melted chocolate mixture to butter mixture and blend on low speed. Stir in sugar mixture, walnuts and remaining miniature marshmallows just until ingredients are moistened. Pour batter into a foil-lined 9-by-9-inch baking pan. Bake 35 to 40 minutes, or until edges start to pull away from the pan. Cool. Lift foil and brownies from pan. Discard foil. Cut brownies into 2-inch squares.
— Recipe from Jarden Home Brands
ORANGE-RAISIN
GINGER COOKIES
21/2 cups flour
11/2 teaspoons baking soda
1/2 teaspoon salt
1/2 cup minced candied orange peel
1/2 cup raisins
1/2 cup light brown sugar
1/2 cup granulated sugar
2 teaspoons ginger
11/2 teaspoons cinnamon
1/2 teaspoon allspice
1/4 teaspoon cloves
1 quart glass preserving jar with lid and band
Combine flour, baking soda and salt. Place mixture into a quart jar, firmly packing.
Combine candied orange peel and raisins. Layer over flour mixture, gently pressing to make an even layer. Place brown sugar in jar, packing firmly.
Stir together granulated sugar, ginger, cinnamon, allspice and cloves until evenly blended. Layer into jar, firmly packing. Adjust cap.
Include the following instructions with jar: To prepare, you will need 1 cup unsalted butter, softened; 1/2 cup mild-flavored molasses; 1 large egg; and 1 cup granulated sugar (optional, for rolling). Preheat oven to 350 degrees. Remove mix from jar, keeping layers separate. Beat butter, granulated sugar mixture and brown sugar until light and fluffy, using an electric mixer. Beat in egg and molasses. Add remaining dry ingredients, mixing just until evenly combined. Form dough into a ball and cover with plastic wrap. Refrigerate dough until firm, about 2 hours. Remove dough from refrigerator. Shape dough into 11/2-inch balls. Roll each cookie ball in granulated sugar to dust, if desired. Place cookie dough on parchment-lined baking sheet 2 inches apart. Bake for 10 to 12 minutes.
Makes 21/2 dozen cookies.
— Recipe from Jarden Home Brands
ORANGE & CINNAMON
SPICED NUTS
2 cups whole blanched almonds
11/2 cups pecan halves
11/2 cups whole almonds
1 cup sugar
1/4 teaspoon ground cinnamon
1/4 teaspoon ground nutmeg
1/8 teaspoon salt
2 egg whites
1 tablespoon freshly grated orange peel
1/2 cup butter
Preheat oven to 325 degrees. Spread nuts in 15-by-10-by-1-inch jelly-roll pan. Bake, stirring occasionally, for 20 to 25 minutes or until lightly toasted.
Stir together sugar, cinnamon, nutmeg and salt in small bowl. Beat egg whites in small bowl at high speed, scraping bowl often, until soft peaks form. Continue beating, gradually adding sugar mixture, until stiff peaks form. Gently stir in nuts and orange peel by hand.
Melt butter in oven in same jelly-roll pan (4 to 6 minutes). Spread nut mixture into pan. Bake, stirring every 10 minutes, for 20 to 30 minutes or until nuts are brown and no butter remains. Cool completely. Store in airtight container.
— Recipe from Land O'Lakes
Contact reporter Heidi Knapp Rinella at hrinella@reviewjournal.com or 702-383-0474.