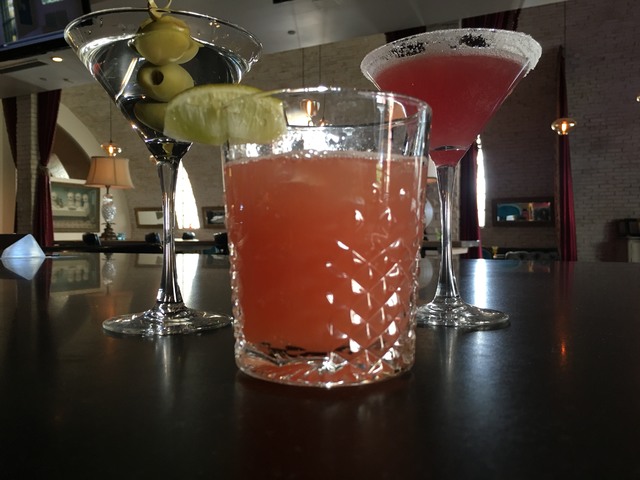 While the Gilmore diet consists primarily of chili fries, pizza, Mallomars and doughnuts, the characters shared notable experiences over three specific cocktails. The "How to Eat Like a Gilmore" cookbook includes the recipes for Rory's 21st birthday cocktail, Lorelai's gin martini and Stars Hollow Founders Day Punch.
Rory's grandmother, Emily Gilmore, hosted Rory's 21st birthday party when a falling out with her mother thwarted Rory's more casual plans. Emily instructed the bartender to create a drink called the "Rory." While the ingredients were never divulged on the show, Luke commented that it "tastes pink."
THE BIRTHDAY GIRL
1/4 cup water, for rim
1/4 cup granulated sugar (for rim)
Ice
3 ounces vodka
1 ounce grenadine
1 ounce pineapple juice
1 ounce Champagne
1 Maraschino cherry, for garnish
Prep glass: Dip of the rim of the cocktail glass into a 1/8 inch of water, then immediately into the sugar.
Mix the drink: Add ice to a shaker until it is half full. Pour in vodka, grenadine and pineapple juice. Shake until are well blended. Remove shaker lid, add Champagne and gently stir.
Miss Patty stirs up the lethal Founders Day Punch at all town events. And nearly every character on the show has a story of regret tied to the deceptively fruity cocktail.
FOUNDERS DAY PUNCH
3 cups passion fruit juice
1 1/2 cups cranberry juice
1 cup pineapple juice
1 cup vodka
1/2 cup brandy
1 cup sparkling apple cider
Ice
Mix punch: Combine passion fruit, cranberry and pineapple juices in a pitcher. Add vodka and brandy. Stir well, until fully blended. Add sparkling apple cider. Stir gently to combine. Serve over ice.
At Rory and Lorelai's conscripted Friday night dinners, Lorelai soothes her anxieties with a gin martini. It becomes a particular point of contention when Rory brings Logan over for the first time and Emily pretends that Lorelai's drink of choice is a sidecar, causing Lorelai to insist, "No, my drink is a martini. It's always been a martini." The recipe is for a vodka martini. But if you want to be like Lorelai, substitute gin.
MARTINI
Ice
4 ounces vodka
1 1/2 ounces vermouth
Olive, for garnish
Olive juice
Mix the drink: Fill shaker full of ice. Add vodka and vermouth. Shake vigorously for 1 minute to fully combine and chill the liquids. Strain into a martini glass. Garnish with olives.
Contact Janna Karel at jkarel@reviewjournal.com. Follow @jannainprogress on Twitter.
"Gilmore Girls" fans may wish to make a trip to the fictional Stars Hollow to prepare for the revival with food from the town's local haunts. Las Vegas locals may struggle to realize that dream. Instead, pop in to these Las Vegas equivalents of Rory and Lorelai's favorite eateries.
■ French fries ("the devil's starchy fingers") from Luke's
Truffle fries from SkinnyFATS
■ Pies from Westin's Bakery
Pies from Du-Par's Restaurant and Bakery
■ Al's Pancake World
Al's Donuts
■ Coffee from grumpy Luke
Coffee from Grouchy John's Coffee Shop
■ Giant Pizza for Lorelai's birthday
30-inch pizza from Napoli Pizza
Need snacks for a viewing party at home? Stock up on the following:
Red vines, Mallomars, Pop Tarts, frosting, ice cream, popcorn, sugary cereals, and lots and lots of coffee