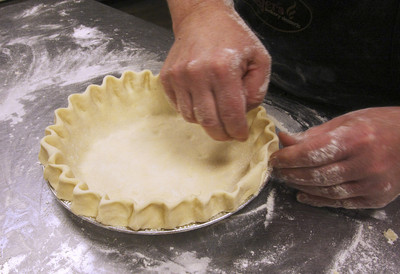 If the idea of holiday baking has you about as stressed as a General Motors middle manager, take heart: It's as easy as pie.
Whoops. Perhaps that isn't the right analogy to lay your fears to rest.
"I think some people are afraid of making pie dough," said Debra Mitchell, executive pastry chef at Treasure Island.
So let's confront this bugaboo and demystify this most American of desserts.
"The art of making really great pies went away in the '50s," said Jeanne Forrest, co-owner of Layers Bakery in Henderson. But, "it's not as difficult as it's made out to be."
Easy for her to say, maybe, but it's true. The secret to a good pie crust — nice and flaky, with no resemblance to cardboard — is to use ice-cold butter and water, and to mix gently and just enough.
"It's never recommended that you do a pie crust in a mixer," Forrest said. "You don't want any gluten to develop. What makes it tender is that the dough is not overworked."
Mitchell added that a good recipe is important. At Treasure Island they mix pie dough with 100 pounds of butter at a time.
For home use, she suggests the basic recipe "from the old 'Betty Crocker's Cookbook.' " She remembered her mother gave her a copy of the cookbook when she was a child.
Another option is the Foolproof Pie Dough recipe from Cook's Illustrated magazine, whose America's Test Kitchen staff perfects recipes step by step with more patience than most of us could muster.
Since another key to flaky pie crust is to use no more moisture than is absolutely necessary — which also makes the crust more difficult to handle — the testers found it particularly effective to use vodka in the dough, because the alcohol burns off upon contact with the oven's heat, leaving less moisture.
While those recipes and a classic version from "Joy of Cooking" use lard or shortening in place of or in addition to butter, Mitchell and Forrest said they use exclusively butter in their pie crusts because of its superior flavor, although Forrest conceded, "I do think there's room for some flakiness in pie crusts that you can't get with butter."
Forrest, who is a big believer in planning and working ahead to reduce stress on the big day, suggests preparing pie dough ahead, rolling it out and folding it like a store-bought refrigerated pie crust, and then freezing. Thaw it in the refrigerator overnight and in the morning remove it, let stand 10 to 15 minutes and all you have to do is fill and bake.
When the dough is freshly made, noted Ana Nunez, pastry chef at Jerry's Nugget in North Las Vegas, let it rest for an hour to make it easier to roll out.
More holiday baking tips from the experts:
• "If there's something that you don't feel comfortable with, this isn't the time to try a new recipe," Forrest said. "Do the things that you know are tried and true." You can always buy the daunting elements, or ask someone else to make them, she said.
• "If you're not comfortable with a pastry crust, there's no reason in the world you can't use a crumb crust successfully to make a pumpkin pie or even a fruit pie," Forrest said. The crumbs add "another element to the pie that you don't get otherwise." A cookie-dough crust is another option, she said.
• "If you're going to flavor something, I don't think you should skimp on the quality of the vanilla extract," Mitchell said. "Don't use artificial vanilla; use a real vanilla extract. At home you don't use that much anyway." And according to McCormick, the spice and seasoning company, pure vanilla extract lasts indefinitely, so it's a good investment (and something you might want to stock up on when it's on sale).
• When it comes to spices, Forrest said, be sure yours are fresh and haven't lost their flavor and color. "You don't want to go through the struggle of making something from scratch only to find out that they can't be all they can be," she said. Mitchell recommends McCormick spices — "That's what I have in the cabinet at home" — and the company's Web site, www.mccormick.com, has a guide to shelf life and keys to finding out just how old those spices in the back of your cabinet are.
Note that whole spices have a longer shelf life than ground, and since freshly grated — nutmeg, for example — is almost always better than pre-ground, consider investing in a spice grater or grinder.
• Consider preparing ahead and freezing other doughs and batters, Forrest said, including those for sticky buns, scones and muffins, to name a few.
• Nunez said many cooks are afraid of overbaking cookies. "They think that just because it's getting a little brown, it's done. In the center they have a big ol' hole where the center is not baked all the way."
• But on the other hand, Mitchell added, your cookies may be more done than you think. They'll bake further on the cookie sheet because of residual heat.
• If you're using all butter in your cookies — which she recommends for better flavor — Mitchell suggests underbaking slightly, as all-butter cookies set up harder.
• Be sure to store nuts properly; "a lot of people use rancid nuts," Mitchell said. Store them in the freezer in a zip-top bag with the air squeezed out.
• Use good-quality chocolate, she said. Look for the word "couverture," which represents a higher percentage of cocoa butter. "For baking I think you can't skimp on ingredients," she said. "Buy the best things you can afford."
• "I bet you 90 out of 100 people's ovens aren't the right temperature," Mitchell said. She recommends getting an oven thermometer to check your oven's temperature, then adjusting accordingly.
• "When you find a good recipe for a pie or cake, you should keep that and stick with it and measure things and follow procedures, because somebody else figured that out for you," she said.
She suggests writing down original creations, and making notes on recipes you alter.
"Baking, especially, a lot of people are afraid of," Mitchell said. "If you follow directions and have good books and good directions, I think it's pretty much foolproof."
STANDARD PASTRY FOR 8- OR 9-INCH ONE-CRUST PIE
1/3 cup plus 1 tablespoon shortening or 1/3 cup lard
1 cup all-purpose flour
1/2 teaspoon salt
2 to 3 tablespoons cold water
Cut shortening into flour and salt until particles are the size of small peas. Sprinkle in water 1 tablespoon at a time, tossing with fork until all flour is moistened and pastry almost cleans side of bowl (1 to 2 teaspoons of water can be added if necessary.)
Gather pastry into ball. Shape into flattened round on lightly floured cloth-covered board (for 2-crust pie, double ingredients; divide pastry into halves and shape into two rounds). Roll pastry 2 inches larger than inverted pie plate. With floured stockinette-covered rolling pin, fold pastry into quarters. Unfold and ease into plate. Press firmly against bottom and sides.
For 1-crust pie, trim overhanging edge of pastry 1 inch from rim of plate; fold and roll pastry under, even with plate. Flute. Fill and bake as directed in recipe.
(For 2-crust pie, trim both pieces 1 inch from rim of plate, fold together and roll under; flute.)
— Recipe adapted from "Betty Crocker's Cookbook New and Revised Edition"
BASIC PIE OR PASTRY DOUGH
FOR ONE 9- OR 10-INCH
DOUBLE CRUST
21/2 cups all-purpose flour
11/4 teaspoons salt
3/4 cup chilled lard or vegetable shortening
3 tablespoons cold unsalted butter
Sift together flour and salt. Cut half of the lard or shortening into the flour mixture with a pastry blender or work it in lightly with the tips of your fingers until it has the consistency of cornmeal. Cut the remaining half of the lard or shortening and the butter into the dough until it is pea-sized. Sprinkle the dough with 6 tablespoons water. Blend the water gently into the dough until it just holds together; you may lift the ingredients with a fork, allowing the moisture to spread. If necessary to hold the ingredients together, add 1 teaspoon to 1 tablespoon ice water.
Divide the dough in half, shape each into a disk, and wrap in plastic wrap. To fill and bake, see individual recipes.
— Recipe from "Joy of Cooking"
FOOLPROOF PIE DOUGH (FOR TWO-CRUST PIE)
21/2 cups unbleached all-purpose flour
1 teaspoon salt
2 tablespoons sugar
12 tablespoons (11/2 sticks) cold unsalted butter, cut into 1/4-inch slices
1/2 cup chilled vegetable shortening, cut into 4 pieces
1/4 cup vodka, cold
1/4 cup cold water
Process 11/2 cups flour, salt and sugar in food processor until combined, about 2 one-second pulses. Add butter and shortening and process until homogenous dough just starts to collect in uneven clumps, about 15 seconds (dough will resemble cottage cheese curds and there should be no uncoated flour). Scrape bowl with rubber spatula and redistribute dough evenly around processor blade. Add remaining cup flour and pulse until mixture is evenly distributed around bowl and mass of dough has been broken up, 4 to 6 quick pulses. Empty mixture into medium bowl.
Sprinkle vodka and water over mixture. With rubber spatula, use folding motion to mix, pressing down on dough until dough is slightly tacky and sticks together. Divide dough into two even balls and flatten each into 4-inch disk. Wrap each in plastic wrap and refrigerate at least 45 minutes or as long as 2 days.
— Recipe from Cook's Illustrated magazine
Contact reporter Heidi Knapp Rinella at hrinella@reviewjournal.com or 702-383-0474.
Here are some sources for holiday baking help: • Wisconsin Milk Marketing Board • Land O'Lakes Butter• Pillsbury flour (General Mills)• McCormick & Co.