Evel Knievel-themed pizza joint on Fremont Street is for 'the daredevil in us all'
November 23, 2016 - 10:32 am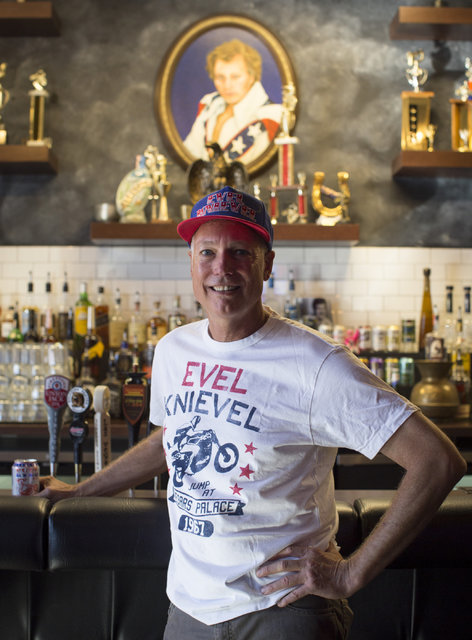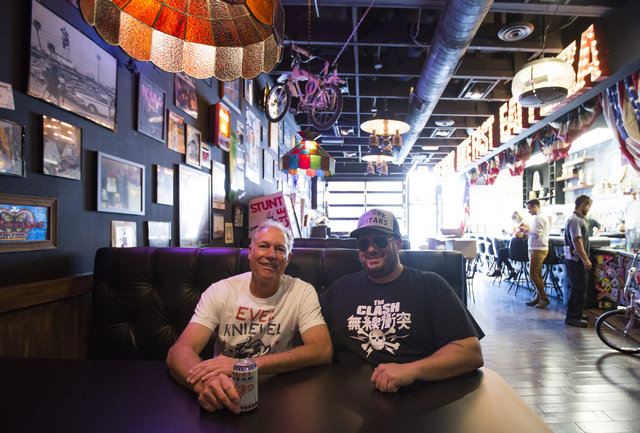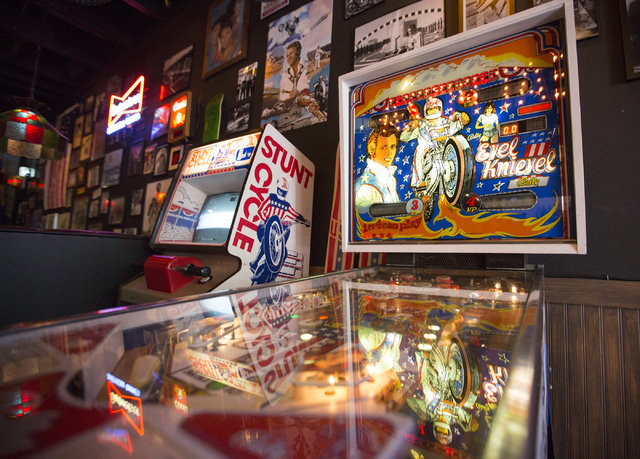 Pizza. Beer. Evel Knievel.
It's as simple as that at downtown's newest pizza joint, Evel Pie.
For $5, patrons can get a slice of cheese pizza and a beer; for $20, a 20-inch cheese pizza and a pitcher of beer. All while sitting in what can only be described as a shrine to daredevil Evel Knievel, the stuntman who found fame through death-defying jumps on his motorcycle.
Photos of Knievel line an entire wall, including one of his famed jump over the Caesars Palace fountains that ended in a horrifying crash in 1967. A Knievel-branded kids bike, manufactured at one point in the '70s, hangs from the ceiling. On the arcade game "Stunt Cycle," players can simulate their own jumping stunts. Eventually, a life-sized bronze statue of Knievel himself standing on a pizza will be erected on the sidewalk in front of the restaurant, which opened earlier this month. The restaurant is open from 11 a.m. to 2 a.m. Sunday through Thursday and 11 a.m. to 4 a.m. on Fridays and Saturdays.
If the pairing seems entirely random, that's because it is.
"I have this thing, I can't open anything that's just boring and the same old, same old," says Branden Powers, the managing partner at High Horse hospitality group who came up with the odd combination. He also opened The Golden Tiki in Chinatown in 2015.
The Evel Pie space formerly housed fondue restaurant F. Pigalle, and before that, another pizza joint. Some of Powers' business partners were investors in F. Pigalle and therefore had the lease. When that restaurant closed at the beginning of the summer and they parted ways with the other owners of F. Pigalle, they decided to do pizza this time. That's when Powers came in.
And when Powers chooses a theme, he commits.
He made a phone call and got one of Evel Knievel's sons, Kelly Knievel, on board, which is how he got so many of the relics in the restaurant, including old family photos. Knievel's "entire life history is on these walls," Powers says.
Kelly Knievel manages the Evel Knievel brand, and had been holding on to much of the memorabilia for decades. His only reservation about contributing to the restaurant was that the pizza would be bad. But once he tried it (and loved it), he was all in.
"It's a great lunch place and at nighttime it's a real hip place," Kelly Knievel says. "It fits my dad's image perfectly."
The pizza is considered New York-style. Though Evel Pie is serving up a lot of cheese because of the $5 and $20 deals, it also has specialty slices: the World Famous Snake River Special with rattlesnake jalapeno sausage and the Balls to the Wall with meatballs and Sunday gravy, among others. The menu is supposed to be a no-frills, back-to-basics tribute to Knievel's status as an all-American, working-class hero, Powers says. Beer options mostly include cheap American offerings such as Coors and Hamm's.
Powers' commitment to Knievel isn't finished yet. Eventually, he'd like to have employees deliver pizzas dressed in Evel Knievel jumpsuits on mopeds. On the back patio, he plans to create "Evel Knievel's junkyard," a space that will have a bar and tables as well as a garden where the kitchen will grow some of its herbs and vegetables. There, Powers would like to host art shows and other events.
"I guess I'm a little bit like Evel Knievel in that sense where I just create these spectacular, crazy scenes or shows or whatnot," Powers says. "That's what this place kind of represents: the daredevil in us all."
Contact Sarah Corsa at scorsa@reviewjournal.com or 702-383-0353. Find @sarahcorsa on Twitter.