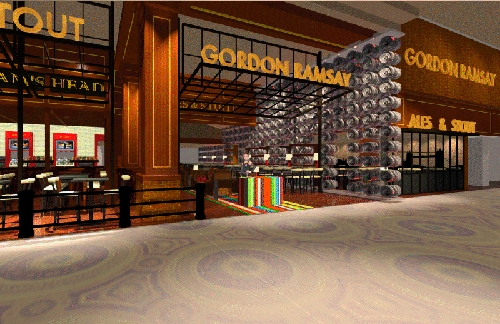 Months of speculation have been confirmed by Caesars Entertainment Corp.: Bradley Ogden's eponymous – and closing Aug. 5 – restaurant at Caesars Palace will be replaced in a few months by Gordon Ramsay Pub & Grill.
"It's an amazing site," Ramsay said of the space opposite the Colosseum, across the resort's Forum Casino. And it's a site that, he said, has long been anticipated.
"I've been looking endlessly for the last two years," he said. "Caesars has that buoyant excitement to it. I just want to sort of bring the best of British, from amazing cakes to British telephone boxes to English bulldogs."
No, he won't be serving dogs – on the menu or off – although they will figure prominently in the decor. The menu, he said, will have a two-pronged focus.
"The idea of the grill is to make it more of a dinner venue, with double pork chops to chateaubriand to T-bone steaks," he said. "It's going to be a classic grill, but done with a sort of shabby chic environment."
The pub part of the 290-seat project will serve light bites and gastropub fare and such classics as fish and chips, pork pies, and bangers and mash, as well as up to 40 craft and microbrew beers on tap, "which I think is quite fun," he added.
"We're going to have a patio there as well," he said. "You've got that immediate attraction to crowds – sit on the patio like you would do in a traditional pub in England."
Ramsay said construction is set to begin in August, and "I reckon we'll be open by the first of December."
This will be the "Hell's Kitchen" chef's second restaurant for Caesars Entertainment. Gordon Ramsay Steak opened at Paris Las Vegas in May, and Ramsay said so far the response from the public has been strong.
"They're queueing at the door," he said. "Queueing at the door for a hot dog is one thing; but for a steakhouse, it's something I've never seen before. We're keeping it conservative. I'm still keeping the numbers moderate. We're still giving birth."
Ramsay said the variety of clientele has been a surprise.
"Everyone used to say that Vegas now is a party – bachelorettes hanging out and going crazy," he said. But when he was at the restaurant last week, he encountered guests ranging from a 9-year-old visitor from Melbourne, Australia, to an 88-year-old man who was celebrating his 60th anniversary with his wife.
"It's been quite a shock," he said. "It's been an amazing, broad array of customers."
Contact reporter Heidi Knapp Rinella at hrinella@reviewjournal.com or 702-383-0474.