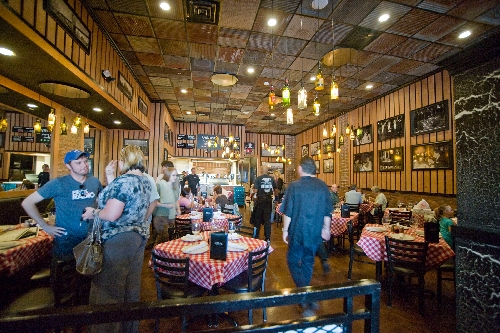 Just because a pizzeria is from New York City doesn't mean it serves New York pizza. Lunch crowds wouldn't snake around the block to enter Grimaldi's Brooklyn location, an institution since 1971, for something they could get on every street corner.
Grimaldi's Pizzeria in Boca Park, 750 S. Rampart Blvd., coal-fires its pies in brick ovens, yielding a thin crust that's cracker-crispy. In addition, its cheese and sauce do not drip with olive oil. Another location has been in business since 2007 at 9595 S. Eastern Ave.
"That's a trick that every greasy New York pizza place does to keep the slices from burning when they reheat them," says Grimaldi's executive chef Cory Lattuca.
Grimaldi's pizza can't be reheated or both its crust and face would char, since coal burns significantly hotter than traditional electric and gas pizza ovens. That's why Grimaldi's cooks takeout pies only two-thirds of the way before customers are instructed to finish the job at home.
It's also why no individual slices are served. (That would require reheating.) Thus, pizza is elevated to a proper meal eaten on red- and white-checkered tablecloths underneath black-and-white photos of old New York.
All Grimaldi's re-create the Brooklyn location, importing the same Italian tomatoes and mozzarella from the same suppliers. They even use custom filtration systems that transform hard desert water into the closest thing possible to New York City tap.
Grimaldi's — which seats 140 and has a dining patio — is open 11 a.m.-11 p.m. daily and does not take reservations.
Signature dish: Traditional pizza, $13 and $18
Starters: Antipasto, $8 and $12
Salads: House salad, $5 and $8; Mediterranean salad, $7 and $10; Caesar salad, $6 and $9
Entrees: White pizza with garlic, $15 and $17; pesto pizza, $15 and $17, calzone, $15 and $16
Desserts: Homemade cheesecake, $5; New York cheesecake, $5; blueberry cobbler, $5
Information: 479-1351
By COREY LEVITAN