Henderson man savors winning Las Vegas qualifier for hot dog-eating contest
Updated April 22, 2017 - 10:52 pm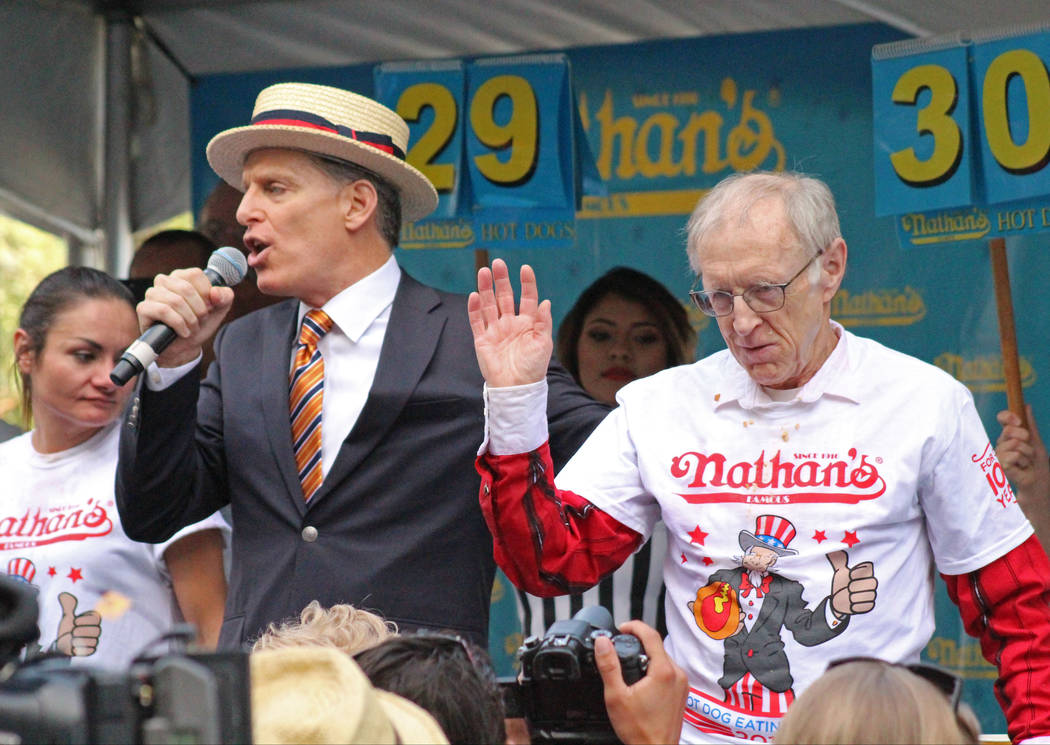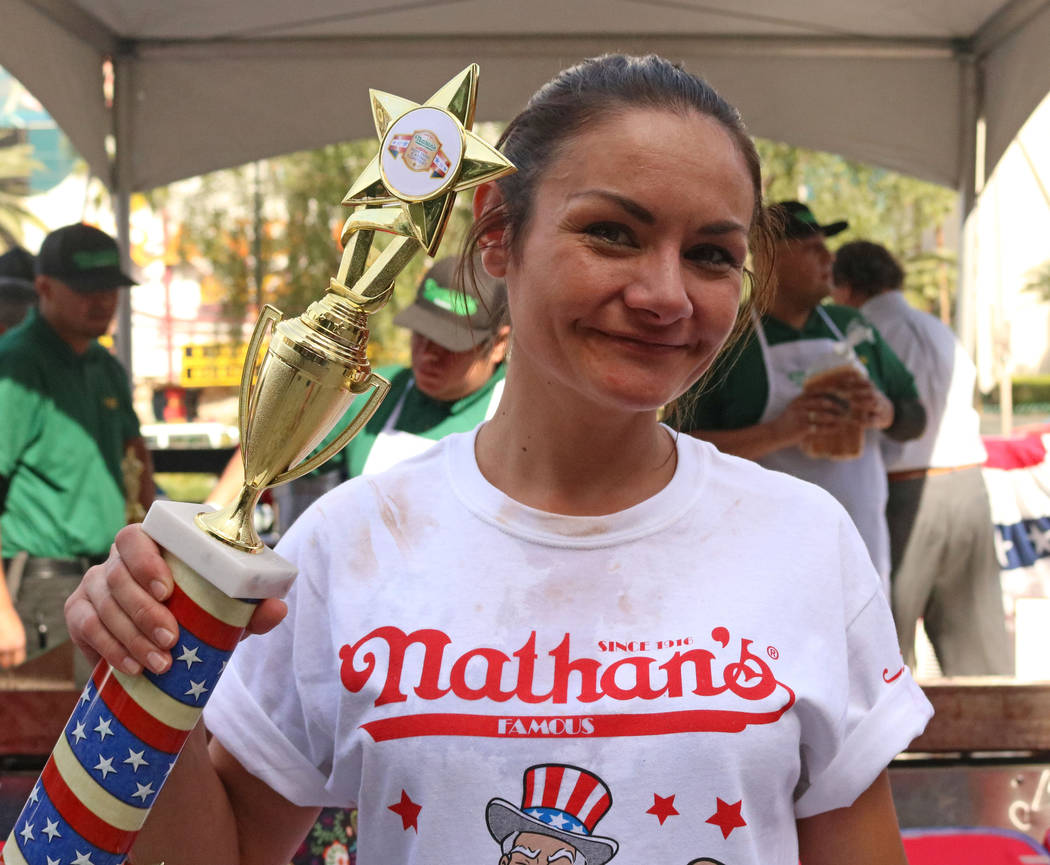 On Saturday afternoon, onlookers gathered at the Brooklyn Bridge in front of New York-New York to watch two fierce competitors battle it out.
Their mission? Eat as many hot dogs as possible in 10 minutes.
The hot dog eating competition marked the 20th anniversary of the Las Vegas qualifier for the Nathan's Famous Fourth of July International Hot Dog Eating Contest on Coney Island.
Well-known repeat competitor Michelle Lesco, 33, of Tucson, Arizona, faced off against Rich LeFevre, 73, last year's winner from Henderson.
It came down to the final few seconds, with LeFevre rallying for the Las Vegas title, eating 30 dogs to Lesco's 29.
"I came in completely unprepared," Lesco said, noting that she'd been too busy with work to get in practice. "I just paced myself a little bit too much."
"I think that's the hardest contest I've ever done," LeFevre said after throwing up in a nearby trashcan. "That last minute was extra tough."
LeFevre said he and his wife Carlene "have always been big eaters."
In a 1985 road trip to Amarillo, Texas, the couple took on the Big Texan Steak Ranch's challenge to eat a 72-ounce steak — with sides — and receive the meal for free. Both LeFevre and his wife accomplished the task. "It was easy," he said.
They returned nearly every year before the new millenium and completed the challenge each time.
The LeFevres soon drew the eye of Ripley's Believe It or Not! and the Donny and Marie Show. After eating two 72-ounce steaks in an hour, LeFevre competed at his first Las Vegas qualifier for the Coney Island contest in 2002.
"Previous winners had only eaten 12 (in 10 minutes)," LeFevre said. "I ate 20 on my first contest."
Since then, LeFevre signed a contract with Major League Eating and competes in several eating contests each year.
He's eaten steaks, watermelon, Spam and jalapeno peppers, often alongside his wife, who is also a competitive eater.
LeFevre said he and his wife have been dubbed the "royal couple of competitive eating" by Major League Eating chairman George Shea.
The eating hasn't taken a toll on their health: LeFevre walks around 30,000 steps a day and plays pickleball. His wife takes exercise classes and uses a stationary bike at home.
And age isn't a deterrent. "I think I'm doing as well now as I ever did," LeFevre said. "If I were younger, I'd probably practice and train a lot more, too."
Reigning Coney Island queen Miki Sudo, 31, automatically qualified for the event from last year's win, but was on hand to watch Saturday's competition and time Lesco.
"Michelle Lesco is a great friend of mine," the Las Vegas resident said. The two have taken road trips and shared hotel rooms outside the competitive eating world and occasionally practice together.
"That means dinner together and also hitting the gym together," Lesco said.
But, "for the 10 minutes on stage on Coney Island, we're rivals," said Sudo, a three-time national champion. "I'll definitely be watching her."
Contact Brooke Wanser at bwanser@reviewjournal.com. Follow @Bwanser_LVRJ on Twitter.
Headed to Coney Island
Michelle Lesco, Miki Sudo, and Rich LeFevre will all travel to Coney Island on July 4th for the Nathan's Famous Fourth of July International Hot Dog-Eating Contest.
Sudo, who has won the past three years, will face off against Lesco in the women's category, which was made separate from the men's category in 2011.
But if Sudo and Lesco have each other as a support system, so LeFevre has his encouragement in his wife, Carlene.
Carlene LeFevre has competed at Coney Island in the women's category in the past, and hopes to do so again. She will seek to qualify at a Tampa, Florida contest in a few weeks.
The "Carlene Pop," which Shea mentioned on Saturday, was pioneered by Carlene, who would jump up and down to force food down into her stomach as she ate.
On Saturday, she was there to cheer.
With pink polished nails and a pink blouse, rosebud earrings and pefectly styled short blonde hair, Carlene LeFevre looked like she was going out to dinner rather than standing below the stage while her husband struggled to cram hot dogs into his mouth.
"Go Rich!" she screamed at him in the final moments. And when he finished, she congratulated him before telling him to wipe his mouth.