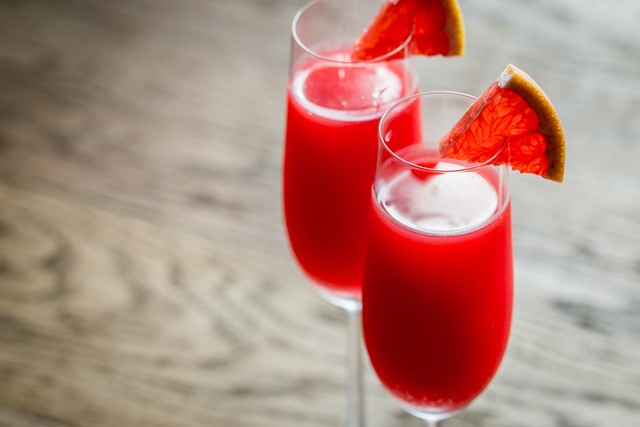 Mother's Day is the biggest day of the year for the restaurant industry, and there's no exception, of course, for restaurants in the Las Vegas area.
Following are some special menus and other promotions being offered by local businesses. This is not intended as a complete listing. Unless otherwise noted, the menus, etc., are available only on Mother's Day, May 8, and keep in mind that in most cases, reservations are advisable. Also note that most local buffets also will have special dishes for Mother's Day.
Alder & Birch Cocktails and Dining, The Orleans: Tomato bruschetta; lobster bisque or grilled Mediterranean chopped salad; prime flat-iron steak and herbed grilled shrimp or wild Pacific salmon with broiled crab claw and bacon-wrapped scallops; choice of sides including grilled asparagus, Brussels sprouts, loaded baked potato or mushroom risotto; and macerated berries over French vanilla bean ice cream, $50.
Andiron Steak & Sea, Downtown Summerlin: Brunch, Belgian waffle with elderflower poached peaches and vanilla cream, $16, and Crab Crostini with avocado and Meyer lemon aioli, $14. Regular menu also available.
Andrea's, Wynn Las Vegas: Cucumber sunomono with sesame seeds, $6; vegan spicy tofu with asparagus, $10; shiitake mushroom and pepperoncini tempura, $10; salmon sashimi with yuzu toban-jan sauce, $12; hamachi sashimi with crispy garlic and pickled cherry pepper, $12; shrimp tempura and spicy tuna with avocado and mango, $12; salmon aburi with kalbi-style marinated seared salmon belly, $12; rock shrimp tempura with sweet chili aioli, $11; braised pork belly with watermelon radish and cucumber, $17; adobo crab fried rice with peas, onion, carrot and bean sprouts, $10; Wagyu beef chow fun, $15; peanut butter kiss, $4; Andrea's cake pop. $4; and glass of Champagne to women 21 and older, 6 to 10:30 p.m.
Baja Miguel's, South Point: Pork flautas or chilled shrimp; filet mignon fajita or chicken mole; Tres Leches Cake or fruit salad served with passion-fruit sorbet; and margarita, $19.95, 11 a.m. to 9 p.m. Regular menu also available.
The Barrymore, Royal Resort: Lobster mac and cheese, $14; lox, $18; roasted artichoke with salsa verde, $14; Barrymore Eggs Benedict with avocado and sun-dried tomato, $22; endless pancakes, $15 (plus options to add blueberries, strawberries or chocolate chips); lobster omelet, $25; eggs with a 4-ounce filet mignon, $32, or 7-ounce New York strip, $30; lemon-scented cheesecake, $8.50; pistachio-vanilla bean creme brulee with raspberries, $8.50, 10 a.m. to 2 p.m.
The Blind Pig, 4515 Dean Martin Drive: Grilled filet mignon and 8-ounce lobster tail with veggies or pasta and soup or salad, $35.99; two 8-ounce lobster tails with veggies or pasta and soup or salad, $35.99; and lobster seafood pasta with clams, mussels, shrimp, and calamari, $35.99.
The Broiler, Boulder Station: Buffet-style Champagne brunch with snow crab legs, jumbo shrimp, smoked salmon, fruit and cheese, Broiler's Famous Salad Bar, omelet and carving stations featuring New York strip loin, herb-buttered chicken, roasted quail, breakfast pastries and desserts, $30, 10 a.m. to 3 p.m.
Buddy V's Ristorante, Grand Canal Shoppes: $20 bottles of prosecco and strawberries; $14.95 bottomless pomegranate bellinis and martinis. Regular menu also available.
Cabo Wabo, Miracle Mile Shops: Free Mom-mosa or Mama-rita with purchase of an entree from 8 to 11 a.m.; must be accompanied by another adult, 18 or older.
California Noodle House, California Hotel: Popcorn shrimp tempura; crispy garlic-crusted mahi mahi; and molten lava cake, $25.
The Capital Grille, Fashion Show Mall: Cup of clam chowder or spring artichoke bisque, smoked salmon, Bibb stack salad or caesar salad; lobster frittata, bone-in dry-aged New York strip with fried egg and white cheddar grits, 8-ounce filet mignon with mashed potatoes or French beans or pan-seared salmon with citrus crab salad; flourless chocolate espresso cake, creme brulee or fresh seasonal berries in vanilla cream; and juices, tea, coffee or soft drinks, $49. Children's brunch available.
Carmine's, The Forum Shops at Caesars: Misti Salad, pappardelle with wild mushroom sauce, Chicken Scarpariello and Titanic Sundae, $175.95, serves 6 to 8. Regular menu available.
The Charcoal Room, Palace Station: Buffet-style brunch with such dishes as a yogurt berry parfait, caprese salad, Steakhouse Chopped Salad; Eggs Benedict, Banana Fosters French Toast and Chicken Coq au Vin, plus carving and omelet stations, $49 for adults, $29 for children younger than 10, 10 a.m. to 3 p.m. Sparkling wine or bottomless bloody mary, $15.
Cleo, SLS Las Vegas: Pan-seared turbot with pomegranate tabbouleh, $24; crispy zucchini blossoms with shrimp, crab, halloumi and mozzarella, $16; plus a free featured cocktail for moms.
Coronado Cafe, South Point: Cream of asparagus soup or Mother's Day Salad; Medallion of Beef California or broiled fillet of black pepper-crusted Pacific salmon; strawberry cream cupcake or New York Cheesecake; and cocktail or glass of wine, $14.95, 11 a.m. to 9 p.m. Regular menu will available
Cortez Room, Gold Coast: Crab bisque or spring mix salad; penne pasta in rose sauce with grilled chicken ($35), salmon ($35) or seafood-stuffed Maine lobster ($50) and strawberry chocolate mousse in a wafer cup.
Court Cafe, Joker's Wild: Soup or salad; filet mignon with lobster seafood pasta; red velvet cake; and a glass of house wine, $17.99, 2 p.m. to closing.
Courtyard Cafe, The Orleans: Soup or salad; grilled teriyaki chicken or phyllo-wrapped salmon; red velvet cake; and glass of house wine, bottle of Bud or Bud Light or a soft drink, $13.99, 11 a.m. to 10 p.m.
DB Brasserie, The Venetian: Dungeness crab and Ruby Red Grapefruit salad, Maine Lobster Eggs Benedict and strawberries and cream with vanilla panna cotta, $42. Maine Lobster Eggs Benedict with a glass of Freixenet Brut, $20.
Divine Cafe at the Springs Preserve: Brunch of stuffed salmon roulade and roasted dark cherry chicken carving station, three variations of Eggs Benedict, french toast, paella, traditional breakfast favorites, salad bar, pastries and desserts and coffee, tea and juice, plus one mimosa for each adult, $34, $10 for children 5 through 10, 10 a.m. to 4 p.m. Reservations required; go to www.eventbrite.com.
Don Vito's, South Point: Summer melon carpaccio with prosciutto, pan-seared scallops with strawberry relish or broccoli cheese soup; sliced chicken breast over gemelli pasta with mushrooms, tomatoes and arugula pesto, beef scaloppini rolled with portabella mushrooms and topped with Gorgonzola brandy peppercorn sauce or pan-seared salmon stuffed with shrimp and prosciutto; seasonal vegetables and a side of pasta; Chocolate Bomba or oven-roasted peach cobbler with ice cream; and glass of wine, $35, 3 to 9 p.m. Regular menu also available.
Eiffel Tower Restaurant, Paris Las Vegas: Eggs Benedict; Luxury French Toast with foie gras, Calvados and caramel apple, $24; and prix-fixe including strudel of mushroom, spinach and Gruyere or smoked salmon omelet galette, 10 am. to 3 p.m.
Ferraro's Italian Restaurant & Wine Bar: Heirloom tomato salad, beef carpaccio or burrata with roasted pepper and fennel; Bucatini Bolognese, Gnocchi Pomodoro or house-made lobster ravioli; and chicken breast with farro and forest mushrooms, seared prime beef tenderloin or grilled Scottish salmon, $49.95, noon to 9 p.m. Regular menu also available.
Fleming's Steakhouse and Wine Bar, Town Square and 8721 W. Charleston Blvd.: Three-course prix-fixe menu of such dishes as Signature Eggs Benedict, baked brioche french toast and prime rib of beef, starting at $39.95 per person.
The Forge Social House, 553 California Ave., Boulder City: Roast chicken, Virginia ham and bacon, steak and mushroom, tomato with mozzarella and artichoke, Nutella-Bananas Foster or red velvet crepes; and Granny Smith apple slaw, roasted herbed red potatoes or spinach salad; house-made English muffin and blood-orange custard cake; and mimosa or house wine, soft drinks and coffee, $30, 10 a.m. to 2 p.m.
Fu Asian Kitchen, Hard Rock Hotel: All-you-can-eat dim sum brunch with such dishes as Peking duck in steamed buns, vegetable egg rolls, edamame, Chinese chicken salad, won ton soup, cucumber salad, sushi combo and black sesame donuts with mango curd filling, $28.95, or $14.95 for children 12 and younger.
Hank's Fine Steaks & Martinis, Green Valley Ranch Resort: Brunch buffet with such dishes as salads, made-to-order waffles and french toast, eggs and omelets, seafood, a carving selection and pastry stations; each table will receive a fresh-baked pastry and bread basket; and Champagne and mimosas will be served upon entry, $89, $39 for children younger than 10, 10 a.m. to 3 p.m.
Hard Rock Cafe, 3771 Las Vegas Blvd. S.: Moms get free Momosa with purchase of an entree.
Hash House a Go Go, all valley locations except the Rio: Brunch, Margie's Famous Crab Cake Benedict, $18.99, or Stella's Favorite Strawberry Frosted Flake Pancake, $8.99. Dinner, Andy's Mixed Grill, $28.99, or grilled swordfish, $24.99. Regular menus also available.
Hofbrauhaus, 4510 Paradise Road: Asparagus cream soup; mini potato pancakes with smoked salmon and horseradish sour cream; Chicken Cordon Bleu with asparagus and parsley potatoes; and Mousse au Chocolate with berries.
Honey Salt, 1031 S. Rampart Blvd.: Crab Benedict with wilted spinach, asparagus and spicy tomato hollandaise, $22. Regular menu also available.
La Cave Wine & Food Hideaway,Wynn Las Vegas: Butler-style brunch with such dishes as pancakes with berry compote, corn-flake-crusted brioche french toast, loaded baked potato tater tots, egg sandwiches, ham and egg flatbread, Eggs Benedict with filet mignon, lamb, veal short rib hash, bacon or chorizo sausage cups, heirloom tomato and mozzarella salad, mini burgers, mushroom grits and tomato mozzarella flatbread, plus a mimosa for all mothers, $54.95 or $28 for children, 10:30 a.m to 2:30 p.m. Bottomless mimosas, sangria, sparkling wine or bloody marys, $20.
Lavo, The Palazzo: Rose-petal-infused gnocchi or pink snapper. Regular menu also available.
Marche Bacchus, 2620 Regatta Drive: Chilled green pea soup and crabmeat, grilled seafood salad or truffle goat cheese Napoleon; chicken and waffles, Eggs Benedict, roasted chicken buckwheat crepes, crispy brioche french toast or truffle grits and beef grillades; mixed berry Napoleon, creme brulee or chocolate lava cake; and glass of Champagne or mimosa, $49, 10 a.m. to 3 p.m.
Mary's Diner, Eldorado: Soup or salad; petite filet mignon with lobster seafood pasta; red velvet cake; and glass of house wine, $17.99, 2 p.m. to closing.
Mimi's Cafe, multiple locations: Cup of french onion, corn chowder or tomato-basil soup or house or caesar salad; Quiche Florentine, Mushroom Brie Burger, turkey dinner, Cheddar Mac with pulled chicken, chicken chop salad or grilled Atlantic salmon ($1 supplement); and chocolate chip croissant bread pudding or strawberry shortcake crepe cake or Key lime slab pie ($1 supplement), $16.99, beginning at 11 a.m. Four mimosa flavors, $5 per glass, glasses of red or white French wine, $5.
Mozen Bistro, Mandarin Oriental: Sushi, seafood and salad stations, carving station with leg of lamb and Asian station with traditional dim sum and noodles, noon to 3 p.m., $75.
Mystic Falls Park, Sam's Town: Buffet with such selections as fresh fruit, roasted beef, Eggs Benedict, quiche Lorraine, buttermilk waffles and cooked-to-order omelets, $29.99, 10 a.m. to 3 p.m.
Nacho Daddy, 113 N. Fourth St. and 9560 W. Sahara Ave.: All moms get a free 8-ounce margarita.
Oscar's Beef, Booze and Broads, The Plaza: Mixed baby greens salad; pan-seared scallop with lobster essence and sauteed spinach or filet mignon with wild mushroom risotto and baby vegetables; and chocolate marquee, $70, beginning at 5 p.m. Regular menu also available.
Pancho's Mexican Restaurant, Downtown Summerlin: Quesadilla con Huevos y Chorizo, $16.95; plus complimentary buneulos, and moms get Champagne, fruit and dessert with the purchase of an entree, 10 a.m. to 3 p.m.
Paradise Cafe, Fremont: Trip to the soup and salad bar; Cornish game hen, salmon Florentine or rib-eye steak; green beans; and pie, $14.99.
Primarily Prime Rib, South Point: Mom's Salad Bowl, cream of asparagus soup or chicken crepes; prime rib of beef, swai and crab roulade, twin medallions of beef or Coq Au Vin; seasonal vegetables and potatoes; chocolate and hazelnut cream cupcake, lemon mousse cake or strawberry cream horn; and glass of wine, $29, 2 to 8 p.m. Regular menu also available.
Prime Rib Loft, The Orleans: Shrimp and sausage kabob; sweet potato soup or wedge salad; rib-eye steak or trio of petit filet, jumbo scampi and bacon-wrapped scallop; and Boston cream pie, $36.
Redwood Bar & Grill, California Hotel: Parmesan-crusted shrimp with asparagus and wheat pasta, $25.
Reflection Bay Golf Club, Lake Las Vegas: Traditional breakfast favorites, omelet station, waffle station, salads, fresh fruit, seasonal vegetables, fresh seafood, carving stations, dessert buffet and mimosas, $49.
Roy's Restaurant: House-made brioche sticky buns; fruit plate, lemongrass chicken chop salad, creamy crab corn chowder or crispy miso lobster and shrimp dim sum; and vanilla bean french toast ($35.95), macadamia nut pancakes ($35.95), Loco Moco ($37.95), Karaage fried chicken ( $37.95), Roy's Benedict ($39.95), lobster and shrimp omelet ($39.95), slow-cooked prime rib ($39.95), or steak and eggs ($42.95). Children's menu available.
Salvatore's, Suncoast: Spinach and strawberry salad, $9.95; filet and shrimp strata with basil mashers and asparagus, $35.95; honey-mustard salmon, $28.95; mini osso buco, $32.95; or cheese tortellini Della Nonna, $23.95.
SC Prime , Suncoast: Wild mushroom soup or wedge salad; filet mignon with coconut shrimp ($52,) grilled veal tomahawk ($48) or seared Alaskan halibut ($44) and salted caramel crunch cake.
Second Street Grill, Fremont: Soup or salad; filet and shrimp scampi with roasted asparagus and baked potato; and dessert, $45.
Shake Shack, New York New York or Downtown Summerlin: Free custard for moms all day.
Siegel's 1941, El Cortez: Free strawberry pie to all mothers who dine in.
Silverado Steakhouse, South Point: Shrimp salad, sauteed scallops or grilled asparagus; chicken consomme, Boston lettuce with hearts of palm or goat cheese turnover; Veal Francaise, filet mignon with Burgundy mushroom caps, chicken flamed in Sauternes with mushrooms, potatoes and green peas or seared sea bass with rock shrimp; seasonal vegetables and potatoes; dark and white chocolate mousse, apple streusel or almond sponge cake; and glass of wine, $55, 4 to 10 p.m. Regular menu also available.
Spiedini, J.W. Marriott: Brunch with dishes such as Healthy Grain Salad, seared pepper-crusted tuna, smoked salmon and bagels, Belgian waffles, chocolate french toast, omelets prepared to order, veal Marsala, chicken Romano and sole fillet filled with spinach, $39 for adults, $19 for children 4-12, 11 a.m. to 2 p.m. Dinner, chopped kale salad, $9; roasted red peppers with truffled burrata, $12; fresh beet Napoleon, $10; spring gazpacho, $10; petite filet mignon and crabmeat-filled shrimp, $36; gnocchi with lobster Bolognese, $28; pan-seared fresh halibut, $30; roasted chicken breast stuffed with lobster mousse, $24; spinach and ricotta-filled ravioli, $20; grilled bone-in pork cop, $24; fresh pear and honey custard tart, $8; flourless almond chocolate cake, $8, 4 to 8 p.m.
STK, Cosmopolitan of Las Vegas: Sunday Brunch Club additions include lobster salad, cheese and nut platter, glass of Veuve Clicquot for all moms and $45 bottomless Veuve Clicquot mimosas.
Sundance Grill, Silverton: Soup or salad; grilled salmon or half-pound of crab legs with baked potato and green beans; and New York-style cheesecake, $21.99, 11 a.m. – 11 p.m.
Sushisamba, Shops at Palazzo: Guava and rose bellini, $12; quinoa pancakes, $13; french toast, $15; churrasco and eggs, $18; lobster Eggs Benedict, $18; acai bowl, $12; Samba Cobb Salad, $14; Wagyu sliders, $19; feijoada, small, $15, or large, $18; fresa con crema, $12.
Table 10, The Palazzo: Bloody mary oyster shooters, $2.50; poached eggs with prosciutto on an english muffin, $12; lox and black opal caviar with creme fraiche, $14; cast-iron buttermilk cake with Grand Mariner clotted cream, $8; Southern fried chicken and waffles, $14; foie gras pain perdue with mixed berry chutney and toasted pistachios, $22; and old-fashioned doughnut trio, $10, 11 a.m. to 3 p.m. All-you-can drink bellinis, mimosas or Bloody Marys, $22. Regular lunch menu available.
T-bones Chophouse, Red Rock Resort: Brunch buffet with such dishes as salads, made-to-order waffles and french toast, eggs and omelets, seafood, a carving selection and pastry stations; each table will receive a fresh-baked pastry and bread basket; and Champagne and mimosas will be served upon entry, $89, $39 for children younger than 10, 10 a.m. to 3 p.m.
Triple 7, Main Street Station: Beef tenderloin and crab cakes, $18.99.
Twin Creeks Steakhouse, Silverton: Endless mimosas, omelet and pasta stations, carving station with prime rib, honey-baked ham, sausage and baked slab bacon, shrimp cocktail, crab legs, oysters on the half shell, lox with toasted bagel and accoutrements, crab cake Eggs Benedict, vegetable and cheese frittata, lobster bisque, sides and salads, roasted vegetables and pastries, $49, 10 a.m. to 3 p.m. Build your own bloody mary, $8. Reservations recommended.
Westin Lake Las Vegas Resort (Rick's Cafe and Marssa Steak and Sushi): Seafood extravaganza, Mediterranean bar, cheese shop, carving stations, hot and cold breakfast selections, Marssa sushi bar, pasta station, kid's selections, desserts and Champagne or mimosas, $57.99, or $29.99 for children.
Zeffirino, Grand Canal Shoppes: Brunch of such dishes as prosciutto and melon, smoked salmon, pastas, lobster, shrimp, oysters, clams and made-to-order omelets $75, or $30 for children, 10 a.m. to 4 p.m.
Contact Heidi Knapp Rinella at Hrinella@reviewjournal.com. Find more of her stories at www.reviewjournal.com, and follow @HKRinella on Twitter.