Hidden cafe in Las Vegas is like entering a different world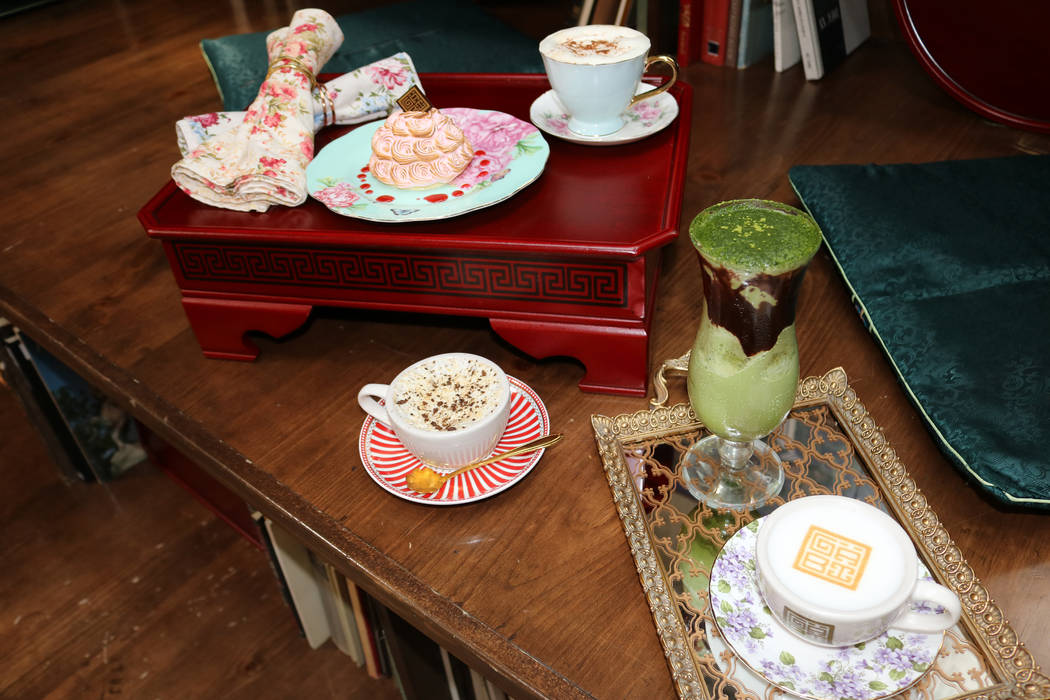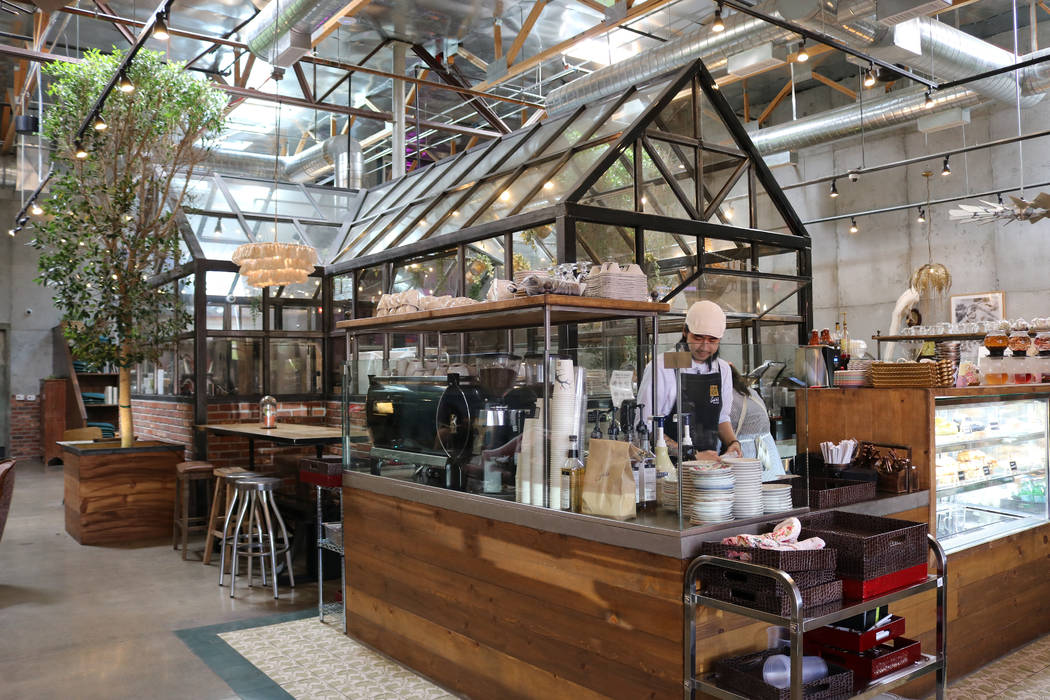 The segment of a Chinatown strip mall between a Korean barbecue joint and a Taiwanese tea bar bears no big sign or marquee, not even a window decal. Only a heavy anachronistic wooden door and a stylized "open" sign suggest that something's inside.
Stepping into Gabi Coffee and Bakery evokes an "Alice in Wonderland" experience. "Everyone says that," manager Joshua Lee says, laughing. "Coming from outside into here, it's like entering a different world."
Gabi's interior, a gray utilitarian space, is decorated with artwork and furnishings from 1920s Korea. A glass atrium stands at the center of the room, flanked by towering trees.
Gabi's inspiration is a confluence of 1920s Korean coffee culture and modern Western touches. Lee says the interior is modeled after a Korean movie called "Gabi"— the Korean word for coffee. The movie, set in the early 1900s, tells the true story of how King Gojong was the first person to taste coffee in Korea — and how the drink was used in an assassination attempt.
Inside the atrium, bakers maneuver around potted plants making croissants, green tea buns and small cakes. "We wanted the bakery to 'pop,' " Lee says. "It's more eye-catching than hiding the bakery in the back."
The space is also where Gabi roasts coffee beans, opting for Korean-style medium and medium-dark roasts.. The lighter roast produces a more aromatic and full-bodied flavor than a traditional dark roast, and an acidity that Lee says medium roast novices may find sour at first.
While today, coffee is ubiquitous in Korea, Lee explains that the focus is different than it is in the U.S. "Korean coffee culture focuses on specialty coffee and premium desserts."
Gabi's specialty drinks include The Gabi, a cappuccino sprinkled with dry coffee and raw sugar and the best-selling ice blended matcha green tea. Popular treats include pink Lychee Rose Cake and colorful Rainbow Roulade that come served on whimsical floral dishes.
The goal of Gabi, Lee says, is to introduce Korean culture to Las Vegas. "In Korea, we don't sit at tables and chairs. We sit on the floor to eat and drink."
Wide wooden bleachers in the back invite guests to slip off their shoes and sit cross-legged while they sip. "It's a little funny at night seeing all these people from different backgrounds sitting up there and practicing Korean culture," Lee says.
Large oil paintings of the king and the empress hang on the walls over assorted couches and bookcases while string lights, panel artwork and towering trees loom overhead.
Customers alternate between sipping coffee and staging it against the backdrops for Instagram.
Gabi's hidden nature isn't just a gimmick. "We want people to know about us by word of mouth," Lee says. "Not just someone driving down Spring Mountain who sees a nice sign."
The coffee shop could be described as a 1920s Korean speakeasy. But, rather than a password, you have to know that the cafe exists. So just one month after opening, how is Gabi packed with customers on a Friday morning?
Lee smiles. "Instagram."
Contact Janna Karel at jkarel@reviewjournal.com and 702-477-3835. Follow @jannainprogress on Twitter.